Dermatological remedies in the traditional pharmacopoeia of Vulture-Alto Bradano, inland southern Italy
Journal of Ethnobiology and Ethnomedicine
2008
4:5
Received: 13 December 2007
Accepted: 06 February 2008
Published: 06 February 2008
Abstract
Background
Dermatological remedies make up at least one-third of the traditional pharmacopoeia in southern Italy. The identification of folk remedies for the skin is important both for the preservation of traditional medical knowledge and in the search for novel antimicrobial agents in the treatment of skin and soft tissue infection (SSTI). Our goal is to document traditional remedies from botanical, animal, mineral and industrial sources for the topical treatment of skin ailments. In addition to SSTI remedies for humans, we also discuss certain ethnoveterinary applications.
Methods
Field research was conducted in ten communities in the Vulture-Alto Bradano area of the Basilicata province, southern Italy. We randomly sampled 112 interviewees, stratified by age and gender. After obtaining prior informed consent, we collected data through semi-structured interviews, participant-observation, and small focus groups techniques. Voucher specimens of all cited botanic species were deposited at FTG and HLUC herbaria located in the US and Italy.
Results
We report the preparation and topical application of 116 remedies derived from 38 plant species. Remedies are used to treat laceration, burn wound, wart, inflammation, rash, dental abscess, furuncle, dermatitis, and other conditions. The pharmacopoeia also includes 49 animal remedies derived from sources such as pigs, slugs, and humans. Ethnoveterinary medicine, which incorporates both animal and plant derived remedies, is addressed. We also examine the recent decline in knowledge regarding the dermatological pharmacopoeia.
Conclusion
The traditional dermatological pharmacopoeia of Vulture-Alto Bradano is based on a dynamic folk medical construct of natural and spiritual illness and healing. Remedies are used to treat more than 45 skin and soft tissue conditions of both humans and animals. Of the total 165 remedies reported, 110 have never before been published in the mainland southern Italian ethnomedical literature.
Keywords
MastitisTraditional KnowledgeTraditional RemedyFolk RemedyConsensus Index
Background
The folk-medical treatment of dermatological conditions is prevalent in southern Italy and elsewhere. Dermatological conditions are particularly common in rural agro-pastoral communities, where skin abrasions and small cuts are regularly exposed to bacteria found in the soil and animal faeces. At least one-third of all traditional remedies used in the south Italian folk pharmacopoeia are directly relevant to the skin.
Skin and soft tissue infection (SSTI) caused by multidrug-resistant bacteria, such as methicillin-resistant Staphylococcus aureus (MRSA), are an ever-increasing source of death and high healthcare costs worldwide. In the US alone, over 126,000 hospitalizations each year are due MRSA infections [1]. Moreover, invasive MRSA infections affect an estimated 94,360 individuals each year in the US and are associated with approximately 18,650 deaths, exceeding mortality estimates for AIDs [2]. Natural products from botanical sources used in traditional folk remedies for the skin may offer a new route for combating multidrug-resistant bacterial infections through the elucidation of biological compounds with novel mechanisms of action. Furthermore, validation of traditional remedies could rekindle community interest in preserving local traditional medical knowledge.
Ten communities in the Vulture-Alto Bradano area of the Basilicata (historically known as Lucania) province were the focus of this study. Basilicata, a region of southern Italy bordering the Tyrrhenian and Ionian Seas, is divided into two Provinces: Potenza and Matera. It is bounded by the regions of Puglia (north and east), Calabria (south), and Campania (west). The territory is roughly divided into a mountainous western section, which is dominated by the Appennino Lucano, an eastern section of wide valleys and low hills, and flat plains to the south along the Ionian Sea.
Basilicata region covers 9,992 km2, and based on a 2001 census of The Italian National Statistical Institute (ISTAT), Basilicata has a population of about 600,000. ISTAT also reports that the Basilicata region has the lowest percentage of urban population (17%, calculated in the period of 1997–1999), the highest life expectancy (75.7 years, calculated in the period 1991–1995), and presents the lowest utilization of allopathic medical services (23.9% among men, 32.5% among women, calculated in 1997) in all of Italy [3].
Basilicata has been influenced by historical immigration flux from both Greece and Albania. Today, immigrants come mainly from Eastern Europe or from Northern Africa. The majority of recent immigrants into the smaller communities, such as those included in this study, come from Eastern Europe seeking work as housekeepers and caretakers for the elderly, whereas North Africans typically seek employment in the larger cities.
The Vulture-Alto Bradano area of northern Basilicata is characterized by its proximity to the dormant volcano, Monte Vulture (1,326 m.a.s.l.). The soil of this region is particularly rich due to the presence of tuffaceous-clayey-volcanic soil (produced by the explosive volcano ca. 830,000 years ago) and the local economy is founded in large part on agriculture. Durum wheat, olives, and the aglianico variety of grapes are the predominant crops. Small-scale pastoral activity is also important, and goat and sheep cheeses are produced locally. Regional industry, other than agriculture, is scarce, but some local artisans produce ceramics and a substantial portion of the population between 20–45 years old are currently employed in the Fiat automobile factory or other associated factories.
Based on data from historic ethnic Albanian communities in the Vulture-Alto Bradano, traditional knowledge (TK) related to household remedies corresponds with age and gender. The likelihood of TK transmission is affected by work patterns, which influences the amount of time an individual spends in the natural environment performing agricultural work. Women are the primary carriers of knowledge for folk remedies, as well as the primary providers of household medicine. Older generations are more knowledgeable of plant sources of both wild foods and medicines [4–8]. Furthermore, because of the strong link between TK and age, the level of TK in small communities is on a steep decline as the oldest generation dies. This reflects a sense of urgency to record folk remedies, which are normally passed down through oral tradition, before they are lost forever.
In the past 50 years, only a few ethnobotanical studies have been focused on Basilicata [4–14]. The aim of this study is to collect ethnomedical data regarding the application of traditional remedies from botanical, animal, and mineral sources for the topical treatment of the skin. In addition to remedies for humans, we also discuss certain ethnoveterinary remedies that are particularly important for the care of livestock in the study area. Socioeconomic dynamics are discussed in relation to the transmission of knowledge for folk remedies across generations. Botanical species identified as components to traditional remedies for SSTIs in this study will be evaluated for their potential in modifying MRSA growth and virulence in subsequent studies.
Methods
Field research was conducted in ten communities situated in the Vulture-Alto Bradano area of Basilicata, Italy from April-July of 2006 (Figure
1
). Random sampling techniques were employed to recruit 112 interview subjects. Interviewees were equally stratified by four age groups (21–35, 36–50, 51–70, 71+ years) and gender in order to compare TK levels across different generations. Prior informed consent, as approved by the Florida International University Institutional Review Board (#120505-01), was obtained before conducting interviews. We followed the ethical guidelines adopted by the ICE/International Society of Ethnobiology [
15
] and Italian Association of Ethno-Anthropologists (AISEA) [
16
]. We conducted interviews in Italian, took notes, and made audio or video recordings of the interviewees when possible. Data was collected using semi-structured interviews, participant observation, and focus groups. Interviewees were questioned about the medicinal uses of the local flora and fauna, particularly those related to the skin. Demographic data regarding each community sampled in the study is reported in Table
1
.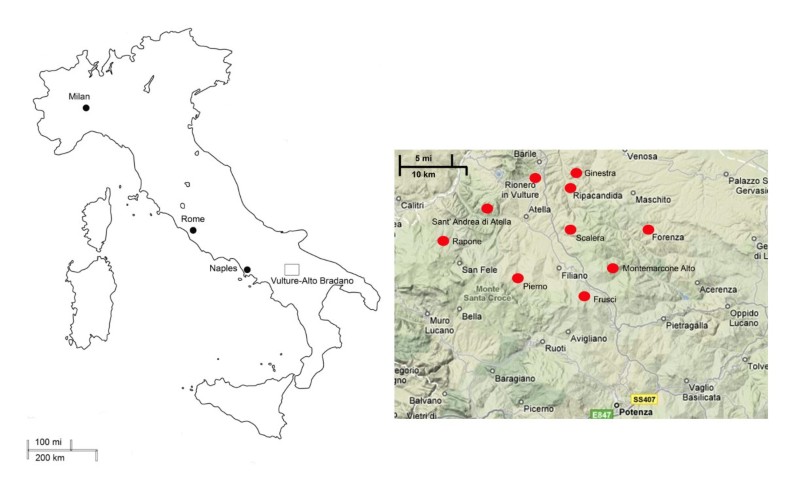 Table 1
Data on the sampled communities [45–47]
| Community | Elevation (m.a.s.l.) | Number of Families | Number of Inhabitants | Number of Interviewees | % of Population Sampled |
| --- | --- | --- | --- | --- | --- |
| Forenza | 836 | 1,051 | 2,546 | 15 | 0.6% |
| Frusci (locality of Avigliano) | 925 | 70 | 192 | 8 | 4.2% |
| Ginestra | 675 | 280 | 726 | 10 | 1.4% |
| Montemarcone Alto (locality of Avigliano) | 900 | 15 | 46 | 5 | 10.8% |
| Pierno (locality of San Fele) | 960 | 24 | 52 | 5 | 9.6% |
| Rapone | 838 | 473 | 1,203 | 9 | 0.7% |
| Rionero in Vulture | 647 | 4,738 | 13,423 | 4 | 0.03% |
| Ripacandida | 622 | 744 | 1,767 | 14 | 0.8% |
| Sant'Andrea (locality of Atella) | 716 | 55 | 176 | 27 | 15.3% |
| Scalera (locality of Filiano) | 670 | 185 | 488 | 15 | 3.07% |
| Total | - | 7,635 | 20619 | 112 | 0.54% |
All plants mentioned by interviewees were collected and identified following the standard work of the Italian flora [17]. Familial nomenclature follows the current Angiosperm Phylogeny Group [18]. Voucher specimens were deposited at the Università degli Studi della Basilicata (HLUC) in Potenza, Italy and Fairchild Tropical Botanic Gardens (FTG) in Miami, FL, USA. Bulk samples (100–300 g per species) were collected for bioassays. Plant materials were shipped to the USA under USDA permit #DP63438.
The transcription of vernacular names of traditional remedies described in the local pharmacopoeia follows the rules of the Italian language. The neutral centralized vowel 'schwa' of the southern Italian (Calabro-Neapolitanean) dialect spoken in the studied area, often marked by some linguists as (') has been denoted in this study with the symbol "ē". The collected data have been compared with all of the ethnobotanical studies conducted thus far in mainland southern Italy, including Abruzzo, Molise, Campania, Puglia, Calabria and Basilicata.
Statistical analyses of data, including calculation of mean values and standard deviations, were calculated using Microsoft Excel. Differences between means were analyzed with a one way ANOVA, followed by a series of 2-sample t-tests on SPLUS software. Differences were considered significant with P-values < 0.05.
Conclusion
We identified 165 remedies derived from plant, animal, mineral and industrial sources with particular relevance to skin and soft tissue infection. Of the remedies reported, 110 have never before been published in the mainland southern Italian ethnomedical literature. Moreover, some of the botanical sources for SSTI remedies have never been investigated for their antimicrobial properties and further investigation of the phytochemical constituents of these species is recommended.
Transfer of knowledge regarding household medicine is declining, especially amongst women. These findings are important because women have traditionally been the keepers of knowledge regarding folk remedies and the providers of household medicine. This loss of knowledge is intrinsically linked with shifting socioeconomic dynamics in the area and is not expected to be reversed. This reinforces the importance of recording ethnomedical and ethnobiological data now before it is lost with the passing of the oldest generations.
Declarations
Acknowledgements
Funding for this study was provided by: NIH/NCCAM 1F31AT004288-01A1 (PI: C.L. Quave), Botany in Action, Anne Chatham Fellowship in Medicinal Botany, USDA CSREES 20053842215940 and NIH/NCAAM 1T32AT01060-01 (PI: B.C. Bennett). We thank the many volunteers who assisted in the undertaking of this study. We thank Dr. Carmine Colacino for his assistance in the taxonomic identification of some plant specimens. We especially thank all of the study participants who graciously shared a wealth of knowledge regarding the traditional medical practices of their communities.
Authors' Affiliations
(1)
Department of Biological Sciences and Center for Ethnobiology and Natural Products, Florida International University, Miami, USA
(2)
Division of Pharmacy Practice, School of Life Sciences, University of Bradford, Bradford, UK
Copyright
© Quave et al; licensee BioMed Central Ltd. 2008
This article is published under license to BioMed Central Ltd. This is an Open Access article distributed under the terms of the Creative Commons Attribution License (http://creativecommons.org/licenses/by/2.0), which permits unrestricted use, distribution, and reproduction in any medium, provided the original work is properly cited.