Uses of medicinal plants by Haitian immigrants and their descendants in the Province of Camagüey, Cuba
Journal of Ethnobiology and Ethnomedicine
2009
5:16
Received: 28 February 2009
Accepted: 18 May 2009
Published: 18 May 2009
Abstract
Background
Haitian migrants played an important role shaping Cuban culture and traditional ethnobotanical knowledge. An ethnobotanical investigation was conducted to collect information on medicinal plant use by Haitian immigrants and their descendants in the Province of Camagüey, Cuba.
Methods
Information was obtained from semi-structured interviews with Haitian immigrants and their descendants, direct observations, and by reviewing reports of traditional Haitian medicine in the literature.
Results
Informants reported using 123 plant species belonging to 112 genera in 63 families. Haitian immigrants and their descendants mainly decoct or infuse aerial parts and ingest them, but medicinal baths are also relevant. Some 22 herbal mixtures are reported, including formulas for a preparation obtained using the fruit of Crescentia cujete. Cultural aspects related to traditional plant posology are addressed, as well as changes and adaptation of Haitian medicinal knowledge with emigration and integration over time.
Conclusion
The rapid disappearance of Haitian migrants' traditional culture due to integration and urbanization suggests that unrecorded ethnomedicinal information may be lost forever. Given this, as well as the poor availability of ethnobotanical data relating to traditional Haitian medicine, there is an urgent need to record this knowledge.
Keywords
Medicinal PlantPsidium GuajavaHerbal MixtureEthnobotanical KnowledgePortulaca Oleracea
Introduction
The ethnic and cultural composition of contemporary Caribbean populations are the result of historical population movements through the slave trade and inter-island migration and of the legacy of the different ethnicities involved in the process of national identity formation. Today's Cubans rely for food and medicine on a mixed culture that draws upon wisdom originating mainly from Indian, African, Spanish, and Antillean ethnic groups [
1
–
5
]. Among the peoples of African origin who settled in Cuba throughout the centuries, Haitians played an important role shaping Cuban culture and traditional ethnobotanical knowledge. During the period 1900–1930, more than half a million Haitians entered the country legally or illegally [
6
,
7
]. Immigration was a key factor in the plans for economic reconstruction after the War of Independence against Spain, and West Indians entered Cuba as cheap labour required to cut sugarcane [
8
]. Haitians were concentrated in the sugarcane and coffee areas of the former provinces of Oriente and Camagüey (Figure
1
). In the latter province, they mainly settled in Haitian communities such as Caidije and Guanamaca, thus permitting the perpetuation of their own culture, including the voodoo religion and the creole language [
9
–
12
]. Most Haitians were illiterate, crowded into barracks (
barracones
), paid a miserable salary, and compelled to hand over their savings to reimburse the cost of their passage [
7
,
9
]. They relied heavily on homegardens, wild plants, and on traditional ethnobotanical knowledge and practices in order to survive.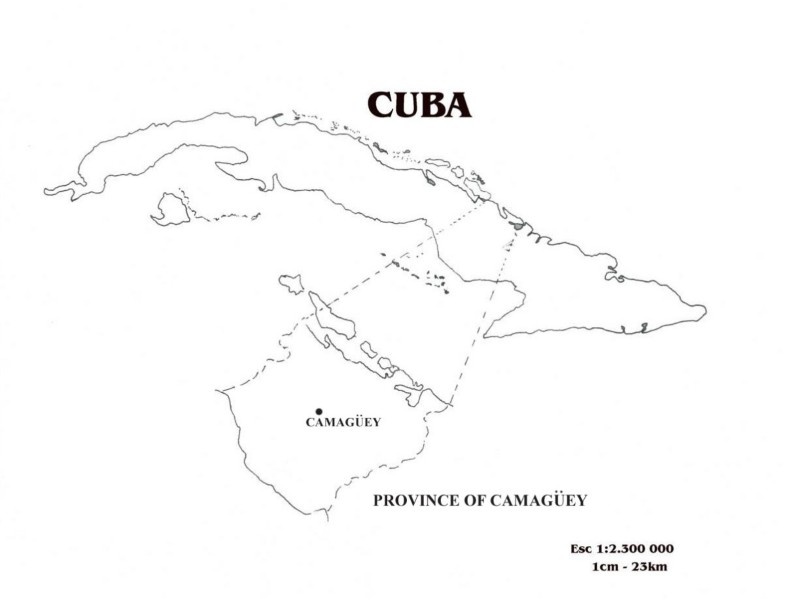 Nowadays Haitians are mostly integrated into mainstream Cuban society, although many of them maintain a small-scale farming and livestock production as a base for their livelihoods. Especially over the last decade, Haitians in Cuba have begun to rediscover their roots and revitalize their traditional culture by forming Haitian associations and groups and celebrating festivals and other events. A Haitian carnival takes place every year in Santiago de Cuba, and a Creole radio program is broadcasted nationally [13]. In this context, traditional ethnobotanical practices are sometimes reconstituted as part of Haitian culture [14].
Although in the recent past there has been an increase in ethnobotanical and ethnomedicinal investigations in Cuba [15–19], these have generally not paid attention to the specific ethnic knowledge that immigrants have contributed to traditional Cuban medicine. Consequently, there is little data in the literature about the ethnobotanical knowledge and practices of Haitians in Cuba, with the exception of Volpato et al. [14], while some other information can be found in James et al. [12], Nevet and de la Rosa [9], and Pedro [10]. Moreover, to date only limited data about Haitian traditional medicine has been collected in Haiti, mostly due to the fact that the religious, cultural, and political situation in Haiti has made the study of Haitian ethnomedicine difficult [20]. Exceptions to this are the works of Brutus and Pierre-Noel, León, and Weniger et al. [21–25].
This paper focuses on traditional medicinal plant uses of Haitian immigrants and their descendants in the Province of Camagüey, Cuba. We will present and discuss data about: 1) traditional remedies, their uses, and preparation, 2) traditional practices and beliefs related to these uses, and 3) changes and adaptation of Haitian medicinal knowledge with emigration and integration over time.
Methods
Study Area
The Province of Camagüey is located between 20°31'01" and 22°29'00" latitude North and 76°57'00" longitude West from Greenwich. It is located between the Canal Viejo de Bahamas in the North, the Caribbean Ocean in the South, the Province of Las Tunas in the East, and the Province of Ciego de Ávila in the West. Camagüey is the largest province in Cuba, at 15,615 km2, corresponding to 14.3% of the nation's territory. The Province is inhabited by some 780,000 people, or seven per cent of the Cuban population. About 75% of the inhabitants live in urban areas, where Camagüey, Florida and Nuevitas are the major cities. About 40% of the total population of the province lives in the city of Camagüey; almost 200,000 people live in rural areas. Due to its mostly flat territory, the Province of Camagüey historically had an economy primarily based on cattle and sugarcane, as well as small-scale farming. Some touristic infrastructures (notably in Camagüey city and Santa Lucía beach) have been developed in the last decade [26].
Although no census of Haitians (residents or descendants) in Cuba has been done to date, we can roughly estimate the number of Haitians and their descendants in the Province of Camagüey at about 50,000 or 6–7% of the population. This figure is based on a comparison with data from another province that also absorbed much Haitian migration to Cuba, the Province of Guantanamo [13]. Creole is the second most spoken language in the Province of Camagüey, after Spanish. Besides Haitians, other ethnic groups in the Province include Jamaicans and Chinese.
Ethnobotanical investigation
The data presented in this paper are derived from a wider study that was conducted on the ethnobiological knowledge of Haitian people living in the Province of Camagüey. Fieldwork was carried out from December 2002–March 2003 and from February–July 2004. Semi-structured interviews were conducted with 34 Haitians (21 women and 13 men) whose ages ranged from 45 to 102 years (mean age 68), in the following communities: Central Brasil, Jiquí, Aguacate, Esmeralda, Antón, Batey Varela (Antón), San Serapio, Caidije, La Jagua, Macuto 2, Camagüey (neighbourhoods of Puerto Príncipe, Bellavista, Florat, and La Guernica). Most of those interviewed are elderly people living in remote rural areas; they often live alone since, because of their age, their husbands and wives have passed away and their children, if any, have migrated mainly to major Cuban cities (e.g. Camagüey, La Habana). Otherwise, they live in hospices either in Camagüey or in smaller cities and villages.
To locate the respondents, we first focused on the areas in the province where historical and oral records indicate the presence of Haitian communities (e.g. around Central Brasil, Minas in the North of the Province and Central Haiti in the South). Once in the field, we asked for the help of the local government officers responsible for health (doctors or nurses from the local hospital) to determine whether there were any elderly Haitians living in the locality and precisely where. Respondents in the city of Camagüey were located thanks to the local Haitian Association.
Among the Haitians interviewed, 21 migrated to Cuba between 1913–1926, ten are the offspring of Haitian couples who entered Cuba during the same period, and three more left Haiti between 1946–1954. Among first generation migrants, twenty are originally from the cities of Les Cayes (Creole name Okai) and Port Salut (Creole name Posalí), in the South of Haiti, whereas four lived in or near Port-au-Prince. People who migrated in the 1920s generally sailed to eastern Cuba looking for jobs on the sugarcane plantations to improve their living conditions and support their families in Haiti. Those who arrived in the 1940s came either by plane or boat, although they were migrating mostly for the same reasons.
Interviews were conducted in Spanish after first explaining the aims of the study. Throughout the field study, the ethical guidelines adopted by the American Anthropological Association [27] were followed. The plants cited were photographed, collected with the informants during the interviews, and identified by authors (D.G., A.B., A.B.) following León [28], León and Alain [29–31] and Alain [32, 33]. Voucher specimens were deposited at the CIMAC herbarium in Camagüey (HACC).
Conclusion
The present investigation shows that Haitian migrants and their descendants living in the Province of Camagüey (Cuba) have medicinal uses for 123 plant species belonging to 112 genera in 63 families. The most frequently used species are Chenopodium ambrosioides, Cissus verticillata, Cocos nucifera, Crescentia cujete, Cymbopogon citratus, Lippia alba, Momordica charantia, Pimenta dioica, Portulaca oleracea, Psidium guajava, and Stachytarpheta jamaicensis. Decoction of fresh herbal components (mainly leaves and other aerial parts) is the preferred means to prepare medicinal remedies. Herbal baths are important in Haitian culture in both spiritual and medicinal practices, and represent the second most important category of administration, after ingestion. Besides single medicinal plants, 22 herbal mixtures, mostly prepared as a concoction of plants or plant parts, are reported. Among these, a mixture prepared with the fruit of Crescentia cujete as a main ingredient is highly regarded by Haitians and is considered as a panacea.
Haitian ethnobotanical practices related to traditional posology often follow cosmological/ritual numbers, both for plant quantities and timing of administration. At the same time, posology is embedded in specific rituals that are performed during the preparation of the remedies, which on the one hand serve to memorize the proper dose, especially when dealing with toxic allelochemicals, and on the other hand contribute to the efficacy of the remedy by invoking supernatural forces and entities related to those rituals and numbers. Traditional and ritual plant posology should be investigated in more depth in ethnobotanical and ethnopharmacological studies in order to understand their relation with medicinal plant efficacy and toxicity.
Traditional Haitian medicine retained an important role in healthcare and cultural practices soon after immigration, when Haitian livelihoods were based on work in the sugarcane fields, on the surrounding environment, and on their knowledge about that environment. During the decades after emigration, the original Haitian ethnomedicinal knowledge progressively changed and adapted to the new environment, maintaining cultivation and use of important medicinal plants, incorporating plants and uses from the host Cuban culture, and diffusing specific plant uses to Cubans in contact with Haitian communities. The study of Haitian immigrants' traditional medicine in this context not only represents an interesting case about medicinal plant use, but also records knowledge that is rapidly disappearing with the death of older Haitian migrants.
Declarations
Acknowledgements
Special thanks are due to all of the Haitian respondents and their families for their kindness and for agreeing to share their knowledge with us, with oral consent being provided for figure 2; to the members of the Asociación de Haitianos de Camagüey; to Patricia Howard for her commentaries and suggestions. The research project has been funded by a grant to Gabriele Volpato from the CERES Programme for Innovative PhD Research at Wageningen University (CEPIP-W).
Authors' Affiliations
(1)
CERES Research School, Department of Social Sciences, Wageningen University, Wageningen, the Netherlands
(2)
CIMAC, Centro de Investigaciones de Medio Ambiente de Camagüey, Camagüey, Cuba
Copyright
© Volpato et al; licensee BioMed Central Ltd. 2009
This article is published under license to BioMed Central Ltd. This is an Open Access article distributed under the terms of the Creative Commons Attribution License (http://creativecommons.org/licenses/by/2.0), which permits unrestricted use, distribution, and reproduction in any medium, provided the original work is properly cited.