Local knowledge of traditional fishermen on economically important crabs (Decapoda: Brachyura) in the city of Conde, Bahia State, Northeastern Brazil
Henrique Fernandes de Magalhães

1,

Eraldo Medeiros Costa Neto

2

Email author

and

Alexandre Schiavetti

3
Journal of Ethnobiology and Ethnomedicine
2012
8:13
Received: 22 June 2011
Accepted: 26 March 2012
Published: 2 July 2012
Abstract
Background
This article records the traditional knowledge of crab gatherers in the city of Conde, in the North Coast Region of Bahia State, Northeastern Brazil.
Methods
Data on biological and ecological aspects of economically important brachyuran crustaceans have been obtained from semi-structured interviews and in loco observations conducted from September 2007 to December 2009. A total of 57 fishermen of both genders, aged between 10 and 78 years have been interviewed (individually or collectively) in different contexts; interviewees were asked about aspects such as external morphology, life cycle, trophic ecology, and spatial and temporal distribution of the major economically important brachyuran crustaceans in the region. Seven fishing communities were visited: Siribinha, Sítio do Conde, Poças, Ilha das Ostras, Cobó, Buri and Sempre Viva. Data were analyzed by comparing the information provided by participants with those from the specialized academic literature.
Results
The results show that artisanal fishermen have a wide ranging and well-grounded knowledge on the ecological and biological aspects of crustaceans. Crab gatherers of Conde know about growth and reproductive behavior of the animals they interact with, especially with regard to the three major biological aspects: "molt", "walking dance" and "spawning".
Conclusion
This knowledge constitutes an important source of information that should be considered in studies of management and sustainable use of fishery resources in the North Coast Region of Bahia State.
Keywords
Artisanal fishingCrustaceansMangrovesEthno-ecology
Background
Mangrove ecosystems are typical of tropical and subtropical regions, in areas influenced by tidal movements [1]. They comprise ecosystemic units with specialized function as they are salinized environment, given the constant inundation by sea water due to the tidal movement. These ecosystems are considered of fundamental ecological importance in their areas of occurrence [2], and as such mangroves should be categorically classified as permanent protected areas since they maintain fish production at adjacent regions and ensure the stabilization of coastal formations. Additionally, two-thirds of the world's fishing communities depend on their existence [3–5].
Crustaceans play a role in the ecosystem dynamics not only by their function in the food chain, but also because some of them – the decapod brachyurans – constantly modify the substrate as they dig holes and bring organic matter from the lower stratum to the surface [6]. Brachyurans are a diverse group and one of the largest biomasses in marine and estuarine environment [7]. These crustaceans are fishery resources of high prestige for human communities inhabiting estuarine zones and the exploitation of these resources provides a livelihood for many of them [8–10]. This group of animals is culturally used for various purposes: handicraft [11, 12], as a source of income and protein [13–15], in folk medicine [16–18] and in playful activities [11]. Cultural interactions between humans and crustaceans are studied by ethnozoology that, paraphrasing Posey [19], can be defined as the field of ethnobiology that investigates knowledge, classification and methods of use of animals by human societies.
In Bahia State, Northeastern Brazil, fishing activities are especially characterized by familiar work, where all members of the family are directly involved with the collecting and processing of those resources [20]. Specifically in the local mangroves, brachyuran crustaceans are amongst the main wildlife resources that are found and extracted, such as Ucides cordatus (Linnaeus, 1763), Cardisoma guanhumi (Latreille 1825), Goniopsis cruentata (Latreille 1802), and swimming crabs of the family Portunidae. In addition to serving as food, some species are also used for medicine, as craft, and leisure (18).
Considering ethnozoological studies related to crustaceans, there are few works carried out in Bahia State. Costa-Neto [21] has discussed about the ethnobiology and ethnotaxonomy in fishing communities in the municipality of Conde, however fish were the main surveyed animal group; Costa-Neto and Lima (18) studied the local uses of mangrove crustaceans by the inhabitantys of Siribinha beach; Souto [22] carried out an ethnoecological approach of the collecting of Ucides cordatus in Acupe beach; Saraiva [23] recorded some ethnoecological aspects of Macrobrachium carcinus (Linnaeus, 1758) in the city of Camaçari; Magalhães [24] investigated about some brachyurans of economic importance to artisanal fishing communities in the city of Conde.
In the last decades, the northern coast of Bahia State has faced profound political, socio-economic and cultural changes due to their insertion in the global development model, especially due to the expansion of national and international tourism in the region [20]. Consequently, the local landscape and biota have been undergoing changes that have aggravated the existing pressures on ecosystems, thus subjecting the traditional populations to activities with several degrees of impacts generated by the tourism industry [20]. The fishing activity has been gradually replaced by tourism related jobs, what means a progressive loss of knowledge about fishing gear and sustainable management techniques of fishery resources through the generations; that has also negatively reflected on the local fauna and flora [25].
Given the progressive impacts the North Coast region has been suffering over the last decades and considering its socio-cultural and ecological relevance, this study broaches the local knowledge of artisanal fishermen communities in the municipality of Conde by recording biological, ecological and behavioral aspects of economically important brachyuran crustaceans.
Methodology
As shown in Figure 
1
, the study area is included in the "Área de Proteção Ambiental Litoral Norte" (Environmental Protection Area of the North Coast), in the city of Conde, more precisely in the estuarine and coastal area of the lower course of Itapicuru River. In its initial stages, the fieldwork was conducted between September 2007 and October 2008, when monthly visits were made to the communities of Siribinha, Poças, Sítio do Conde, Ilha das Ostras, Cobó, Buri and Sempre Viva. In the second stage of the research, two fortnightly visits were made to the three last communities, in the months of February, May and December 2009. When selecting the visitation months, it was sought to consider the two seasons of the year recognized by the fishing communities: "summer" (September-March) and "winter" (April-August), thus correlating the data obtained during the seasons.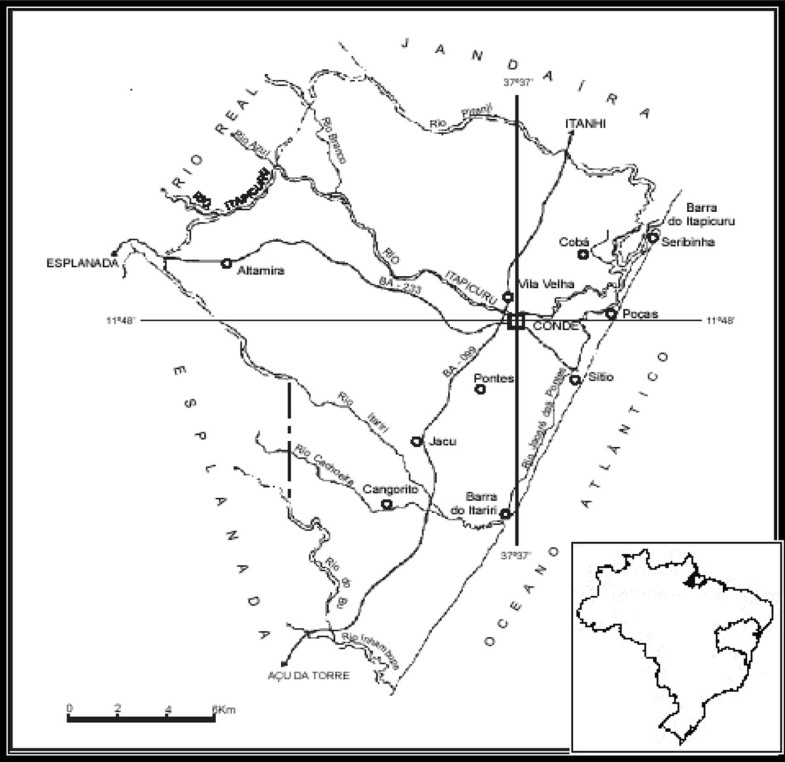 Data were recorded by means of semi-structured interviews and through behavioral observations, using the usual ethnographic data collection techniques, following ethnoscientific notions with a balance between emic and etic focused approaches [26]; on the other hand, observations had an ad libitum feature. The questionnaire was approved by the Research Ethics Committee of the State University of Feira de Santana (Comitê de Ética em Pesquisa da Universidade Estadual de Feira de Santana: CEP-UEFS) based on Resolution no. 196/1996 of the National Council of Health, which governs the ethical aspects of research involving humans. A free and informed consent form was read out and made available to those who participated in the study. The aims of the research were explained clearly at the beginning of each interview and those involved were asked whether they would like to participate in the study. The interviews (whether individual or collective) occurred in various contexts, with the participation of 48 men (84.2%) and 9 women (15.8%) whose ages ranged between 10 and 78. The respondents were fishermen of both genders, specialists in gathering mangrove crabs Goniopsis cruentata, swimming crabs (Portunidae), and land crabs Ucides cordatus and Cardisoma guanhumi. They were contacted according to the snowball technique [27], in which a local specialist indicates another one and so on. Women use to go to mangrove forest in order to collect "aratu" G. cruentata and swimming crabs popularly known as "siris", while male fishermen collect land crabs and some (16 of them) are specialized on collecting species of Portunidae. The interviews were recorded using digital recorders and later transcribed for analysis.
Body topography has also been recorded; to this end, cards describing schematic drawings of a land crab [28] and a swimming crab [29] were distributed to the interviewees in order to register the local names they give to the external body structures.
Aiming to observe and collect brachyuran specimens, excursions guided by locals were made to the mangrove. The technique employed during these field trips was the tour [30], i.e., when the researcher follows a path determined by the research participant, which in turn describes what happens. These collections allowed conducting projective tests, which consisted of the presentation of both photographs and visualizations in the natural places of crustacean species, so that the respondents described their perceptions on the biology and ecology of crustaceans.
The data were analyzed using the union model [31]. According to this model, all available information on the surveyed subject is to be considered. Local information provided by the participants was compared with those from the specialized academic literature. Based on synchronic and diachronic interviews, the controls were performed through verification tests of consistency and validity of responses [31]. All ethnographic material (recordings, transcriptions, field notes and photographs) is stored at the Laboratory of Ethnobiology and Ethnoecology of Universidade Estadual de Feira de Santana, to the attention of the curator of the Ethnozoology Section.
The specimens collected were processed and identified by Professor M. Sc. Cesar Carqueija (Faculdade de Tecnologia e Ciências in Salvador) to the lowest possible taxonomic level, and afterwards stored in the Zoology Museum of the FTC. The record numbers are: Ucides cordatus (MZFTC 5879), Cardisoma guanhumi (MZFTC 5880), Goniopsis cruentata (MZFTC 5881), Callinectes exasperatus (MZFTC 5882), and Callinectes danae (MZFTC 5883). Duplicates were stored in the invertebrate collection of the Zoology Museum of Universidade Estadual de Feira de Santana (MZUEFS) and also in the zoological collection of the Universidade Estadual de Santa Cruz.
Conclusion
Artisanal fishermen of Conde have an established knowledge on biological and ecological aspects related to brachyuran crustaceans of economic importance in the region, as well as the environment where they live, which covers the external morphology, life cycle associated with tidal dynamics, reproduction, trophic ecology and spatial and temporal distribution. Much of this knowledge is supported by data from the specialized scientific literature.
Although the creation of the Marine Extractive Reserve, a sort of marine protected area, IUCN category VI, to preserve both scenarios environmental and socio-cultural region of Earl is still a future possibility, this study, and other ethnobiological to be performed, should be used for ordering the management of local resources. In the case of the use of the crustaceans by local communities, the establishment of rules of use to the zones identified – "mangrove", "river" and "marsh" should be incorporated into the protected area management, ensuring the sustainability of the resource and recognizing traditional knowledge.
With this interaction ensures the perpetuation of social local way of life and biodiversity conservation on the north coast of Bahia.
Authors' Affiliations
(1)
Biologist, Master of Science in Applied Zoology, Universidade Estadual de Santa Cruz, Ilhéus, Brazil
(2)
Biologist, Master of Science in Development and Environment, UFAL, Brazil. PhD in Ecology and Natural Resources, UFSCar, Brazil. Post-doctoral studies in Ethnoentomology, UNAM, Mexico. Permanent Professor at Universidade Estadual de Feira de Santana, Feira de Santana, Brazil
(3)
Ecologist. Master of Science in Environment Engineering Sciences, USP, Brazil. PhD in Ecology and Natural Resources, UFSCar, Brazil. Full Professor at Universidade Estadual de Santa Cruz, Ilhéus, Brazil
Copyright
© de Magalhães et al; licensee BioMed Central Ltd. 2012
This article is published under license to BioMed Central Ltd. This is an Open Access article distributed under the terms of the Creative Commons Attribution License (http://creativecommons.org/licenses/by/2.0), which permits unrestricted use, distribution, and reproduction in any medium, provided the original work is properly cited.