An ethnobotanical analysis of parasitic plants (Parijibi) in the Nepal Himalaya
Journal of Ethnobiology and Ethnomedicine
2016
12:14
Received: 28 July 2015
Accepted: 16 February 2016
Published: 24 February 2016
Abstract
Background
Indigenous biocultural knowledge is a vital part of Nepalese environmental management strategies; however, much of it may soon be lost given Nepal's rapidly changing socio-ecological climate. This is particularly true for knowledge surrounding parasitic and mycoheterotrophic plant species, which are well represented throughout the Central-Eastern Himalayas but lack a collated record. Our study addresses this disparity by analyzing parasitic and mycoheterotrophic plant species diversity in Nepal as well as the ethnobotanical knowledge that surrounds them.
Methods
Botanical texts, online databases, and herbarium records were reviewed to create an authoritative compendium of parasitic and mycoheterotrophic plant species native or naturalized to the Nepal Central-Eastern Himalaya. Semi-structured interviews were then conducted with 141 informants to better understand the biocultural context of these species, emphasizing ethnobotanical uses, in 12 districts of Central-Eastern Nepal.
Results
Nepal is a hotspot of botanical diversity, housing 15 families and 29 genera of plants that exhibit parasitic or mycoheterotrophic habit. Over 150 of the known 4500 parasitic plant species (~3 %) and 28 of the 160 mycoheterotrophic species (~18 %) are native or naturalized to Nepal; 13 of our surveyed parasitic species are endemic. Of all species documented, approximately 17 % of parasitic and 7 % of mycoheterotrophic plants have ethnobotanical uses as medicine (41 %), fodder (23 %), food (17 %), ritual objects (11 %), or material (8 %).
Conclusions
Parasitic and mycoheterotrophic plant species exhibit high diversity in the Nepal Central-Eastern Himalaya and are the fodder for biocultural relationships that may help inform future environmental management projects in the region.
Keywords
NepalHimalayaEthnobotanyParasitic plants
Background
Indigenous biocultural knowledge (IBK) is pillar of environmental management strategies in Nepal, and has been adopted into policies that attempt to ensure that indigenous communities live in and benefit from 'nature' in a sustainable manner. For over two decades, IBK-conscious legislation such as the Forest Act [1], Forest Regulation Act [2], and National Biodiversity Strategy [3] as well as international contracts with the Convention on International Trade in Endangered Species of Wild Flora and Fauna [4], Ramsar Convention [5], and United Nations Convention on Biological Diversity [6] have cultivated cooperative relationships between Indigenous and local groups and management officials. Today, over 35 % of the 27.8 million-person population participates in Nepal's vibrant community forestry program [7, 8], with over 70 % of the total population directly dependent on wild-forest crops for primary livelihood, food, and medicine [9]. IBK-conscious polices have bolstered existing socio-ecological relationships in Nepal, conserved natural resources, and preserved the country's cultural heritage.
However, in spite of recent successes, Nepal's current policies face impending challenges from 'modernizing' forces and accelerated rates of environmental change [10]. For instance, population growth, human migration, and agricultural development have had pernicious ramifications in many sacred and protected zones, including Chitwan National Park [11–13]. At higher altitudes, overharvest of medicinal plants, driven primarily by market demands in India and China [14], has disrupted historical ecosystem dynamics and transformed traditional livelihoods [15, 16]. Beyond these acute sources of environmental degradation, trends in migrant labor and education have further stunted rates of IBK transmission, reducing the practicality of existing policies [17]. Therefore, future conservation strategies must, in part, preserve IBK that may provide human and ecological communities with greater adaptive capacity to cope with current and future environmental change.
IBK in the form of Traditional Botanical Knowledge (TBK) may provide the most viable option for ameliorating current rates of biocultural attrition in Nepal. TBK incorporates perceptions of natural environments, including elements such as soil, climate, vegetation type, stages of ecological succession, and land use [15], and has been celebrated for its ability to support local economies through alternative livelihoods [16]. Nepal ranks as the 9th most floristically diverse country in Asia. Despite occupying 0.1 % of earth's land cover, it houses over 8000 plant species of which one quarter are believed endemic [10, 18]. Approximately 50 % of these plants are considered 'useful' [19] or 'ethnobotanical' in nature [20] and 25–50 % are expected to have medicinal properties [19, 21, 22]. Agroforestry and sustainable harvesting practices of medicinal or useful plant species, including many culinary species such as cardamom, may provide the economic incentive [23, 24] necessary to ensure the future health of Nepalese ecosystems [25].
Although there has been a recent surge in TBK research, certain species remain significantly understudied in Nepal. In particular, the guild of plants known as parasites and mycoheterotrophs, collectively denoted by the term parijibi in Nepali language, lacks a literature record. Parasites and mycoheterotrophs (PMP) are unique among plants because they depend upon a host plant for some or all of their nutrients during a period of their lifecycle. Globally, there are 20 parasitic plant families and eight mycoheterotrophic plant families, many of which do not photosynthesize, and, therefore, have atypical life histories. Moreover, all PMPs have extreme habitat specifications that are inherently bound to forest community dynamics as well as their host-species ranges. Together, these requirements have had marked affects on PMP population densities, abundances, and potential ranges. PMP are well represented in Nepal; however, little is known about their exact diversity or the biocultural knowledge that surrounds them.
To address this disparity, our study aims to create the first compendium of PMP taxa in Nepal, including their growth habit, geographic distribution, altitudinal range, host plants, flowering and fruiting times. We then seek to create a comprehensive biocultural record of PMPs, emphasizing TBK and ethnobotanical uses, to preserve the biocultural heritage of these species in the Central-Eastern Himalayas. Based on fieldwork conducted from September 2013 through May 2014 and an exhaustive literature review, we developed a critical interpretation of PMP use and management.
Methods
Study area
Nepal occupies a 147,181-km2 zone in the Central-Eastern Himalayan range (latitude: 26°22′ to 30°27′ N; longitude: 80°40′ to 88°12′ E) between China and India. It is administratively divided into five development regions, 14 zones, 75 districts, 191 municipalities, and 3276 village development committees (VDC). At the level of VDC, most communities are further subdivided along ethnic or caste lines, stratifying IBK/TBK well beyond the level of administrative boundaries.
Ecologically, the country is classified into three vegetative and seven physiogeographic zones based on altitudinal variations from the lowlands (59 m) to the high Himalayas (8848 m). However for the purposes of policy, the Master Forestry Plan for Nepal considers only five physiogeographic zones based on altitude: Terai (60–330 m), Siwalks (120–2000 m), Middle Mountain (2000–3000 m), High Mountains (3000–4000 m) and High Himal (above 4000 m). Our fieldwork was primarily conducted in the Terai and Middle Mountains of Central and Eastern Nepal. Our review spans the entire country (Fig.
1
).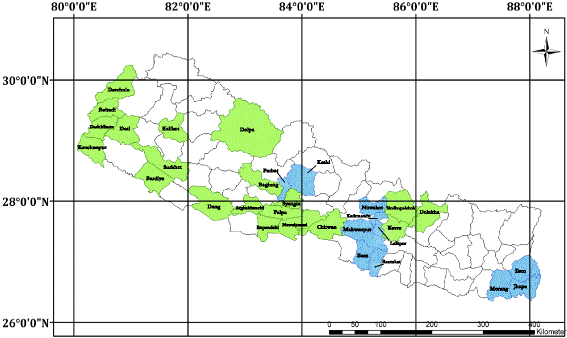 Ethnobotanical survey
Before initiating our ethnobotanical investigation, we collected all available data on the status of PMP in Nepal. First, we reviewed authoritative botanical texts [25–30] to glean details on plant distributions, altitudinal ranges, parasitic habit, hosts, flowering times, and fruiting times. We then cross-referenced these data against online botanical databases [31–33], and compared these data against herbaria records at Nepal's National Herbarium and Plant Laboratories (KATH) [34] in Godawari, Lalitpur, Tribhuvan National University's Central Department of Botany's Herbarium (TUCH) [35] located in Kirtipur, Kathmandu, and Tribhuvan University Post-Graduate Campus' botanical collections in Biratnagar, Morang (TUCH; 34). Once this process was complete, we generated range maps and species profiles for each PMP using ArcGIS version 9.3 to guide our ethnobotanical survey [36] (Additional files 1, 2 and 3). A linear regression analysis was then performed to understand how altitudinal gradients correlate with PMP diversity in Nepal.
Once botanical data were collated, we conducted field expeditions to evaluate the presence and perceptions of PMP in 12 districts based on high levels of reported biological and cultural diversity: Bara, Chitwan, Ilam, Jhapa, Kathmandu, Kaski, Lalitpur, Makwanpur, Morang, Nuwakot, Parbat, and Rautahat Districts (Table
1
). Some larger VDCs visited during this time include: Akumba (Bara), Biratnagar (Morang), Birtamode (Jhapa), Chitre (Kaski), Daman (Makwanpur), Mhanegang (Nuwakot), and Sikles (Kaski). At each site, we surveyed ecosystems with the help of local guides in order to evaluate the presence of PMPs at each site. When permitted, we collected samples for use during interviews. Informants were later presented with freshly pressed or gathered plant material; in some cases, dried specimens or high-resolution, color photographs were used due to harvesting regulations (e.g. Fig.
2
).
| Family | Genus | Number of species |
| --- | --- | --- |
| Amphorogynaceae | Dufrenoya | 2 |
| Balanophoraceae | Balanophora | 3 |
| | Rhopalocnemis | 1 |
| Cervantesiaceae | Pyrularia | 1 |
| Convolvulaceae | Cuscuta | 4 |
| Loranthaceae | Dendrophthoe | 2 |
| | Helixanthera | 2 |
| | Loranthus | 2 |
| | Macrosolen | 1 |
| | Scurrula | 4 |
| | Taxillus | 2 |
| Olaceae | Olax | 1 |
| | Erythropalum | 1 |
| Opiliaceae | Cansjera | 1 |
| | Lepionurus | 1 |
| Orobanchaceae | Aeginetia | 2 |
| | Boschniakia | 1 |
| | Buchnera | 2 |
| | Centranthera | 2 |
| | Euphrasia | 7 |
| | Leptorhabdos | 1 |
| | Orobanche | 6 |
| | Pedicularis | 71 |
| | Phtheirospermum | 1 |
| | Striga | 4 |
| Santalaceae | Osyris | 2 |
| | Thesium | 2 |
| | Santalum | 1 |
| Schoepfiaceae | Schoepfia | 1 |
| Viscaceae | Viscum | 5 |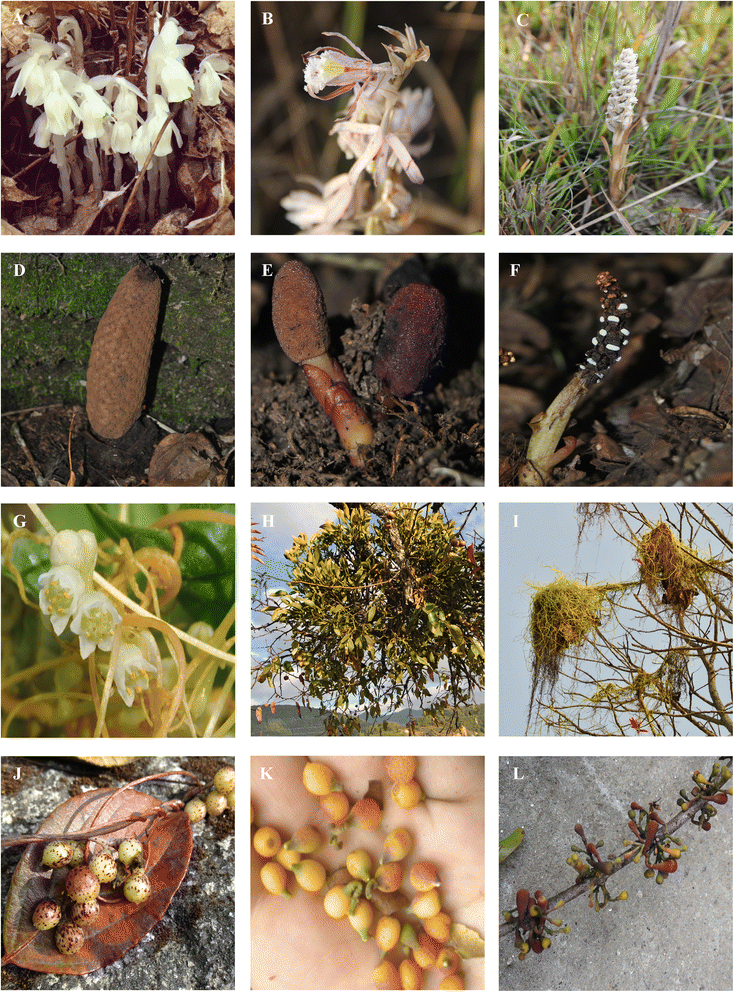 At each study site, we interviewed both specialist and non-specialist plant user groups using a Rapid Rural Appraisal method [37]. Specialist groups reviewed and consulted during this time include traditional doctors or healers known variously as amchis, bonpos, dhamis, jhankris, and khabres as well as management officials, such as plant quarantine officers and junior technical agricultural assistants. Non-specialist groups consisted of people, including farmers, trade workers, and students, for whom plants are not an important component of their professional life, but who may use them for other purposes or personal use [16]. We spoke with all who readily accepted to be interviewed; however, we took care to involve no more than one informant from the same household during a single interview session.
Using an informal, semi-structured questionnaire (Additional file 4), we evaluated biocultural knowledge in terms of the informant's ability to identify PMPs and describe their ethnobotanical uses. They were then asked if they recognized the plant, if there was a local name for the plant, if it had any uses, and if they personally used it [16]. We also asked general questions related to population abundance, including population distributions, localities, habitat types, and characteristics of different populations. More specific questions focused on knowledge of the biology and ecology of PMPs, including their life histories. Before each interview, prior informed consent was obtained with the help of district-level and village-level community leaders, government officials, and local guides to collect and disseminate their IBK (Cornell University IRB: 1311004259).
In total, we interviewed 141people (Male: 89, Female: 52; Average Age: 51 years) from both specialist and non-specialist groups (Table 1). Informants varied in ethnic identity, including Brahmin/Chhetri (14 %), Dalit (10 %), Gurung (27 %), Madeshi/Tharu (17 %), Rai (8 %), and Tamang (24 %). Approximately 62 % of those interviewed had no formal education, and approximately 72 % engaged in agricultural or pastoral livelihoods. All informants had lived in their respective village for their entire lives with the exception of five Gurung men in Kaski District who served for an average of 20 years each in the Indian Army or British Army's Gurkha regiment. Use accumulation curves were used to determine the number of interviews conducted for each PMP per site was sufficient [37].
When permitted, herbaria specimens were also collected and voucher records mounted following standard procedures [16]. Most specimens were identified to the species level and were deposited at TUCH in Kirtipur, Kathmandu. In addition, we took photographs and recorded species information, geographical coordinates, altitude, and habitat type and characteristics on herbaria records as well as in Additional files 1, 2 and 3. Finally, R. P. Chaudhary of Tribhuvan University's RECAST Division, as well as P. K. Jha and K. K. Shrestha of Tribhuvan University's Central Department were consulted regarding species identification and study methods.
We then conducted an exhaustive literature review on the ethnobotanical uses and biocultural knowledge surrounding parasitic and mycoheterotrphic species to supplement our field research [19, 26, 29, 38–86]. Our review targeted data on common names, plant uses, and plant preparations. Our internet surveys were conducted using the study country's name (Nepal), plant species' name, and the following keyword combinations: ethnobiology, ethnobotany, ethnoecology, ethnopharmacology, ethnobiological, ethnobotanical, ethnoecological, ethnopharmacological, and ethnoveterinary. We also visited the Tribhuvan University and Cornell-Nepal Study Program libraries (Kirtipur, Kathmandu) to collect all available information from unpublished Master's thesis. We are aware that our collection criteria, although exhaustive, did not include all unpublished studies and/or all local journals or articles not published in English, Nepali, or Tibetan languages.
Conclusions
Ethnobotanical analyses provide insight into how indigenous groups manage and perceive natural resources based on traditional relationships to the environment. They can provide crucial details on the population ecology and economic importance of many species, and are thus crucial when developing environmental management programs in regions such as the central Himalaya. Our study revealed that many Nepalese people possessed a great deal of IBK on PMPs, in spite of the fact that many PMPs are not longer used a medicine. Our study also depicts the heterogeneity of IBK in Nepal as stratified within and among ethnic groups and age cohorts. Both species diversity and the traditional knowledge that surrounds them are important factors to consider when designing future conservation projects.
Declarations
Acknowledgments
We are grateful for the assistance and advice of the Cornell-Nepal Study Program, including Banu Oja, David Holmberg, and Dambar Chemjong, as well as our advisors at Tribhuvan University's Central Department of Botany. At Tribhuvan University, we would like to extend particular thanks to R.P. Chaudhary, P.K. Jha, and K.K. Shrestha for their advice during study design and implementation. We would also like to thank Garima Adhikari, Bandana Awasthi, Tanka Gurung, Santosh Lamichane, Santosh Magar, Hum Kala Rana, Bhogendra Shah, Manoj Suji, and Bikram Wagle who provided assistance translating and collecting specimen for identification. Finally, this manuscript would not have been crafted without the mentorship of Martha Weiss at Georgetown University.
Open AccessThis article is distributed under the terms of the Creative Commons Attribution 4.0 International License (http://creativecommons.org/licenses/by/4.0/), which permits unrestricted use, distribution, and reproduction in any medium, provided you give appropriate credit to the original author(s) and the source, provide a link to the Creative Commons license, and indicate if changes were made. The Creative Commons Public Domain Dedication waiver (http://creativecommons.org/publicdomain/zero/1.0/) applies to the data made available in this article, unless otherwise stated.
Authors' Affiliations
(1)
Fulbright-Nehru Research Scholar, G. B. Pant Institute of Himalayan Environment & Development, Gangtok, India
(2)
Department of Botany, Systematics and Biodiversity, Central Department of Botany, Tribhuvan University, Kirtipur, Nepal