Engaging indigenous and academic knowledge on bees in the Amazon: implications for environmental management and transdisciplinary research
Simone Athayde

1

Email author

,

John Richard Stepp

2 and

Wemerson C. Ballester

3
Journal of Ethnobiology and Ethnomedicine
2016
12:26
Received: 17 February 2016
Accepted: 17 May 2016
Published: 20 June 2016
Abstract
Background
This paper contributes to the development of theoretical and methodological approaches that aim to engage indigenous, technical and academic knowledge for environmental management. We present an exploratory analysis of a transdisciplinary project carried out to identify and contrast indigenous and academic perspectives on the relationship between the Africanized honey bee and stingless bee species in the Brazilian Amazon. The project was developed by practitioners and researchers of the Instituto Socioambiental (ISA, a Brazilian NGO), responding to a concern raised by a funding agency, regarding the potential impact of apiculture development by indigenous peoples, on the diversity of stingless bee species in the Xingu Park, southern Brazilian Amazon. Research and educational activities were carried out among four indigenous peoples: Kawaiwete or Kaiabi, Yudja or Juruna, Kīsêdjê or Suyá and Ikpeng or Txicão.
Methods
A constructivist qualitative approach was developed, which included academic literature review, conduction of semi-structured interviews with elders and leaders, community focus groups, field walks and workshops in schools in four villages. Semi-structured interviews and on-line surveys were carried out among academic experts and practitioners.
Results
We found that in both indigenous and scientific perspectives, diversity is a key aspect in keeping exotic and native species in balance and thus avoiding heightened competition and extinction. The Africanized honey bee was compared to the non-indigenous westerners who colonized the Americas, with whom indigenous peoples had to learn to coexist. We identify challenges and opportunities for engagement of indigenous and scientific knowledge for research and management of bee species in the Amazon. A combination of small-scale apiculture and meliponiculture is viewed as an approach that might help to maintain biological and cultural diversity in Amazonian landscapes.
Conclusion
The articulation of knowledge from non-indigenous practitioners and researchers with that of indigenous peoples might inform sustainable management practices that are, at the same time, respectful of indigenous perspectives and intellectual property rights. However, there are ontological, epistemological, political and financial barriers and constraints that need to be addressed in transdisciplinary research projects inter-relating academic, technical and indigenous knowledge systems for environmental management.
Keywords
Indigenous and academic knowledge systems
Ethnoecology
Transdisciplinary knowledge production
Brazilian stingless bees
Xingu Indigenous Park
Resumo
Background
Este artigo contribui para o desenvolvimento de abordagens teóricas e metodológicas visando engajar conhecimentos indígenas e acadêmicos para o manejo e a gestão ambiental. Apresenta-se uma análise exploratória de um projeto transdisciplinar desenvolvido para identificar e contrastar perspectivas indígenas e acadêmicas sobre a relação entre as espécies de abelhas sem ferrão e a abelha européia africanizada na Amazônia brasileira. O projeto foi desenvolvido por técnicos e pesquisadores do Instituto Socioambiental (ISA, Ong brasileira) respondendo a uma preocupação levantada por uma agência de financiamento, relacionada com um potencial impacto da produção comercial de mel de abelhas por povos indígenas sobre a diversidade de espécies de abelhas sem ferrão no Parque Indígena do Xingu, no sul da Amazônia brasileira. Atividades educativas e de pesquisa foram realizadas junto aos povos Kawaiwete (conhecido como Kaiabi), Yudja or Juruna, Kīsêdjê or Suyá and Ikpeng or Txicão.
Métodos
Foi aplicada uma abordagem qualitativa construtivista, envolvendo revisão de literatura e realização de entrevistas semi-estruturadas com idosos e líderes, grupos focais, saídas a campo e oficinas nas escolas de quatro aldeias. Aspectos do conhecimento acadêmico e técnico foram levantados através da condução de entrevistas semi-estruturadas e por e-mail, envolvendo especialistas acadêmicos e técnicos.
Resultados
Observou-se que em ambas as perspectivas indígenas, acadêmicas e técnicas, a diversidade é um aspecto fundamental para manter espécies exóticas e nativas em equilíbrio e, assim, evitar concorrência e competição exacerbadas que podem levar à extinção ou desaparecimento de espécies. A abelha europeia africanizada foi comparada com os ocidentais não-indígenas que colonizaram as Américas, e com os quais os povos indígenas tiveram que aprender a conviver. Foram identificados desafios e oportunidades para engajar sistemas de conhecimento indígenas e acadêmicos na pesquisa e manejo de espécies de abelhas na Amazônia. Tanto a apicultura como a meliponicultura, se realizadas de forma artesanal em pequena escala, são vistas como atividades com potencial de contribuir para manter a diversidade biológica e cultural em paisagens amazônicas.
Conclusão
A articulação de conhecimentos de acadêmicos e técnicos não-indígenas com sistemas de conhecimento indígena pode informar práticas de gestão sustentáveis que reconheçam e respeitem as perspectivas e direitos de propriedade intelectual indígenas. Entretando, existem barreiras ontológicas, epistemológicas, políticas e financeiras que devem ser enfrentadas em iniciativas de produção transdisciplinar de conhecimento inter-relacionando diferentes sistemas de conhecimento.
Palavras-chave
Sistemas de conhecimento indígenas e acadêmicos
Etnoecologia
Conhecimento transdisciplinar
Abelhas sem ferrão
Abelha européia africanizada
Parque Indígena do Xingu
Background
In academia, there has been much discussion on the value of articulating indigenous and scientific or academic knowledge to conserve biodiversity and promote sustainable environmental management [1–6]. Hall ([7]:328) considers traditional ecological knowledge (TEK) as a "component of social capital for promoting economic progress and supplying environmental services" which has been neglected by official planners and policy-makers. Cultural understandings of the environment might be instrumental in nature conservation initiatives and programs, providing knowledge of species requirements, ecosystem dynamics, sustainable harvesting levels and ecological interactions [8–10]. Baggethun et al. [11] highlight the importance of traditional ecological knowledge systems (TEK) as reservoirs of experiential knowledge that might provide insights for the design of adaptation and mitigation strategies to cope with global environmental change.
Berkes et al. [12] define traditional or indigenous knowledge (IK) as cumulative and adaptive by nature, tested by trial-and-error and transmitted through generations orally or by shared practical experiences. According to Brush [1], TEK reflects the ecological adaptation of humans to diverse environmental settings, thus it can serve as a ground for the development of initiatives to conserve biological diversity. Erren et al. [13] propose that folk knowledge held by non-scientists such as indigenous persons may be manifested in common sense. These bodies of knowledge might be compared to the scientific research process, since they are the result of powerful tests of hypotheses by many individuals across time and space. Evidence supports the claim that biodiversity conservation and management projects have been more successful when local knowledge was incorporated in the process [9, 14, 15].
Despite existing examples integrating indigenous and academic "bodies of knowledge" towards solving complex problems, the processes through which such knowledge engagement might be enabled or constrained are poorly elicited, as Raymond et al. [6] noted. Engaging indigenous and academic knowledges for solving environmental problems may be challenging and time consuming. It entails skills and tools for transdisciplinary knowledge production, long-term funding and coordinated actions by different actors including indigenous communities, policy-makers, researchers, government officers, managers and others [16, 17]. In academia, generating knowledge to address complex social-environmental problems often involves developing interdisciplinary research across disciplinary fields in the biophysical and social sciences [18]. Transdisciplinary research involves co-production of knowledge by scientists, researchers and non-academic participants [17, 19]. Both interdisciplinary and transdisciplinary knowledge production face epistemological, methodological, philosophical, political, financial and practical obstacles [6, 16, 20, 21].
Given the multiplicity of contexts and objectives that underlie co-production of knowledge between non-academic and academic actors, we suggest that such initiatives should provide analyses and reflection on both the process and the products or outcomes achieved, enabling adaptive learning and knowledge exchange across geographical and cultural borders.
In this paper, we present an analysis of a project developed to engage indigenous and academic knowledge on the ecology and management of bees in the Amazon. The project was implemented in response to a concern from a funding agency, related to the potential impact of development of apiculture on the diversity of stingless bees in the Xingu Park region. We adapt the framework proposed by Raymond et al. [6] to evaluate how knowledges were identified, engaged, evaluated, integrated and applied within an educational and research project named "Bees Ecology", involving four indigenous peoples from Xingu Park. Project activities included consultation with biophysical scientists and practitioners specialized in bee biology, ecology and management in Brazil. We reflect on "how" knowledges were engaged, present "what" knowledge resulted from this effort, analyze "whom" the produced knowledge is useful to and for "what" purpose. We add reflections and questions to the framework, which may be useful to inform transdisciplinary research between scientists, practitioners, managers and indigenous communities involved in initiatives of collaborative knowledge production.
The article is developed in five parts: a) background on the context and framing the problem, including two introductory subsections on historical and biological elements of the Africanized honey bee and stingless bee species; b) methods and tools used for transdisciplinary knowledge assessment and engagement; c) indigenous knowledge elements on stingless bees including myths and ethnoecology; d) academic, technical and indigenous perspectives on the relationship between the Africanized honey bee and stingless bee species in the Brazilian Amazon; and e) contributions to collaborative environmental management engaging indigenous and academic knowledge systems.
Brief history of the introduction of the Africanized honey bee in Brazil
According to the official story written by non-indigenous scholars, the introduction of the European Apis mellifera in Brazil occurred around 1839 by the Portuguese, mainly by the Jesuits priests, primarily for wax extraction for candle production used for religious purposes [22]. In 1845, German colonizers brought over more bees, beginning apiculture in the south of Brazil [22]. Following these events, other colonizers also brought European bees to different Brazilian regions, some of them unregistered. Until the middle of 20th Century, the European A. mellifera did not disperse beyond the locations where it was introduced.
The Brazilian government asked Dr. Warwick Kerr, a biologist and geneticist, to "create" a bee that could produce more honey in tropical environments. In 1956, Dr. Warwick Kerr led an expedition to South Africa and Zimbabwe and brought 36 African queens to an agricultural research station in the State of São Paulo. By interbreeding the queens through artificial insemination with European drones, Kerr and his associates produced a number of first generation hybrids. After several months, their stock of Africanized honey bees was reduced to 29 and they were maintained in hive boxes equipped with queen excluders. In October of 1957, a local beekeeper noticed the queen excluders and removed them, accidentally releasing 26 Africanized honey bee queens with small swarms to the forest nearby [22, 23]. There was no way to find these "lost queens" again. This incident changed the history of bees and beekeepers forever. Africanized honey bees have spread out to the west and north in South America, Central America and eastern Mexico, at a rate of near 200 miles per year. In 1990 these bees reached southern Texas, finding their way to California in 1995. They then spread north, and were found in Nevada by 1998. By 2004, the bees had migrated through Texas and were detected in Oklahoma. Most recently, the Africanized honey bee has become established in western Louisiana, southwestern Arkansas, and southern Florida [24].
Biological and ecological traits of the Africanized honey bee and stingless bees
Since the introduction and hybridization of the Africanized honey bee in Brazil some sixty years ago, there has been a lot of debate and research on the possible impact of this exotic bee on the diversity of stingless native bees and other pollinators, on the ecology of tropical forests, and on the pollination of economically important crops [25–31].
Genetically speaking, the Africanized honey bee is a hybrid of one of the several European honey bee subspecies (Apis mellifera; A. m. carnica; A. m. caucasia; or A. m. linguica) and the African honey bee (A. m. scutellata) [25]. The Africanized honey bee is classified as an r-selected species: they discover new habitats quickly, disperse readily to find other habitats when their current one has become unstable or inhabitable, use resources efficiently and reproduce rapidly. Furthermore, they have a highly defensive nature and show the ability to survive on sparse supplies of pollen and nectar [25, 32]. According to Roubik [33], stingless bees have 50 times more species that the genus Apis, and biologically differ from Apis species in many aspects. First, stingless bees cannot migrate, and are restricted to local and regional ecological and climatic conditions. Stingless bees produce less honey when compared to Africanized honey bees, and thus they possess less economic importance. Nesting habits are greatly variable among stingless bees. They generally lack the generalized nesting habits of the Africanized honey bee, and the capacity to abscond as colonies. While there is evidence of competition for nest sites and food between Apis honey bees and meliponine stingless bees, Roubik (op cit.) affirms that competition is comparatively more intense among honey bees, than between these and stingless bees.
Stingless bees are also named meliponines, since most of them belong to the Meliponini tribe in the Apidae family. They play a fundamental role in the maintenance of biodiversity in the tropics, and are responsible for the pollination of some 80 % of tropical plant species [34]. Brazilian ecosystems host around 5,000 species of native bees, which is nearly 20 % of the world's bee diversity [35]. Apiculture and meliponiculture (keeping of stingless bees) are promising market-oriented economic alternatives for indigenous peoples and other traditional societies. Besides the economic benefits from increasing market opportunities for bee products, meliponiculture can generate important information to be used in the conservation of native bee species around the world [34, 36, 37].
While there has been significant research done on the biology, ecology, beekeeping and conservation of Brazilian stingless bees [37–42], there is a gap of knowledge regarding indigenous knowledge of stingless bees species and indigenous peoples views on the impact of the Africanized honey bee over stingless bees diversity. Darrell Posey [42–46] carried out important research on Kayapo ethnoentomology, including Kayapo knowledge and management practices of stingless bees. He pointed out that indigenous knowledge on the relationship of Africanized Honey bee and the native stingless bees is an issue that deserves more attention and further study, and that research on IK represents a central issue in the conservation of both cultural and biological diversity in Amazonia [42, 43].
In the past several years, the world has witnessed an unprecedented collapse of Africanized honey bee colonies, a new phenomenon known as Colony Collapse Disorder (CCD), which has been especially severe in the US. This phenomenon is caused by a complex combination of factors such as pathogens, bacterial diseases, cumulative impacts of pesticide use and decline in genetic diversity [47]. According to the United States Department of Agriculture (USDA), an estimated one-third of all food and beverages are made possible by pollination, done mainly by honey bees. In the US, pollination contributes to crop production which is worth some $20–30 billion in agricultural production annually [47]. A decline in managed bee colonies puts great pressure on the sectors of agriculture reliant on commercial pollination services.
Results and discussion
The project resulted in products tailored to indigenous communities, a report presented to the funding agency, and academic publications [57, 58]. It also resulted in the organization of a special session during the 13th Congress of the International Society of Ethnobiology, in which Kawaiwete and Kayapo myths were developed in an interactive storytelling format using puppets [59]. In addition to addressing the problem through a transdisciplinary approach, the project enabled, with limitations, the sharing of knowledge within and between the indigenous groups involved in apiculture and meliponiculture activities, as well as between them and academic "experts" in Brazil, within the leading NGO (ISA), and with funding agency personnel.
The results and discussion are presented in the order in which the themes were developed with the indigenous communities involved in the project, adapting the framework by Raymond et al. [
6
] as an analytical lens to reflect on the process of knowledge identification, engagement, evaluation and application (Fig.
3
):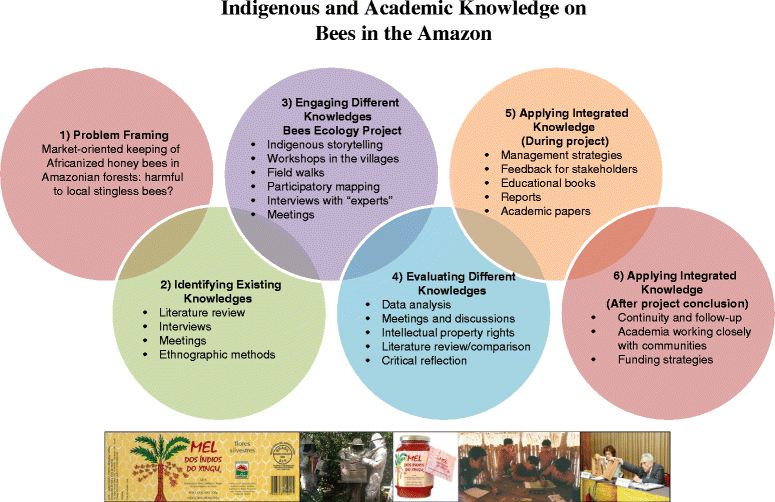 Oral history and myths related to the Africanized honey bee and stingless bees;

Elements of ecology and management of bee species by indigenous communities in Xingu Park;

Academic and indigenous perspectives on competition between bees and on the relationship between the Africanized honey bee and stingless bee species;

Reflection on the process of knowledge engagement and recommendations for knowledge exchange, research and management of bee species between academics, practitioners and indigenous communities.
Conclusion
Indigenous peoples from Xingu Park participating in this project have incorporated the Africanized honey bee into their knowledge systems and cosmovision in a rather short period of time. Interestingly, the introduced species was incorporated into myths and stories along with existing species. This has implications for the field of human ecology and other related scientific areas, in the recognition of the dynamic and mobile aspects of indigenous knowledge in contemporary contexts.
The Africanized honey bee was compared by indigenous participants to the non-indigenous western colonizers, who came from far to colonize Amazonian landscapes, with which indigenous societies have had to learn to adapt to and coexist with. Advantage or prejudice is not a straight forward question to answer, since the Africanized honey bee brought both benefits and problems to stingless bee communities, who can be compared to the different indigenous ethnic groups that historically inhabit and manage Amazonian landscapes.
The introduction of exotic animal and plant species into continents and environmental conditions is not a new problem, but an action that has been practiced by governments, scientists and people for millennia. However, often the environmental and social impacts that these exotic species can cause are not sufficiently assessed before the process is done, and the effects may not be felt in a short length of time. Thus, release of exotic or hybrid species in the wild should be critically controlled by government, researchers and managers, and should not be done without consultation and discussion with relevant societal actors, such as indigenous peoples.
Local knowledge is a starting point for participatory construction of knowledge or for engaging different knowledges to solve a specific problem. As Whyte [86] suggests, traditional ecological knowledge might be approached as a collaborative concept, serving to invite diverse populations to continually learn from one another about how each approaches the question of knowledge in the first place, and how these different approaches might be engaged to better steward natural resources for enhanced conservation and human well-being. It is important to recognize that there are multiple barriers and constraints to transdisciplinary engagement between academic, technical, and indigenous knowledge systems. These include epistemological, political, and financial constraints.
Both academic and indigenous persons involved in this study recognize that diversity is a key aspect in keeping both exotic and native species in balance and thus avoiding heightened competition and extinction. It is important to recognize the role of indigenous peoples' knowledge systems in creating, enhancing and conserving biodiversity in both local and landscape scales. Keeping diversity in indigenous lands may also entail developing economic alternatives compatible with traditional lifestyles. Artisanal apiculture and meliponiculture may be practiced as sustainable activities that potentially contribute to the maintenance of biological and cultural diversity in Amazonian landscapes.
Declarations
Acknowledgements
This work was conducted through a partnership between the Instituto Socioambiental (ISA), the Associação Terra Indígena Xingu (Xingu Park Indigenous Association- ATIX); Associação Paulista de Apicultores e Criadores de Abelhas Melíficas Européias (APACAME), with financial support from The Rainforest Norwegian Foundation (NRF) and Fundo de Pequenos Projetos do GEF/PPP/Global Environmental Facility. Thanks to Phil Williams (Center for Latin American Studies, UF) and Bette Loiselle (Tropical Conservation and Development Program, UF) for publication support. Indigenous teachers Sirawan Kaiabi, Karin Yudja, Yabaiwa Yudja, Maware Yudja, Mahurimã Yudja, Korotowï Ikpeng, Maiuá Ikpeng, Iokoré Ikpeng and Tempty Suyá helped to plan and develop the teaching and learning activities during workshops carried out in indigenous schools of the Kwaruja, Tuba, Pavuru and Ngojwêrê villages. We are thankful to these teachers and to the communities who participated in the project activities in these villages. We are also thankful to non-indigenous experts interviewed in this study: Dr. Paulo Nogueira Neto, Dr. Vera Lúcia Imperatriz Fonseca, Dr. Constantino Zara Filho, Waldemar Ribas Monteiro, and Mário Isao Otsuka.
Authors' contributions
SA and WCB worked collaboratively in the research design and implementation of the Bees Ecology Project by the Instituto Socioambiental in the Xingu Indigenous Park. SA and WCB prepared the manuscript, and JRS helped to frame the manuscript within theoretical fields in ethnobiology, participating in the writing and reviewing of the manuscript. All authors read and approved the final manuscript.
Competing interests
The authors declare that they have no competing interests.
Ethics approval and consent to participate
The research and resulting publication were approved by indigenous teachers who led the project activities in four villages in the Xingu Park: Kwaruja (Kawaiwete); Ngojwere (Kĩsêdjê); Tuba Tuba (Yudja) and Pavuru (Ikpeng).
Open AccessThis article is distributed under the terms of the Creative Commons Attribution 4.0 International License (http://creativecommons.org/licenses/by/4.0/), which permits unrestricted use, distribution, and reproduction in any medium, provided you give appropriate credit to the original author(s) and the source, provide a link to the Creative Commons license, and indicate if changes were made. The Creative Commons Public Domain Dedication waiver (http://creativecommons.org/publicdomain/zero/1.0/) applies to the data made available in this article, unless otherwise stated.
Authors' Affiliations
(1)
Tropical Conservation and Development Program (TCD), Center for Latin American Studies, University of Florida – UF, Gainesville, USA
(2)
Department of Anthropology, University of Florida, Gainesville, USA
(3)
Instituto Federal do Espírito Santo, Núcleo de Estudos em Agroecologia – NEA, Santa Teresa, Brazil