The role of Nucularia perrinii Batt. (Chenopodiaceae) in the camel-based Sahrawi social-ecological system
Journal of Ethnobiology and Ethnomedicine
2017
13:12
Received: 14 October 2016
Accepted: 20 January 2017
Published: 8 February 2017
Abstract
Background
Pastoral social-ecological systems (SESs) are adaptive and complex systems rooted in the extensive exploitation of forage plants for livestock-based livelihoods and culture. There are species and relations that are foundational to the existence of these SESs. Nucularia perrinii Batt. (Chenopodiaceae) is an endemic halophyte plant of central and western Sahara seldom cited in the scientific literature. The objective of this study was to investigate the role of this plant in the SES of the Sahrawi camel nomads of Western Sahara.
Methods
The data analyzed were collected in the Sahrawi refugee camps of Algeria and in Western Sahara between 2006 and 2010. Fieldwork included semi-structured (n = 38) and retrospective (n = 12) interviews with Sahrawi refugees, nomads, and camel owners about N. perrinii and associated topics (e.g. distribution, importance for camels, camel diseases, associated grazing practices, other forage plants, etc.).
Results
Askaf, as the Sahrawi call the plant, is crucial to camels' survival, providing salts and water even during dry spells. It holds a pivotal role in the Sahrawi culture, defining the geographical boundaries of the Sahrawi SES and relating the grazing territory with the taste it gives to camel milk, which support the inclusion of askaf as a main element of Sahrawi cultural identity.
Conclusions
We argue that N. perrinii ties the ecology of the western Sahara desert with camel husbandry and associated livelihoods, and further with the culture and worldview of the Sahrawi nomads. We stress the keystone role that some forage plants may have in extensive pastoral SESs worldwide.
Keywords
Pastoral nomadsSalty pasturesDromedary camelSaharaGrazing resourcesMilk tasteCultural identity
Background
'Social-ecological systems' (SESs) are defined as complex, integrated systems in which humans and nature co-evolve, emphasising, with the use of this term, the artificial and arbitrary delineation between a social and an ecological realm [1, 2]. The SES approach recognises that there is an intimate interaction between local ecosystems and their dynamics, on the one hand, and the social, cultural, and economic characteristics and dynamics of communities and societies, on the other hand. SESs are based on specific sets of animal and plant species (including humans) and on their interactions [3, 4]. Pastoral SESs, in particular, depend on livestock species, on forage plants, on the technical relation deployed to feed livestock (e.g. mobility), and on the social and cultural norms and beliefs that glue these relations in a whole [5]. Grazing species, livestock portfolio, and humans are the backbone of complex systems aimed at utilising marginal territories through technical relations based on humans' and livestock mobility [6, 7]. Among the forage species, one or more of them may have a key role in providing subsistence to distinct livestock species. These plants have deep material and cultural importance among distinct pastoral populations: they define and influence pastoralists' grazing territories and livelihood practices; they are objects of knowledge accumulation and sharing (e.g. naming and terminology, ethnobiological and ethnoecological knowledge); they have important roles in narratives or symbolism (e.g. the species is tied to myths and ancestors); and they have a unique position in cultural identity (i.e. in defining human groups and their territories, beliefs, and values).
To explore these themes, we address the material and cultural importance of grazing species in extensive pastoral SESs focusing on the role of
Nucularia perrinii
Batt. (Chenopodiaceae) in the SES of the Sahrawi camel nomads of Western Sahara. The Sahrawi have relied on camels (as well as on small ruminants), on local desert resources, and on a high degree of mobility for their livelihoods for about fifteen hundred years. They traditionally inhabited coastal areas of northwestern Africa including Western Sahara, Northern Mauritania, and part of Southwestern Algeria, and were socially organised into different tribes (e.g. Reguibat, Oulad Delim, Oulad Tidrarin, etc.) [
8
–
11
]. In 1975, following Morocco's occupation of Western Sahara, about 70,000 Sahrawi fled the Moroccan army [
12
], becoming refugees. Nowadays, after sixteen years of war (1975–1991) between Morocco and the Sahrawi's armed political organization, the Polisario Front, and the exclusion of refugees from most of their former grazing territories, about 165,000 Sahrawi live in four refugee camps located on a desert plateau called Hamada, close to the Algerian town of Tindouf [
13
,
14
]. In the camps, refugees rely on food aid [
12
], while seeking to improve their quality of life through an informal economy, engaging in remunerated labor (e.g. as butchers, mechanics, construction workers, etc.) and expanding trading routes through the camps from Mali, Mauritania, Algeria, and Spain [
13
,
15
]. Besides the camps, the Sahrawi have political control over the Eastern part of the Western Sahara, the so-called 'liberated territories'. Pastoral areas within the 'liberated territories' and their biological resources are important to the refugees' struggle to recover traditional livelihoods and cultural and social practices, from camel husbandry to medicinal plant use [
16
,
17
], as well as to engage in income generating activities [
18
]. By accessing and using these lands, refugees reduce their dependence on food aid by recovering a much-desired traditional lifestyle and authentic food products, with their taste, and associated cultural values [
14
,
15
,
19
]. Today, camel husbandry is practiced in the 'liberated territories' (within the regions of Zemmur to the north and Tiris to the south; Figs.
1
,
2
, and
3
) as well as, to a lesser extent, in the surroundings of the refugee camps. Across these areas, the climate is arid and continental, [
20
], and average annual rainfall is of 30–50 mm,, with recurrent droughts. The most important pastures are
Acacia tortilis
Hayne,
N. perrinii
,
Salsola tetrandra
Forssk.,
Panicum turgidum
Forssk., and
Astragalus
and
Stipagrostis
species [
21
]. The presence of these pastures, coupled with the adaptation of camels to dry environments, make human utilisation of the desert possible. Among the more than one hundred plant species characterising the grazing resources of western Sahara
1
, a central role and position is given to an endemic halophyte plant,
N. perrinii
or
askaf
, as it is locally called.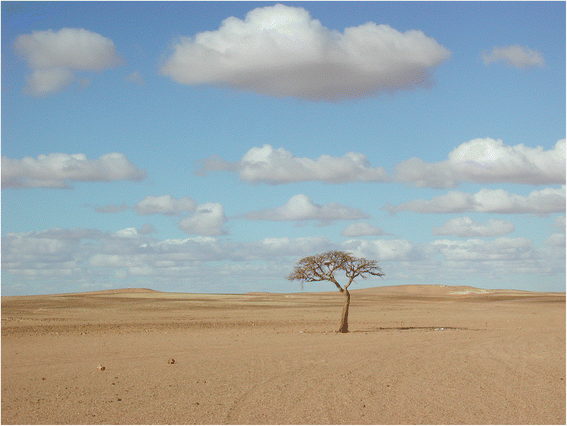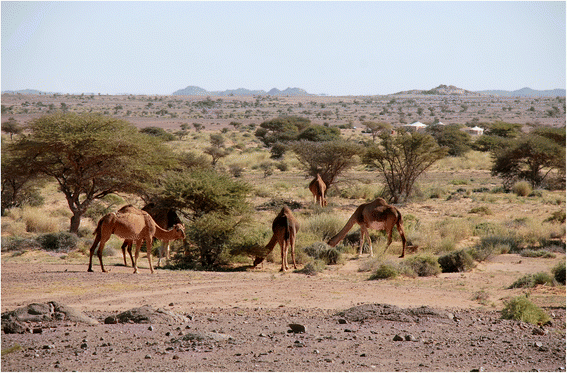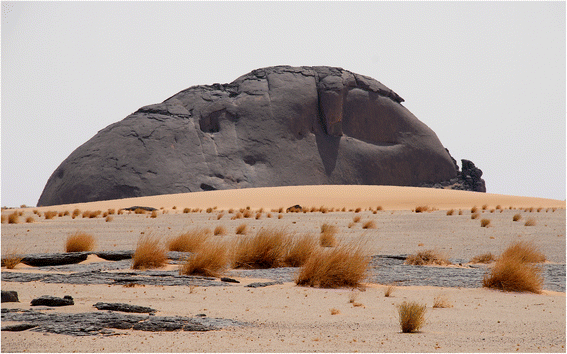 In spite of its importance for pastoralism in western Sahara, there is little information in the literature about this small desert shrub; there are no studies about its ecology or its chemical content, and it is usually cited only in ethnographic accounts about western Saharan nomads and in regional plant lists [10, 22–27]. Typing 'Nucularia perrinii' into Web of Science (http://webofknowledge.com/UA) returns just 1 hit, from our own previous work on Sahrawi pastoralism [28], whereas typing 'Nucularia perrini' (the form in which the scientific name is often misspelled) results in 2 hits, related to research on desert locusts [29, 30]. In Google Scholar (https://scholar.google.com/), the figures are of 24 and 63 hits, respectively. Besides reports of its endemic condition in western and central Sahara, few information are available about its real distribution [31]. Bromatological studies have been recently conducted by Correra [32].
In this paper, we discuss the importance of N. perrinii for the Sahrawi camel-based SES and for contemporary Sahrawi refugees in the camps of west Algeria. We first describe the methodology used for this study. Thus, we present and discuss the results focusing first on the botanical (e.g. ecology, distribution), ethnobotanical (e.g. direct uses), and ethnotaxonomic aspects of N. perrinii, and then on its key role for camel health and survival in western Sahara and on the strategies adopted by camel nomads to lead their camels to graze from askaf. We further discuss its cultural importance in terms of the taste that it gives to camel milk, in terms of its role in defining the Sahrawi's customary territory and its favourable characteristics for camel husbandry, and, based on all this, on its role to define Sahrawi cultural and political identity.
Methods
The data analysed in this paper were collected in the Sahrawi refugee camps and in the Polisario-controlled 'liberated territories' of Western Sahara between 2006 and 2010. Ethnobotanical and ethnobiological fieldwork was carried out in accordance with standard texts [33–35], consisting of anthropological fieldwork methods such as participant observation and interviews [36, 37]. Fieldwork included semi-structured (n = 38) and retrospective (n = 12) interviews with Sahrawi refugees, nomads, and camel owners about N. perrinii and associated topics (e.g. distribution, importance for camels, camel diseases, associated grazing practices, other forage plants, etc.). Interviews were conducted in Hassaniya (the Arabic language with a Berber substrate spoken by the Sahrawi) and Spanish: a local research assistant asked the questions in Hassaniya and translated the answers back into Spanish, which is the second most frequently spoken language among the Sahrawi. To ensure that, during the interview process, no mistakes were made in translation and to clarify doubtful information, interviews were recorded and transcribed with the help of the same research assistant. Qualitative data were coded and analyzed narratively (description, explanation, interpretation, quotations) using NVivo 9 (QSR International Pty Ltd.).
Botanical observations on the vegetation of the liberated territories and on the presence and distribution of N. perrinii were conducted and merged with data retrieved from the literature about the species' distribution. Voucher specimens were collected with informants through a 'walk in the woods' approach [34] in the Hamada of Tindouf and across the 'liberated territories', on five independent missions between 2006 and 2009. Plant nomenclature follows the Sahara and Western Sahara botanical standard treatises [26, 27, 38, 39] and the International Plant Name Index (www.ipni.org). Voucher specimens were deposited in the National Herbarium of The Netherlands (Wageningen Branch – Herbarium Vadense). Herbarium specimens for N. perrinii are GV1047 and GV2042.
Conclusions
Pastoral social-ecological systems worldwide are rooted in the livestock species and in the grazing resources available in a territory and utilized through the deployment of different forms of mobility within a system of social relations and culture. This study has provided an account of a key species and its relations using as case study the role and importance of the grazing plant Nucularia perrinii for the camel-based pastoral systems of the Sahrawi nomads and refugees of Western Sahara.
We reported first on the botany of N. perrinii in terms of Saharan distribution and on its taxonomy among Saharan pastoralists, and then on its material (i.e. as camel forage and veterinary remedy) and cultural (i.e. to define customary grazing territories, as main element of cultural identity) importance among the Sahrawi. This halophyte species, called askaf, is understood by the Sahrawi as representative and emblematic of the goodness of Western Sahara environment for camel husbandry. Its populations define the boundaries of customary grazing territories, and as such narratives about askaf are embedded into conceptualisation of camel diseases and their distribution, into Sahrawi gastronomic and cultural standards (i.e. in the taste given by askaf to camel milk), and further into Sahrawi identity. The counterposition that the Sahrawi construe between askaf presence, on the one hand, and with its absence and the presence of camel diseases on the other hand signals that askaf is embedded into Sahrawi cultural identity. The counterposition of askaf-tasting camel milk with powder milk made available in the refugee camps by food aid signals the antithesis between the positive values of nomadic life and the negative values of life as refugees in the camps. As a whole, these results suggest that N. perrinii is used by the Sahrawi as important grazing resource but also as a tool in which political narratives of territorial claims and self-determination (versus Morocco for the Western Sahara, and versus the refugee camps for nomadic livelihoods based on freedom of movement) are woven.
We conclude that N. perrinii ties the ecology of the Western Sahara desert with camel husbandry and associated livelihoods, and further with the culture and worldview of the Sahrawi nomads and refugees. We contribute to the understanding of the key roles of grazing species in extensive pastoral SESs, and of these species' importance for subsistence livelihoods. These findings enhance our understanding of the critical role that specific pastures have in pastoral SESs, which not only provide sustenance to pastoralists' herds but are also cultural elements woven into the fabric of pastoralists' values, beliefs, and identity.
Footnotes
1
Throughout this paper, we use the definition 'western Sahara' when referring to the western part of the Sahara desert, while we spell 'Western Sahara' when referring to the country (former Spanish Sahara) and its territory. Western Sahara is thus a politically-delimited part of western Sahara.
Declarations
Acknowledgements
We are very thankful to many Sahrawi refugees and nomads for their patience, kindness, and hospitality during the interviews. We also thank the Italian NGO Africa'70 and the Sahrawi Veterinary Services of the SADR (Sahrawi Arab Democratic Republic) for logistical support and cooperation.
Funding
Funds were granted to Gabriele Volpato by Ceres Research School of the Wageningen University, The Netherlands, as part of his PhD research on recovery and adaptation of subsistence practices and ethnobiological knowledge among the Sahrawi refugees. Antonello Di Nardo was supported by the BBSRC DTA (1094618 and BBS/E/I/00001642) and by the BBSRC Institute Strategic Programme Grant on Livestock Viral Diseases granted to The Pirbright Institute.
Availability of data and materials
The dataset analysed for this study is available from the corresponding author on request. Voucher specimens were deposited in the National Herbarium of The Netherlands (Wageningen Branch – Herbarium Vadense). Herbarium specimens for N. perrinii are GV1047 and GV2042.
Authors' contributions
GV and partly ADN carried out fieldwork in Western Sahara. Both authors composed the literature review, drafted the manuscript, read and approved the final manuscript.
Competing interests
The authors declare that they have no competing interests.
Consent for publication
Consent to publication of any pictures included in the paper has been obtained verbally from the study participants.
Ethics approval and consent to participate
Prior informed consent was obtained verbally before interviews were conducted. Participants were given an explanation of the aims, methodology, and outcomes of the study. The ethical guidelines followed were those adopted by the American Anthropological Association [80] and the International Society of Ethnobiology [81].
Open AccessThis article is distributed under the terms of the Creative Commons Attribution 4.0 International License (http://creativecommons.org/licenses/by/4.0/), which permits unrestricted use, distribution, and reproduction in any medium, provided you give appropriate credit to the original author(s) and the source, provide a link to the Creative Commons license, and indicate if changes were made. The Creative Commons Public Domain Dedication waiver (http://creativecommons.org/publicdomain/zero/1.0/) applies to the data made available in this article, unless otherwise stated.
Authors' Affiliations
(1)
Center for Integrative Conservation Research, University of Georgia, Athens, USA
(2)
The Pirbright Institute, Pirbright, Woking, Surrey, UK