Patient-centered boundary mechanisms to foster intercultural partnerships in health care: a case study in Guatemala
Journal of Ethnobiology and Ethnomedicine
2017
13:44
Received: 29 March 2017
Accepted: 23 July 2017
Published: 8 August 2017
Abstract
Background
Up to one half of the population in Africa, Asia and Latin America has little access to high-quality biomedical services and relies on traditional health systems. Medical pluralism is thus in many developing countries the rule rather than the exception, which is why the World Health Organization is calling for intercultural partnerships to improve health care in these regions. They are, however, challenging due to disparate knowledge systems and lack of trust that hamper understanding and collaboration. We developed a collaborative, patient-centered boundary mechanism to overcome these challenges and to foster intercultural partnerships in health care. To assess its impact on the quality of intercultural patient care in a medically pluralistic developing country, we conducted and evaluated a case study.
Methods
The case study took place in Guatemala, since previous efforts to initiate intercultural medical partnerships in this country were hampered by intense historical and societal conflicts. It was designed by a team from ETH Zurich's Transdisciplinarity Lab, the National Cancer Institute of Guatemala, two traditional Councils of Elders and 25 Mayan healers from the Kaqchikel and Q'eqchi' linguistic groups. It was implemented from January 2014 to July 2015. Scientists and traditional political authorities collaborated to facilitate workshops, comparative diagnoses and patient referrals, which were conducted jointly by biomedical and traditional practitioners. The traditional medical practices were thoroughly documented, as were the health-seeking pathways of patients, and the overall impact was evaluated.
Results
The boundary mechanism was successful in discerning barriers of access for indigenous patients in the biomedical health system, and in building trust between doctors and healers. Learning outcomes included a reduction of stereotypical attitudes towards traditional healers, improved biomedical procedures due to enhanced self-reflection of doctors, and improved traditional health care due to refined diagnoses and adapted treatment strategies. In individual cases, the beneficial effects of traditional treatments were remarkable, and the doctors continued to collaborate with healers after the study was completed. Comparison of the two linguistic groups illustrated that the outcomes are highly context-dependent.
Conclusions
If well adapted to local context, patient-centered boundary mechanisms can enable intercultural partnerships by creating access, building trust and fostering mutual learning, even in circumstances as complex as those in Guatemala. Creating multilateral patient-centered boundary mechanisms is thus a promising approach to improve health care in medically pluralistic developing countries.
Keywords
Boundary managementPartnershipsIntercultural healthIntegrative medicineTraditional medicineMayan medicineCentral AmericaGuatemala
Background
Boundary mechanisms: a novel approach to foster intercultural partnerships in medically pluralistic countries
The World Health Organization (WHO) estimates that one-third of the world's population, and as much as half the population in some parts of Africa, Asia and Latin America, have no regular access to biomedicine [1]. Indeed, in many developing countries little has changed since Lee [2] noted that biomedicine, although dominant in terms of power, prestige and wealth, was functionally weak in terms of equitable access and widespread utilization. Consequently, medical pluralism – meaning the coexistence and parallel use of traditional, alternative or complementary systems of health care – is the rule rather than the exception in many countries [3, 4]. In 1978, the World Health Organization called for intercultural health teams to provide locally adapted primary health care [5]. Ever since, medical partnerships have been promoted for reasons that include traditional medicine's accessibility, the credibility and cultural significance it enjoys in the eyes of local people, and in many cases also its clinical effectiveness [6–10]. Some countries have successfully implemented various models to advance intercultural care [3, 10], but many traditional health systems remain neglected, poorly institutionalized or even suppressed.
Many researchers emphasise barriers for intercultural medical collaboration due to (1) inadequate access, (2) absence of trust and (3) lack of mutual understanding linked to disparate knowledge systems.
1)

Barriers to access are understood as geographical, economical, organizational or cultural factors hampering patients' to get the medical services they need [10].

2)

Trust is a precondition for collaboration and for the transformations of social relations [11]. Trust is granted due to expectations of interests, moral commitments or psychological dispositions [12] and draws upon collective narratives that are saturated with power, institutions, and history [13]. Collaborative methods can create trust by (i) building on existing relationships, (ii) using trusted intermediaries, and (iii) providing an environment for repeated interactions in project work [14].

3)

Knowledge systems are networks of actors, organizations, and objects that bridge knowledge and know-how with action [15]. All health systems are also knowledge systems, which use different explanatory models to construct different interpretations of the same medical condition. This can lead to conflicting expectations, miscommunication, and ultimately to poor clinical care [16].
Boundary management refers to the boundary between different knowledge systems. It is an aproach to bridge the barriers that often hamper communication and collaboration across these boundaries. Boundary management involves specialized actors for managing the interface between knowledge systems with clear lines of responsibility and accountability to opposite sides of the boundary; and use of 'boundary objects', i.e. palpable objects that all involved knowledge systems can directly understand in their own terms. Boundary objects focus communication, illustrate what actors refer to and thus enhance the mutual understanding of different viewpoints [17]. Three requirements are important for successful boundary management: (i) repeated and inclusive communication (to create access), (ii) mediation (to ascertain procedural and substantial fairness, adequate levels of relevance and scientific adequacy), and (iii) translation (to facilitate mutual understanding) [17–20].
Intercultural health is situated at the boundary of different medical knowledge systems, but literature on this topic is fragmentary [21]. Indeed, most of it concerns herbal medicine and local health beliefs and healing practices. Some efforts address barriers of access, patient choice [22–24], practitioner perspectives or attitudes to intercultural medical partnerships [25–27]. Several collaborative methods have been suggested to bridge the gap between biomedicine and traditional medicine in medically pluralistic settings, including workshop formats [28], comparative diagnoses as starting point to negotiate and understand meanings [29], and patient referrals to improve health services [8]. More complex approaches combine several of these elements into comprehensive research designs [30, 31]. Some of those methods were, for example, applied in Mexico [32–35], even though few projects have been conducted in true partnership with local communities from start to finish [21]. Literature does, however, mostly focus on medical content and few methodological studies assess such collaborative efforts empirically [36, 37]. Therefore, little is known about approaches to overcome barriers to successful implementation of intercultural health.
Specifically, we know of no study that (1) applies an integrated methodological design to foster partnership between biomedical and traditional practitioners in a collaboration that creates real value to all partners, and (2) comprehensively assesses intercultural processes and impacts that are triggered by that collaboration. These were important objectives in our case study in Guatemala, which was designed to investigate the role of a patient-centered boundary mechanism in creating access, building trust and fostering mutual learning between biomedical and traditional knowledge systems.
Barriers to intercultural medical partnerships in Guatemala
Guatemala is a medium-sized country on the Central American isthmus. Of its population of 15 million people, 40% belong to 23 indigenous, mostly Mayan groups, each with their own language [38]. 52% of the population live in rural areas, and 51% are below the poverty line [39]. Access to local biomedical health services is usually good in the sense that the facilities are nearby and consultations are free. However, the cost of treatments may be prohibitive and the quality is often poor [40]. Referrals to higher-quality institutions entail more travel and higher costs. Communication between biomedical practitioners and the Mayan population is hampered by the linguistic diversity and differences in education, cultural expectations and explanatory models. These circumstances lead to mistrust towards biomedicine, as revealed in comments such as "not being attended" or "having to die" [41], and many patients are discouraged from accessing these services [22]. Furthermore, healers were explicitly targeted during the civil war (1960 – 1996), being regarded as local community leaders [42]. Finally, many doctors mistrust Mayan healers, whom they accuse of delaying the visits of patients to biomedical institutions, with the consequence that their conditions can no longer be treated effectively [43].
The history of inequality, racism and oppression of the Mayan population has been described as 'structural violence' [44–47]. As an outcome of the 1996 peace treaties, Mayan medicine is now officially recognised in the Guatemalan constitution, but this has almost no impact on medical practice [48]. For example, there are neither funding schemes nor formalized training opportunities [1]. Unsurprisingly, therefore, intercultural medical partnerships in Guatemala are perceived as unsuccessful [49], despite a few initiatives to improve the situation [50]. Overall, the Guatemalan context offers a case study to assess current limitations of intercultural health care and how these can be overcome through boundary management. It thus offers a model for the situation in many other developing countries.
Research methodology
Research design
The case study was conducted from January 2014 to May 2015 between ETH Zurich as science partner; the National Cancer Institute of Guatemala (INCAN) as a representative of biomedicine; and Councils of Elders of the Kaqchikel and the Q'eqchi' Maya. Relations between ETH, Councils and INCAN had been initiated in previous collaborations in the fields of medical anthropology and ethnopharmacology, which is described elsewhere [51, 52]. On the Mayan side, the approach built upon existing trust relations that extended from Cirilo Perez Oxlaj (indigenous itinerant ambassador of Guatemala 2008-2012), through the Councils of Elders, to local healers and their patients.
Each partner had its own interests in participating (Table
1
), and these are reflected in the mutually agreed objectives and fieldwork components:
1)

Present biomedical conceptions of chronic, pervasive, non-infectious diseases to Mayan healers, operationalized through workshops given by INCAN to Mayan Councils and healers.

2)

Identify and biomedically diagnose patients of healers suffering from such syndromes, operationalized through comparative diagnoses and patient referrals.

3)

Document the patients health-seeking pathway, and Mayan conceptions of their illness and treatment, operationalized through interviews of patients, family members and healers.
Table 1
Interests that motivated the main involved partners to participate in the case study
| Mayan Medicine/Councils | Science/ETH Zurich | Biomedical System/INCAN |
| --- | --- | --- |
| Documentation and valorization of Mayan medicine | Gather scientific data on Mayan medicine | Learn about Mayan patients health-seeking pathways |
| Break cultural and historical barriers | Test a transdisciplinary research design to foster intercultural health | Understand Mayan patients high dropout rates |
Overall project coordination was in the hands of ETH, but implemented in a series of formal and informal facilitation and mediation workshops. These workshops were held throughout the process and were designed to discuss objectives and progress of the project, to clarify uncertainties and misunderstandings, to resolve potential conflicts, and to agree and plan next steps. INCAN took responsibility for all medical procedures and decisions. The Councils were responsible for the local coordination with healers and patients in their respective areas. The joint design and management thus guaranteed that the interests and concerns of all partners were addressed, and also helped ensure the scientific adequacy and relevance of the results. In these interactions, ETH researchers acted as external facilitators, neutral to the values and collective narratives of Mayan and biomedical systems in Guatemala. Jointly with the Councils of Elders, they legitimized the process, acted as intermediary between patients, biomedical and traditional practitioners, and mediated in case of misunderstandings, fears or conflicts. The network of actors and relations is summarized in Fig.
1
.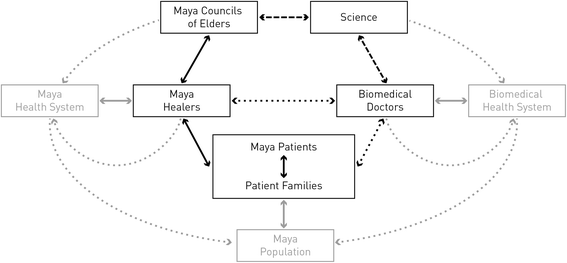 ETH and the Councils jointly managed the interface of traditional and biomedical health systems. Accountabilities towards each side involved complying with the collaborative approach, agreed objectives, ethical constraints, and financial and administrative commitments. As boundary subjects [17], we focused upon clinical cases of patients suffering from chronic non-infectious diseases that are pervasive in the local population. These serve as palpable subjects to whom practitioners from both medical systems can relate to in the terms of their own knowledge and worldview. They thus enable interaction and coordination between biomedical and traditional practitioners, despite considerable differences in how these medical conditions are described and treated. In this way, the process becomes a boundary mechanism that facilitates intercultural medical partnerships – a space for communication and coordinated interaction that is connected to the realms of the two health systems, in which information can be translated from one system to another and conflicts can be mediated.
Ethics, biomedical procedures and institutional platform
A Memorandum of Understanding (MoU) was signed between ETH Zurich and the Guatemalan Cancer League as the institutional body that runs INCAN. INCAN's institutional review board (IRB) granted approval of the research design. INCAN committed itself as the partner solely responsible for all biomedical decisions and procedures. All diagnoses in the Kaqchikel area were conducted at INCAN. To reduce the patient's travel and effort in the more remote Q'eqchi' area, INCAN delegated some exams to regional departmental hospitals. Regardless of where the examinations were conducted, INCAN interpreted the results and decided on any follow-up examinations. Diagnoses conducted within this project did not differ in any regard from the medical procedures followed in standard medical services.
Collaboration with Councils and healers was based on a MoU between ETH and the National Council of Maya Elders. The councils accepted responsibility for local coordination, i.e. to follow up with healers and patients, to translate to/from indigenous languages, to accompany patients and to organize patient's overland travel. In the Q'eqchi' area, the councils also arranged for medical exams in local hospitals when requested by INCAN. These procedures between Councils, healers and patients were negotiated in workshops and contractually documented. Where needed, they were supported in these tasks by the project coordination team from ETH Zurich, and by local students.
Patients were fully informed by Councils in their native language and signed an informed consent sheet approved by INCAN's IRB. In exchange, they received biomedical diagnoses, administrative, logistic and linguistic assistance, and coverage of all costs incurred by themselves and an accompanying person (transport, food, accommodation, reimbursement for the time investment).
Data collection and data analysis
ETH developed three semi-structured interview guides for healers, patients, and family members. Each guideline contained approximately 80 questions covering personal information, the patient's diagnosis and disease, health-seeking pathways, treatment strategies, social relations in the healing process, and follow up. The guidelines were validated in workshops with Councils and with two cases in the field. In the Kaqchikel area, interviews were conducted, recorded and transcribed by ETH researchers and local students in Spanish. In the Q'eqchi' area, interviews were conducted and recorded by trained Council members in Q'eqchi', then transcribed and translated into Spanish by a Q'eqchi' linguist. Samples of any medicinal plants used were vouchered and identified at Universidad Del Valle's Herbarium in Guatemala City (Herbarium code: UVAL). At several points in the process, traditional ceremonies were held to secure spiritual harmony and approval of the Mayan Councils of Elders. Thorough accounts of these methods and procedures are published elsewhere [51, 52]. After the fieldwork was concluded, an external researcher from Universidad Del Valle in Guatemala City evaluated experiences and perceptions of the project and its impact with eight key collaborators: four Mayan representatives (one healer and one Council member in each area), one surgical oncologist from INCAN, and three members of the project coordination team with personal access to all stakeholder groups and experience in observing subtle intercultural processes.
Based on literature knowledge and field experience, analytic categories were defined to understand the processes and impacts triggered by the project (e.g. illness of the patient, treatment strategies, health seeking pathway, access, trust, learning). Data was inductively sorted into these categories and entered into double entry matrices. Based on this thematic analysis, specific variables and indicators emerged and were quantified. To provide a comprehensive and balanced analysis, all variables relating to socio-cultural aspects of intercultural health in Guatemala, as well as project outcomes and impact were retained. Reflecting the scope and length of this methodological paper, medical data was summarized to merely give a general overview of the case study. Quotes and two example cases were selected to illustrate the process and the important findings. All names were changed to protect privacy.
Discussion: Potential and limitations of this case study
Conclusion: A new approach for intercultural partnership in medically pluralistic settings
This study is among very few research projects aiming to bridge the gap between biomedicine and traditional health systems in medically pluralistic developing countries in which parts of the society suffers from structural violence. We present a novel approach to foster intercultural health care in such contexts that goes beyond prior unilateral or bilateral efforts: a patient-centered, multilateral collaboration that includes representatives of biomedicine and traditional medicine, as well as scientists and indigenous authorities. The research design combines workshops and interviews, alongside comparative diagnoses and patient referrals. As one of the first research projects that involve local partners from start to finish, these methods are embedded in a transdisciplinary process in which all four groups are involved in defining objectives and procedures, conducting the research and, partially, analyzing and disseminating the data. Building on previously established relations of trust, science and indigenous authorities jointly take the role of facilitating communication, translating information and mediating conflicts across the boundary between health systems, thus ensuring the process is seen as valid, fair, and relevant by all sides.
We show that the design created access, build trust and bridged biomedical and Maya medical knowledge systems in Guatemala, a country with deep societal schisms in which previous efforts towards intercultural health have failed. It provided support for patients to access biomedical services, highlighted shortcomings of the current systems and pointed to the need for intercultural collaboration. It also created trust between practitioners of both systems, which shows some long-term effects. The impact on trust between patients and healers, and between patients and doctors respectively, shows more ambiguity. This highlights, how much these are dependent on individual healer personalities and local context and requires more research. By bridging knowledge systems, learning effects were observed among all participants, including reduction of stereotypes towards the patients and their healers, improvement of biomedical procedures due to enhanced self-reflection of doctors, improved Maya health care due to refined biomedical diagnoses and adapted Mayan treatment strategies. In a long-term perspective, potentials for integrating elements from both systems remain to be evaluated, but the surprising effects of Mayan treatments in individual cases are inspiring.
The design of boundary mechanisms for intercultural collaboration remains an art that requires careful consideration of local context and background, and wise selection of collaborators. Their general features seem, however, transferable and provide a promising avenue to foster intercultural health in developing countries. If scaled up and incorporated into wider audiences, boundary mechanisms can therefore contribute to reduce structural violence and improve health care in medically pluralistic settings.
Declarations
Acknowledgements
We thank all involved persons in INCAN, Universidad Del Valle and Councils of Elders for their contributions, which made this project possible. We hope the efforts will bear fruit. We thank all involved patient's and family members. Furthermore, we thank Dr. Med. Renner (Hirslanden hospital group, Zurich, CH) for contributions to the research design. Sandro Bösch edited the figures.
Funding
The COGITO foundation (grant R-132/13) and ETH Zurich (both CH) granted the funds, but were not involved in research design, execution, analysis or writing.
Availability of data and materials
We support open-data policies. The data is available from the corresponding author upon reasonable request, since this publication is based upon collaborations governed by Memoranda of Understanding between the research partners, since part of it concerns traditional knowledge considered sensitive by indigenous partners, and since patient data is protected for privacy reasons.
Authors' contributions
MHi, MB, AV and EG designed the research. MHi and MB coordinated the collaboration. PK, PE and MHe provided guidance, support and critical input throughout the research process. MHi, MB, EG, DO, RS, AA and AV contributed to data collection and fieldwork. MHi analyzed the data, MB and AA contributed to a subset of the analyses. MHi wrote the paper, with contributions from EG, MHe, PE, PK. All authors approved the manuscript.
Ethics approval and consent to participate
A Memorandum of Understanding (MoU) was signed between ETH Zurich and the Guatemalan Cancer League as the institutional body that runs INCAN. INCAN's institutional review board (IRB) granted approval of the research design. INCAN committed itself as the partner solely responsible for all biomedical decisions and procedures. Diagnoses conducted within this project did not differ in any regard from the medical procedures followed in INCAN's standard medical services. Collaboration with Councils and healers was based on an MoU between ETH and the National Council of Maya Elders. Procedures of local coordination between Councils, healers and patients were negotiated and contractually documented.
Consent for publication
All patients were fully informed by Councils in their native language and signed an informed consent sheet approved by INCAN's IRB. All person names in the presented case studies were changed to protect their privacy. INCAN's head of research and the Mayan healer described in the presented case studies approved the case descriptions.
Competing interests
The authors declare that they have no competing interests.
Publisher's Note
Springer Nature remains neutral with regard to jurisdictional claims in published maps and institutional affiliations.
Open AccessThis article is distributed under the terms of the Creative Commons Attribution 4.0 International License (http://creativecommons.org/licenses/by/4.0/), which permits unrestricted use, distribution, and reproduction in any medium, provided you give appropriate credit to the original author(s) and the source, provide a link to the Creative Commons license, and indicate if changes were made. The Creative Commons Public Domain Dedication waiver (http://creativecommons.org/publicdomain/zero/1.0/) applies to the data made available in this article, unless otherwise stated.
Authors' Affiliations
(1)
Section of Epidemiology, University of Zurich, Zurich, Switzerland
(2)
Swiss TPH, Epidemiology and Public Health, Basel, Switzerland
(3)
Surgical Oncologist, Head of Education and Research, Instituto de Cancerología, Guatemala, Guatemala
(4)
Universidad del Valle de Guatemala, Guatemala, Guatemala
(5)
Universidad del Valle de Guatemala, Guatemala, Guatemala
(6)
Department of Anthropology, University of Wyoming, Guatemala, Guatemala
(7)
Research Cluster Biodiversity and Medicines/Centre for Pharmacognosy and Phytotherapy, UCL School of Pharmacy, London, UK
(8)
Singapore-ETH Centre, Singapore, Singapore
(9)
ETH Zurich, TdLab, Zurich, Switzerland