Traditional knowledge of wild edible plants used in the northwest of the Iberian Peninsula (Spain and Portugal): a comparative study
Journal of Ethnobiology and Ethnomedicine
2007
3:27
Received: 05 March 2007
Accepted: 07 June 2007
Published: 07 June 2007
Abstract
Background
We compare traditional knowledge and use of wild edible plants in six rural regions of the northwest of the Iberian Peninsula as follows: Campoo, Picos de Europa, Piloña, Sanabria and Caurel in Spain and Parque Natural de Montesinho in Portugal.
Methods
Data on the use of 97 species were collected through informed consent semi-structured interviews with local informants. A semi-quantitative approach was used to document the relative importance of each species and to indicate differences in selection criteria for consuming wild food species in the regions studied.
Results and discussion
The most significant species include many wild berries and nuts (e.g. Castanea sativa, Rubus ulmifolius, Fragaria vesca) and the most popular species in each food-category (e.g. fruits or herbs used to prepare liqueurs such as Prunus spinosa, vegetables such as Rumex acetosa, condiments such as Origanum vulgare, or plants used to prepare herbal teas such as Chamaemelum nobile). The most important species in the study area as a whole are consumed at five or all six of the survey sites.
Conclusion
Social, economic and cultural factors, such as poor communications, fads and direct contact with nature in everyday life should be taken into account in determining why some wild foods and traditional vegetables have been consumed, but others not. They may be even more important than biological factors such as richness and abundance of wild edible flora. Although most are no longer consumed, demand is growing for those regarded as local specialties that reflect regional identity.
Keywords
Iberian PeninsulaSpinosaWild FoodWild FruitWild Edible Plant
Background
There has been renewed or increasing interest in consuming wild food plants [e.g. [1–7]]. Despite agricultural societies' primary reliance on crop plants, the tradition of eating wild plants has not completely disappeared, their nutritional role and health benefits being reported in many surveys worldwide [e.g. [8–18]].
In Europe, they were important as dietary supplements, providing trace elements, vitamins and minerals. Nowadays, however, consumption is determined less by calory input and more by the pleasure of gathering wild resources, recreating traditional practices and enjoying characteristic flavours [19–28].
Most studies of wild edible plants focus on function within one culture or ethnic group, there being only few papers that compare food plants of various cultures [29–31]. However, some papers have compared medicinal floras and other useful plants [32–36]. Such comparative studies contribute to understanding why edible species are consumed or rejected and can provide interesting insights into food selection criteria.
In this paper, the term 'wild' refers to non-cultivated plants gathered in the field [see [37]]. Although most species belonging to wild food plant taxa are native, some introduced species have become feral. Certain consumed species derive from both wild and cultivated specimens, but in such cases all use-reports were considered regardless of the origin of the specimens. For example, although native only to some of our survey areas, Laurus nobilis, Corylus avellana, Tilia platyphyllos, Rubus idaeus, Prunus avium and Castanea sativa are cultivated and used at the other sites.
Given the dramatic loss of traditional knowledge regarding wild edible plants and the fact that many of the plants cited in this paper are no longer consumed, our aim is to evaluate the knowledge, diversity and cultural significance of wild edible plants used in six rural areas of the northwest of the Iberian Peninsula, comparing the cultural importance of edible taxa historically gathered as food, thereby enhancing the value of such locally produced food sources.
Methods
Study sites
All research mentioned in this paper was conducted in six rural and mountainous areas of the northwest of the Iberian Peninsula. In Spain:
Campoo
in the south of the Cantabria Autonomous Region [
38
];
Picos de Europa
, a geographical region that straddles the autonomous administrative regions of Asturias, Cantabria and León province in the Autonomous Region of Castilla y León [[
39
], authors personal observations];
Piloña
in central-eastern Asturias [
40
];
Caurel
, in the south-east of Lugo province (Autonomous Region of Galicia) [
41
]; and
Sanabria
in the north-west of Zamora province (Autonomous Region of Castilla y León) [
42
]. In north-eastern Portugal:
Montesinho
[
43
] adjoining Zamora province (Figure
1
).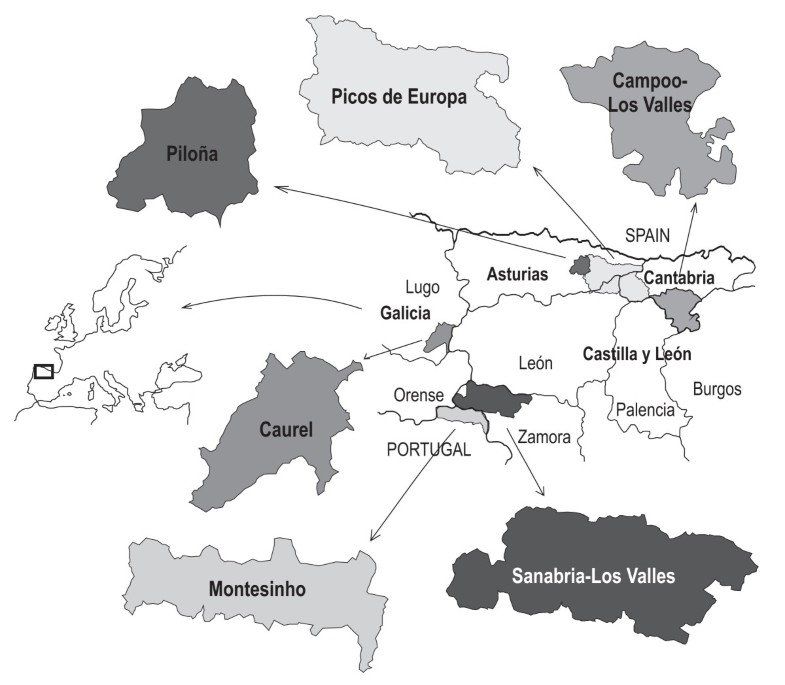 All six survey sites are culturally and biologically rich and most lie in protected areas, e.g. Picos de Europa National Park, Sanabria Lake Natural Park and Montesinho Natural Park. Bordering both Mediterranean and Eurosiberian floristic regions, the six sites have climates that vary from oceanic (wet and relatively mild) in Picos de Europa, Piloña, Caurel and the north of Campoo to wet-Mediterranean (drier in summer) in Sanabria, Montesinho and most of Campoo.
Landscapes include a mosaic of meadows, forests, rivers and high mountain vegetation growing on varied geological materials and soils. The predominant vegetation consists of beech (Fagus sylvatica L.) forest, several oak species, e.g. Quercus robur L., Quercus petraea (Matt.) Liebl., Quercus pyrenaica Willd.,Quercus faginea Lam. and Quercus ilex L., chestnut (Castanea sativa Mill.), broom scrubland consisting of Cytisus scoparius (L.) Link, Cytisus multiflorus (L'Hér.) Sweet, Genista florida L., and heath comprising Erica cinerea L., Erica vagans L., Erica australis L., Erica umbellata Loefl. ex L., Calluna vulgaris (L.) Hull. Fagus sylvatica, Quercus robur and Quercus petraea are more common in the wetter northern areas, while Quercus pyrenaica, Quercus faginea and Quercus ilex grow in drier areas.
Until a few decades ago the survey sites' economies were based on agriculture, cattle rearing and several less important activities. Most of the population engaged in traditional stock farming involving few animals. Short-distance vertical transhumance and long-distance southwards transhumance of cattle and sheep were particularly important in the Cantabrian Mountains. In regions such as Campoo, low salaries meant that even people working in the steel, cement and glass industries combined wage labour with livestock farming. The largely subsistence-based household economy was boosted with income from the sale of animals, eggs, butter and handicrafts. Other important economic activities were smuggling and forestry in Montesinho, and door-to-door hawking in Sanabria, chiefly using mules.
Many fields once used to grow cereals (for bread), pulses, turnip and potatoes now provide grazing for cattle. Agriculture plays only a minor role and new economic activities, such as rural tourism, are increasingly important.
Ethnobotanical data collection and analysis
Ethnobotanical information was obtained through informed consent semi-structured interviews with key informants over the last twenty years (1989–2004) (Table
1
). Informants with a sound traditional knowledge of useful wild plants, mostly elderly long-time residents, were interviewed. Open questions about wild food consumption sought to ascertain knowledge about past and present-use, mode of consumption and preparation, collection time and collection sites for each species [
44
].
Table 1
Number of informants, localities visited and geographical features of each area
| Survey sites | Informants | Localities | Surface (Km2) | Population |
| --- | --- | --- | --- | --- |
| Campoo | 107 | 42 | 1012 | 23000 |
| Caurel | 39 | 19 | 100 | 1200 |
| Picos de Europa | 131 | 67 | 1920 | 19900 |
| Piloña | 94 | 51 | 283 | 8600 |
| Montesinho | 90 | 30 | 734 | 7427 |
| Sanabria | 44 | 20 | 2120 | 15000 |
For this study, data were grouped into the following categories of edible plants based on folk perceptions: "vegetables", plants whose leaves, stems or even unripe fruits or seeds were consumed; "wild fruits", plants whose fruits or seeds were consumed when ripe; home-made "liqueurs" or other alcoholic drinks; "herbal teas", used in general as a digestif; plants used for "seasoning"; and finally, "flowers" and "underground organs", eaten for their sweetness.
Every plant species mentioned by an informant within one use-category was counted as one use-report (UR) [see [45]]. For instance, the raw fruits of Prunus spinosa in Picos de Europa were reported as consumed by 17 informants and used in liqueurs by 21, totalling 38 UR. However, a total number of 27 informants cited the species as useful since some informants reported use both for liqueurs and for raw consumption of fruits. We have rejected species with only one UR because such data are less reliable and sometimes dubious for drawing comparisons.
Voucher specimens were deposited at the herbaria of the Royal Botanical Garden of Madrid (MA, Real Jardín Botánico), the University of Oviedo (FCO, Universidad de Oviedo) and the School of Agricultural Engineering at Bragança (BRESA, Escola Superior Agrária).
To estimate the cultural significance of each species, we used the Cultural Importance Index (CI), whose definition and use are discussed in another paper [see [
46
]], with the following formula:
The index, which is based on previous indices [47, 48] was obtained by adding the UR in every use-category (i, varying from only one use to the total number of uses, NU) mentioned for a species, divided by the number of informants in the survey (N).
The CI was calculated for each region. For example, Foeniculum vulgare in Montesinho was reported as used in liqueurs by 10 informants, for seasoning by 32 and for herbal teas by 23. The total number of survey participants was 90.
CI Foeniculumvulgare = 10/90+32/90+23/90 = 0.11+0.36+0.26 = 0.722
This additive index takes into account the spread of use (number of informants) for each species and versatility, i.e. diversity of edible uses. The theoretical maximum value of the index is the total number of different edible use categories.
A mean Cultural Importance Index (mCI) of the species was used to assess wild food plant use in the Peninsular northwest as a whole. It is also useful in evaluating CI differences among the various sites. Since a null value may be due to either the species not growing in the area or growing but not being consumed, the mean value preferably needs to be calculated by considering only regions where the species grows and is available. For example, if the null values of the areas where it does not grow (Sanabria and Montesinho) are rejected, the mean value for Fagus sylvatica is 0.055; however, the figure decreases to 0.037 if all six areas are considered. Thus, the mean value takes into account species selection or rejection and availability.
To measure the cultural importance of families (CIf), we added the CI of the species from each family, following Galeano [49]. We preferred using the sum instead of the mean as proposed by Phillips and Gentry [48] so as to highlight more diverse families which would otherwise be underestimated.
When comparing the edible floras of different regions, it is crucial to differentiate between plants growing in the area but not consumed and those which cannot be consumed because they are absent. To quantify this factor, a regional selection index (RSI) was created to assess differences in edible species selection or rejection among regions. It was obtained by dividing the number of species consumed at a site by the number of species growing there. For instance, the RSI for Sanabria is 0.37 (29/78), since 29 out of 78 available species are used. A regional index for each edible category can be further calculated to assess regional differences in selection among categories. For instance, the RSI for vegetables in Sanabria is 0.19 (5 out of 27 available) versus 0.4 (10/25) for fruits.
Results and discussion
Additional File 1 illustrates the plant part used, consumption procedure, food use-category and number of informants mentioning each use for the 97 wild edible species reported in the six areas.
All species gathered were authocthonous except Mespilus germanica and Prunus cerasus, which are now feral. Many species, such as Corylus avellana, Borago officinalis, Laurus nobilis, Castanea sativa, Rubus idaeus, Taxus baccata, Ulmus minor, Mespilus germanica, Prunus avium, Prunus insititia, Ribes uva-crispa and Origanum vulgare, can either be collected in the wild or cultivated in gardens.
Many of the reported uses exist only in the collective memory of the elderly. Most wild fruits, bulbs or flowers mentioned were consumed by children or shepherds as snacks or for amusement on the way to school, or when tending livestock. Some people still pick them on walks to relive the flavours of their childhood.
Food is a very conservative aspect of culture but the erosion on the use and knowledge about wild food plants is higher than that of allotment food plants. The decline in wild food gathering appears to be due to negative connotations, i.e., association with times of scarcity, especially during and after the Civil War (1936–1939). Interestingly, a saying in Piloña – "esi comió berros" (S/he ate Rorippa nasturtium-aquaticum) – refers to the starving. Piloña is the only one of the six regions where the above species, one of the most important wild vegetables in Spain and elsewhere [50], is not consumed.
By contrast, wild berries and herbs are still used to make homemade jams (e.g. Sambucus nigra, Rubus ulmifolius and Vaccinium myrtillus), desserts and spirits (e.g. Prunus spinosa, Sideritis hyssopifolia) for sale as quality local produce.
Conclusion
Our comparison indicates that patterns of wild edible plant usage appear to depend mainly on socio-cultural factors rather than biological ones such as climate or richness of the wild edible flora. Availability of running water, free time to tend allotments, better communications and information exchange, direct contact with nature in everyday life, cultural values, fads and taste preferences are some of the factors that explain why wild plants are either consumed or rejected.
There is a clear preference for wild edible fruits that are consumed raw or used to make jams and liqueurs. By contrast, people in most of the study areas reject many available wild vegetables.
Some wild species are still gathered, including plants historically consumed in all areas with a high number of URs. They are the most important species in each use-category (fruits, vegetables, infusions or liqueurs), grow in all the survey sites and if not easily available from the wild, they are often cultivated. These "key plants" represent the core wild food flora.
Many wild edible plants are regarded as famine food and are no longer gathered. In rural Spain and Portugal they are often considered to be old fashioned, unprofitable, or too time-consuming, cultivated plants or bought food being consumed in preference.
Radical changes in the way of life of rural people in Spain and Portugal have severely eroded knowledge and customs relating to the exploitation and management of most wild resources. This rich element of biocultural diversity needs, therefore, to be studied before it is too late [58].
New trends relating to these resources can be traced in other Mediterranean countries, and the social significance and meaning of some are being reinterpreted. Although in general terms wild edible plants often have a stigma attached to them, being regarded as poor people's food, some are increasingly popular as delicacies, local specialities, gourmet food and local food that reflects regional identity. For example, both demand and supply are increasing in the cases of Asparagus acutifolius in many European regions, Muscari comosum in Italy and Sideritis hyssopifolia in Cantabria [20, 37, 59, 60]
Movements such as Slow Food [61] and chefs' interest in offering new flavours and dishes can play a crucial role in boosting the social importance of such resources. Moreover, the way local people perceive and use their resources plays an important role in their conservation. Changes can lead to unpredictable consequences to their sustainable development.
Declarations
Acknowledgements
We are grateful to everyone who kindly shared their knowledge and time. We hope to have contributed to saving and spreading their valuable knowledge. We also thank the Spanish Ministry of Science and Education for the grants made to Elia San Miguel and Manuel Pardo-de-Santayana, Los Picos de Europa National Park, the Leader Project of the European Commission for funding the field work done in Picos de Europa and Sanabria. Thanks also to the Portuguese Ministry of Science and Education and the Portuguese Foundation for Science and Technology for the grant to Ana Maria Carvalho and for funding the field work, to Laura Aceituno, Susana González and Lesley Ashcroft for their input, and to Gonzalo Gómez Casares for providing many information about plant uses in Picos de Europa.
Authors' Affiliations
(1)
Departamento de Biología (Botánica), Universidad Autónoma de Madrid, Madrid, Spain
(2)
Real Jardín Botánico de Madrid, Madrid, Spain
(3)
Instituto Madrileño de Investigación y Desarrollo Rural, Agrario y Alimentario, Alcalá de Henares, Madrid, Spain
(4)
Escola Superior Agraria, Bragança, Portugal
(5)
Universidad de Oviedo, Oviedo, Spain
Copyright
© Pardo-de-Santayana et al; licensee BioMed Central Ltd. 2007
This article is published under license to BioMed Central Ltd. This is an Open Access article distributed under the terms of the Creative Commons Attribution License (http://creativecommons.org/licenses/by/2.0), which permits unrestricted use, distribution, and reproduction in any medium, provided the original work is properly cited.