Comparative analysis of medicinal plants used in traditional medicine in Italy and Tunisia
Journal of Ethnobiology and Ethnomedicine
2009
5:31
Received: 8 September 2008
Accepted: 26 October 2009
Published: 26 October 2009
Abstract
Background
Italy and Tunisia (Africa for the Romans), facing each other on the opposite sides of the Mediterranean Sea, have been historically linked since the ancient times. Over the centuries both countries were mutually dominated so the vestiges and traces of a mutual influence are still present. The aim of the present study is to conduct a comparative analysis of the medicinal species present in the respective Floras in order to explore potential analogies and differences in popular phytotherapy that have come out from those reciprocal exchanges having taken place over the centuries
Methods
The comparative analysis based on the respective floras of both countries takes into consideration the bulk of medicinal species mutually present in Italy and Tunisia, but it focuses on the species growing in areas which are similar in climate. The medicinal uses of these species are considered in accordance with the ethnobotanical literature.
Results
A list of 153 medicinal species belonging to 60 families, present in both floras and used in traditional medicine, was drawn. A considerable convergence in therapeutic uses of many species emerged from these data.
Conclusion
This comparative analysis strengthens the firm belief that ethno-botanical findings represent not only an important shared heritage, developed over the centuries, but also a considerable mass of data that should be exploited in order to provide new and useful knowledge.
Keywords
SpinosaTrachomaAllium CepaMedicinal SpeciesSolanum Nigrum
Background
Italy and Tunisia (Africa for the Romans), facing each other on the opposite sides of Mediterranean Sea [Figure 1], have been historically linked since the ancient times and they still show the vestiges of a mutual influence. In fact both countries were themselves mutually dominated. The Roman Conquest began with the Punic wars (from 264 to 146 BC) whereas Arabian domination in southern Italy, mainly in Sicily, took place in the 9th century. The traces of both dominations were so important and long lasting that they are still present even now, not only as archaeological evidences but also as names of Italian towns or localities, e.g. Caltanissetta, Caltagirone, these toponyms derive from arabian Kalaat = castle; Gibilmanna, Gibellina from gebel = mountain, Marsala from marsa = port, and the town Mazara del Vallo from Mazraet el wali that means Field of the Governor. Many other examples can be given. In Tunisia, the name of the city of Ghar el Melh, till the independence of Tunisia (1956), was Porto Farina. Two small islands, situated in the north-east of the bay of Tunis, are named Zembra and Zembretta. The 7 km road which connects the isle of Jerba to the continent (Tunisia), built by the Romans, is still in service and named "The Roman roadway" [1].
The landscapes of these countries alternate fertile flatlands to mountainous chains.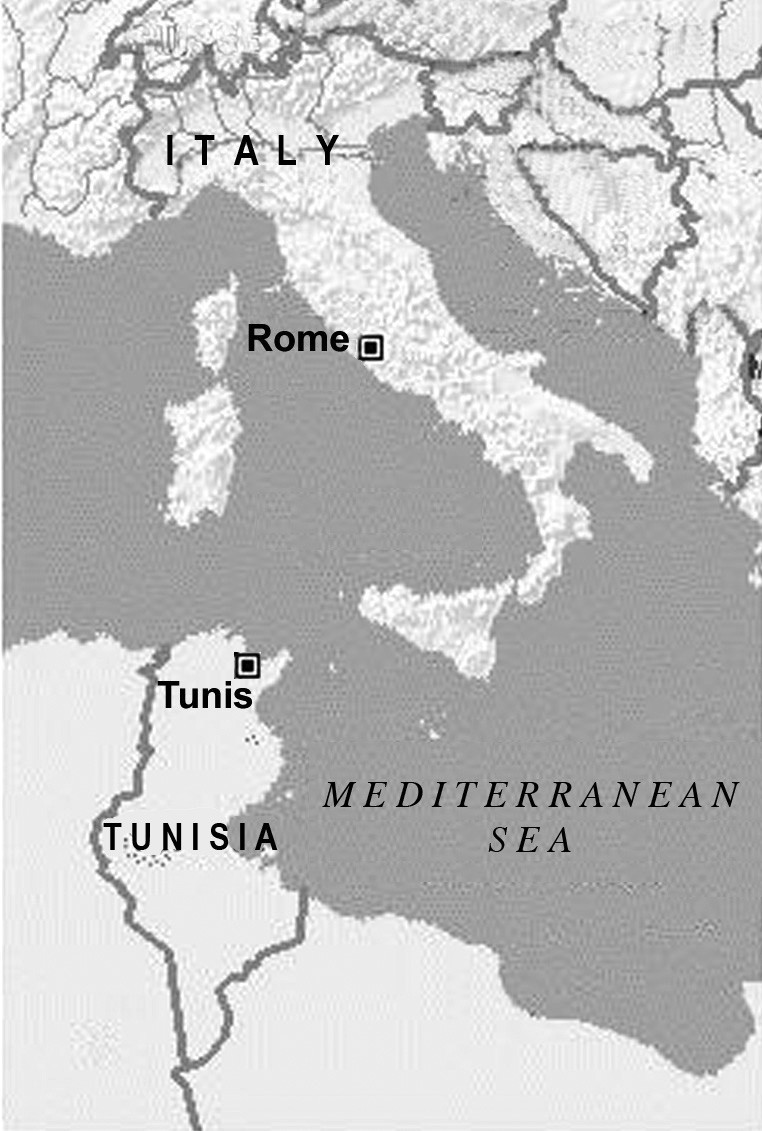 In Tunisia, the typical Mediterranean climate which prevails in the Northern and Eastern part of the country collides with the desertic one in the South. In Italy, the climate is generally temperate; although, from North to South, three distinct climatic belts are distinguishable. People living in rural areas have been engaged in agriculture. In the Tunisian villages far from the towns, popular or traditional use of medicinal plants is still familiar to ordinary people. Whilst in Italy, it survives mainly amidst shepherds and older farmers.
Methodology
The aim of the present study is to compare the medicinal species present in both floras as well as their therapeutic uses. Tunisian floras [2–5] consider as medicinal about 200 species among the 2150 recorded. Italian flora by Pignatti [6] lists 5559 species, among which about 1163 are considered medicinal [7]. Specific ethnobotanical literature of both countries has been consulted. The considered plants are mainly those growing in areas of northern and central Tunisia, as well as in the regions of central and southern Italy (so including Abruzzo, Marche and Toscana regions all belonging to Central Italy and where the same medicinal species are used). We excluded areas such as Apennines and Alps, or more generally northern Italy and the arid and desertic regions of central and southern Tunisia. So a list of about 153 medicinal species (belonging to 60 families), has been drawn, according to specific ethnobotanical literature [8–48]
Results
In additional file 1 we reported the results of the present comparative study. For each species we have included the following details: scientific and vernacular name, therapeutic properties, used part, preparation and eventual additional note. The interesting therapeutic uses are highlighted in bold, as well as the mutual ones. Most of the documented plants are involved in the cure of more than one disease and this is recorded in different apparatuses. So the 153 species have a manifold of different uses exceeding more and more the number of the quoted species. Because of the high number of recipes and customs of plant uses in the different considered areas, information about their manipulation is necessarily synthetic e.g. infusion, decoction, and so on, without further specifications about doses or time required for the cure. The relative percentage of use for each single apparatus has been calculated on the basis of the total amount of uses.
Conclusion
The present research shows a considerable convergence in therapeutic uses of many species belonging to Italian and Tunisian Floras, while those utilized for different purposes often bear the evidence of noteworthy and interesting properties [Table
1
]. On the contrary, there are scarce different or clashing uses of medicinal plants e.g.
Globularia alypum
L. proposed for the treatment of gastric ulcer in Tunisia [
16
–
18
,
29
] while in Italy it is considered as purgative [
12
,
26
];
Alnus glutinosa
(L.) Gaertn. is used as an antiulcer remedy in Tunisia [
16
,
17
] and simply as anti-inflammatory in Italy [
12
,
14
,
22
,
26
,
40
].
Buxus sempervirens
L. is considered as an antineoplastic in Tunisia [
11
] and employed as antimalarial in Italy [
7
,
27
,
37
]. Sometimes different therapeutic uses of several species are related to the different considered parts (this is a consequence of different phytochemical composition) e.g.
Cuminum cyminum
L., used in Tunisia as a decoction of unripe fruits, acts as abortive, while in Italy only the decoction of ripe fruits is used as bitter tonic and carminative.
Ricinus communis
L. whose Italian use envisages only the oil from the seeds as purgative or externally as cosmetic, whilst in Tunisia the drug obtained from leaves is used in respiratory troubles, rheumatic pains and even against acne.
| | |
| --- | --- |
| Gonorrhea | Petroselinus crispus L., Cynodon dactylon (L.) Pers., Zea mays L., Ajuga iva (L.) Schreb. |
| Orchitis | Daucus carota L. |
| Trachoma | Marrubium vulgare L., Nigella damascena L., Olea europaea L., Capsicum annuus L. (this last in cattle and sheeps) |
| Ocular leukoma | Sonchus oleraceus L., Reseda alba L., Ficus carica L., Carthamus tinctorius L. |
| Hemiplegia | Vinca minor L., Allium cepa L. |
| Hypotensive | Pistacia lentiscus L., Marrubium vulgare L., Peganum harmala L., Prunus persica L. |
| Measles | Linum usitatissimum L., Apium graveolens L. |
| Anti neoplastic | Xanthium strumarium L., Buxus sempervirens L. |
| Whooping cough | Raphanus sativus L. |
| Antimalarial | Artemisia absinthium L., Buxus sempervirens L., Globularia alypum L., Marrubium vulgare L. |
| Asthma | Lavandula stoechas L., Pistacia lentiscus L., Rosmarinus officinalis L., Linum usitatissimum L., Polygonum aviculare L., Rumex tuberosus L. |
| Jaundice | Ecballium elaterium (L.) A. Richard, Marrubium vulgare L., Rumex tuberosus L. |
| Anti Parkinson | Peganum harmala L. |
| Herpes zoster | Vitis vinifera L. |
| Psoriasis | Verbascum sinuatum L., Ecballium elaterium (L.) A. Richard |
| Erysipela | Solanum nigrum L., Sambucus nigra L. |
| Hydrops | Fumaria officinalis L. |
The Resolution of the World Health Organization issued in 1990 states that " The use done for a long period of time with traditional plant base could give important information about the pharmacological effects on the Human being since the plant remedies have been used for a long time." [49]
This comparative analysis strengthens the firm belief that ethnobotanical findings represent an important shared heritage, coming over the centuries, that must not be relegated to a narrow, historical and cultural context, but gives a considerable mass of data to be still exploited in order to provide further new and useful knowledge.
Authors' Affiliations
(1)
Dipartimento di Biologia Vegetale, Università "La Sapienza", Roma, Italy
(2)
Laboratoire de Pharmacognosie, Faculté de Pharmacie, Monastir, Tunisia
Copyright
© Leporatti and Ghedira; licensee BioMed Central Ltd. 2009
This article is published under license to BioMed Central Ltd. This is an Open Access article distributed under the terms of the Creative Commons Attribution License (http://creativecommons.org/licenses/by/2.0), which permits unrestricted use, distribution, and reproduction in any medium, provided the original work is properly cited.