Medicinal animals used in ethnoveterinary practices of the 'Cariri Paraibano', NE Brazil
Journal of Ethnobiology and Ethnomedicine
2011
7:30
Received: 5 July 2011
Accepted: 10 October 2011
Published: 10 October 2011
Abstract
Background
Zootherapy is important in various socio-cultural environments, and innumerous examples of the use of animal derived remedies can currently be found in many urban, semi-urban and more remote localities in all parts of the world, particularly in developing countries. However, although a number of ethnobiological inventories concerning the use of medicinal animals in human health care have been compiled in Brazil in recent years, zootherapeutic practices in ethnoveterinary medicine (EVM) are poorly described and neglected in favor of human ethnomedicine. In this sense, the purpose of this study was to describe the local zootherapeutic practices in ethnoveterinary medicine of semi-arid of NE Brazil (Caatinga biome) and to contribute to future research about the validation of the effects and side effects of these animal products
Methods
The information obtained through semi-structured interviews was complemented by free interviews and informal conversations. A total of 67 people were interviewed (53 men and 14 women) about the use and commercialization of medicinal animals. To determine the relative importance of each local known species, their use-values (UV) were calculated. Diversity of species utilized was compared, between localities, using rarefaction curves and diversity estimate (Chao2)
Results and Conclusions
A total of 44 animal species (37 vertebrates and 7 invertebrates), distributed among 6 taxonomic categories were found to be used to treat 30 different ailments in livestock and pets. The results of our surveys revealed a rich traditional knowledge of local residents about the use of animals in traditional veterinary medicine. Although it is gradually being discontinued, the perceived efficacy, economic and geographic accessibility were main reasons for popularity of zootherapy in studied areas.
Keywords
Medicinal AnimalIguana IguanaEthnoveterinary MedicineTraditional Medical PracticeCaatinga Biome
Background
Animal husbandry is an economic activity closely linked to the needs of local consumption and trade, which significantly influences the political, social and economic contexts in Latin America [1]. The occupation of Brazil by Europeans (especially in the northeastern region) starting in the first half of the 16th century was marked by the transmigration of numerous elements of the European fauna and flora [2], including cattle, goats and horses [3]. The importance of livestock to the occupation and settlement of the Brazilian semi-arid region by European colonists was synthesized by Darcy Ribeiro [4] as follows: 'The first settlements raised cattle, goats and people: the cattle to sell, the goats to eat and the people to migrate (further inland)'.
Through the centuries, the local descendants of Amerindians, Africans, and Europeans learned to use the native natural resources of the Caatinga (dryland) biome but also imported resources from the Old World to use in treating illnesses or infirmities in themselves and their livestock. The adaptation of the various human groups to the rich biological resources generated invaluable local knowledge systems that include extensive information on animal uses in general and medicinally useful species in particular [5]. Ever since, animals or animal parts have been broadly used in Brazilian traditional medicine and have played a significant role in healing practices [6–8].
The use of medicinal animals is a recognized and traditional manner of treating as curatives or palliatives for many health problems (sometimes in association with plant species), depending on the cultural background and local knowledge of the users [9–14]. The World Health Organization (WHO) estimates that up to 80% of the world's more than six billion people rely primarily on animal and plant-based medicines [15]. Recent publications have shown the importance of zootherapy in various socio-cultural environments, and innumerous examples of the use of animal derived remedies can currently be found in many urban, semi-urban and more remote localities in all parts of the world, particularly in developing countries [13, 14, 16–21]. However, in spite of the worldwide prevalence of traditional medical practices, research on medicinal animals has often been neglected in comparison to medicinal plants [14, 15]. Pieroni et al. [22], for example, points out that studies on drugs of animal origin are still rare in the scientific literature. While Calixto [23] recorded 3,722 published full paper on medicinal plants in Brazil, inventories of animal species used as medicine are still relatively rare in the country.
Although a number of ethnobiological inventories concerning the use of medicinal animals in human health care have been compiled in Brazil in recent years [5–7, 13, 20, 24–26], zootherapeutic practices in ethnoveterinary medicine (EVM) are poorly described and neglected in favor of human ethnomedicine. In this country, but less than 20 animal species were recorded in local EVM [27, 28]. These limited descriptions of the ethnoveterinary resources of Brazil are in stark contrast to the economic importance of livestock rearing in the country, and the lack of regular access to essential medicines can greatly hamper productivity.
Traditional veterinary medicine is very important in developing countries where conventional remedies for animal health care are inaccessible or unaffordable to poor rural farmers [29]. According to the United Nations Food and Agricultural Organization (FAO), the lack of drugs to treat diseases and infections results in losses of 30-35% in the breeding sector of many developing countries, where poor animal health remains the major constraint to increased production [30]. High costs and inaccessibility (together with other problems associated with western-style healthcare systems) have helped maintain traditional treatment practices in these countries and fostered research on this subject [31].
Much effort is needed in research and integration of the ethnoveterinary practices activities in developing countries [32]. In many native and local stock raising communities if not all, a considerable proportion of useful ethno-knowledge and traditional animal health care practices remain unknown to date, albeit their increased demand to be integrated into primary animal health care delivery systems for wider use by rural and periurban communities [33]. While ethnoveterinary practices can lead to their validation and eventually to better animal healthcare provision and enhanced living standards of the rural poor [34, 35], there is a notable scarcity of studies of zootherapy in EVM [28]. In fact, a recent compilation of ethnozoological studies published in Brazil recorded 87 works about zootherapeutic practices; however, only four were predominantly focused on the use of animals in traditional veterinary medicine [36].
The use of animals for medicinal purposes is part of a body of traditional knowledge which is increasingly becoming more relevant to discussions on conservation biology, public health policies, sustainable management of natural resources, biological prospection and patents [15, 37]. In this perspective, the present survey was undertaken to document information about local animals used in veterinary medications by livestock raisers and rural populations in two municipalities located in Paraiba State, NE Brazil. The purpose of this study was (1) to describe the local zootherapeutic practices in EVM, (2) to insert the faunal resources explored for medicinal purposes in local EVM in the Brazilian Zootherapy databank, currently being developed in the Center of Ethnobiology and Ethnoecology, State University of Paraiba, Brazil, and (3) to contribute to future research about the effects and possible side effects of these animal products.
Methods
Study sites
The present study analyzed data gathered during fieldwork in two municipalities in the West Cariri micro-region, Paraiba State, in the semi-arid region of Northeastern Brazil (Figure
1
). Generally, human communities in the surveyed areas represent a mixture of native Amerindians, Europeans and Africans [
38
].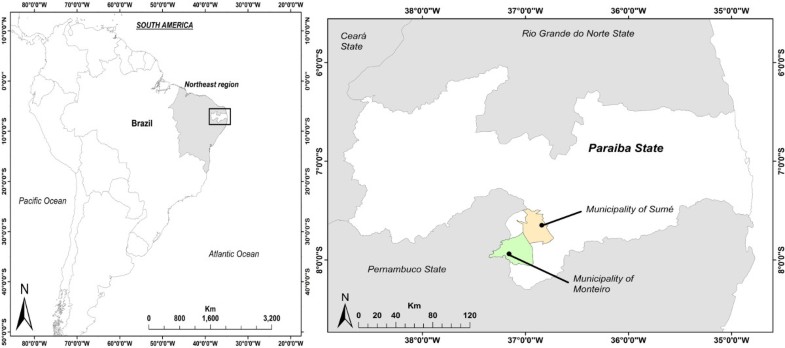 Municipality of Monteiro
The municipality of Monteiro (07° 53' 22" S and 37° 07' 12" W) covers an area of approximately 986 km2 [38–40] within the 'drought polygon' of NE Brazil (an area that extends from northern Minas Gerais State and covers almost the entire northeastern part of the country). The regional climate is semi-arid with an annual rainfall of 432 mm (limited to a rainy season between January and April), with an average annual temperature of 28°C [41]. The vegetation of this semi-arid region (Caatinga biome) is typically composed of deciduous shrub/arboreal species and many of the plants have strong thorns.
The total population of the municipality is approximately 30,000, with 16,000 (53%) inhabitants in urban areas, and 14,000 (47%) residents in the rural zone [42]. This population has a medium Human Development Index level (0.603) [42]. The principal economic activities of the municipality are subsistence agriculture (mainly sweet potatoes, beans and cassava) and livestock breeding, including cattle (19,600 head), goats (30,000), and sheep (11,000). The municipality of Monteiro is the principal producer of goats and sheep in Paraiba State [38] and it is the most important economical center of the Cariri of Paraiba Amerindians. Animals (including wild animals) are commonly kept as pets in this locality.
Local interviewees ranged in age from 25 to 88 years (average 54). In terms of schooling, 43.75% (n = 14) of the interviewees were illiterate or semi-illiterate, while only 9.37% (n = 3) had attended school for 8 years (completing what is known in Brazil as 'ensino fundamental' - Elementary school). Most interviewees (53.12%, n = 17) had a monthly income between US$ 241.00 and $482.00).
Municipality of Sumé
The municipality of Sumé (6° 45' 28'' S × 36° 28' 15'' W) occupies an area of approximately 840 Km2 [38, 40] (Figure 1). The climate there is semi-arid with an annual rainfall of 695 mm that is limited to a rainy season between January and April [43]. The local vegetation is composed of spiny deciduous and semi-deciduous species characteristic of this semi-arid Caatinga region. Sumé had a population of 16,456 inhabitants in 2007, with 10,887 (66.1%) living in the urban zones, and 5,569 in rural areas (33.9%) [38]. The local inhabitants have a medium Human Development Index (0.658) [42]. Similar to Monteiro, the main economic activities in this municipality consist of subsistence agriculture (mainly sweet potatoes, beans and cassava) and livestock husbandry (8,600 head of cattle; 17,500 goats, and 6,100 sheep) [38].
The ages of the interviewees in Sumé ranged from 18 to 83 years (mean: 52.7); 45.71% (n = 16) of the interviewees were illiterate or semi-illiterate, 40% (n = 14) had attended school for less than eight years, while only five people (14.87%) had studied for more than eight years. As in Monteiro, most interviewees (59.37%, n = 19) had an income between US$ 241.00 and 482.00.
Procedures
Field research was conducted from October 2008 to April 2009. The information obtained through semi-structured interviews was complemented by free interviews [44] and informal conversations. Prior informed consent was obtained for all interviews conducted. In the semi-structured interviews, the interviewees were requested to indicate for each animal: its local name; parts used as medicine; the ailments treated with the remedy; preparation and usage; use-restrictions; adverse effects; spiritual aspects linked to its use; whether live or dead animals were used; how the animals were obtained; storage conditions; collection sites; materials used to collect the animals; efficacy of the remedies; how this knowledge was acquired by the interviewees themselves; their reliance on animal-based remedies; and why they used animal-based remedies in ethnoveterinary practices. Interviews were held in both urban and rural settings of the municipalities studied. Before each interview, the interviewers asked their informants for permission to record the conversations and to take photographs. The ideal length of each interview was at least 40 minutes.
We interviewed 67 local residents (53 men and 14 women) about the use and commercialization of medicinal animals, and were distributed as follows: Municipality of Monteiro (n = 32; 24 men and 8 women), Municipality of Sumé (n = 35; 29 men and 6 women). All of the interviewees raised (or had risen) livestock. Verification tests were performed to determine the consistency and validity of the responses (for analysis and data control) by repeating details of the interviews in synchronic situations [45].
The zoological material was identified with the aid of specialists by: (a) examination of voucher specimens donated by the interviewees; (b) photographs of the animals or their parts, taken during interviews; (c) identification of vernacular names by taxonomists familiar with the fauna of the study areas. The voucher specimens and/or photographs were deposited at the Department of Systematics and Ecology, Federal University of Paraiba, Paraiba State, Brazil.
For the data analysis, the use-value (adapted from Phillips et al. [
46
] by Rossato et al. [
47
]), as a quantitative method demonstrating the relative importance of each species, was calculated as:
Where UV is the use-value of a species, U the number of citations per species; and n is the number of informants. The use-value of each species is based solely on the importance attributed by the informants themselves and does not depend on any evaluation of the researcher [14, 48].
We calculated the collector curves for both municipalities where the × axis was the number of individuals interviewed and the Y one was the number of animal species utilized for veterinary purposes. Collector curves were randomized 1000 times and the average values were calculated using the software EstimateS© version 8.2 [49]. The same software was used to calculated an estimate of diversity (Chao2) projecting the total number of species utilized at each area. Chao2 was chosen because it is applied to incidence data. To input data in EstimateS© we create a matrix interviewees (lines) × type of species (columns) for each municipality. In developing of matrix, we assigned the value 1 for each species mentioned by an interviewee and 0 for those which he did not mention. Both collector curves and diversity estimates were used to compare the diversity of animal species utilized between municipalities [50].
Conclusions
Our surveys in Cariri micro-region, Paraiba State, NE Brazil, revealed a rich knowledge about the uses of animals in traditional veterinary medicine. Although this knowledge is gradually being eroded, the perceived efficacy of these remedies and their economic and geographic accessibility are responsible for the continued popularity of zootherapy in the study areas.
We were able to verify that many species have wide ranges of utility, but the super-valorization and super-utilization of these animals, when associated with other practices such as ethnomedicine for humans and subsistence hunting, may raise the harvesting of these species to unsustainable levels. The most threatened medicinal species must receive special and urgent attention, and other factors such as the loss or alteration of habitats must be discussed.
Many parts of the Brazilian semi-arid region are rapidly being altered, both ecologically and culturally, and further ethnopharmacological studies will be necessary to increase our understanding of the links between traditional uses of faunal resources and conservation biology, public health policies, sustainable management of natural resources, and bio-prospecting.
Declarations
Acknowledgements
The authors would like to thank Paraiba State Universty (UEPB)/Programa de Incentivo à Pós-Graduação (PROPESQ) - 08711/2008 for the financial support that made the field surveys possible. The authors also would like to thank DAAD (Deutscher Akademischer Austauschdienst/German Academic Exchange Service) and CAPES for the post-graduate fellowship conceded to the first author. Special thanks are due to all interviewees, who kindly shared their knowledge with us.
Authors' Affiliations
(1)
Programa de Pós-Graduação em Ciências Biológicas (Zoologia), Departamento de Sistemática e Ecologia, Universidade Federal da Paraíba, João Pessoa, Brazil
(2)
Departamento de Biologia, Universidade Estadual da Paraíba, Avenida das Baraúnas, BodocongóCampina Grande, Brazil
(3)
Departamento de Fitotecnia e Ciências Ambientais, Universidade Federal da Paraíba, Areia, Brazil
(4)
Mestrado em Biologia, Universidade de Coimbra, Colégio de S. Jerónimo, Largo de D. Dinis, Coimbra, Portugal
(5)
Departamento de Sistemática e Ecologia, Universidade Federal da Paraíba, João Pessoa, Brazil
Copyright
© Souto et al; licensee BioMed Central Ltd. 2011
This article is published under license to BioMed Central Ltd. This is an Open Access article distributed under the terms of the Creative Commons Attribution License (http://creativecommons.org/licenses/by/2.0), which permits unrestricted use, distribution, and reproduction in any medium, provided the original work is properly cited.