A comparison of the wild food plant use knowledge of ethnic minorities in Naban River Watershed National Nature Reserve, Yunnan, SW China
Abdolbaset Ghorbani

1

Email author

,

Gerhard Langenberger

1 and

Joachim Sauerborn

1
Journal of Ethnobiology and Ethnomedicine
2012
8:17
Received: 12 November 2011
Accepted: 20 March 2012
Published: 5 May 2012
Abstract
Background
Wild food plants (WFPs) contribute to the nutrition, economy and even cultural identity of people in many parts of the world. Different factors determine the preference and use of WFPs such as abundance, availability, cultural preference, economic conditions, shortage periods or unsecure food production systems. Understanding these factors and knowing the patterns of selection, use and cultural significance and value of wild food plants for local communities is helpful in setting priorities for conservation and/or domestication of these plants. Thus in this study knowledge of wild food plant use among four groups namely Dai, Lahu, Hani and Mountain Han in Naban River Watershed National Nature Reserve ((NRWNNR), Xishuangbanna were documented and analyzed to find the similarity and difference among their plant use.
Methods
Data on wild food plant use was collected through freelisting and semi-structured interviews and participatory field collection and direct observation. Botanical plant sample specimens were collected, prepared, dried and identified.
Results
A total of 173 species and subspecies from 64 families and one species of lichen (Ramalina sp.) are used as WFP. There were differences on the saliency of wild food plant species among four ethnic groups. Consensus analysis revealed that knowledge of wild food plant use for each ethnic group differs from others with some variation in each group. Among informant attributes only age was related with the knowledge of wild food plant use, whereas no significant relationship was found between gender and age*gender and informants knowledge of wild food plant use.
Conclusion
Wild food plants are still used extensively by local people in the NRWNNR, some of them on a daily base. This diversity of wild food plants provide important source of nutrients for the local communities which much of their caloric intake comes from one or few crops. The results also show the role of ethnicity on the preference and use of wild food plants. There is a big potential for harvesting, participatory domestication and marketing of WFPs especially in the tourism sector in the area.
Keywords
Edible plantsBiodiversity useCultural importanceForaging
Background
Wild food plants (WFP) are plant resources that are harvested or collected from uncultivated resources for human consumption [1]. These plants are bestowed with one or more parts that can be used for nutrition if gathered at the proper growth stage and prepared appropriately [2]. WFP collection and use is still practiced in many parts of the world even among agricultural societies that rely mainly on domesticated plants and animals for their diet. In fact gathering wild plants is an internal part of livelihood strategies throughout the world [3]. WFPs are an important source of vegetables, fruits, tubers and nuts which are relevant for many people in ensuring food security and balancing the nutritional value of diets [1]. As an example, consumption of wild leafy vegetables as a source of micronutrients in many tropical areas is significant in small children's diet to ensure normal growth and intellectual development [4]. However, different factors affect preference and use of WFPs such as abundance, availability, cultural preference, economic conditions, shortage periods or unsecure food production systems. Several WFPs are used only during food shortage or famine periods. Some are used on a daily base in one region or by a community while being considered as weed in other areas or by other communities. Understanding patterns of WFP use and cultural significance and value is important from cultural and nutritional perspective and also is helpful in setting priorities in conservation and/or domestication of these plants. It has also implications for rural development through marketing potential species and for people's nutritional health by identifying nutritious species or promoting the use of wild food species. To achieve this, cultural domain studies are important. Cultural domain is a group of elements or items that is organized according to culturally determined rules or criteria and may be culturally specific, for example the domain of "medicinal plants" or "edible foods" [5]. Cultural domains are starting point for studying people's perception of the natural world and are important aspects of local knowledge by which cultural organizations are understood [5]. Elements of a particular cultural domain (here WFPs domain) can be recorded and analyzed through free-listing interview methods [5, 6].
The study area resides in Xishuangbanna Dai Autonomous Prefecture which is part of the Indo-Burma biodiversity hotspot, hosting 16% of China's higher plant species, despite covering only 0.2% of the country's land area [7, 8]. The region is also culturally diverse with 13 different ethnic groups living within its territories. Because of this biocultural diversity many wild species are used by local population among them wild food plants. Xu et al. [9] reported 284 wild vegetables in Xishuangbanna comprising 6.1% of the total vascular plant flora. Chen et al. [10] also reported 123 species of wild edible fruits in Xishuangbanna.
Local people living in the Naban River Watershed National Nature Reserve (NRWNNR) benefit from a large number of forest products in their daily life. More than 182 species of food plants have been reported in NRWNNR [11]. The main wild food plant resources can be divided into vegetables, mushrooms and bamboo shoot categories. Zhang et al. [11] reported collection of bamboo shoots and mushrooms for income generation but vegetables were collected mainly for self-consumption. However information on the cultural importance of WFP species, patterns of WFPs use and knowledge variation among different ethnic groups living in the NRWNNR area is not available. This study aims to inventory and document WFP use knowledge in the NRWNNR and to compare WFP knowledge and use among Dai, Lahu, Hani and Mountain Han ethnic groups in the area and measure their cultural importance using some importance indices.
Materials and methods
Study area
With a total area of 266.6 km
2
, NRWNNR is located in the central- north Xishuangbanna and lies on the west bank of Lancang (Mekong) River, approximately 25 km from Jinghong Township (Figure 
1
). It was established in 1991 based on the UNESCO's "Man and Biosphere" concept. The nature reserve is divided into three functional zones; the core zone which is strictly protected from extractive activities, the buffer zone and the experimental zone which are both used for agricultural activities. However, any land use change in the buffer zone needs to be permitted by the nature reserve management office, which is not so for the experimental zone. NRWNNR harbors a plethora of biological as well as cultural diversity. More than 2345 species and subspecies of higher plants, 156 species of non-vascular plants, 437 species of vertebrates and 327 species of invertebrates are reported from NRWNNR area [
12
]. Six different ethnic groups including the Dai, Hani, Lahu, Yi, Bulang, and Mountain Han with a total population of 5538 people are living throughout the area [
13
]. In NRWNNR the Dai are living in three villages (Mandian, Naban and Manlei) which are located in valley bottom and lower elevations. Dai language belongs to the Tai (Zhuang-Dong) language family. The Dai have retained a very strong sense of ethnic cultural identity and are one of the ethnic groups best known to the Chinese people [
14
]. The Dai in Xishuangbanna have writing scripts that closely resembles the Thai script and they adhere to the Theravada Buddhist tradition. The Lahu of Yunnan Province began changing from hunter-gatherer lifestyle to settled village life in 1957 [
15
]. Lahu and Hani minorities are called hill tribes as their villages are normally located on higher altitudes than other minorities living in the same region. Lahu and Hani languages belong to the Tibeto-Burman language family and both are oral [
14
], however recently some efforts have been done to use Latin scripts for Hani language but Lahu language still has no scripts. Mountain Han group is also living in three villages of middle to high elevation and their language is a local dialect of Han Chinese language. Staple food in the area is rice (
Oryza sativa
) which is used along with different local vegetables and meat as protein source. Traditional lifestyle is still common in the area and people get many benefits from forest products.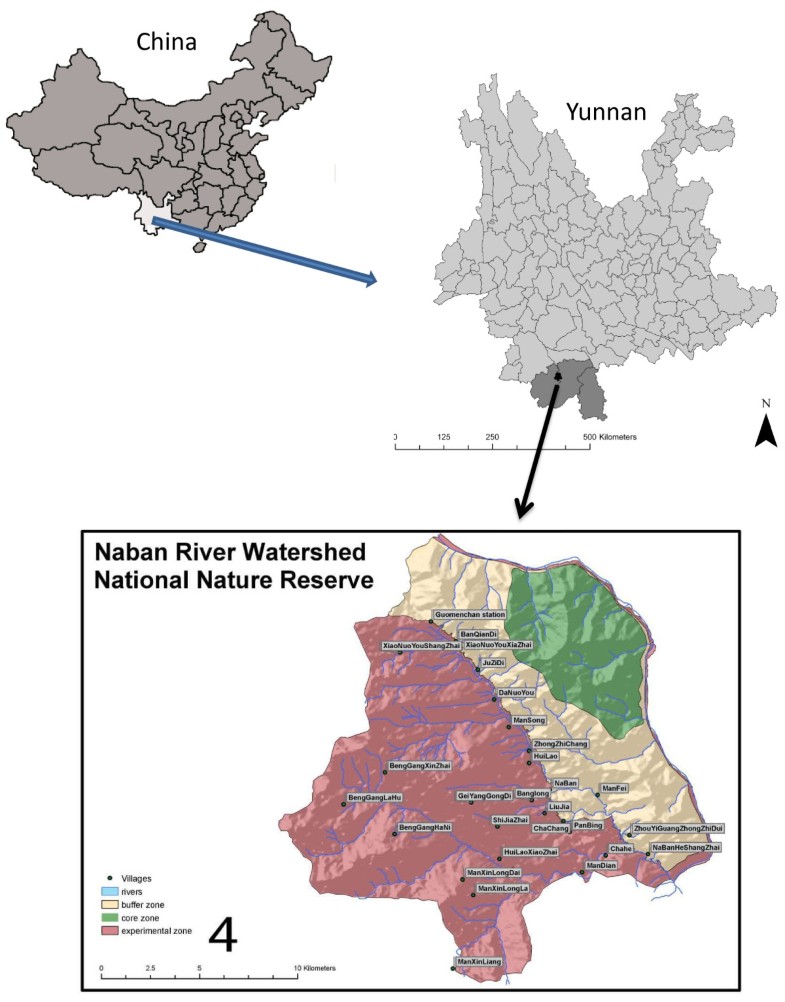 Data collection
Prior to starting the field work, research and plant collection permits have been applied for and issued by governmental officials and NRWNNR administration bureau. The research group was introduced to the village leaders and elders by NRWNNR administration officials and the objectives of the project were explained to obtain consent from them. Field survey was started in January 2008 and lasted for twelve months. Ethnobotanical data was collected through different interview methods [16–18]. Freelisting interviews with randomly selected informants were conducted. Freelists give information on salience, perception, classification and ranking of objects within a cultural domain in question, here WFPs [5, 19]. In General, 217 Lahu, 129 Hani, 90 Dai and 49 Mountain Han individuals were interviewed. Semi-structured interviews, participant field collection and direct observation were followed to record data on the details of WFP local names, uses, collection, preparation and trade. Plant sample specimens were collected, prepared, dried, and identified with the help of experts from Xishuangbanna Tropical Botanical Garden (XTBG). One set of voucher samples was stored at the Herbarium of NRWNNR and one set was deposited at the Herbarium of XTBG (HITBC). Nomenclature follows Flora of China, Checklist of Flora of China, TROPICOS database of the Missouri Botanical Garden, and local checklists [20, 21].
Data analysis
Use frequency for each species was assessed by calculating citation frequency of species with respect to total number of interviews. Freelists were analyzed at the whole area level and at ethnic group level; according to frequency, average rank, salience and consensus using Anthropac 4.8. Anthropac calculates the frequency with which each plant is listed and its average rank in the freelists of each respondent then combines these to produce a measure of cultural importance or salience (Smith's salience index) for each plant [22]. Species cited by at least two informants were considered for further analysis [22]. Freelist data then was dichotomized and a table of similarities with positive matches for plant species was constructed. Consensus analysis was conducted to analyze cultural variations among informants. Anthropac consensus analysis produces a hypothetical model of what correct answer to the freelist question would be or the shared knowledge of each group about WFPs. Then, the knowledge of informants is compared with this model and the degree of agreement to this model is calculated. If the reliability of the model is significant and the variation among informants is not high, the model represents the typical answer of a member of that population. Anthropac gives a reliability value (pseudo-reliability) and the closer is the value to 1.0 the higher the consensus among informants. The analyze was conducted for each ethnic group separately and also generally for the whole area. The results were compared between different ethnic groups. The relation between informant's attributes (age and gender) and WFP knowledge was analyzed by ANOVA and further with Scheffe post-hoc test among 6 age groups. Sørensen similarity index was calculated among the different pair groups by EstimateS 7.5 and the similarity matrix was applied to conduct unweighted pair-group method using arithmetic average (UPGMA) cluster analysis using PC-Ord software to cluster ethnic groups. Microsoft Office Excel and SPSS 16 were used for further statistic analysis.
Conclusions
Wild food plants are still used extensively by local people in the NRWNNR. This study provides an insight into the WFP knowledge and use patterns including culturally important and frequently used WFPs among four ethnic groups of the region. The area is rich in WFPs and our study also shows the dependency of WFP preference and use on culture, despite the WFP sharing among different ethnic groups. Although the studied groups are living in spatially different villages and this implies different accessibility to WFP resources, but the actual geographical distance between different villages is not so much that cause such a big geographical distance (Figure 1). On the other hand, species which are common among ethnic groups show different saliency ranking for each group (Table 1). This suggests the role of culture on the preference of WFPs.
Findings also show that highly salient species for the most part overlap with frequently used species. These are also the species most traded. There is a big potential for harvesting, participatory domestication and marketing of WFPs especially in the tourism sector in the area. Only in Jinghong City more than 100 restaurants cater wild vegetables for tourists [9]. Zhang et al. [11] also concluded that wild vegetable exploitation in NRWNNR could help for the economic development of the area. However this exploitation should be in a sustainable way and policies and regulations on exploitation of WFPs should be established. More investigation on the distribution patterns, population density and regeneration of these species could help planning and establishing harvest regulations that assure sustainable supply of plant materials.
Declarations
Acknowledgements
This study was supported by the German Federal Ministry of Education and Research (BMBF) (FN.: 0330797A) and the German Academic Exchange Service (DAAD). We are especially grateful to the administration office of the NRWNNR for its generous support. Last but not least, we are indebted to all villagers, plant collectors and traders who shared their knowledge with us. Many thanks to Mrs. Cai Yun and Bai Gong for their help with interpreting.
Authors' Affiliations
(1)
Institute of Plant Production and Agroecology in the Tropics and Subtropics, University of Hohenheim, Stuttgart, Germany
Copyright
© Ghorbani et al.; licensee BioMed Central Ltd. 2012
This article is published under license to BioMed Central Ltd. This is an Open Access article distributed under the terms of the Creative Commons Attribution License (http://creativecommons.org/licenses/by/2.0), which permits unrestricted use, distribution, and reproduction in any medium, provided the original work is properly cited.