An ethnobotanical survey of medicinal plants used in the eastern highlands of Papua New Guinea
Journal of Ethnobiology and Ethnomedicine
2012
8:47
Received: 5 September 2012
Accepted: 12 December 2012
Published: 18 December 2012
Abstract
Background
The Eastern Highlands area of Papua New Guinea (PNG) has a rich tradition of medicinal plant use. However, rapid modernization is resulting in the loss of independent language traditions and consequently a loss of individuals knowledgeable in medicinal plant use. This report represents a program to document and preserve traditional knowledge concerning medicinal plant use in PNG. This report documents and compares traditional plant use in the Eastern Highlands districts of Unggai-Bena, Okapa, and Obura-Wonenara, and puts these new records in context of previously documented PNG medicinal plant use.
Methods
This manuscript is an annotated combination of Traditional Medicines survey reports generated by UPNG trainees using a survey questionnaire titled "Information sheet on traditional herbal reparations and medicinal plants of PNG". The Traditional Medicines survey project is supported by WHO, US NIH and PNG governmental health care initiatives and funding.
Results
Overall, after "poisoning" (synonymous with "magic") the most commonly recorded ailments addressed by medicinal plant use were pain, gynecological disease, gastrointestinal maladies, anemia or malnutrition and malaria. However, the recorded indications for plant use varied widely amongst the different survey locations. Unlike many areas of PNG, mixing of ingredients was the most common mode of preparation recorded, except for two areas where the consumption of fresh plant material was more common. Throughout the Eastern Highlands oral administration was most common, with topical application second. Overall, leaves were most commonly used in the preparations of the healers interviewed, followed by bark and stems. Several new medicinal uses of plants were also documented.
Conclusions
Collaboration between the WHO, UPNG and the PNG Department of Health initiated Traditional Medicine survey program in order to preserve traditional knowledge concerning medicinal plant use in PNG. This effort promotes integration of effective and accessible traditional practices with Western protocols. The Traditional Medicine surveys are particularly important because, in the absence of the clinical validation, the documentation of the consistent use of a given plant for specific indication by a large number of herbalists, across a wide range of ethnic traditions, maybe considered as a positive criterion for the promulgation of said use amongst PNG's recently formed traditional healer associations.
Keywords
Papua New GuineaEastern HighlandsMedicinal PlantsObura-WonenaraUnggai-BenaOkapa
Background
Rural communities in Papua New Guinea (PNG) rely on a tradition of plant use for health needs [1]. PNG has at least 800 ethnic traditions characterized by distinct languages scattered mostly in rural hamlets across a geographically segregated mountainous country of 462,840 km2 [2, 3], of which the Eastern Highlands Province occupies 11,200 km2. This geology has also resulted in extraordinary biological diversity estimated to be greater than 5% of the global total including an estimated 15,000 to 20,000 vascular plants, approximately 60% of which are endemic [4, 5]. Human settlement has existed from at least 40,000 years BP on the north coast (Houn Peninsula) of PNG. More recently, human occupation of the Ivane Valley in the PNG Highlands has been dated to 49,000 to 44,000 years ago [6]. Of PNG's approximately 6.2 million people about 430,000 reside in the Eastern Highlands [7]. This extended habitation of diverse environs has led to a rich and varied practice of medicinal plant use [8].
Reports from Western contact as early as the 1800s detailed the use of medicinal plants by PNG people to treat various maladies [9]. This Western perception of the cultural tradition of medicinal plant use, however, has been disparaged in some literature because often the curing properties of the plants are conceived by the users as magical [10]. This was the case in PNG Highlands where, until recently, non-western concepts of illness etiology predominated. Nevertheless, as in most of PNG, it is the current practice in the Highlands to use different plants to treat various symptoms regardless of whether the cause of the symptoms is conceived of as mystical or somatic.
The fact that a sizable majority of the PNG population relies on medicinal plants and traditional practitioners for health care has been formally recognized by the national government [1]. The 2001–2010 PNG National Health Plan promoted collaboration between the World Health Organization (WHO) and the University of Papua New Guinea (UPNG) to assist in the development of traditional medicines in the country. A traditional medicines survey instrument was developed using WHO guidelines and with vetting from Western Pacific WHO regional officers. In 2001 the UPNG Traditional Medicines surveys were initiated with endorsements from the UPNG School of Medicine and Health Sciences Research and Ethics Committee and the Medical Research and Advisory Committee of the PNG Department of Health. A proprietary database for traditional medicines was also established, which is maintained at UPNG [11], and now serves as a national resource as the government seeks to move validated and safe herbal remedies into the national health care formulary [1].
It is widely recognized that the traditional use of medicinal plants constitutes an important information reservoir that is threatened by on-going development and Westernization. This cultural reservoir of knowledge has been empirically tested and adopted through millennia of trial and error, but prior to the UPNG Traditional Medicines surveys, three of which are reported here, there was no national effort to preserve such knowledge. The documentation of medicinal plants in PNG has been haphazard and the accrued knowledge has not been widely disseminated internationally. Furthermore, the corresponding pharmacological validation of PNG medicinal plant use has not been systematically studied. We estimate that historically some 800 PNG plants species have been described in the literature for treatment of various ailments, but this represents only a fraction of the total number of plants actually utilized.
We present here a survey of traditional healers and report their current uses of medicinal plants from three distinct ethnic regions of the Eastern Highlands. The objective is to document and preserve knowledge of medicinal plant use in the Eastern Highlands of PNG, to use this activity as a scientific and culturally affirmative training exercise for senior UPNG students, and to put the recorded plant use into the PNG context by comparison with archived literature concerning medicinal plant use in PNG. This activity has identified many species used medicinally in the Eastern Highlands that are also used elsewhere in PNG, and a few species for which there are rare or no literature reports of medicinal use.
Methods
The Traditional Medicine survey program at UPNG provides an effective training exercise for select senior bachelor of pharmacy students. The Traditional Medicines Database currently contains cultural plant use data from over 34 Local Level Governments (LLGs) in PNG. Students are instructed on plant identification and preservation, herbal medicine use, and how to administer the survey instrument titled "Information sheet on traditional herbal preparations and medicinal plants of Papua New Guinea". This survey instrument questionnaire is designed to facilitate semi-structured face-to-face interviews with healers. The interaction is directed at recording new data concerning the medicinal uses of plants and the related cultural traditions, and includes field work for the collection of plant vouchers. The students are supported to travel to their home districts to conduct the surveys amid "wantok" communities. Wantok implies more than a common language in PNG, encompassing a meaning of extended kinship as well. Students meet first with elders, village heads, ward councilors, etc., in the study communities to gather names of healers before contacting them with the request for interviews. The principal requirement being that the healers are recognized in the community to have knowledge and skills of providing herbal treatments, that they are active in the practice and are willing to share their knowledge. The interviews are usually conducted in Tok Pisin or Tok Ples (local dialects) because facility with English is not uniform amongst the interviewees and it is important to communicate as clearly as possible.
Samples of the plants useful for identification (flowers, fruits or nuts, twigs with leaves) in addition to the parts used medicinally were harvested, dried and compressed in newspapers. A copy of the survey questionnaire is provided in supplementary information Additional file 1. Newspapers were changed daily until they remained dry after compression. Pressed plant samples, plant photographs and descriptions were assigned a voucher numbers and deposited at the UPNG Herbarium for identification and reference purposes [8]. The data concerning plant use are written up under supervision into student authored reports and the plant information is entered into the Traditional Medicines Database, which contains the combined reports generated by a decade's work in this endeavor. It is the student reports that provide the base information for this current report.
Guidelines regulating accession of the database have been developed at UPNG in order to recognize and trace the traditional knowledge and intellectual property of the source communities. The guidelines operate under the current UPNG benefit sharing model, which is applicable to many areas of natural products research and which includes guidelines concerning intellectual property rights and benefits sharing that has been approved by the PNG government. The proprietary UPNG Traditional Medicines Database records, in addition to plant medicinal use, information concerning source individuals and communities in order to recognize and trace the traditional knowledge intellectual property.
The three student reports compiled here detail medicinal plant use from three separate regions and several distinguishable language and dialect groups in the Eastern Highlands province of PNG (Figure
1
). The Eastern Highlands areas surveyed encompass Ipma-Baruya language groups of the Marawaka area of the Yeila Rural Local Level Government (LLG), Obura-Wonenara electorate; the Bena, Gahuku and Siane language groups of the Unggai-Bena LLG; and the Fore/Keyagana/Kimi language groups of the Okapa LLG [
12
]. Forty five practitioners were interviewed for this work: three from Ande village, 16 from Jomuru village, one from Marawaka station, five from Wauko village, one from Boike village, one from Gawol village, one from Kam'mwa village, and one from Kwaksiolo village in the Marawaka/South Obura Wonenara LLG area; two from Numurapoka village, one from Ginipauka village, one from Masiga, two from Orumba village, and two from Sekagu village from the Unggai Benna LLG area; four from the Haga villages, two from Yavanita village and two from Amusa village in the Okapa LLG of the Eastern Highlands.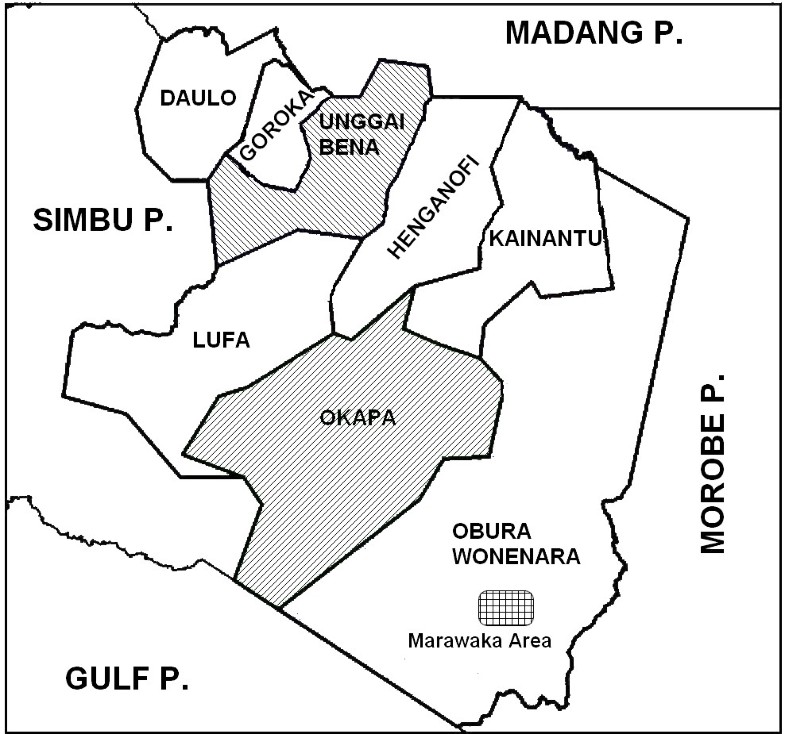 Conclusions
As described by Feil [37], "Highlanders may inhabit similar altitudes but within this range there are distinct sub regions…" The Eastern Highlands are relatively drier and historically became heavily populated later than the wetter western regions. The contemporary cultural and botanical diversity of the Eastern Highlands, the continued reliance on medicinal plants in rural communities there, and the innovation and experimentation of the practitioners, combine to yield a rich and dynamic area for study. While many traditional practitioners continue to treat symptoms attributed to "witchcraft", modern perceptions of disease etiology are penetrating even remote villages, resulting in mixed rationales for giving treatments that reflect these changes in understanding.
Several of the species reported here are used in the Eastern Highlands but not frequently reported in the literature for medicinal use elsewhere in PNG. These include both plants that are known to be widely distributed in PNG (e.g., Ascarina philippinensis and Calycacanthus magnusianus) and also those that are not known to be widely distributed in PNG (e.g., Boerlagiodendron eminens and Aristolochia indica). The medicinal use of those plants that are localized geographically might reflect potent activity accessible only to those fortunate enough to live there, while the unique use of widely distributed plants might reflect either the local discovery of a useful property, or experimentation of local healers in plant use – practices perhaps not yet spread to or reproduced elsewhere in PNG. In any case, efforts to validate the utility of PNG medicinal plants cannot completely skirt these issues. Subjecting traditional plant preparations to laboratory testing can demonstrate specific bioactivities that may help validate the traditional use, but unfortunately, it is beyond the capacity of the PNG Department of Health or the University system to test for all the bioactivities represented in the wide range of plant uses recorded by the surveys. In these circumstances, the consistent use of a particular plant for specific indication by a large number of healers, across a wide range of ethnic traditions, is notable and may support the notion of a particular herbal remedy's efficacy.
The effort to document and validate medicinal plant use in PNG is part of a larger strategy that is under way to meet the health care needs of citizens of PNG. As described by Waruruai et al. [8], the Traditional Medicines survey project complements other programs supported by the PNG Ministry of Health to promote the use of efficacious herbal remedies in underserved communities. Traditional healer associations have already been established in several provinces and basic manuals on diagnosis and plant use have been drafted. The aim is to promote integrated medical treatment options in an approach to health care that combines effective and accessible traditional practices with Western protocols (when available). The medicinal plant surveys reported here are the product of collaboration amongst the faculty at UPNG and the University of Utah, with support provided by the Fogarty International Center of the NIH, USA [38], and the PNG Ministry of Health. The Traditional Medicines survey project utilizes a university training tutorial as one component of a larger strategy aimed at providing improved health care options to a burgeoning population.
Declarations
Acknowledgements
The student reports accessed for the information in this manuscript are titled: "Documentation and Evaluation of Traditional Medicine Practices in Marawaka area of Eastern Highlands Province", 2005, by Ronald Y. Jorim; "Documentation and Evaluation of Traditional Medicine Practices in the Keyagana, Fore and Kimi Constituencies of Okapa, Eastern Highlands Province", 2006, by Wauwa Legu, and "Traditional Medicine Practices in the Unggai-Bena LLG Eastern Highlands Province", 2010, by Seva Korape. We gratefully acknowledge contributions and sharing of the Siane speaking people of Ginipauka and Orumba villages, the Gahuku speaking people of Orumba, Numurapoka, Ginipauka, Masiga and Numurapoka vilages, the Bena speaking people of Sekagu village, the Ipma-Baruya language people of Jomuru, Mala, Boiko, Wauko, Ande, Gawol, Kwaksiolo and Kam'mwa villages and Marakawa station, the Keyagana speaking people of the Egera-Haga, Yavanita Haya, Aniruvi (Haga), Amusa, Aniruvi (Egera-Haga) and Niruvi (Egera-Haga) villages, the Fore speaking people of the Yavanita Haya, Kamiyovindi-Tunuku, and Egera-Haga villages and the Kimi speaking people of the Amusa and Kimi villages. Without their invaluable input this publication would not be possible. We wish to thank Professor Robert Johns, Head New Guinea Program, Botanical Research Institute of Texas, for input on plant identification while visiting the UPNG herbarium, and Robin L. Hyde, Visiting Fellow, Department of Anthropology and Resource Management, ANU College of Asia & the Pacific, for providing personal notes, many useful references on medicinal and other plant use in PNG, and helpful suggestions concerning the presentation of these studies. We also acknowledge UPNG and FRI Herbarium staff for assistance in identification of medicinal plant vouchers. This work was funded by US NIH support through the Fogarty International Center, ICBG 5UO1T006671. Dr. Rai, Dr. Matainaho and students were also supported by the National Department of Health, Papua New Guinea and the University of Papua New Guinea.
Authors' Affiliations
(1)
University of Papua New Guinea, School of Medicine and Health Sciences, Boroko, Papua New Guinea
(2)
Department of Pharmacology and Toxicology, University of Utah, Salt Lake City, USA
Copyright
© Jorim et al.; licensee BioMed Central Ltd. 2012
This article is published under license to BioMed Central Ltd. This is an Open Access article distributed under the terms of the Creative Commons Attribution License (http://creativecommons.org/licenses/by/2.0), which permits unrestricted use, distribution, and reproduction in any medium, provided the original work is properly cited.