One century later: the folk botanical knowledge of the last remaining Albanians of the upper Reka Valley, Mount Korab, Western Macedonia
Journal of Ethnobiology and Ethnomedicine
2013
9:22
Received: 4 March 2013
Accepted: 4 April 2013
Published: 11 April 2013
Abstract
Background
Ethnobotanical surveys of the Western Balkans are important for the cross-cultural study of local plant knowledge and also for obtaining baseline data, which is crucial for fostering future rural development and eco-tourism initiatives in the region. The current ethnobotanical field study was conducted among the last remaining Albanians inhabiting the upper Reka Valley at the base of Mount Korab in the Mavrovo National Park of the Republic of Macedonia.
The aims of the study were threefold: 1) to document local knowledge pertaining to plants; 2) to compare these findings with those of an ethnographic account written one century ago and focused on the same territory; and 3) to compare these findings with those of similar field studies previously conducted in other areas of the Balkans.
Methods
Field research was conducted with all inhabitants of the last four inhabited villages of the upper Reka Valley (n=17). Semi-structured and open interviews were conducted regarding the perception and use of the local flora and cultivated plants.
Results and conclusion
The uses of ninety-two plant and fungal taxa were recorded; among the most uncommon uses, the contemporary use of young cooked potato (Solanum tuberosum) leaves and Rumex patientia as a filling for savory pies was documented. Comparison of the data with an ethnographic study conducted one century ago in the same area shows a remarkable resilience of original local plant knowledge, with the only exception of rye, which has today disappeared from the local foodscape. Medicinal plant use reports show important similarities with the ethnobotanical data collected in other Albanian areas, which are largely influenced by South-Slavic cultures.
Keywords
Ethnobotany
Mavrovo
Traditional Knowledge
Balkans
Background
Ethnobiological studies conducted in the Western Balkans in recent years have reported a rich biocultural diversity and a remarkable vitality of traditional knowledge (TK) concerning the local flora in this region [1–12]. Such studies have been postulated to represent crucial lynch-pins for the development of community-based management strategies for local natural resources, sustainable eco-tourism and high-quality niche food and herbal products [13].
On the other hand, the ethno-historical perspective in the European ethnobotanical literature may represent an important tool for exploring trajectories of changes in plant use, as a few recent works have shown [14–18]. However, the integration of original ethnographic data with historical reports can only take place in those areas in Europe where detailed reports on local uses of plants are available. The comparison of current ethnographic data on plant uses with that reported in ancient treatises on medicinal plants can be more complex and even problematic, as information regarding local plant perceptions cannot generally be traced back. Comparative analysis between the plant knowledge of historical medical schools and that of subaltern rural classes may, however, be useful for understanding eventual hybridisations of these diverse plant knowledge systems [19–21].
The upper Reka Valley in Western Macedonia represents one of the very few Albanian-speaking areas in South Eastern Europe where a very detailed ethnographic account – including important notes concerning local food and medicinal plant uses - was written in the first decade of the 20th Century. Bajazid Elmaz Doda (approx. 1888–1933) was the personal assistant and long-term partner of one of the most famous scholars in the field of Albanian studies: the Hungarian aristocrat and palaeontologist Baron Franz Nopcsa von Felső-Szilvás (1877–1933). Doda finalised a manuscript in 1914, probably written in collaboration with his mentor/partner, which was focused on the daily mountain life of his village, Shtirovica, located in the upper Reka Valley (approx. 1400 m.a.s.l.). This manuscript remained unpublished until the Albanologist Robert Elsie found it in the Austrian National Library and edited it in 2007 [22]. Doda apparently wrote this account to challenge the argument of the Serbian-Austrian historian and astronomer Spiridon Gopčević (1855–1928), who described the Albanians of the upper Reka Valley as "albanicised Slavs" [23].
Doda's village of Shtirovica was completely destroyed in 1916 by the Bulgarian army [22]. However, a few surrounding tiny Albanian villages still survive to this day, despite the fact that the local population has been dramatically eroded by recent migration waves, both to the main centres in Macedonia and also abroad.
The aim of this study was to record the traditional plant knowledge of the last remaining Albanians living in these villages of the upper Reka Valley and to compare this with the ethnobotanical notes found in Doda's work in order to better understand trajectories of change in plant uses. Moreover, a further objective of the study was to compare this field data with that of other recent ethnobotanical surveys conducted in surrounding areas and countries in order to trace commonalities and similarities, and to address overlaps and divergences in Albanian and South-Slavic traditional plant knowledge and practice.
Methods
Field study
In-depth open and semi-structured interviews, as well as participant observation were conducted in August 2012 with members (n=17) of all remaining families of the last inhabited villages of the upper Reka Valley (Figure
1
): Nistrovë, Bibaj, Niçpur, and Tanushaj, within the Mavrovo National Park. The same villages were inhabited a few decades ago by hundreds of locals, who mostly migrated to the nearby towns of Gostivar and Skopje, as well as abroad for work or (as in Tanushaj) as a consequence of a (minor) Macedonian portion of the last Yugoslavian Wars.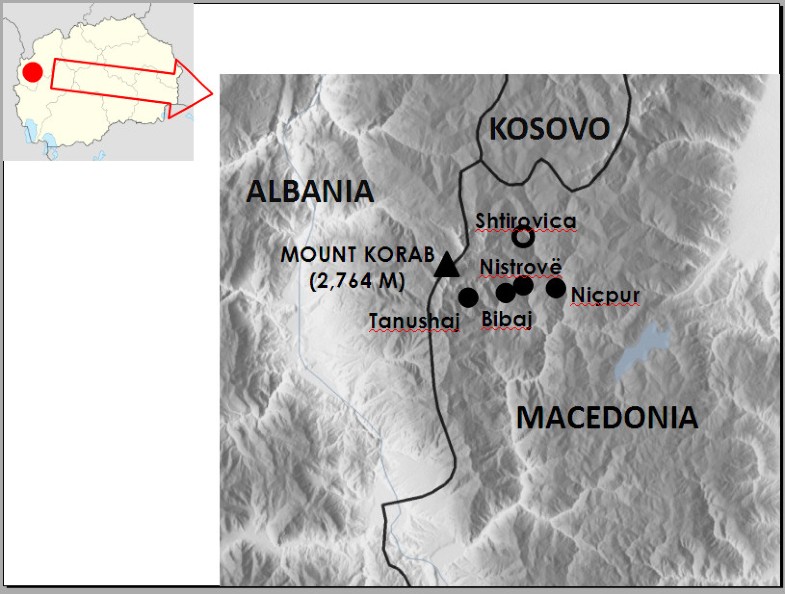 Locals are now exclusively Muslims, but Albanians of Christian Orthodox faith also lived in the villages until a few decades ago. For example, in Nistrovë, one side of the village (with a mosque) is inhabited by Muslims, while the other side was inhabited by Orthodox believers. The entire population of Orthodox Christians migrated to towns a few decades ago, but they return to their village homes sometimes during the summer. Most of the houses in this part of the village are however abandoned even though the Church has been recently restored. According to our (Albanian Muslim) informants, these migrated Orthodox Christian Albanians assimilated within the Macedonian culture and now prefer to be labelled as "Macedonians", even if they are still able to fluently speak Albanian. Contact between these two subsets of the village communities, which were very intense and continuous in the past, no longer exists today.
All Albanian inhabitants of the upper Reka are – to different degrees depending on the age – bilingual in Macedonian. Participants were questioned about traditional uses of medicinal plants and wild food plants (in use until a few decades ago or still in use today). Specifically, data concerning the local name(s) of each quoted taxon, the plant part(s) used, in-depth details about its/their manipulation/preparation and medicinal or food use(s) were collected. Interviews were conducted in Albanian with the help of two simultaneous translators.
Prior informed consent was always obtained verbally before conducting interviews and researchers adhered to the new ethical guidelines of the American Anthropological Association [24]. During interviews, informants were always asked to show the quoted plants. Voucher specimens of the most uncommon wild taxa, as well as digital pictures of the most quoted preparations were taken and are deposited at the University of Tetovo and at the University of Gastronomic Sciences, respectively. A short video documentation of the field study is available online [25].
Taxonomic identification was conducted by the first author and plant nomenclature follows Flora Europaea[26], the Angiosperm Phylogeny Group III system [27] and The Plant List database [28]. The collected data was compared with Bajazid Elmaz Doda's ethnographic study, which was conducted one century ago in the village of Shtirovica (Figure 1), within the same study area of our survey [22], and with the most relevant recent Balkan ethnobotanical field studies [1, 8–10, 13, 29–33] and the other available South-Slavic linguistic and folkloric-botanical sources [22, 34–44].
Conclusions
The very few last remaining Albanians living on the Macedonian side of Mount Korab of the upper Reka still retain a remarkable level of local knowledge concerning botanicals; this knowledge is however eroded, especially in quantitative terms, due the very tiny population, who have decided to remain in the region despite the influence of economic hardships. The hybrid "Albanian-Slav" cultural features of the local inhabitants, which have been largely discussed and disputed in Balkanological studies, could be confirmed in our ethnobotanical surveys, since both local plant names and especially a significant portion of the recorded plant uses share common features with other Slavic and culturally mixed areas of the Western Balkans. The multi-faceted knowledge recorded here could represent a crucial added value for the local managers of the Mavrovo National Park and also for further fostering new forms of eco-tourism, which must be sensitive not only to local biodiversity, but also to the multi-cultural dimension of a historically complex area like the upper Reka.
Declarations
Acknowledgments
Special thanks are due to all of the inhabitants of the upper Reka, and especially to the Elvir Bilalli and his family (Nistrovë) for their wonderful field assistance, generosity and friendship; to Alessandro Scalerandi for the video documentation of the field study; to Ludovico Roccatello and Alessando di Tizio for the logistic assistance in the field; to the reviewers, for their precious comments; to the University of Gastronomic Sciences, Pollenzo, Italy, for having funded the field study.
This article is dedicated to the memory of Professor Sulejman Redzic, University of Sarajevo, plant ecologist and ethnobotanist, unforgettable, passionate colleague, who passed away in January 2013.
Authors' Affiliations
(1)
University of Gastronomic Sciences, Pollenzo/Bra, (Cuneo), Italy
(2)
Department of Biology, State University of Tetova, Ilindenska, Tetovë, Republic of Macedonia
(3)
Department of Botany, University of Sofia, Sofia, Bulgaria
(4)
Department of Biology, University of Prishtina "Hasan Prishtina", Prishtinë, Republic of Kosovo
(5)
Institute for Linguistic Studies, Russian Academy of Sciences, Saint Petersburg, Russia
(6)
School of Environmental Sciences, University of Camerino, Camerino (Macerata), Italy
(7)
Center for the Study of Human Health, Emory University, 550 Asbury Circle, Atlanta, USA
Copyright
© Pieroni et al.; licensee BioMed Central Ltd. 2013
This article is published under license to BioMed Central Ltd. This is an Open Access article distributed under the terms of the Creative Commons Attribution License (http://creativecommons.org/licenses/by/2.0), which permits unrestricted use, distribution, and reproduction in any medium, provided the original work is properly cited.