The use of Amerindian charm plants in the Guianas
Journal of Ethnobiology and Ethnomedicine
2015
11:66
Received: 9 May 2015
Accepted: 8 August 2015
Published: 15 September 2015
Abstract
Background
Magical charm plants to ensure good luck in hunting, fishing, agriculture, love and warfare are known among many Amerindians groups in the Guianas. Documented by anthropologists as social and political markers and exchangeable commodities, these charms have received little attention by ethnobotanists, as they are surrounded by secrecy and are difficult to identify. We compared the use of charm species among indigenous groups in the Guianas to see whether similarity in charm species was related to geographical or cultural proximity. We hypothesized that cultivated plants were more widely shared than wild ones and that charms with underground bulbs were more widely used than those without such organs, as vegetatively propagated plants would facilitate transfer of charm knowledge.
Methods
We compiled a list of charm plants from recent fieldwork and supplemented these with information from herbarium collections, historic and recent literature among 11 ethnic groups in the Guianas. To assess similarity in plant use among these groups, we performed a Detrended Component Analysis (DCA) on species level. To see whether cultivated plants or vegetatively propagated species were more widely shared among ethnic groups than wild species or plants without rhizomes, tubers or stem-rooting capacity, we used an independent sample t-test.
Results
We recorded 366 charms, representing 145 species. The majority were hunting charms, wild plants, propagated via underground bulbs and grown in villages. Our data suggest that similarity in charm species is associated with geographical proximity and not cultural relatedness. The most widely shared species, used by all Amerindian groups, is Caladium bicolor. The tubers of this plant facilitate easy transport and its natural variability allows for associations with a diversity of game animals. Human selection on shape, size and color of plants through clonal reproduction has ensured the continuity of morphological traits and their correlation with animal features.
Conclusions
Charm plants serve as vehicles for traditional knowledge on animal behavior, tribal warfare and other aspects of oral history and should therefore deserve more scientific and societal attention, especially because there are indications that traditional knowledge on charms is disappearing.
Keywords
Traditional KnowledgeCalcium OxalateIndigenous GroupGame AnimalEthnobotanical Knowledge
Background
Magical charm plants used to ensure good luck in hunting, fishing, agriculture, love and warfare are known among many different groups of Amerindians in the Guianas (Guyana, Suriname and French Guiana, see Fig.
1
). These charms are grouped under the local terms
bina
(Arawak),
turara
or
moran
(Carib),
hemït
(Wayana),
muran
(Makushi),
murang
(Akawaio),
aibihi
(Warao),
polã
(Wayãpi),
masas
(Palikur) and
taya
by several people of indigenous and mixed origin [
1
–
8
]. Although they can consist of animal parts, items of material culture, symbolic tattoos, stones, and petroglyphs, the majority of these charms are plants [
4
].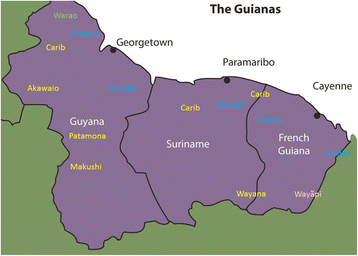 As early as 1665, the Reverend Raymond Breton [9] documented the terms tula:la and táya in his dictionary of the Carib language spoken on the French Caribbean islands. He recognized them as plants of the Araceae family, "some of them having reddish leaves" … "used by all Indians, for magic purposes, especially to protect them against the Whites". Not only were these taya plants used to heal the wounds caused by poisoned arrows, their juice was also mixed with the red paint made from Bixa orellana fruits and rubbed on the body to pacify the enemy [9]. A few years afterwards, the French plantation manager Jean Goupy des Marets mentioned the use of toural among the Indians of French Guiana in his diary [10]. The use of charms among Indians in Guyana and Suriname was first described by 19th and early 20th century ethnographers and missionaries [6, 7, 11–14]. These vegetable charms were thought to have substantial magical power, and were usually described as "fleshy arum-like plants with sagittate leaves used as a good-luck charm" [15] or "plants....that effect their purpose by enticing or attracting the particular object of desire yearned for, whatever it may be- from the capture of an animal to the gratification of a wish" [7]. In his research among Pemon Indians in Venezuela, Thomas [16] described muran as plants that were rubbed into cuts in the arms or legs to ensure success in hunting, which had potentially beneficial effects, but using them without proper instruction was potentially fatal.
According to Penard and Penard [6], charm plants always have an underground bulb, which is used alone or mixed with various animal organs (e.g., blood, brains, hairs or feathers) and rubbed on the hunter's skin, his bow, arrow, fishing rod or dog, or simply carried in his pocket to have a greater chance to catch this particular animal. Every game animal or edible fish is said to have its own charm, of which the root or leaves resemble the color or shape of the desired animals fur, head or other organs [3, 7]. Most studies report that Amerindians procure their charm plants from the forest and transplant them to their house or garden [4, 7–17]. The charms are usually grown in pots or between the vegetation in a secret place to hide them from others and prevent menstruating women from touching or urinating over them, acts which would spoil their magic power [8, 18]. In their description of Surinamese Caribs, Penard and Penard [6] mention that "their cultivated ornamentals are nothing else than charms or toelala".
Although extensively documented in the past and discussed by modern anthropologists in their role as social and political markers and exchangeable commodities [18], these symbols of both tradition and modernity [4] have hardly received attention by botanists. While the earliest herbarium vouchers from the Guianas were collected to document useful plants [19, 20], 20th century botany moved away from its roots in botanical gardens and applied botany and focused on the detection, description and classification of taxa [21]. Floristic studies in the Guianas have largely concentrated on wild plants [22, 23]. As a result, domesticated (crop) plants of the Guianas are underrepresented in herbarium collections [24], while information on plant cultivation and uses are often lacking from herbarium labels or, if documented by the collector, not entered in the databases of digitized vouchers hosted by herbaria.
In his description of Wayana charms, Chapuis [18] remarks that "it is not the plants themselves that motivate our work, but the discourses, practices and representations that are attached to them", which may reflect a general attitude among anthropologists that voucher collection is not necessary [25, 26]. In ethnobotany, however, herbarium specimens vouch for the identity of the plants being studied, and are themselves documents of plant use by people in a given moment of time [21, 26]. The secrecy surrounding vegetable charms [4, 8], and the fact that aroids are difficult to process into herbarium vouchers [26], may also contribute to the underrepresentation of these plants in herbaria. The Naturalis herbarium (L) houses the world's largest plant collection from the Guianas. The oldest collection of the Amerindian charm plant Caladium bicolor was made by F.L Splitgerber in 1837 and described as "taayer. In Surinami cultis vulgaris" (taya. Commonly grown in Suriname). Recent specimens include a few taya collected by Grenand et al. [5] in French Guiana and charm plants collected by Reinders [17] and Van Andel [8] in northwest Guyana.
It is likely that many of the vegetable charms that were once used by Amerindians in the Guianas have lost their function today. In their detailed description of Surinam Carib toelala (unfortunately without botanical collections), Penard and Penard deliberately chose not to describe the charm to prevent offspring: "incredible as it may sound, even civilized people often use this charm in Suriname" [6]. As there is no documentation of the use of this charm by modern Surinamese Caribs, the identity of this particular plant can no longer be traced. For some ethnographers, it seemed just too much work to document all the charms, as Gillin [27] notes: "A large number of plants are used as binas. I have made no attempt to exhaust the list of plants used for this purposes". Others acknowledge that their list is not complete and call for further studies, such as Rodway [13]: "We may safely presume that we do not know a quarter of them [the charms]; yet I have thought it well to make a provisional list. The subject is so curious and interesting that possibly some people may be induced to go farther towards completing the collection". When Chapuis [18] started his study, the Wayana told him that they only used hunting charms and had abandoned the use of warfare hemït. They lived in peace now, and growing such dangerous plants would only bring trouble.
The use of magic plants is not always easily combined with Christianity. Around 1906, an Arawak informant of Penard and Penard said that he did not know any bina, because he was baptized. When the ethnologists asked him how he could hunt without charms, he answered: "When we need hunting charms, we buy them from bad Caribs" [6]. A century later, when the Amazon Conservation Team offered to help the Wayana to set up a traditional health clinic in Palemeu, the village captain only agreed when the services were limited to medicinal plants for physical diseases; he wanted no piyai practices (shamanistic healing) in his clinic [28]. According to Grenand et al. [5], Palikur Indians have a rich medicinal flora, but use fewer charms than their neighboring Wayãpi, because of a long-term influence of diverse Christian churches, who see these plants not as herbal remedies but more as poisons or black magic. The evangelical Church of Christ and Christian Brethren denominations prohibit the use of charms among members of their congregation in Makushi villages, which results in people rejecting their use and denying their efficacy, at least publicly [4]. In northwest Guyana, practicing shamans and their ritual knowledge have almost completely vanished, while youngsters are reluctant to learn the tools of the trade. In most communities, the information on plant charms is scattered among elders, who are often not aware of each other's knowledge [8]. Given the scant ethnobotanical documentation and the ongoing loss of knowledge regarding plant charms in the Guianas, documenting their present use is of great importance.
The aim of this paper is to make a comparison in the use of charm species among different indigenous groups in the Guianas, based on recent fieldwork in Suriname and Guyana, information on herbarium labels, recent and historic literature (Table
1
). We formulated the following research questions:
| Ethnic group | Country | Data sources | Main references |
| --- | --- | --- | --- |
| Akawaio | Guyana | literature | |
| Arawak | Guyana | fieldwork Van Andel, herbarium vouchers, literature | [17] |
| Arawak | Suriname | fieldwork Ruysschaert, herbarium vouchers, literature | [6] |
| Carib | Guyana | fieldwork Van Andel, herbarium vouchers | |
| Carib | Suriname | literature | |
| Macushi | Guyana | fieldwork Daly, photographs | |
| Palikur | French Guiana | literature, herbarium vouchers | [5] |
| Patamona | Guyana | literature | |
| Warao | Guyana | literature, herbarium vouchers | [17] |
| Wayana | French Guiana, Suriname | fieldwork Boven, photographs, literature | [18] |
| Wayãpi | French Guiana | literature, herbarium vouchers | [5] |
1)

Which species are most widely used by Amerindians in the three Guianas and why?

2)

Are these plants collected from the wild or cultivated?

3)

Is similarity in charm species related to geographical or cultural proximity?
We hypothesize that cultivated plants are more widely shared than wild plants, as the natural vegetation of the Guianas is not homogeneous. We also expect that charms with tubers, rhizomes or stems that can be easily propagated by cuttings are more widely used than those without such underground organs or stem-rooting capacity.
Methods
We compiled a list of plant charms from ethnographic, anthropological and ethnobotanical literature on 11 indigenous groups in the Guianas, counting the Guyanese Arawaks and Caribs separately from the Surinamese Arawaks and Caribs. We compiled published and unpublished fieldwork data, collected in Suriname among Arawaks by Ruysschaert in 2004–2006 and among Wayana by Boven in the early 1990s, and in Guyana among Makushi by Daly in 2011–2013 and among Caribs by van Andel in the late 1990s. We supplemented these data with recent and historic literature on charm use and information on (digital) herbarium labels.
During fieldwork, we followed the Code of Ethics of the International Society of Ethnobiology [29]. All participants were informed of our intent prior to any interview and their verbal or written permission was obtained. Voucher collection was done after obtaining the necessary collection permits from the governments of Guyana and/or Suriname. Vouchers were deposited at the herbaria in Paramaribo (BBS), Georgetown (BRG), Ghent (GENT) and Naturalis (L). We identified plant specimens from photographs, literature descriptions and physical herbarium vouchers at the Naturalis herbarium, as well as digital images of collections at Naturalis [30], the Missouri Botanical Garden Herbarium [31], and l'Herbier IRD de Guyane in Cayenne [32]. A few vouchers of plant charms collected in the 1990s and stored in the Naturalis herbarium were given new identifications. Domestication status of species and specimens was retrieved from the botanical literature, field observations, herbarium labels and the Checklist of the Guiana Shield [33]. Current scientific and author names were checked by means of the Plant List [34].
We listed all reports on plant charms in an Excel table (Additional file 1), with vernacular names, scientific names and family (when this could be established with certainty), short cultivar description, associated animals, collection numbers (when available) and data sources, and classified the charms in eleven categories, largely based on those defined by Daly [4]: charms for hunting, fishing, agriculture, working, learning, love, luck, protection against (supernatural) enemies, and charms to do evil, in the literature often referred to as kanaima charms [4, 35, 36]. We used the original spelling of vernacular names from the publications, although this often did not follow the official spelling of these indigenous languages.
To assess the similarity in plant use between countries and groups, and see whether this was associated with geographical or cultural proximity, we performed a Detrended Component Analysis (DCA) on species level. We defined geographical proximity here as groups living close to each other (neighboring tribes), which facilitates the exchange of ethnobotanical knowledge. Cultural proximity was defined as groups belonging to the same language group (and thus sharing a cultural origin), but not necessarily living at a close distance of each other. To perform our DCA, charms that could be linked with a reliable degree of certainty by species or genera were listed as separate species in a presence-absence data matrix with species in rows and 11 indigenous groups in columns. Unidentified plants were excluded and all landraces or cultivars within a species were counted as one species. All plant species used as charms by an indigenous group were used as the sample unit in our analysis. We plotted the results of our DCA analysis on the two main axes that caused the distribution of the data to visualize potential overlap and variation in plant use by the 11 groups. All analyses were performed in PC-ORD 5.0.
To assess the most widely used charm species, their domestication status and the presence of plant organs that facilitated vegetative reproduction, we constructed another matrix in which we listed for each species whether it was wild or cultivated. Within cultivated plants, we distinguished domesticated plants (plants that do not occur in the wild but need to be grown by humans, such as crops) and plants that are taken from the wild and grown around houses or in forest gardens [37]. In the same matrix, we listed whether the species possessed organs that facilitated vegetative propagation. To see whether cultivated plants or vegetatively propagated species were more widely shared among ethnic groups than wild species or plants without rhizomes, tubers or stem rooting capacity, we compared the mean number of ethnic groups using the two groups of species (wild vs. cultivated and easily propagated species vs. not so) by using an independent sample t-test. All statistical tests were done with the program IBM SPSS 19.0.
Conclusions
Our inventory of plant charms throughout the Guianas revealed that at least 145 species of charms are used, predominantly hunting charms. The most widely used are plants of wild origin and cultivated by means of vegetative propagation via tubers or rhizomes. The most frequently used species is Caladium bicolor, whose tubers allow for easy transport and whose natural morphological variability permits associations with a diversity of game animals, following the Doctrine of Signatures. Human selection on shape, size and color of the different landraces within Araceae and Marantaceae through clonal reproduction has ensured the continuity of morphological traits and their association with the features of animals. Carrying a bulb from a specific charm landrace that can be grown into an identical plant as the one left back home, facilitates the transfer of specific knowledge much better than wild plants (that may not be available around the village that is visited) or species that need to be grown from seeds. Charms can therefore be seen as vehicles for the transmission of ecological knowledge on plants, animals, and their complex interactions, but also of historical and cultural knowledge, exceedingly valuable in traditional cultures. Our research results show that similarity in plant use is related to geographical rather than cultural proximity. As there are strong indications that traditional knowledge regarding plant charms is disappearing, in-situ conservation of charm species and landraces in botanical heritage gardens should be considered, combined with the documentation and local appreciation of associated indigenous knowledge. We hope that our overview on charm use contributes to the conservation of this valuable biological and cultural resource.
Declarations
Acknowledgements
This study was funded by the Netherlands Organization for Scientific Research (ALW-Vidi grant nr. 864.09.007). The funding body had no role in the design, in the collection, analysis, and interpretation of data; in the writing of the manuscript; and in the decision to submit the manuscript for publication.
Open Access This article is distributed under the terms of the Creative Commons Attribution 4.0 International License (http://creativecommons.org/licenses/by/4.0/), which permits unrestricted use, distribution, and reproduction in any medium, provided you give appropriate credit to the original author(s) and the source, provide a link to the Creative Commons license, and indicate if changes were made. The Creative Commons Public Domain Dedication waiver (http://creativecommons.org/publicdomain/zero/1.0/) applies to the data made available in this article, unless otherwise stated.
Authors' Affiliations
(1)
Department Biosystematics, Wageningen University, Leiden, The Netherlands
(2)
WWF Guianas, Paramaribo, Suriname
(3)
Ministry of Foreign Affairs, Government of the Netherlands, The Hague, The Netherlands
(4)
Institute of Social and Cultural Anthropology University of Oxford, Oxford, UK