An ethnobotany of the Lukomir Highlanders of Bosnia & Herzegovina
Journal of Ethnobiology and Ethnomedicine
2015
11:81
Received: 5 November 2015
Accepted: 6 November 2015
Published: 25 November 2015
Abstract
Background
This aim of this study is to report upon traditional knowledge and use of wild medicinal plants by the Highlanders of Lukomir, Bjelašnica, Bosnia and Herzegovina (B&H). The Highlanders are an indigenous community of approximately 60 transhumant pastoralist families who speak Bosnian (Bosanski) and inhabit a highly biodiverse region of Europe. This paper adds to the growing record of traditional use of wild plants within isolated communities in the Balkans.
Methods
An ethnobotanical study using consensus methodology was conducted in Lukomir in Bjelašnica's mountains and canyons. Field work involved individual semi-structured interviews during which informants described plants, natural product remedies, and preparation methods on field trips, garden tours, while shepherding, or in settings of their choice. Plant use categories were ranked with informant consensus factor and incorporated into a phylogenetic tree. Plants cited were compared to other ethnobotanical surveys of the country.
Results
Twenty five people were interviewed, resulting in identification of 58 species (including two subspecies) from 35 families, which were cited in 307 medicinal, 40 food, and seven material use reports. Individual plant uses had an average consensus of five and a maximum consensus of 15 out of 25. There were a number of rare and endangered species used as poisons or medicine that are endemic to Flora Europaea and found in Lukomir. Ten species (including subspecies) cited in our research have not previously been reported in the systematic ethnobotanical surveys of medicinal plant use in B&H: (Elymus repens (L.) Gould, Euphorbia myrsinites L., Jovibarba hirta (L.) Opiz, Lilium bosniacum (Beck) Fritsch, Matricaria matricarioides (Less.) Porter ex Britton, Phyllitis scolopendrium (L.) Newman, Rubus saxatilis L., Silene uniflora Roth ssp. glareosa (Jord.) Chater & Walters, Silene uniflora Roth ssp. prostrata (Gaudin) Chater & Walters, Smyrnium perfoliatum L.). New uses not reported in any of the aforementioned systematic surveys were cited for a total of 28 species. Thirteen percent of medicinal plants cited are endemic: Helleborus odorus Waldst. et Kit., Gentiana lutea L., Lilium bosniacum (Beck) Fritsch, Silene uniflora Roth ssp. glareosa (Jord.) Chater & Walters., Silene uniflora Roth ssp. prostrata (Gaudin) Chater & Walters, Salvia officinalis L., Jovibarba hirta (L.) Opiz, and Satureja montana L.
Conclusions
These results report on the cohesive tradition of medicinal plant use among healers in Lukomir, Bosnia and Herzegovina. This work facilitates the community's development by facilitating local and international conversations about their traditional medicine and sharing insight for conservation in one of Europe's most diverse endemic floristic regions, stewarded by one of Europe's last traditional Highland peoples.
Keywords
Postwar ethnobotanyLukomir highlandersBosnia and HerzegovinaMedicinal, food, and endemic plants
Background
The aim of this study is to report upon traditional knowledge and use of wild medicinal plants by the Highlanders of Lukomir, Bjelala, B, Bosnia and Herzegovina (B&H). The project began as a collaboration with the late ethnobotanical authority in B&H, Professor Sulejman Redžić (1954–2013) and was funded by a post war development grant from the Canadian International Development Agency (CIDA). The first ethnobotanical study published from Lukomir was contributed in Redžić's honour [1]. The project was designed to help describe Lukomir's biocultural region with the goal of assisting B&H to meet environment and health mandates of the European Union Stabilization and Association Agreement.
Lukomir is an isolated village located about 50 km southwest of the capital city, Sarajevo (Fig.
1
). Lukomir is situated above Rakitnica canyon with only one access road, which is impassable for part of the year. This isolation has resulted in the preservation of many aspects of traditional lifestyle in Lukomir, including traditional architecture, clothing, herding and medicinal plant gathering and usage [
2
].
The Lukomir Highlanders are Bosniak and speak Bosnian (
Bosanski)
. They are one of Europe's indigenous communities whose members still occasionally practice a traditional transhumant pastoralist lifestyle. They have inhabited the Lukomir territory (Figs.
1
and
2
) within the Dinaric Alps for centuries and are historically Bogomil (Sulejman Redžić, personal communication). Autosomal STR loci studies link Lukomir to the isolated Adriatic islands of Brač, Hvar, and Korčula in Croatia [
3
]. The Highlanders also have a historic connection to transhumant peoples from the Podveležje Plateau near Mostar, B&H, who travelled to Bjelašnica with their livestock in search of water during the summer months [
4
].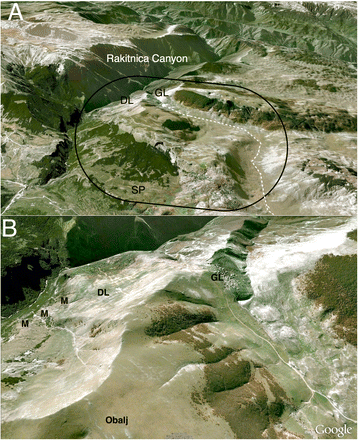 Until recently, shepherds with hundreds in their flocks set out on grazing journeys throughout the Lukomir territory and to neighbouring regions, especially Konjic, B&H. In the wild, shepherds slept with their sheep flocks while other Lukomir family members gathered and cultivated for enough food and fodder to last the long winter.
Since the Bosnian War (1992–5), many inhabitants have moved to cities and herding has declined. Instead, there is a seasonal migration of former inhabitants to Lukomir to gather medicinal plants, make hay during the summer months, and carry on other traditional practices [2]. According to local informants, the number of people staying in Lukomir all winter and the number of people returning in the summer is declining. In the winter of 2007, three families stayed for the winter. In 2008 and 2009, only two families remained all winter. The winter of 2011–2012 was the first winter without inhabitants. This transition in Lukomir's cultural history was likely exacerbated by 15 m high snowdrifts, an impassable road, and relocations for work and education.
Healthcare in Lukomir
From 1950 onward, the development of the only road prompted the Highlanders to gradually relocate from Donji Lukomir (Lower Lukomir) to their current location of Gornji Lukomir (Upper Lukomir), which is now generally referred to as Lukomir (see DL and GL in Fig. 2). Before this road, Donji Lukomir provided the most efficient access to health and trade services in neighbouring regions via the Rakitnica canyon trails. Lukomir is without a primary healthcare facility, but is known to practice traditional medicine, according to Professor Sulejman Redžić.
Biodiversity in Lukomir
Approximately 60 % of all vascular plant species listed in the Flora Europaea are found in the Balkan Peninsula, making Lukomir part of a highly biodiverse region of Europe [5, 6]. Many other studies of traditional plant use for medicine and nutrition have been conducted in the Balkans, including in B&H. Three key systemic ethnobotanical surveys of B&H have recently identified hundreds of plants and thousands of preparations used in traditional human therapy [6–8]. Many of these plants are used in official pharmacopeias while others are less known and invite further ethnopharmacological studies. Many of the same uses and preparations were found across regions and ethnic groups, showing an established base of medicinal plant use. This study joins a growing collection of research whose goal is to provide an inventory and increase understanding of medicinal plants used in the Balkan Peninsula [9], including countries such as Albania [10–12], Montenegro [13], Kosovo [14], Serbia [15, 16], Bulgaria [17, 18], and Macedonia [19, 20].
Conclusions
Although post war development has contributed to the erosion of the self-sustaining traditional lifestyle of the Lukomir Highlanders, our results demonstrate that they continue to have a strong traditional medicine and gathered food system. This traditional knowledge must continue to be valued and maintained in planning for a durable, self-sufficient future for the Lukomir Highlanders. In addition, special emphasis should be placed on the preservation of the vodenica mlini (hydro cereal mills) - a unique cultural technology and visitor attraction that contributes to a traditionally healthy diet and lifestyle.
Abbreviations
B&H:

Bosnia and Herzegovina
DL:

Donji Lukomir
GL:

Gornji Lukomir
CIDA:

Canadian International Development Agency
BH MAC:

Bosnia and Herzegovina Mine Action Centre
Fic :

Informant consensus factor
Declarations
Acknowledgements
We would like to thank the Lukomir Highlanders for their hospitality, guidance, and for sharing their knowledge. We thank the Municipality of Konjic, Foundation GEA+, and the University of Sarajevo, Department of Biology for logistic support. Many thanks to JF's doctoral committee members Nancy Turner, Naomi Cappucino, Christiane Charest, Alexandre Poulain, and Julian Starr. We thank Ammar Saleem for laboratory assistance. We thank members of GEA+, Kujundzić Family, Alikadić family, Elivra Jahić, Sedik Velić and Adnan Šačiragić for photography, field work, and translation assistance. We thank Emcarta Inc. for funding editorial services by Sonja Campbell and the research assistant position of RLG.
JF and LŠ were supported by the Canadian International Development Agency (Association of Universities and Colleges Canada, Partnerships for Tomorrow Program, Phase II) travel grant. JF was supported by National Science and Engineering Research Council of Canada's (NSERC) Alexander Graham Bell Post Graduate Scholarship, Mitacs Elevate Postdoctoral Fellowship, and Indspire. JTA acknowledges NSERC discovery funding.
Open AccessThis article is distributed under the terms of the Creative Commons Attribution 4.0 International License (http://creativecommons.org/licenses/by/4.0/), which permits unrestricted use, distribution, and reproduction in any medium, provided you give appropriate credit to the original author(s) and the source, provide a link to the Creative Commons license, and indicate if changes were made. The Creative Commons Public Domain Dedication waiver (http://creativecommons.org/publicdomain/zero/1.0/) applies to the data made available in this article, unless otherwise stated.
Authors' Affiliations
(1)
Department of Biology, University of Ottawa, Ottawa, Canada
(2)
Institute of Economic Botany, The New York Botanical Garden, The Bronx, USA
(3)
Department of Chronic Diseases, OHRI The Ottawa Hospital, University of Ottawa OBGYN Suite 8425, Ottawa, Canada
(4)
Emcarta Inc., Ottawa, Canada
(5)
Department of Obstetrics and Gynecology, University of Ottawa / the Ottawa Hospital, Ottawa, Canada
(6)
Department of Botany, Center of Ecology and Natural Resources, University of Sarajevo, Sarajevo, Bosnia and Herzegovina
(7)
Université de Montréal, Institut de recherche en biologie végétale, Montréal, Canada
(8)
Foundation GEA+, Sarajevo, Bosnia and Herzegovina
References
Ferrier J, Šačiragić L, Chen ECH, Trakić S, Saleem A, Alikadić E, et al. Ways the Lukomir Highlanders of Bosnia and Herzegovina treat diabetes. In: Pieroni A, Quave CL, editors. Ethnobotany and biocultural diversities in the Balkans. New York: Springer; 2014. p. 13–28. http://www.bit.ly/1LaXY4B Accessed 18 Oct 2015.
Nikolić S, Šarančić Logo A. Lukomir. Tradition and change in a Bosnian Village. Vernac Archit. 2011;42:53–66.View ArticleGoogle Scholar
Marjanović D, Kapur L, Drobnic K, Budowle B, Pojskic N, Hadziselimovic R. Comparative study of genetic variation at 15 STR loci in three isolated populations of the Bosnian mountain area. Hum Biol Int Rec Res. 2004;76:15–31.Google Scholar
Tourism Association of Federation of Bosnia and Herzegovina. Lukomir Umoljani Sarajevo Region. 2005. http://www.bhtourism.ba/eng/lukomir.wbsp Accessed 27 July 2014.Google Scholar
European Environment Agency. Biodiversity 'hot spots' in the pan-European region. http://www.eea.europa.eu/data-and-maps/figures/biodiversity-hot-spotsin-the-pan-european-region Accessed 23 May 2013.
Šarić-Kundalić B, Dobeš C, Klatte-Asselmeyer V, Saukel J. Ethnobotanical survey of traditionally used plants in human therapy of east, north and north-east Bosnia and Herzegovina. J Ethnopharmacol. 2011;133:1051–76.View ArticlePubMedGoogle Scholar
Šarić-Kundalić B, Dobeš C, Klatte-Asselmeyer V, Saukel J. Ethnobotanical study on medicinal use of wild and cultivated plants in middle, south and west Bosnia and Herzegovina. J Ethnopharmacol. 2010;131:33–55.View ArticlePubMedGoogle Scholar
Redžić S. The ecological aspect of ethnobotany and ethnopharmacology of population in Bosnia and Herzegovina. Coll Antropol. 2007;31:869–90.PubMedGoogle Scholar
Pieroni A, Quave CL, editors. Ethnobotany and biocultural diversities in the Balkans. New York: Springer; 2014.Google Scholar
Pieroni A, Dibra B, Grishaj G, Grishaj I, Maçai SG. Traditional phytotherapy of the Albanians of Lepushe, Northern Albanian Alps. Fitoterapia. 2005;76:379–99.View ArticlePubMedGoogle Scholar
Pieroni A. Local plant resources in the ethnobotany of Theth, a village in the Northern Albanian Alps. Genet Resour Crop Evol. 2008;55:1197–214.View ArticleGoogle Scholar
Pieroni A, Nedelcheva A, Hajdari A, Mustafa B, Scaltriti B, Cianfaglione K, et al. Local knowledge on plants and domestic remedies in the mountain villages of Peshkopia (Eastern Albania). J Mt Sci. 2014;11:180–93.View ArticleGoogle Scholar
Menković N, Šavikin K, Tasić S, Zdunić G, Stešević D, Milosavljević S, et al. Ethnobotanical study on traditional uses of wild medicinal plants in Prokletije Mountains (Montenegro). J Ethnopharmacol. 2011;133:97–107.View ArticlePubMedGoogle Scholar
Mustafa B, Hajdari A, Pajazita Q, Syla B, Quave CL, Pieroni A. An ethnobotanical survey of the Gollak region, Kosovo. Genet Resour Crop Evol. 2012;59:739–54.View ArticleGoogle Scholar
Jarić S, Popović Z, Mačukanović-Jocić M, Djurdjević L, Mijatović M, Karadžić B, et al. An ethnobotanical study on the usage of wild medicinal herbs from Kopaonik Mountain (Central Serbia). J Ethnopharmacol. 2007;111:160–75.View ArticlePubMedGoogle Scholar
Zlatković BK, Bogosavljević SS, Radivojević AR, Pavlović MA. Traditional use of the native medicinal plant resource of Mt. Rtanj (Eastern Serbia): ethnobotanical evaluation and comparison. J Ethnopharmacol. 2014;151:704–13.View ArticlePubMedGoogle Scholar
Ivancheva S, Stantcheva B. Ethnobotanical inventory of medicinal plants in Bulgaria. J Ethnopharmacol. 2000;69:165–72.View ArticlePubMedGoogle Scholar
Kultur S, Sami S. Medicinal plants used in Isperih (Razgrad-Bulgaria) district. Turkish J Pharm Sci. 2009;6:107–24.Google Scholar
Rexhepi B, Mustafa B, Hajdari A, Rushidi-Rexhepi J, Quave CL, Pieroni A. Traditional medicinal plant knowledge among Albanians, Macedonians and Gorani in the Sharr Mountains (Republic of Macedonia). Genet Resour Crop Evol. 2013;60:2055–80.View ArticleGoogle Scholar
Pieroni A, Rexhepi B, Nedelcheva A, Hajdari A, Mustafa B, Kolosova V, et al. One century later: the folk botanical knowledge of the last remaining Albanians of the upper Reka Valley, Mount Korab, Western Macedonia. J Ethnobiol Ethnomed. 2013;9:22.PubMed CentralView ArticlePubMedGoogle Scholar
European Environment Agency. Natura 2000. Biogeographic regions of Europe. 2012.Google Scholar
Thomas E, Vandebroek I, Van Damme P. What works in the field? A comparison of different interviewing methods in ethnobotany with special reference to the use of photographs. Econ Bot. 2007;61:376–84.View ArticleGoogle Scholar
The Bosnia and Herzegovina Mine Action Centre. Bjelašnica area map. [http://trekkingbosnia.com/en/images/map/bjelasnica_mines.jpg] Accessed 18 Oct 2015.
Trotter R, Logan M. Informant consensus: a new approach for identifying potentially effective medicinal plants. In: Etkin N, editor. Plants in indigenous medicine and diet: biobehavioural approaches. Bedford Hills: Redgrave Publishers; 1986. p. 91–112.Google Scholar
Domac R. Mala Flora Hrvatske I Susjednih Područja. Školska Knijga: Zagreb; 1984.Google Scholar
Missouri Botanical Garden. Tropicos. http://www.tropicos.org/ Accessed 10 Oct 2013.
Angiosperm Phylogeny Group. An update of the Angiosperm Phylogeny Group classification for the orders and families of flowering plants: APG III. Bot J Linn Soc. 2009;161:105–21.View ArticleGoogle Scholar
Ferrier J. Ethnobotany, Pharmacology, and Metabolomics of Antidiabetic Plants used by the Eeyou Istchee Cree, Lukomir Highlanders, and Q'eqchi' Ma-ya. University of Ottawa: The New York Botanical Garden; 2014. http://bit.ly/1OETqbH Accessed 18 Oct 2015.
Redžić S. Wild medicinal plants and their usage in traditional human therapy (Southern Bosnia and Herzegovina, W. Balkan). J Med Plants Res. 2010;4:1003–27.Google Scholar
Collins S, Martins X, Mitchell A, Teshome A, Arnason JT. Quantitative ethnobotany of two east timorese cultures. Econ Bot. 2006;60:347–61.View ArticleGoogle Scholar
Amiguet V, Arnason JT, Maquin P, Cal V, Vindas P, Poveda L. A consensus ethnobotany of the Q'eqchi' Maya of Southern Belize. Econ Bot. 2005;59:29–42.View ArticleGoogle Scholar
Heinrich M. Ethnobotany and its role in drug development. Phytother Res. 2000;14:479–88.View ArticlePubMedGoogle Scholar
Leaman D, Arnason JT, Yusuf R, Sangat-Roemantyo H, Soedjito H, Angerhoferc C. Malaria remedies of the Ken- yah of the Apo Kayan, West Kalimantan, Indonesian Borneo: a quantitative assessment of local consensus as an indicator of biological efficacy. J Ethnopharmacol. 1995;49:1–16.View ArticlePubMedGoogle Scholar
Johns T, Chapman L. Phytochemicals ingested in traditional medicines as modulators of energy metabolism. In: Arnason JT, Mata R, Romeo J, editors. Phytochemistry of medicinal plants. New York: Springer; 1995. p. 161–88.View ArticleGoogle Scholar
Muratović E, Bogunić F, Šoljan D, Siljak-Yakovlev S. Does Lilium bosniacum merit species rank? A classical and molecular-cytogenetic analysis. Plant Syst Evol. 2005;252:97–109.View ArticleGoogle Scholar
Rešetnik I, Liber Z, Satovic Z, Cigić P, Nikolić T. Molecular phylogeny and systematics of the Lilium carniolicum group (Liliaceae) based on nuclear ITS sequences. Plant Syst Evol. 2007;265:45–58.View ArticleGoogle Scholar
Muratović E, Robin O, Bogunić F, Šoljan D, Siljak-Yakovlev S. Karyotype evolution and speciation of European lilies from Lilium sect. Liriotypus Taxon. 2010;59:165–75.Google Scholar
Missouri Botanical Garden. Tropicos: Lilium bosniacum (Beck) Fritsch http://tropicos.org/Name/100215787 Accessed 18 October 2015.
Pieroni A. People and plants in lëpushë traditional medicine, local foods and post-communism in a Northern Albanian Village. In: Pardo-de-Santayana M, Pieroni A, Puri R, editors. Ethnobotany in the new europe: people, health and wild plant resources. Bergham Books; New York 2010. p. 17–48.Google Scholar