Wild food plants and minor crops in the Ripollès district (Catalonia, Iberian Peninsula): potentialities for developing a local production, consumption and exchange program
Journal of Ethnobiology and Ethnomedicine
2016
12:49
Received: 27 July 2016
Accepted: 13 October 2016
Published: 20 October 2016
Abstract
Background
Wild food plants (WFP) have always been consumed by humans, first as the main basis of their food and, since the origins of agriculture, as ingredients of normal diets or as an alternative during situations of scarcity. In contemporary industrialized societies their use is for the most part being abandoned, but they may still play an important role. With the purpose of advancing in the ethnobotanical knowledge of one region of the Catalan Pyrenees, the present study reports the findings of a research project conducted in the Ripollès district (Catalonia, Iberian Peninsula), concerning ethnobotanical knowledge and use of wild and semi-wild vascular plants as foods, along with minor crops.
Methods
From August 2004 to July 2014, we performed 104 interviews (93 of which yielded data on food plants) with 163 informants, using the method of semi-structured ethnobotanical interview. We identified the plants quoted and kept herbarium vouchers.
Results
We detected 967 use reports for 80 wild or naturalized taxa, which are or have been consumed in the Ripollès district, the most cited being Taraxacum dissectum, Cynara cardunculus and Origanum vulgare. Certain frequently reported species such as Molopospermum peloponnesiacum and Taraxacum dissectum have only been rarely cited previously or indicated as food plant in very restricted geographical areas. Most cited families included Asteraceae and Lamiaceae, followed by Rosaceae and Apiaceae. Preferred consumed plant parts included leaves, followed by aerial parts, along with fruits and infructescences, while most wild food plants are eaten raw or used as condiments. Demographic factors such as age and locality of informants seem to be more relevant to wild food plant knowledge than gender. Middle-aged people and inhabitants from the Higher Freser River Valley seem to have a greater knowledge of WFP, both in relation to the number of species elicited, as well as the diversity of uses and preparations. To a lesser degree, women seem to have a slightly higher WFP knowledge than men. The consumption of these resources is still fairly alive amongst the populace, yet changes affecting younger generations–in most cases abandonment–have been reported by various participants.
Conclusion
The information provided by this kind of research permits the detection of those traditional species that could constitute the basis for the future development and management of wild edible plant resources along with minor crops. It also helps to determine the factors affecting their use, as well as the distinct target groups that such programmes could be addressed to.
Keywords
Demographic factorsEthnobotanyMinor cropsPyreneesWild edible plants
Background
Wild food plants, including semi-wild plants and minor crops (hereafter WFP), have always been consumed by humans, first as the main basis of their food and, since the origins of agriculture, as ingredients of normal diets or as an alternative during situations of scarcity [1, 2]. In various contemporary industrialized societies their use is for the most part being abandoned [3]. Nevertheless, WFP may still play an important role in very different societies in terms of habitual (even necessary, in some cases) consumption and small-scale, familiar trade [4–6]. Moreover, an increased interest has been noticed in Europe, the Mediterranean region and elsewhere on the study and promotion of WFP and non-cultigens production, consumption and exchange (e.g., [7–13]). The study of such species and its associated knowledge is particularly interesting from the ethnobotanical and conservationist points of view [14]. In this sense, knowledge can be defined as "the way people understand the world, and interpret and apply meaning to their experiences" [15].
In some cases, food plants are also used as medicines. This fact, which has reached the industry and is now very popular in the form of healthy products marketed under the name of functional foods or nutraceuticals, also has a clear folk basis [16, 17]. The distinction between food and medicine is often blurred, and many foods are preferably consumed for their healthy properties. This is perhaps more pronounced in less industrialized areas (where the degree of preservation of folk biodiversity uses is, in general, larger), but it is, nonetheless, characteristic everywhere (see, for instance, [6, 12, 18–26]).
Behind the use (or non-use) of WFP, there are many factors, with sociocultural and economic forces playing an important role. Industrialized countries live a new phenomenon associated with WFP and new trends in nutrition and healthy food, in which WFP are transformed from famine foods to delicatessens [27], not only on the average table, but in haute cuisine too. One of the founding–and persisting–dishes of French (and the World's) nouvelle cuisine, the salmon escalope with common sorrel, was created in 1963 thanks to a sauce elaborated with a wild herb (Rumex acetosa), furnished to Jean and Pierre Troisgros by their mother, who had a folk-based knowledge of its use [28]. Since then, this convergence of innovation and tradition has persisted in haute cuisine with an increasing number of Michelin-starred restaurants using this kind of ingredients [29]. Moreover, the collaboration between representatives of haute cuisine and gastronomy, on the one hand, and of the academia on the other, is currently perceived as necessary. A project in which the authors of the present paper are involved together with the chef Ferran Adrià's team, aiming to achieve a consensual classification of gastroculinary products [30], constitutes a good example of this cooperation.
Additionally, many chefs and cooks (at different levels, from more popular to more exclusive) have adopted the terroir's cuisine, recently revisited and updated as the local food movement, as well as kilometre 0, slow food or proximity and sustainable cuisine [31]. Just to quote a few examples, the French chef Jean-Paul Jeunet, with two Michelin stars, regularly uses more than 40 wild plant species in his elaborations [32], and the Catalan cook Iolanda Bustos bases her dishes on wild plants, present in absolutely all of them [33]. This is most probably the opportune time to get back to traditional uses of plants, aiming to preserve–and to use–food culture and ethnobotanical knowledge.
Ethnobotany of food plants is, as has been shown, a rather well-developed research field in all kinds of geographical areas and social communities. Mountain areas have always been a particular object of study not only with floristic and landscape focuses, but also with sociological and ethnological ones too [34, 35]. In Europe, abundant ethnobotanical work has been conducted in the Alps and the Balkans (e.g., [19, 23, 36–40]). The Pyrenees have been intensively studied from this point of view too. A pioneer study limited to folk plant names in different Pyrenean languages [41], was later followed by another, focused on medicinal plants, in the Aragonian Pyrenees, but also with folk names in several languages and information on food uses [42]. More recently, research has been carried out in the Basque and Navarran areas [43–47] with medicinal and/or food approaches. Some ethnoecological investigations, basically pointing to food plants, record information from several Iberian mountain zones, including the Pyrenees [48–50]. Finally, the Catalan part of this mountain range is rather well known from an ethnobotanical point of view, with contributions devoted to medicinal, food and other aspects [11, 20, 51–63].
This study complements the article published by our research group on the ethnobotany of food plants with medicinal properties in the Higher River Ter Valley [20] with an extension of the study area and a larger focus. The aims of the present investigation are: i) to provide detailed ethnobotanical information on WFP from the studied area; ii) to report the medicinal use of the reported plants which could then meet the concept of folk functional foods; and iii) to deduce from the results obtained those species that could constitute the basis for local WFP development, and the demographic factors that should be considered in order to successfully undertake such a programme.
Methods
Study area
The Ripollès district (Fig.
1
) is a Catalan territory situated in the eastern Pyrenees (Catalonia, Iberian Peninsula), covering an area of 956.6 km
2
, with a population—in 2014—of 25,700 inhabitants [
64
] distributed across 19 municipalities, and with a considerable percentage of the residents inhabiting small villages and isolated houses. Despite the fact that agriculture has been replaced by tourism as the main activity of the region, it could be, nevertheless, considered the secondary source of income for most inhabitants, with many farms and houses having their own homegardens for household consumption [
62
].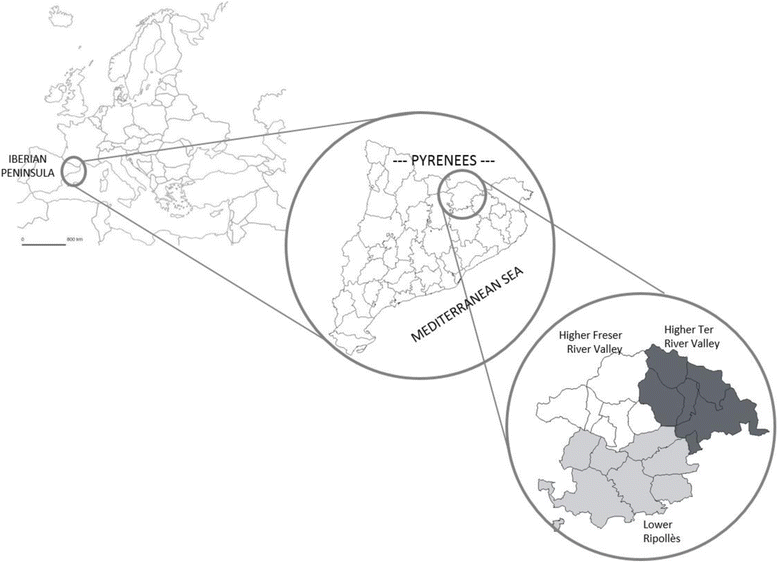 Geographically, three distinctive areas constitute the study area: the Higher Ter River Valley, the Higher Freser River Valley and the Lower Ripollès, at the confluence of both rivers (Fig. 1). The north is characterized by a high mountain terrain constituted by the higher Ter and Freser river valleys, and the south, the Lower Ripollès, characterized by middle-range mountains and the confluence of both river valleys into a plain. Cold winters (minimum temperature −1.8 °C and maximum 10.9 °C) and average annual precipitations of 1116.2 mm [64] are characteristic of the high mountainous climate, although in the Ripollès this is softened by its proximity to the Mediterranean Sea. Vegetation is basically alpine and subalpine, defined at higher altitudes by alpine meadows followed by communities with tree species such as Abies alba and Pinus mugo subsp. uncinata, and woodlands with Fagus sylvatica and Quercus sp. amongst others [65].
As archeological evidence indicates, the Ripollès region has been inhabited, at least, since lower Paleolithic times (ca. 150.000 years ago) [66]. Despite its geomorphologic unity, the region has undergone a disperse history in administrative terms, belonging to the Cerdanya, Osona and Besalú counties depending on the epoch. Its disperse settlement pattern is at least a legacy from medieval times, which has seen relatively little change until recent decades. Textile and metallurgic industries in the lower parts of the district, combined with animal husbandry at higher altitudes, common at the turn of the previous century, have slowly been transformed into rural tourism projects, ski resorts during winter, and other third sector services at the turn of the millennium.
Methods
To cover aims i and ii, we used semi-structured interviews [67] as a technique for obtaining information from research participants. All interviews were carried out and recorded after prior informed consent was obtained, being executed from August 2004 to July 2014. Most informants were middle aged to elderly people, who were selected on a snowball basis [68] and who were interviewed in the local language, i.e., in the Catalan language, common to interviewers and interviewees. All of them were born in the studied area or have lived there a very significant part of their lives, and most of them have only primary studies and professions linked to agricultural and cattle raising activities. According to the code of ethics of the International Society of Ethnobiology [69], the interviewees' were asked to give their informed consent to participate in the survey, to register the interviews, to take pictures and to use their information and images.
In some cases group interviews were partaken, yet individualized interviews were the most common. During or after the interview, plant collection was frequently carried out together with the informants, often around their houses or their homegardens, to confirm the identity of the cited species. When collection of the plants accompanied by the informants was not possible, specimens gathered by ourselves in the region were shown to them, also with the purpose of confirming their identity. For this study only vascular plants were considered. Mushrooms, which are highly appreciated in the area (and largely consumed in terms of volume, but involving only a half-dozen taxa) have not been included here, as people did not refer to them when talking about "plants". Wild, autochthonous and allochthonous plants—some of them naturalised or subspontaneous—have been included, as well as some cultivated plants which do not properly constitute food crops or are marginal and underutilised crops.
All interviews were digitalized into a database and all reported plants were collected and identified using Flora manual dels Països Catalans [70]. For botanical families, Angiosperm Phylogeny Group criteria were used ([71] http://www.mobot.org/MOBOT/research/APweb). A voucher for each taxon was prepared and deposited at the herbarium BCN (Centre de Documentació de Biodiversitat Vegetal, University of Barcelona). Quantitative analyses included descriptive statistics (mean, standard deviations, ranges) for botanical variables (species, families, part used and mode of preparation) as well as for demographic ones (age, gender, locality). Also the informant consensus factor (FIC, the quotient between the number of use reports minus the number of used taxa and the number of use reports minus one; [72]) was calculated to evaluate the consistency and reliability of the information recorded.
To evaluate the tradition of WFP used, we compared the results with food plants contained in two seminal works of Catalan cuisine: a very old one [73] and a very modern one, in two complementary editions [74, 75]. The first one is a compendium of agricultural practices and organisms that was very popular from 17th to 19th centuries, comprising the canon of food plants; more dedicated to cultivated plants, it contained wild ones as well. The second one intends to be the current canon of cuisine, also including more cultivated plants, yet with a number of wild ones too.
Finally, to establish a proposal of local development programme involving WFP, we performed a SWOT analysis [76], with the objective of identifying the strengths, weaknesses, opportunities and threats to the study area. The species relevant for local WFP development (aim iii) have been deduced from the results obtained.
Conclusion
According to our study, about a 5 % of the local flora corresponds to WFP, indicating the relatively large amount of WFP used in the Ripollès district and their associated ethnoculinary knowledge. Nonetheless, consumption is perceived to be in recession, with the abandonment of certain species, preparations and recipes, or these being substituted by newer trends. Catalonia is, together with Japan, one of the few countries (in fact these are the only ones, according to Institut Català de la Cuina [75]) to have built, on an ethnographic basis, a comprehensive inventory of traditional culinary recipes and, as has been seen, the presence of plants (even WFP) in the kitchen is not at all residual. In any case, and conversely to what this decline in use could make us think, some indices show a strong degree of tradition, consistence and reliability of the food plant knowledge in the regions studied.
The large number of WFP in the area considered and in other European mountain territories (see works quoted in the introduction) testifies to the importance of the use of wild food greens in this continent, at a similar rate to those in other geographical areas, where they have been classically considered very relevant, as is the case of the so-called quelites in Mexico [92]. This offers an arsenal of products open to further research in order to better feed the World's population.
At a time when natural and cultural resources are being re-valued and promoted, further studies analysing demographic factors and ethnobotanical change may shed light on the strategies, strengths and shortcomings of the promotion of biocultural diversity. Compensations could be as diverse as the consumption, in itself, of interesting products, a source for small, complementary incomes, recreation, or just enjoying being close to nature [93]. In addition, a combination of tradition aspects with innovation elements may constitute a key for the survival and reformulation of the relations between humans and plants in the Catalan Pyrenees. Studies such as the one presented herein may be significant to establish such knowledge and practices, along with the characterization of those demographic and agroculinary factors that contribute to the promotion of local WFP production, consumption and exchange, in the frame of a revitalisation of mountains, meadows, and in general, rural areas.
Abbreviations
Avg:

Average
BCN:

Herbarium of the Centre de Documentació de Biodiversitat Vegetal, Universitat de Barcelona
F:

Female
FIC :

Informant consensus factor
HG alcoholic bev.:

High-grade alcoholic beverage
M:

Male
spp/inf:

species/informant
SWOT:

Strengths, weaknesses, opportunities and threats
SD:

Standard deviation
UR:

Use reports
UR/inf:

Use report/informant
WFP:

Wild food plants (including semi-wild plants and minor crops)
Declarations
Acknowledgments
We thank all the people who participated as informants in this study, of which they are, in fact, true collaborators, for sharing their time and knowledge. Samuel Pyke (Barcelona's Botanic Garden) is thanked for his revision of English language. This research was supported by projects 2005ACOM00024, 2009ACOM00013, 2009SGR00439 and 2014SGR00514 from the Generalitat de Catalunya (Catalan government), project AP07/07 from the Institut Ramon Muntaner, and project CSO2014-59704-P from the Spanish government.
Funding
See acknowledgements.
Availability of data and materials
Not applicable.
Authors' contributions
All authors participated in the design of the research and in data collection and results discussion. AG and TG carried out the statistical analyses. TG and JV coordinated the study and wrote the first draft of the manuscript, to which the other authors then contributed. All authors read and approved the final manuscript.
Competing interests
The authors declare that they have no competing interests.
Consent for publication
The authors give their consent for publication of this manuscript.
Ethics approval and consent to participate
All the authors agree with the manuscript and consent to participate in it. Concerning the informants, they gave the informed consent (see Methods section).
Open AccessThis article is distributed under the terms of the Creative Commons Attribution 4.0 International License (http://creativecommons.org/licenses/by/4.0/), which permits unrestricted use, distribution, and reproduction in any medium, provided you give appropriate credit to the original author(s) and the source, provide a link to the Creative Commons license, and indicate if changes were made. The Creative Commons Public Domain Dedication waiver (http://creativecommons.org/publicdomain/zero/1.0/) applies to the data made available in this article, unless otherwise stated.
Authors' Affiliations
(1)
Laboratori de Botànica - Unitat Associada CSIC, Facultat de Farmàcia i Ciències de l'Alimentació, Universitat de Barcelona, Barcelona, Spain
(2)
Institut Botànic de Barcelona (IBB-CSIC-ICUB), Barcelona, Spain