Wild leafy vegetable use and knowledge across multiple sites in Morocco: a case study for transmission of local knowledge?
Journal of Ethnobiology and Ethnomedicine
2014
10:34
Received: 31 October 2013
Accepted: 14 January 2014
Published: 4 April 2014
Abstract
Background
There are few publications on the use and diversity of wild leafy vegetables (WLVs) in Morocco. In order to address this gap, we conducted ethnobotanical field work in Taounate, Azilal and El House regions.
Methods
Ethnobotanical collections, free listing, qualitative interviews and a 7 day food frequency questionnaire.
Results
More than 30 species in 23 genera of WLV were identified. Of these 4 had not previously recorded as WLVs used in Morocco in the literature. WLVs were used by 84% of households surveyed in Taounate (N = 61, in March 2005), and were used up to 4 times a week. Qualitative data revealed both positive and negative perceptions of WLVs and detailed knowledge about preparation among women. The greatest diversity of WLV knowledge and use was in the Rif Mountains (Taounate). There was significant variation in nomenclature and salience of WLVs, not only between regions, but also between villages in the same region. Within the same region (or even village) different local names were used for a given species or genus, and different species were identified by the same local name (including species from different botanical families). Data showed greater overlap in knowledge among villages using the same market.
Conclusion
We believe the results suggest that markets are important sites for WLV knowledge transmission.
Keywords
Wild foodLeafy vegetablesTraditional foodTraditional food systemLocal knowledgeEthnobotanyNomenclatureNutrition
Introduction
Until recently, wild food use in Morocco has been significantly under-reported in the literature. In a recent publication, Nassif and Tanji [1] list almost 80 species used as wild vegetables in Morocco (see table one which lists all wild vegetables, as well as fruits, seeds and other wild foods), identified from francophone grey literature sources and their own anecdotal observation in the field. They note the need for systematic studies of wild foods in Morocco, similar to those that have been carried out in other regions.
Before Nassif and Tanji's 2013 [1] publication only a few wild vegetables species had been list in Morocco in Tanji and Nassif 1995 [2] and Hadjichambis et al. 2008 [3]. The gap in scientific documentation may be explained by the seasonal or geographic variation in use, the fact that much of the botanical and ethnobotanical research conducted in Morocco has been overseen by male researchers and wild vegetables are a women's domain, and the fact that most ethnobotanical work in Morocco focuses on medicinal and aromatic plants. In an effort to further scientific documentation on this topic, this paper documents the distribution and use of wild vegetables across multiple sites in Taounate, Azilal, and El Haouz, using botanical identification and voucher collection. Herein we examine geographic differences in use, diversity, salience and ethnobotanical nomenclature of WLVs. We conclude by examining potential drivers of geographic variation in nomenclature and use.
Wild vegetables are an important component of traditional food systems around the world [4, 5]. Wild vegetables are a distinct cultural domain in the knowledge systems of many communities. They are called "Liakra" in Arberesh, Southern Italy [6], "Michicha" by the Shambaa in Tanzania [7, 8] and "Rau Dai" in Vietnam [9]. Likewise, in Morocco they are known as Bakola or Khobiza, terms which also refer to the best known WLV Malva spp.. In this paper we use the term wild leafy vegetables (WLVs) because almost all wild vegetables in Morocco are leafy; however, we also include species used for their stems or other vegetative parts as they are also considered part of the cultural domain Baloka or Khobiza. Aromatic plants used as seasoning or in tea are not included.
WLVs are essential to the nutrition and food security of people around the world. WLVs add diversity to the diet; making diets healthier and more interesting [9–11]. Studies have shown the significant contribution of WLVs to micronutrient content of local diets in developing countries [9, 12]. WLVs can be important, not just in times of food scarcity (drought) but throughout the year [10, 13, 14]. In many cases, WLVs are especially important to socio-economically vulnerable groups [10] and indigenous populations forced to live on marginal lands for social and political reasons [15]. In such groups WLVs can decrease people's dependence on cash-purchased market foods and provide income for those with limited access to land for cultivation of crops [7, 15].
The use of WLVs is suggested to be declining around the world [16], a shift associated with a general nutrition and dietary transition [17]. Chweya and Eyzaguirre [16] cite numerous causes for declining use of traditional and wild vegetables in Africa including: decreased availability due to biodiversity loss and change in agricultural practise, government and development policies that ignore WLVs; loss of knowledge needed for gathering and preparation; and a general loss of cultural value for WLVs. Highlighting that at-risk groups suffer the most from decreasing availability of WLVs, are studies showing that it is poor women who first notice declines in availability and diversity of WLVs species [15, 18]. Socio economic and cultural devaluation is a frequently noted factor in the declining use of WLVs around the world [16, 19, 20]. In Nepal, nettles (Urtica spp.) are eaten by monks living a life of frugality and thus are considered to be part of only the most meagre diet [15]. In Spain WLVs are seen as  old-fashioned' and time-consuming to collect, despite the fact that many people like the taste and enjoy gathering them [19]. WLVs are an integral part of the biodiversity of agro-ecosystems that enhances resilience of the traditional food system, and provides local and culturally appropriate options to help mitigate both chronic, diet and over-nutrition related diseases and micronutrient deficiency concurrently [4, 5, 21].
This paper reports the results of a free listing exercise for WLVs with women, as well as the botanical identification of many of these species. Data on the frequency of WLV consumption, obtained from a 7 day food frequency questionnaire are reported, followed by qualitative data on perceptions and knowledge of WLVs. The paper also includes an examination of geographic variation in use, salience and nomenclature and a discussion of the potential role of markets in the transmission of knowledge about WLVs. The paper concludes with thoughts on the role of WLV in traditional food systems and nutrition, and the potential role of markets in nutrition education and public health nutrition campaigns in Morocco.
Methods
Study sites
Morocco has one of the highest level of biodiversity in the Mediterranean [22] and is also a country facing significant issues in overcoming malnutrition. The country is undergoing a nutrition transition [23, 24]: 36.6% of women are estimated to be overweight or obese [25] while micronutrient deficiencies (especially vitamin A and iron) remain a problem [26]. The national prevalence of vitamin A deficiency (serum retinol < 20 μg/dl) in children under 5 years old was estimated to be 35.1% in 2007 [26] and stunting remains a problem, with 23.6% of rural children stunted (Height for age Z score -2 S.D.) [25]. The country now faces a double burden of disease; with chronic nutrition-related disease and micronutrient deficiency and infectious disease simultaneously problematic. Because WLVs were historically not well documented in the country, efforts to address both micronutrient deficiency and chronic nutrition-related diseases have made little mention of the potential benefits of them and other traditional foods. As is the case elsewhere in the world, the high number of species used, geographical variation in use and nomenclature and lack of nutritional composition data, has surely contributed to the lack of incorporation of WLVs into nutritional and agricultural research and education [16].
This paper presents data from 3 ecologically distinct regions: Taounate, Azilal, and El Haouz provinces (Figure
1
). Taounate is located in the Rif Mountains about 80 km north of Fes in northern Morocco. The main livelihood activity in the area is agriculture; however, although no households involved in the research reported direct participation in cannabis cultivation, many in the area earn some or most of their annual income through involvement in cannabis trade. In Taounate work was conducted primarily in three villages: Izara (IZR), Sidi Sinoun (SSN) and Chachia (CHC). Additional research was also carried out with roadside vendors in Ait Bouhamou (ABH). Azilal is located 160 km east of Marrakech in the High Atlas Mountains (central-eastern Morocco). The area is considered under-developed with limited potential for agriculture and tourism. Within Azilal, research was conducted in 2 villages: Ibiyane (IBN) and Habliss (HBL). El Haouz province covers much the High Atlas Mountains directly south of Marrakech (central-south Morocco). Work was conducted in the village of Tassa Ouirgen, 65 km south (and a bit west) of Marrakech and adjacent to the Toubkal National Park, the center-piece of tourism in the High Atlas Mountains.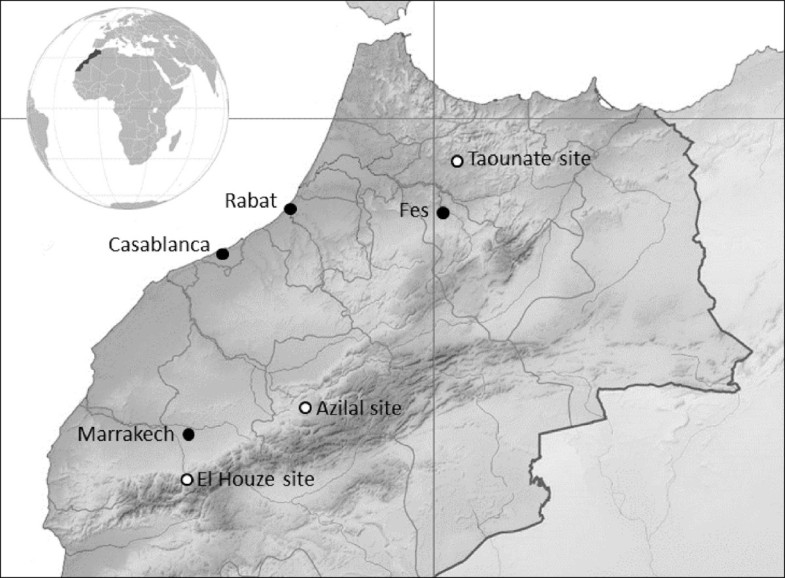 The female head of household or primary cook for every household in each village was identified and approached to be interviewed. Each woman consenting to participate in the research responded to the household food frequency questionnaire (FFQ). Additionally they were also asked to provide a free list of all the wild vegetables they could list. Not all women who agreed to respond to the FFQ were willing or able to give a free list (about half the women who responded to the FFQ provided a free list). In Tassa Ouirgen no FFQ was conducted with the six women who gave free lists. In Tassa Ouirgen the women involved were identified as knowledgeable by the community leaders and each other. Informants for the qualitative information collected were encountered during participant observation, field visits and research activities and were not selected using any specific system. Research was conducted in accordance with the International Society of Ethnobiology (ISE)'s Code of Ethics.
Contribution to diet and nutrition
A household qualitative food frequency questionnaire (FFQ) was conducted with the female head of the household to record the food items used in the last week (Taounate March 10-24th, 2005, N = 61 and Azilal April 12-20th, 2005, N = 42). The FFQ recorded the number of days out of the last 7 the household had used WLVs, but not the number of different species used (when research began we expected only one or a few species were used).
In order to begin to understand the potential contribution WLVs could make to health and nutrition in Morocco the nutrient compositions of the most common WLVs were examined, drawing from the FAO Food Composition Tables [27], USDA Nutrient Data Base and an extensive literature search for the most recent and most accurate data (there is no Food Composition Table for Morocco).
Lists of species used in each site
Free listing was conducted with women after they had completed the FFQ (Taounate - Sidi Sinoun N = 13, Izara N = 8, Chachia N = 14; Azilal - Ibiyane N = 10, Habliss N = 10; El Haouz - Tassa Ouirgen N = 6). Informants were asked to free list all the "Wild Leafy Vegetables" or "Plants used with/like Malva spp." they could name, with prompting to only include vegetables (not aromatic or medicinal plants) and wild species (not cultivated ones). After a list of local names was compiled, key-informants were asked to take us to collect as many species as possible in each site. Research was conducted over multiple years (2005–2012) as timing for collection of WLV species is complicated by short and variable flowering times. Collections were made, numbered and dried following standard methodologies. Some species were identified in situ by Abderrahim Ouarghidi, who has extensive botanical training and experience in Morocco. Collected vouchers were identified by Bronwen Powell and Abderrahim Ouarghidi (using Petite Flore des Régions Arides du Maroc Occidental by Nègre, 1961 and Nouvelle Flore de l'Algérie by Quezel and Santa, 1962), with confirmation by Ibn Tattou. The vouchers were deposited in the herbarium at Institut Scientifique de Rabat (ISR).
Qualitative data
Participant observation, unstructured questions and discussion were used to collect qualitative data about WLVs. Information was recorded in field notes. The extent of questions and discussion was left at the discretion of the interviewer and informant, and was intended to gain information about taste, health benefits, accessibility and knowledge/identification of WLVs species.
Analysis of free lists
Free lists were analyzed using Anthropac, a computer program that specializes in cultural domain analysis and Multi-Dimensional Scaling (MDS) [28]. The MDS graphs of the variation between informants' Free lists allows for clusters of informants (those with similar responses/most similar knowledge) to be identified.
Conclusions
Our data contribute to the evidence of a high diversity of WLVs used in Morocco. Research on WLVs has likely been historically limited by the strong social stigma some people ascribe to WLVs, a gender gap between trained botanists who are mainly male and the women who hold the knowledge of WLVs, and, as elsewhere in the world, high geographical variability in local names used. Importantly in Morocco, the very seasonable nature of use and flowering patterns of most WLV species, has made it very difficult to get a complete picture of all the species used, even in sites which have been visited over multiple years.
Our data show that at least in some regions WLVs were almost universally consumed when in season. This, combined with the fact that increased fruit and vegetable consumption is now believed to be one of the best predictors of a wide range of health outcomes [43, 44], suggests an important potential for WLVs to contribute to the mitigation of both chronic nutrition-related disease and micronutrient deficiency (if their supply can be sustainably increased and expanded). As in other places, maintenance of knowledge for WLV identification and preparation will be necessary for their continued use [40, 45]. Knowledge of WLVs in Morocco is clearly highly nuanced, very highly variable, and susceptible to rapid change. WLVs in Morocco provide an extremely interesting case study in which to further study the horizontal and vertical transmission of traditional or local knowledge. In Morocco, markets may be an important site where food preferences and choices are shaped through cultural transmission.
There is a great need for more research on WLVs in Morocco: nutrient composition, contribution to local diet and nutrition, as well as the potential of WLVs and other traditional foods to play a role in mitigation of the nutrition transition. We need to better understand if and how WLVs and other traditional foods can be incorporated into public health nutrition messages and food-based strategies to mitigate the double burden of nutrition Morocco now faces.
Endnote
aStudies of food brand preferences show that personal contact is the most effective, and peers are most influential (Bowles [36]).
Declarations
Acknowledgements
First and foremost we need to thank all the informants in Taounate, Azilal and El Haouz for their time, patience and hospitality. Secondly we need to thank our excellent research assistants: Maria El Ouatil, Habiba Amassous and Malika Kassi whose motivation and dedication to our work was invaluable. Thirdly we need to thank IPGRI (International Plant Genetic Resource Institute, now Bioversity International) for their financial support and Institut Agronomique et Vétérinaire Hassan II and the University of Cadi Ayyad for hosting Bronwen Powell and Abderrahim Ouarghidi during field work. Thank you also to Mohammed Sadiki, Abdelaziz Abbad and Gary Martin for their support and mentorship. Finally, thank you to all of the officials in our field sites, who ensured our safety and comfort during our stay and facilitated our work.
Authors' Affiliations
(1)
Centre for International Forestry Research, Bogor, Indonesia
(2)
School of Dietetics and Human Nutrition, McGill University, Montreal, Canada
(3)
Faculty of Science, University of Cadi Ayyad, Marrakech, Morocco
(4)
Département de Botanique et Ecologie Végétale, Institut Scientifique de Rabat (ISR), University Mohammed V - Agdal, Rabat, Morocco
(5)
Bioversity International, Rome, Italy
Copyright
© Powell et al.; licensee BioMed Central Ltd. 2014
This article is published under license to BioMed Central Ltd. This is an Open Access article distributed under the terms of the Creative Commons Attribution License (http://creativecommons.org/licenses/by/2.0), which permits unrestricted use, distribution, and reproduction in any medium, provided the original work is properly credited. The Creative Commons Public Domain Dedication waiver (http://creativecommons.org/publicdomain/zero/1.0/) applies to the data made available in this article, unless otherwise stated.