Local ecological knowledge of the artisanal fishers on Epinephelus itajara (Lichtenstein, 1822) (Teleostei: Epinephelidae) on Ilhéus coast – Bahia State, Brazil
Journal of Ethnobiology and Ethnomedicine
2014
10:51
Received: 3 December 2012
Accepted: 13 May 2014
Published: 25 June 2014
Abstract
Background
Local Ecological Knowledge (LEK) of traditional fishermen may be the only source of information regarding the conservation of the marine ecosystem and its endangered species. One of these species is Epinephelus itajara, which can exceed 2 m in length and 400 kg weight, is classified by the IUCN as a critically endangered. In Brazil, there is currently a moratorium that prohibits the capture of this specie, and in the northeastern coast, a Marine Protected Area was recently established properly justified by the existence a one spawning aggregation. The scope of the present study was the analysis the LEK of fishers with the goal of contributing to the conservation of E. Itajara.
Methods
The Knowledge of 24 "experts" was recorded through semi-structured interviews with fishermen selected based on their expertise. LEK regarding some aspects of the life history of E. itajara, such as its morphology, spatial distribution, feeding, breeding and conservation, was systematized. The interviews were conducted in synchronic and diachronic situations. The data analysis followed the model of unity of the various individual skills, while the consistency of the analysis was tested using a matrix of methods employed in comparative cognitive science. Potential reproductive aggregation sites were identified by experts through projective interviews conducted based on a cartographic database and transferred to a geographic information system (GIS).
Results
The LEK of these specialists in relation to the biological and ecological characteristics of E. itajara showed a high level of detail and a high agreement with the scientific literature. Projective interviews are presented as a promising tool allowing spatialization of the information generated through the registration of LEK. Therefore, the visualization of information from the fishermen, as well as its analysis and comparison with other databases, is simplified, thereby contributing to the decision-making process concerning the conservation of marine ecosystem in Brazil.
Conclusions
Integration of LEK with scientific knowledge is an efficient strategy for the conservation of endangered species, as it provides important additional biological information that can be used in the process of participative and sustainable management of marine resources.
Keywords
Epinephelus itajara Local ecological knowledgeReproductive aggregationEndangered speciesMarine protected areas
Resumo (Portuguese)
Introdução
O Conhecimento Ecológico Local (CEL) dos pescadores artesanais pode ser a única fonte de informações relativas à conservação do ecossistema marinho e suas espécies ameaçadas. Uma destas espécies é o Epinephelus itajara, podendo exceder 2 m de comprimento e 300 kg de biomassa, sendo que, é classificado pela UICN como Criticamente Ameaçada de Extinção. No Brasil existe atualmente uma moratória proibindo a captura desta espécie, e no Litoral Nordestino, uma Área Marinha Protegida foi recentemente decretada com a justificativa da existência de uma de suas agregações reprodutivas. O objetivo do presente estudo foi analisar o CEL dos pescadores para contribuir com a conservação do E. itajara.
Metodologia
O Conhecimento de 24 "especialistas" foi registrado através de entrevistas semi-estruturadas com pescadores selecionados por reconhecida experiência. O CEL foi sistematizado em relação a alguns aspectos da historia de vida do E. itajara, tais como: morfologia, distribuição espacial, alimentação, reprodução e conservação. Para verificar a validade das respostas recorreu-se a entrevistas repetidas em situações sincrônicas e diacrônicas. A análise dos dados seguiu o modelo de união das diversas competências individuais, e sua consistência foi testada com a construção de uma matriz de cognição comparada. Possíveis locais de agregação reprodutiva foram indicados pelos especialistas através de entrevistas projetivas realizadas sobre uma base cartográfica e transferida para um sistema de informações geográficas (sig).
Resultados
O Conhecimento Ecológico Local destes especialistas em relação aos aspectos biológicos e ecológicos do E. itajara demonstrou alta correspondência e um nível refinado de detalhamento com a literatura cientifica especializada. As entrevistas projetivas se apresentam como ferramenta promissora, permitindo espacializar às informações geradas pelo registro do CEL. Assim, a visualização das informações provenientes dos pescadores, sua análise e comparação com outros tipos de base de dados são facilitadas, contribuindo para o processo de decisão relativo à conservação dos ecossistemas marinhos no Brasil.
Conclusão
A integração do CEL com o conhecimento científico pode ser uma eficiente estratégia de conservação para espécies ameaçadas, ao adicionar informações biológicas importantes para um processo participativo na gestão sustentável dos recursos marinhos.
Background
Popularly known as "goliath grouper", Epinephelus itajara is one of the largest Epinephelidae fish. This species can exceed 2 meters in total length and a weight of 400 kg during its lifetime expectancy of approximately 30 years [1–3]. The specie's area of occurrence comprises coastal waters of the Atlantic Ocean, between Florida and southern Brazil (western shore) and between Senegal and the Congo (eastern shore) [4–6]. Some characteristics of this species' life history and behavior increase its vulnerability to exploitation, especially spearfishing, such as: (i) slow growing with delayed maturity (can reach 37 years in age and maturing between 5 to 7 years, at 1 m total length) [7, 8]; (ii) territorial fidelity (juvenile fishes live in mangroves and during adulthood is usually found on the continental shelf (<80 m) [9–15]; (iii) formation of spawning aggregations during the mating, (despite its solitary behavior, forming reproductive aggregations in specific areas and periods) [15, 16]; (iv) show curiosity and fearlessness in approaching divers [17, 18].
E. itajara
is currently one of the most endangered fishes in the tropical Atlantic. The species is classified as critically threatened with extinction, as its population has experienced a rapid decline [
19
,
20
], old photos corroborate reports regarding the capture of large specimens in places where fisheries used to be abundant until the decade of the 1990′s (Figure
1
). Fishing of goliath grouper has been banned in U.S. waters, the Gulf of Mexico and the Caribbean [
2
,
16
,
21
]. In Brazil, a moratorium that prohibits the capture of "mero" (Brazilian common name) until the year 2015 is currently in force; this period has been designated to allow the completion of research and projects that can support a national policy for the conservation of the species [
22
,
23
]. However, to be effective, this policy should consider supervision and management measures, such as the establishment of closed seasons and of Marine Protected Areas (MPA) [
8
,
24
,
25
].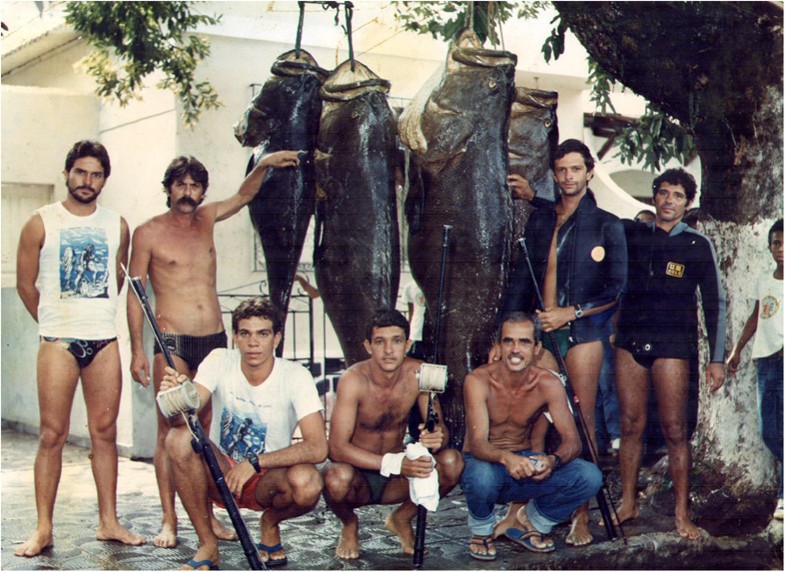 In searching for a solution to the lack of technical information to preserve the marine ecosystem and its endangered species, scientists have been finding that the knowledge accumulated over generations by local fishermen can provide alternative useful source of data [26–30]. As fishermen must have knowledge of the variations in the environmental and biological cycles of fish resources, they often identify reproductive aggregations before scientists are able to [31–34]. The use of Local Ecological Knowledge (LEK) can assist in the planning of MPAs, as it provides information on the seasonality, quantity and size of individuals, as well as reproductive behavior and changes over time in the status of aggregates [35–38].
The few existing studies on E. itajara in Brazil have resulted from initiatives related to recording LEK based on reports from fishermen and divers, nevertheless, data indicate possible aggregation sites justify the creation of a MPA and supports another being currently considered [17, 18, 23, 39]. The effective conservation of this species requires that more than a single aggregation is protected such that their reproductive success in ensured on study area. Therefore, for implementation of an MPA and the purpose of E. itajara conservation it's necessary trustworthy information to an efficient decision-making process.
The goals of this study contribute for this process to analyze fishers' LEK on E. itajara in respect to morphology, spatial distribution, feeding, breeding and conservation. In addition the fishermen also identified possible sites of spawning aggregations through projective interviews, this maps were transferred to a Geographic Information System (GIS) and serves as a tool to define strategies for the purpose of E. itajara conservation.
Methods
Study area
The city of Ilhéus is located along the southern coast of Bahia, Northeastern Brazil (between meridians 39°00′ and 39°30′ W and parallels 14°20′ and 15° 00′ S) (Figure
2
). The climate is characterized by a general pattern of atmospheric circulation related to the movement of the Divergence Zone of the South Atlantic high pressure cell. There are preponderant N and NE winds from October to March (summer) due to the Tropical Atlantic Mass and S and SE winds that occur most frequently from April to September (winter) according to the Atlantic Polar Front, as well as E trade winds that predominate periodically throughout the year [
40
–
42
].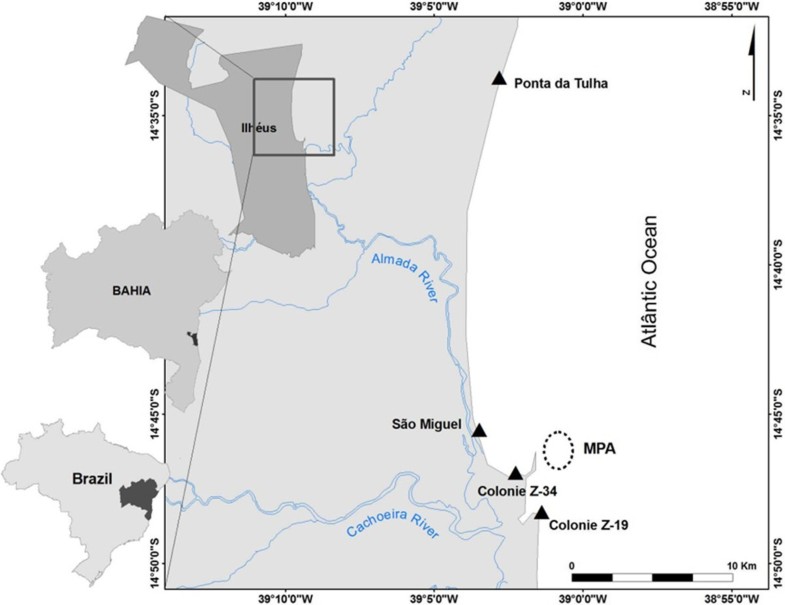 The coastline of Ilhéus extends for approximately 80 km between the rivers Sargi to the north and Acuípe to the south [43]. The continental shelf in this region is relatively close to the 50 m and 200 m isobaths, which are located approximately 16 km and 17.5 km from the coastline, respectively. Sand and carbonatic mud is the predominant sediments close to various rocky outcrops and the continental shelf. Reef formations are present along the southern coast of Ilhéus [44].
The continental drainage system in the study area is mainly associated with the confluence of the Cachoeira, Santana and Fundão Rivers, which constitute the estuarine system of Pontal Bay. Other rivers also contribute to the process of coastal dynamics, such as the Almada River, which is located in the northern zone, and the Cururupe River, in the southern zone [45, 46].
In front of Pontal Bay contains a large rocky reef that outcrops in some places, thereby forming "ilhéus" (islets on Portuguese), where the seabed extends from depths of 5 to 15 m. One E. itajara aggregation sites are located on this reef, which stimulated the creation of the MPA recently (Figure 2).
Currently in Ilhéus, there are two fishing colonies in the city: Z-19 and Z-34. The Z-19 colony was founded in 1921 and currently has 14 boats used for transportation in the colony. This colony includes approximately 1,500 members, 300 of which are active. The Z-34 colony was founded in 1947 and currently includes approximately 3,500 members, some of whom come from neighboring districts, including fishermen who work at sea, inland and in shellfish gathering in tidal waters.
The fishing conducted in study area is particularly artisanal due to the commercial production of small boats and with technological gap, which restricts activity on the continental shelf [47–49]. In relation to fishing gear, dominate the bottom line and logline used near to rocky substrate, for they are related to capture of large species with high commercial value such as groupers and snappers [49–51].
Data collection and analysis
Data were collected in the Z-19 and Z-34 colonies, whereas landing points were investigated in Sao Miguel and Ponta da Tulha neighborhoods, as the latter locations were used by local fishermen for trading activities and social gatherings and were close to their homes (Figure
2
). Respondents were selected based on their expertise in overall fishing at this region [
52
–
54
], i.e., people who were renowned as culturally competent in their communities. Each of the presidents of the Z-19 and Z-34 fishing colonies indicated the three most experienced fishermen (informers), who indicated another three informers and so on. Fishermen who were indicated more than once (n ≥ 2) were therefore classified as experts and invited to participate in the study (Figure
3
). Every expert was interviewed individually after they were introduced to the objectives of the project with the aid of a semi-structured questionnaire that was developed to facilitate systematization and analysis of data. All interviews were recorded with prior consent of the informants. This project is registered by the Ethics Committee, number 099/07, of the Estate University of Santa Cruz, Brazil.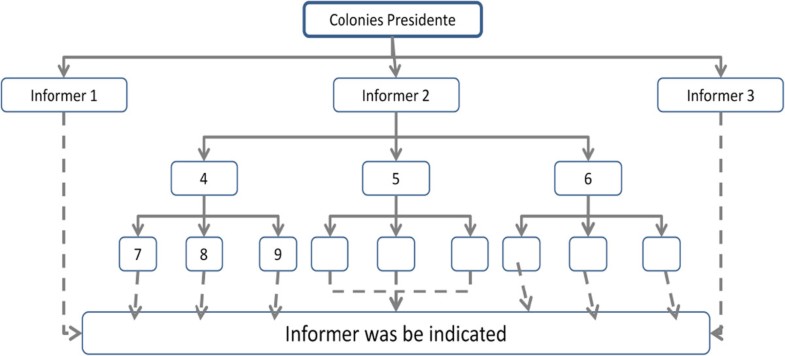 To verify the consistency and validity of the responses, interviews were applied in synchronic and diachronic situations. The first type of interviews involve putting the same question to different people at times that are quite close to each other, whereas the second type involve repeating the same question to the same person at different times [55–58]. The data analysis followed the model of integrating different individual skills [55], during which all information obtained in the interviews was considered. Information on morphological characters, spatial distributions, feeding, breeding and conservation were compared. For the purpose of analyzing the consistency of local knowledge, comparative cognition tables were elaborated; the tables display information from fishermen and data from the scientific literature on the species side by side [58, 59].
In addition to reporting some aspects of the life history of goliath grouper, the fishermen also identified possible sites of reproductive aggregations through projective interviews conducted on a cartographic basis [60]. The cartographic basis employed in the projective interviews was planned from the 1210 Nautical Chart [61]. Using this technique, information about the locations of known reproductive aggregation sites and places where captures have occurred was obtained. The resulting maps were transferred to a Geographic Information System (GIS) data base, where sites with a number of citations greater one (n ≥2) were considered as "potential sampling points" and classified according to the frequency of citations to be verified in situ.
To verify whether the number of interviews was satisfactory in relation to the locations referred to as hosting potential reproductive aggregations of E. itajara, a cumulative curve was produced. The data were randomized 500 times to abolish any influence of the interviews to avoid interfering with the pattern of the curve [62].
Conclusions
The methodology used for the selection of experts, in which every informant indicated three other fishermen, proved to be notably efficient. Through analyzing data regarding the profiles of the respondents, it can be inferred that the interviewees were actually experts in fishing and reliable informants because even though their education level was low, they were highly experienced in the use of marine resources as their main source of income. Additionally, the knowledge shared culturally by their ancestors or older experts has contributed to their proficiency.
The Local knowledge of these experts regarding the biological and ecological characteristics of E. itajara showed a refined level of detail and a high agreement with the scientific literature, thereby confirming the potential integration between these two knowledge systems - traditional ecological and scientific – that can be applied to the conservation of marine resources in Marine Protected Areas.
The cited information for which no associations were found in the literature should not be discarded but rather investigated to be reassessed and hence describe new behaviours and habits of this species.
Despite the fact that fishing E. itajara is prohibited, and its capture with bottom lines is considered rare, according to the LEK analysis, a considerable amount of information about this species is strongly present in the collective imagination, thus facilitating its use as a flagship species in the conservation strategy to protect marine biodiversity.
Projective interviews are seen as a promising tool, as they enable the spatialization of information generated through the registration of LEK. Thus, visualization of the information provided by fishermen and its analysis and comparison with other types of data are facilitated, thereby contributing to the decision-making process concerning the implementation of an MPA.
It is also necessary to confirm the existence of aggregations in situ to assess the conservation status of E. itajara and to validate projective interviews as a reliable tool for use in studies involving reproductive aggregates of fishes.
The point of Pedra de Ilhéus, where was created a MPA and identified on the projective interviews, is the only confirmed aggregations of E. itajara, consequently, it is necessary to conduct research in this area to obtain more knowledge concerning the ecology and reproductive behavior of this specie.
Consent
Each fisherman was interviewed individually, after knowing the objectives of this report, with previous authorization of the informants through a "Consent Term Free and Clarified" to disclosure of information and pictures provided. Due to the level of schooling of fishermen, most terms were consented orally in recorded interviews and only a few were written. This research own registration with the Ethics Committee in the State University of Santa Cruz, under the number 099/07.
Declarations
Acknowledgments
The authors are grateful to Brazilian National Council of Scientific and Technological Development – CNPq, for the scholarships given to the first author. The authors also thank the fishermen from the studied fishing colonies who collaborated in the interviews and the Fundação O Boticário de Proteção a Natureza for providing financial support for this project.
Authors' Affiliations
(1)
Programa de Pós-Graduação em Zoologia, Universidade Estadual de Santa Cruz, Ilhéus, Brazil
(2)
Departamento de Ciências Agrárias e Ambientais, Universidade Estadual de Santa Cruz – BA, Ilhéus, Brazil
(3)
Programa de Pós-Graduação em Sistemas Aquáticos Tropicais, Universidade Estadual de Santa Cruz, Ilhéus, Brazil
Copyright
© Ferreira et al.; licensee BioMed Central Ltd. 2014
This article is published under license to BioMed Central Ltd. This is an Open Access article distributed under the terms of the Creative Commons Attribution License (http://creativecommons.org/licenses/by/2.0), which permits unrestricted use, distribution, and reproduction in any medium, provided the original work is properly credited.