"Shark is the man!": ethnoknowledge of Brazil's South Bahia fishermen regarding shark behaviors
Journal of Ethnobiology and Ethnomedicine
2014
10:54
Received: 22 October 2013
Accepted: 14 June 2014
Published: 3 July 2014
Abstract
Background
Fishermen's knowledge is a source of indispensable information in decision-making processes related to efforts to stimulate the management and conservation of fishing resources, especially in developing countries. This study analyzed the knowledge of fishermen from three municipal areas of Bahia in northeast Brazil regarding the behavior repertoire of sharks and the possible influence that these perceptions may have on the inclination to preserve these animals. This is a pioneering study on the ethnobiological aspects of elasmobranchs in Brazil.
Methods
Open, semi-structured interviews with shark fishing specialists were conducted between September 2011 and October 2012. The interviews addressed the fishermen's profile, fishing techniques and knowledge about sharks, focusing on the behaviours exhibited by sharks. The data were analysed with quantitative approach and conducted with the use of descriptive statistical techniques.
Results
Sixty-five fishermen were interviewed. They descend from the rafting subculture of Brazil's northeast, which has historically been disregarded by public policies addressing the management and conservation of fishing resources. The fishing fleet involved in shark fishing includes rafts, fishing boats and lobster boats equipped with fishing lines, gillnets, longlines and "esperas". The informers classified sharks' behaviour repertoire into 19 ethological categories, related especially to feeding, reproduction, and social and migratory behaviours. Because they identify sharks as predators, the detailed recognition of the behaviours exhibited is crucial both for an efficient catch and to avoid accidents. Therefore, this knowledge is doubly adaptive as it contributes to safer, more lucrative fishing. A feeling of respect for sharks predominates, since informers recognize the ecological role of these animals in marine ecosystems, attributing them the status of leader (or "the man") in the sea.
Conclusions
This work demonstrates the complexity and robustness of artisanal fishermen's ichthyological knowledge of sharks. Therefore, we suggest that such knowledge should be considered to develop public policies for the control of the fishing activity, as well as to develop and consolidate the National Action Plan for the Conservation of Shark and Ray Species (PAN - Tubarões e Raias).
Keywords
Elasmobranchs Rhincodon typus Artisanal fishingNortheast Brazil
Background
The Elasmobranchii subclass comprises cartilaginous fish, with 500 species of sharks described [1]. Due to their numerous adaptive specializations developed over 400 million years [2], sharks stand out as one of the main predators at the top of the food chain in marine environments [3]. As a consequence, they make an extraordinary contribution to the balance of marine ecosystems [4, 5], both by controlling the prey population or by exerting evolutionary pressure as they consume old and sick animals [6].
Global initiatives to conserve elasmobranchs are still modest and not very effective when compared to the degree of threat to which the populations of these animals are exposed [7]. On a global scale, fishing stands as the primary threat to sharks, which are caught at an annual rate of between 63 and 273 million individuals [8]. This has contributed to the occurrence of trophic cascades in numerous marine ecosystems around the world [5] and to 20% of elasmobranch species currently falling under some extinction risk status [9].
Faced with a context of severe threats, in 1999, the United Nations Food and Agriculture Organization (FAO) launched the International Plan of Action for the Conservation and Management of Sharks (IPOA–Sharks), a voluntary instrument that applies to all nations where these animals are fished [10]. This Plan establishes a set of activities that participating countries have to fulfil, including the development of a National Action Plan for the Conservation and Management of Sharks (NPOA–Sharks). Although Brazil has not reached this target, in 2012, the Brazilian Society for the Study of Elasmobranchs (SBEEL), with support from the Chico Mendes Institute for Biodiversity Conservation (ICMBio) and the Ministry of Environment (MMA), conducted workshops in the country for the purpose of preparing and debating the National Plan of Action for the Conservation of Elasmobranchs (PAN-Tubarões e Raias).
Eighty-eight shark species [11] have been recorded in the Brazilian coast, of which 12 are threatened with extinction and eight are overexploited or threatened with overexploitation. In spite of being one of the primary sharks biodiversity hotspots in the world [12], historically Brazil has never implemented public policies for the conservation of this group, and this has culminated in fisheries being driven to the point of collapse without any protective measures being taken [13]. However, the decrease in abundance of shark populations resulting from overexploitation causes negative social impacts on fishing communities in Northeast Brazil, as shark meat has been for centuries an important source of protein for these populations [14].
Studies for the conservation of fishing resources are generally based on the biological assessment of stocks. The quantitative methods used for these researches have been developed for application in temperate regions, where industrial fishing exploits a small number of abundant species with long historical series of information available [15]. Contrary to this, artisanal fishing in tropical countries is frequently much more complex: a large variety of fishing gear are used, a large diversity of species are caught that are generally individually scarce in numbers, and numerous landing points and many production chains are employed [16]. Therefore Sparre and Venema [15], highlight that the methods used to assess artisanal fishing stocks must be adequate to situations in which data are limited, and so the use of many sources of quantitative and qualitative information should be maximized, together with the traditional knowledge of fishermen.
The feasibility of preserving fishing resources in Brazil is connected with the need to consolidate a fishing management and study model that takes into consideration both fishing characteristics and human needs [17]. It is clear that Brazilian institutions concerned with research and management of natural environments are faced with the challenge of proposing new conservation alternatives based on an ethnoconservationist model that benefits the maintenance of natural biodiversity and cultural diversity [18].
Marine ethnobiology focuses on studies about the relationships between human societies and the marine Biota of oceanic ecosystems [19]. Native human populations in coastal areas present a wide gamut of knowledge and adaptations qualifying them to survive in these environments [20, 21]. It is necessary to study and understand in detail such adaptations and incorporate it into strategies for the coastal areas management, contributing to protect 2.6 billion people who currently depend on marine resources as their main source of protein [22]. To accomplish this incorporation, one possibility is to combine the knowledge of both the policy makers and the natural resources users, such as the fishing communities [23]. According to Johannes, Freeman and Hamilton [24], fishermen can provide scientists with relevant information about the distribution, diet, reproduction, behaviour, abundance and indications of fish overexploitation.
The integration of academic knowledge and fishermen's knowledge favours a contextualized analysis, connected with the reality of these social actors, which can result in management practices that are more adequate to local fishing resources [23]. It is no surprise that Brazil's MMA 2008–2011 Pluriannual Plan Assessment Report, in the section assessing the results of and offering future perspectives on the "Sustainable Fishing Resources" Program, strongly highlights the integration of scientific knowledge and traditional fishery knowledge as a means of attaining fishing sustainability in the country in the next few years [25].
This study aims to analyse the fishermen knowledge regarding shark behaviours, as well as their perception concerning the management and conservation of these animals. We believe we could contribute to a better understanding of the human-sharks interactions and, consequently, strengthen recent initiatives for the conservation of these animals in the country.
Methods
Study area
The state of Bahia, in the northeast Brazil, has 1,188 kilometres of coastal area, divided into 44 municipal areas containing at least 350 fishing communities [26]. The southern coast of the state is home to some of the most extensive coral formations of the Southwest Atlantic Ocean, the Abrolhos Bank. This fact contributes to the rich diversity of fish species in the Brazilian coast, with more than 250 recorded species [27]. The Abrolhos Bank is located at about 300 kilometres far from the study area and encompasses coral reefs, volcanic islands, shallow banks and channels, covering an area of approximately 6,000 square kilometres. It is an extension of the eastern Brazilian continental shelf, and is quite shallow where the reefs are located [28], less than 30 meters.
In this region, fishing in the reef zones of the continental shelf is an age-old activity of high cultural and economic relevance [29], in spite of being little known or documented [30].
The study area comprises the municipal areas of Ilhéus, Una and Canavieiras, with an extent of approximately 200 kilometres (14°48′ S, 39°1′W and 15°40′ S, 38°56′ W), within which the Ports of Malhado and Pontal in Ilhéus and Porto Grande in the municipality of Canavieiras stand out for their fishing production [
26
]. The town of Ilhéus is home to two Fishermen's Colonies, Z-19 and Z-34, with a total of 6,000 associated fishermen from the area and also from neighbouring towns [
31
], such as the municipality of Una. Canavieiras Z-20 Fishermen's Colony has approximately 1,000 associates.Along the study area, there are 13 districts or communities where marine fishermen specialized in shark fishing live (Figure
1
).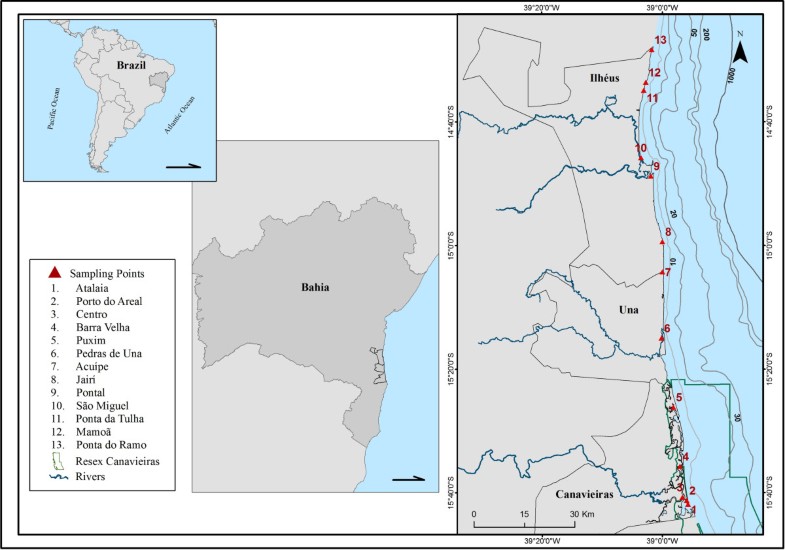 The Canavieiras Extractive Reserve (CER) is the most important Marine Protection Area (MPA) in the study region. It is a federal MPA that includes the territories of the municipalities of Una, Canavieiras and Belmonte and has a total area of 100,645.85 hectares. The CER is part of the marine and coastal biomes and was implemented on 05 June 2006 [32]. It has an active Executive Board whose members work to approve a management plan and the hiring of a Civil Society Organization of Public Interest (OSCIP), a public interest non-governmental organization, to co-manage it [33]. The CER has had a fishing agreement in force since 2006, establishing rules for the sustainable use of fishing resources. However, this document does not include rules of use for elasmobranchs.
Data collection
This study was approved by the Committee of Ethics in Research with Human Beings of the State University of Santa Cruz (CEP/UESC 25275) and by the System of Authorization and Information in Biodiversity (SISBIO 33276–1), as a means of complying with an ICMBio requirement (IN 154 de 2007) to conduct scientific studies within federal MPAs, such as the CER.
The first information-collecting phase was conducted using the "data generating methodology" [34], with open-ended interview questions to obtain maximum information and local categories of knowledge and perceptions. This phase was conducted during the months of September and October 2011 via conversations with 14 fishermen during visits to Fishing Colonies Z-34 (n = 8) and Z-20 (n = 6).
Examples of questions asked are "What types of sharks do you know?" and "Why does it have this name?". This is how we arrived at the species' scientific names — taking into consideration the "taxonomic clues" criteria, which is when scientific names are obtained by consulting the scientific literature, with a focus on the common names in the areas where the species occur.
Between February and October 2012, semi-structured interviews with open-ended questions were conducted with informers from Canavieiras, Una and Ilhéus. A form was prepared for this purpose, containing general questions regarding fishing in the region and specific aspects involving shark fishing knowledge, such as fishing fleet, the fishing gear involved, fish behaviour repertoire, and the subjective feelings of fishermen arising from their perceptions about different behaviours.
The interviewed fishermen were chosen by selecting "native specialists", who were those individuals that show some cultural knowledge of the activity, recognized as such by themselves and the community [35] and, in the case of this study, having over 15 years of fishing experience in South Bahia. All interviews were recorded with a digital recorder.
We used the method of checklist interview [36] in order to make the taxonomic correspondence between the names used in the Linnean systematics and those cited by our informers for the shark species caught in the study area. For doing that, interviews were conducted through visual stimulation with a set of 30 printed pictures of different species of shark that inhabit Bahia seashore, using two of them for study control [30, 37, 38]. Some of the photos used were downloaded from the site Fishbase[39] and others from sites with stock images for scientific purposes.
Data analysis
To record fishermen ichthyological knowledge, we used the model of integrating various individual competencies [Hays apud[40], in which all information supplied are taken into account. The quantitative approach was conducted with the use of descriptive statistical techniques.
The controls consisted of tests to verify the consistency and validity of the answers, resorting to repeated interviews in synchronous situations, when the same question was asked to different persons with a short time interval between them [40]. When the same information was repeated by the majority of informers, these were taken as memes [41], which are the shortest verifiable pieces of cultural information, like self-duplicating entities that can be passed on within a certain population by way of speaking [42].
By convention, we considered as the main popular name given to a certain species of shark, the one cited by at least 15% (n = 10) of the informers. The adoption of a relatively small amount of citations is due to the extensive phenotypic similarity among the species of sharks caught by Bahia fishermen and the highly diverse popular names they use to classify these animals [43].
Conclusions
The knowledge of the fishermen in southern Bahia about sharks derives from centuries of coexistence between them, either by using the same environment or by the exploitation of this fishery resource. Due to the great knowledge and huge cultural background, this knowledge must also be taken into account by policy makers and authorities.
Since the fishermen have refined knowledge on the Biology, the Ecology and the threats regarding sharks, we strongly suggest that this information must be investigated in studies on the population dynamics of species living in the region, especially within the CER, to safeguard local populations through sustainable fishing. Based on that, it will be possible to elaborate management initiatives for the fishing activity and, consequently, for the conservation of these populations.
Studies are also suggested in other regions in order to investigate the social dimension of shark fishing, as a means of consolidating the National Action Plan for the Conservation of Shark and Ray Species. Thus, the knowledge of these social actors, rather than just be considered, should have a central role in the development and adoption of public policies related to participatory management and more suitable for the reality of Brazilian fishing.
Declarations
Acknowledgments
We would like to thank CNPQ for the Master's fellowship granted to M. Barbosa Filho; FAPESBs (APP0028/2011) and Zoology Postgraduate Program (UESC) for logistical support; and the ICMBio for allowing this scientific research within the Canavieiras Extractive Reserve. A special thank you goes to Ilton Villas Boas, Fishermen Colony employee, for facilitating our access to the fishermen and for the ideas and valuable information provided. We also thank all fishermen who took part in this study, whether by indicating specialists or providing interviews.
Authors' Affiliations
(1)
Departamento de Ciências Biológicas (DCB), Programa de Pós-graduação em Zoologia, Universidade Estadual de Santa Cruz, Ilhéus, Brazil
(2)
Departamento de Ciências Agrárias e Ambientais (DCAA), Universidade Estadual de Santa Cruz, Ilhéus, Brazil
(3)
Programa de Doutorado em Desenvolvimento e Meio Ambiente, Universidade Estadual de Santa Cruz, Ilhéus, Brazil
(4)
Departamento de Ciências Biológicas, Universidade Estadual de Feira de Santana, Feira de Santana, Brazil
Copyright
© Barbosa-Filho et al.; licensee BioMed Central Ltd. 2014
This article is published under license to BioMed Central Ltd. This is an Open Access article distributed under the terms of the Creative Commons Attribution License (http://creativecommons.org/licenses/by/2.0), which permits unrestricted use, distribution, and reproduction in any medium, provided the original work is properly credited. The Creative Commons Public Domain Dedication waiver (http://creativecommons.org/publicdomain/zero/1.0/) applies to the data made available in this article, unless otherwise stated.