Effects of socio-economic household characteristics on traditional knowledge and usage of wild yams and medicinal plants in the Mahafaly region of south-western Madagascar
Journal of Ethnobiology and Ethnomedicine
2014
10:82
Received: 25 July 2014
Accepted: 24 November 2014
Published: 30 December 2014
Abstract
Background
Rural households in the Mahafaly region of semi-arid SW-Madagascar strongly depend on the exploitation of natural resources for their basic needs and income regeneration. An overuse of such resources threatens the natural environment and people's livelihood. Our study focuses on the diversity and use of wild yams and medicinal plants.
Methods
We hypothesized that knowledge on the use of these resources highly depends on farmers' socio-economic household characteristics. To test this hypothesis, an ethnobotanical survey was conducted based on semi-structured interviews recording socio-economic base data and information on local knowledge of medicinal and wild yam species. This was followed by field inventories compiling plant material for botanical identification.
Results
Six species of wild yam and a total of 214 medicinal plants from 68 families and 163 genera were identified. Cluster and discriminant analysis yielded two groups of households with different wealth status characterized by differences in livestock numbers, off-farm activities, agricultural land and harvests. A generalized linear model highlighted that economic factors significantly affect the collection of wild yams, whereas the use of medicinal plants depends to a higher degree on socio-cultural factors.
Conclusions
Wild yams play an important role in local food security in the Mahafaly region, especially for poor farmers, and medicinal plants are a primary source of health care for the majority of local people. Our results indicate the influence of socio-economic household characteristics on the use of forest products and its intensity, which should be considered in future management plans for local and regional forest conservation.
Keywords
Discriminant analysisLocal knowledgeMedicinal plantsSocio-economic factorsWild yams
Background
Madagascar constitutes one of the most important biodiversity hotspots worldwide with more than 90% of its plant and animal species being endemic, however, these resources are severely threatened by ecosystem degradation [1, 2]. With a gross national income (GNI) per capita of $828 [3], Madagascar ranks 151 out of 187 countries on the Human Development Index (HDI). Altogether, 74% of the population lives in rural areas of which 78% are considered poor [4] and mostly depend on the direct exploitation of natural resources (fields, water, forests) for their livelihoods.
The arid south-western region of Madagascar, commonly referred to as the Mahafaly region, is the country's economically and climatically most disadvantaged area. It is characterised by high biotic endemism, listed as one of the 200 most important ecological regions in the world [5]. The subsistence production of the rural population comprises fishery, agriculture, livestock husbandry, and the collection of forest resources. Farmers' livelihoods and economic development is hampered by a low level of education, limited income alternatives and poor infrastructure. The productivity of the cropland is limited by highly unpredictable rainfall and soil fertility constraints very similar to those encountered in the West African Sahel [6, 7]. Therefore, collection of forest products provides an important supplementary source of income [8], and an overuse of such resources threatens people's livelihood. Among these forest products, the collection of wild yam (Dioscorea spp.) species and medicinal plants were identified as important for the local population [8, 9], as they contribute to the well-being of rural households in terms of direct use, human nutrition and income generation.
Medicinal plants constitute an important alternative to conventional medicine, especially for poor communities in rural areas without access to health services and they display a very large diversity in terms of species number [10]. According to the World Health Organization, approximately 80% of the world's inhabitants rely predominantly on traditional medicine for their primary health care [11]. Of approximately 13,000 species present in Madagascar, about 3,500 are reported to have medicinal properties [12]. Madagascar has also a rich diversity of yam with altogether 40 species of which 27 are endemic and most of them have edible tubers [13], which are a staple food in many tropical countries. Wild yams have been reported to play an important role in rural household livelihoods system where they are traditionally eaten during periods of food insecurity [14]. The genus Dioscorea is distributed in various areas in Madagascar, but 24 species including 20 endemics were observed in the south western region [15]. These species are all edible, but the intensity of local usage depends on taste, local needs, market prices, location and harvested amounts. Other factors governing tuber use are differences in culture, gender, language, ethnicity, political belief system, personal preferences, appropriation skills and the availability of these resources in collection areas [16].
Detailed information on the importance of wild yams and medicinal plants for people's livelihood and the factors influencing the intensity of their use are urgently required for natural resource management policy and planning and is lacking for SW-Madagascar. Therefore, the objective of this study was to analyse the diversity and use of wild yams and medicinal plants in the Mahafaly region, and to identify their role in the livelihoods of local people. We hypothesized that local knowledge on the usage of wild yams and medicinal plants depends on the socio-economic conditions and wealth status of households. Thereby, poorer households depend to a higher degree on forest resources and have a higher knowledge on their use than well-off farmers.
Materials and methods
Description of the study area
The study area is situated in the northern part of the Mahafaly region. The studied villages are located on the adjacent coast (littoral) and on the west side (plateau) of the Tsimanampetsotsa National Park (24°03′-24°12′S, 43°46′-43°50′E; Figure
1
). The area is characterized by a dry and spiny forest vegetation with the highest level of endemism in plant species registered in Madagascar (48% of genera and 95% of species; [
17
]). The natural vegetation consists of a deciduous forest characterized by drought tolerant woody species of Didieraceae and Euphorbiaceae, xerophytic bushland and savannah. In the littoral zone dry forests on sandy soil dominate while on the plateau dry and spiny forests on tertiary limestone or ferruginous soil occur [
18
]. The semi-arid climate is characterized by an annual mean temperature of 24°C and a highly variable annual rainfall ranging between 300–350 mm in the littoral and 400-450 mm on the plateau [
19
]. The dry season lasts nine to ten months and the rainy season five months from November to April. The unreliability and unpredictability of rainfall is one of the major factors limiting agricultural production by the predominantly small holder farmers and herders, which partly rely on forest products to fulfil their daily needs throughout the year. During the past 40 years forest cover declined by 45% due to slash and burn agriculture and uncontrolled bushfires [
20
,
21
]. In addition, the region has the lowest education rate of Madagascar and the majority of the households were classified as poor [
22
] in combination with a lack of basic health services and infrastructure. Altogether, 41% of the local population on the Mahafaly region is affected by food insecurity and famine [
23
]. Rapid population growth and the recent expansion of the Tsimanampetsotsa National Park (from 42,200 to 203,000 ha in 2007) have increased the pressure on the forests resources in and outside the park area [
21
,
24
,
25
]. Combined with the effects of climate change this leads to an increasing over-use of the natural resources in the Mahafaly region.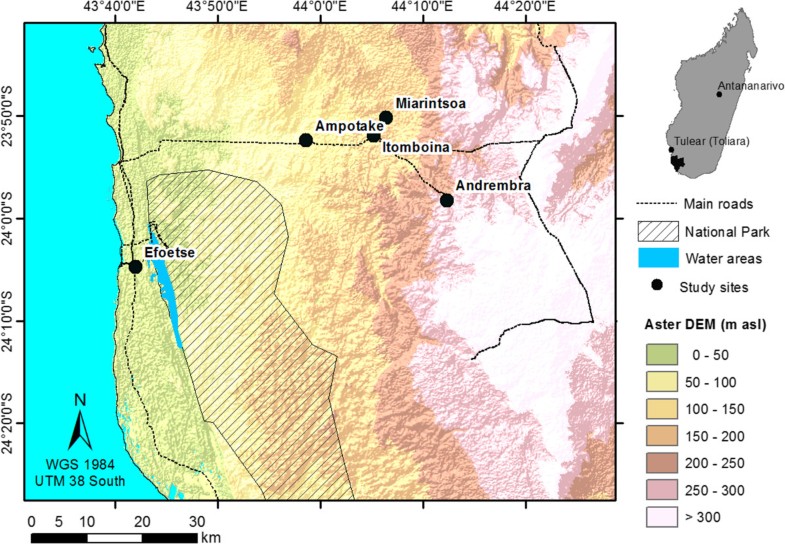 In the Mahafaly region wild yams are used to supplement cassava (Manihot esculanta Krantz) and maize (Zea mays L.), especially during hunger periods ('Kere'). Local reports indicate that during the past years the amount of harvested wild yam tubers has strongly increased given a rising insufficiency of crop production.
Field survey
The field work was conducted from June to December 2012 in five villages that were part of a larger village and household survey [21, 26]: (1) Efoetse in the littoral (S 24°4′42,41″- E 43°41′54,78″), (2) Ampotake (S 23°52′27,78″- E 43°58′36,55″), (3) Andremba (S 23°58′17,60″- E 44°12′17,05″), (4) Itomboina (S 23°51′59,15″- E 44°5′10,9″) and (5) Miarintsoa (S 23°50′14,21″- E 44°6′17,68″) on the plateau. Village selection was based on (1) market accessibility, (2) distance to the national park, (3) intensity of forest product collection of village inhabitants and (4) diversity of household activities. For each village, 50 households (HH) were randomly selected based on a complete household list (total N = 250). Pre-testing interviews and field observations were performed with key informants selected by snowball sampling [27]. Semi-structured interviews [28] were conducted with the household head after we received his consent. The Code of Ethics of the International Society of Ethnobiology was followed. If household head disagreed to take part in an interview, an alternative household was chosen based on an existing household list of the village. The questionnaire was divided in three thematic sections: (1) Information on socio-cultural and economic characteristic (family size, source of income, agricultural harvest, origin of the head and spouse, land area available for cultivation, livestock owned, harvest satisfaction, education level, ethnic group, religion, gender affiliation and age of respondents); (2) Household consumption, collection and use of wild yam species; (3) Medicinal plants and the knowledge about their uses. Respondents were also asked about specific plant parts used and the habitat from which they collected the plant material. All interviews were supplemented with field observations and forest walks. Since informants were only able to mention the local species name, plant specimen were collected in the field to establish a digital herbarium of inventoried specimens for botanical identification [29] in the Herbarium of the Botanical and Zoological Parc of Tsimbazaza (PBZT) in Antananarivo (Madagascar), following the nomenclature of the Tropicos database of the Missouri Botanical Gardens [30].
In the absence of any formal ethics committee the concept, content and questions related to this study conducted within the participatory SuLaMa (sustainable Land Management in South-Western Madagascar) project (http://www.sulama.de) were discussed and approved at the governmental and the village level in several meetings as were the outcomes of the interviews.
Data analysis
The consumption, collection intensity and usage of wild yams were analysed using the following interview data: number of species collected, frequency of collection per month, period of collection per year, average number of tubers collected per collection event (estimated by the number of harvest holes), number of collectors per households, type of consumption (staple or additional food) and sale of tubers. The types of medicinal usage were categorized in different medicinal categories according to Cook [
31
]. To estimate the informant knowledge on the use of medicinal plants, the diversity of medicinal plant uses [
32
,
33
] was calculated for each informant. The species (UV
S
) and the family use values (FUV) were computed (Table
1
) [
34
,
35
] to compare the importance of plant species and families.
Table 1
Ethnobotanical indices used for measuring informant's medicinal plant knowledge in the Mahafaly region of SW-Madagascar
| Indices | Calculation | Description |
| --- | --- | --- |
| Diversity of medicinal plant use (D) | D = 1/∑ Pi2, where Pi2 is equal to the number of times a species was mentioned by informant 'i' divided by the total number of informants answer. | Simpson's Reciprocal Index [32], adapted by [33]. Measures how many medicinal plant species an informant uses and how evenly his uses are distributed among the species. |
| Species use value (UV S ) | UVS = ∑ UVis/ni, where UVis is the sum of the total number of use citations by all informants for a given species and ni is the total number of informants. | Evaluates the relative importance of each plant species based on its relative use among informants [34], adapted by [35]. |
| Family use value (FUV) | FUV = ∑UVs/ns, where ∑UVS is the sum of species use value (UVs) within a family and ns the number of species within a family. | Evaluates the use importance of a given plant family [34]. |
All statistical analyses were carried out using SPSS 17.0. A two-step cluster analysis was used to identify household groups based on socio-economic characteristics and plant use patterns. The existence of collinearity was tested based on correlation coefficients and suspicious data was removed from the dataset resulting in the following parameters used for cluster analysis: Education level, agricultural harvest, household activities, family size, tropical livestock units, agricultural area, medicinal plants used, number of medicinal uses and diversity of medicinal plant use (D), wild yam species collected, amount of tubers harvested (number of holes harvested for each collection), frequency of collection, sale, collection period and use of wild yams.
To evaluate the contribution of each variable in separating the resulting households groups, a Discriminant Analysis (DA) was conducted using the standardized canonical coefficients, canonical correlation coefficients, Eigen value and Wilk's Lambda. A structure coefficient matrix was established which allowed to assess the importance of each variable in relation to the discriminant function.
A One Way ANOVA (Analysis of variance) was performed to compare the differences of knowledge and use between communities in relation to their location (villages). Additionally, we used Jaccard's similarity index, which was based on species usage data to determine the similarity of species usage among villages [36].
To determine which cultural and socio-economic variables influence the use intensity and knowledge on medicinal plants and wild yams (response variables), we used a Generalized Linear Model (GLM) based on a Poisson distribution. The GLM consisted of two models with eight response variables, which explain the relationship between predictors and the knowledge on medicinal plants (number of medicinal plants used) and the use of wild yams (frequency of yam collection per month). The performance and the fit of the models were assessed using the Akaike Information Criterion (AIC; [37]). In each model, we only included main effects and choose the Type III analyses and Wald chi-square as statistical tests. The 0.05 significance level was used to assess if an independent variable related significantly to a dependent variable.
Conclusions
Our results revealed that wild yams play an important role in local food security in the Mahafaly region, especially for poor farmers. On the other hand, medicinal plants are a primary source of health care for the majority of local people in SW-Madagascar and the results of this study can help to identify the most useful plant species and their importance for the local people. In many rural areas of developing countries, common property resource management plans may allow to combine poverty reduction and biodiversity conservation. In our study region the forest patches around the Tsimanampetsotsa National Park are managed by local communities. Our results indicate the influence of socio-economic household characteristics on the use of forest products and its intensity, which should be considered in future management plans for local and regional forest conservation.
Declarations
Acknowledgements
We would like to thank the local people of the Mahafaly region for their trust and hospitality during the field part of this study. We also acknowledge the SuLaMa project team, especially the group of interviewers supervised by Regina Neudert and Miandrazo Rakotoarisoa, for their support during data collection. We thankfully acknowledge the support of DAAD for the scholarship grant for this research and the German Federal Ministry of Education and Research for funding (BMBF, FKZ: 01LL0914C).
Authors' Affiliations
(1)
Organic Plant Production and Agroecosystems Research in the Tropics and Subtropics, University of Kassel, Witzenhausen, Germany
(2)
Department of Biology and Vegetation Ecology, University of Antananarivo, Antananarivo, Madagascar
Copyright
© Andriamparany et al.; licensee BioMed Central. 2014
This article is published under license to BioMed Central Ltd. This is an Open Access article distributed under the terms of the Creative Commons Attribution License (http://creativecommons.org/licenses/by/4.0), which permits unrestricted use, distribution, and reproduction in any medium, provided the original work is properly credited. The Creative Commons Public Domain Dedication waiver (http://creativecommons.org/publicdomain/zero/1.0/) applies to the data made available in this article, unless otherwise stated.