Wild mushroom- an underutilized healthy food resource and income generator: experience from Tanzania rural areas
Journal of Ethnobiology and Ethnomedicine
2013
9:49
Received: 18 February 2013
Accepted: 21 June 2013
Published: 10 July 2013
Abstract
Background
This study documents the use of a wild edible mushroom (WEM) in Tanzania rural areas and assesses its significance as a source of healthy food and income for the disadvantaged rural dwellers.
Methodology
The data was gathered through local market surveys in order to conventionally identify different common WEM taxa using a semi-structured interview and it involved 160 people comprised of WEM hunters, traders and consumers. The collected data covered the information on where, how, when and who was the principal transmitter of the mycological knowledge learned and the general information on their market and values.
Results
Results show that mushroom gathering is gender oriented, dominated by women (76.25%) whereas men account for 23.75%. Women possess vast knowledge of mushroom folk taxonomy, biology and ecology and are therefore the principal knowledge transmitters. It was also found that learning about WEM began at an early age and is family tradition based. The knowledge is acquired and imparted by practices and is mostly transmitted vertically through family dissemination. The results also revealed that 75 WEM species belong to 14 families sold in fresh or dry form. The common sold species belonged to the family Cantharellaceae (19) followed by Rusullaceae (16) and Lyophyllaceae (13), respectively. Collectors residing near miombo woodland may harvest 20–30 buckets (capacity 20 liters) and the business may earn a person about $400–900 annually.
Conclusion
This finding envisages the purposeful strengthening of WEM exploitation, which would contribute significantly in boosting the rural income/economy and reduce conflicts between community and forest conservers. The activity would also provide alternative employment, improve food security to rural disadvantaged groups especially women and old people hence improve their livelihood.
Keywords
Mycological knowledgeWild edible mushroomsRural economyRural areas
Introduction
Local mycological knowledge which includes the use of mushroom as food, medicinal application, recreational objects, beliefs and myths, as well as income generating activity to poor households is well documented in different parts of the world [1–6]. The information on how to recognize and differentiate between edible and none edible mushroom depends largely on folk taxonomy. Folk taxonomy is the classification of organisms on the basis of cultural tradition which uses vernacular naming system [5]. The folk taxonomic knowledge provides the tool for communication and information survival from one generation to another. Recently, there have been increasing interests in mushrooms utilization worldwide. They are taken as either taste food or because of their special biochemical compositions, with significant contents of antioxidant compounds, proteins, carbohydrates, lipids, enzymes, minerals, vitamins and water. These essential components attract more attention as functional health promoters and in development of drugs and nutraceuticals [7–11].
Although there is increasing interest in picking wild mushrooms in both developed and developing countries for use as food and medicinal applications, there is scanty documentation of social economic and environmental implications. The statistical information on the amount of collected WEM and its associated values is patchy and often unreliable [12]. The only area with good statistical information of WEM commercial picking is the Pacific North-Western United States [2, 13]. For example, in Europe few studies of commercial wild mushroom gathered includes that of Dyke and Newton [14] who surveyed the pickers, buyers and landowners in order to assess their sustainability in Scotland. In Northern Spain, De Roman and Boa [15] analyzed how gathering and marketing of Lactarius deliciosus affected a small rural community whereas Cai et al. [16] recently documented the emergence of commercial wild mushroom harvesting in Eastern Finland.
Like many other developing countries, the gross national income (GNI) per capita of Tanzania was estimated at $340 by World Bank [17]. Most of the poorest group (87%) lives in rural areas with their economic activities based on subsistence agriculture, which depends heavily on one crop such as maize, cassava, beans, millet or sorghum. The changing climate has led to excessive drought which threatens the traditional crops and has consequently contributed to famine and hunger. In order to promote rural development, there is a need to diversify rural income sources and increase job opportunities.
Wild edible mushrooms are among the None Wood Forest Products not well documented in many countries including Tanzania. In fact mushroom forming fungi are poorly collected, sparingly studied and relatively underutilized in the country. For example, there is no efficient information on how much is harvested, no market orders and channels as well as general awareness regarding the income generation potential and its contribution to food security. With an exception of the comprehensive work done by Härkönen et al. [18, 19] which documented more than 100 species of mushroom in Tanzania and Tibuhwa [5] who documented the Folk taxonomy and use of mushrooms in communities around Ngorongoro and Serengeti National Park, Tanzania; mushroom researches in the country have been generally conducted on the mushroom biology sciences, taxonomy, diversity and the bioactive compounds from mushrooms [19–24]. There is no purposeful effort by the Ministry of Agriculture in Tanzania to update the status of mushroom as a crop. This leads to a lack of documentation and reports on the amount of mushroom produced, harvested, exported and imported which would have helped in establishing the market value chain of mushroom dynamics in the country.
In this study, ethno-mycology and wild edible mushroom resources exploitation for healthy food income and generation, experience from marginal rural areas in Tanzania is presented.
Materials and methods
Study site
The study was conducted in six zones (Figure
1
) viz: Western part (Kigoma and Tabora), Lake zone (Geita, Mwanza and Shinyanga), North eastern (Mara and, Arusha -Ngorongoro), Southern coast (Lindi and Mtwara) and Northern coast (Coastal, Tanga, Dar es Salaam). The study areas composed of mixed forest including the miombo woodland dominating in the Southern highlands, Southern coast and Lake Zone. The North coast part was mainly dominated by indigenous natural tropical forest while the North eastern regions were characterized by thorn woodland trees species in the genera
Acacia
Mill.,
Commiphora
Jacq.,
Ficus
L.,
Combretum
Loefl. and
Podocarpus
Persoon and extensive grass plains [
5
].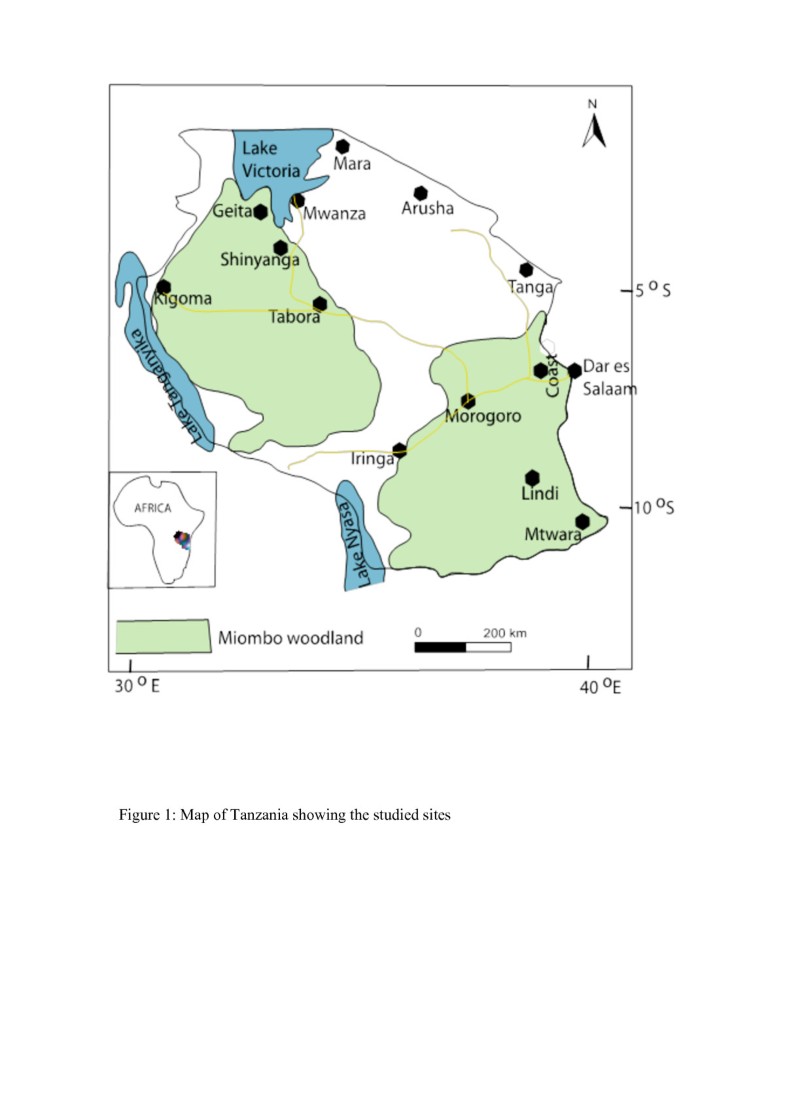 Data acquisition
A local field survey was carried in the six zones which are administratively divided into twelve different regions in the county (Figure
1
). Twenty six ethnic groups were involved in the survey and are engaged in subsistence agriculture, livestock keeping, artisanal fishing, hunting, gathering and small mining (Table
1
). A semi-structured interview was used where by a list of questions intending to gather similar information from different interviewee were asked face-to-face. The interview involved 160 people who were from three main groups as detailed below. The first groups comprised of wholesalers who were local mushroom pickers. They are the ones who go to the forest/fields to pick the mushroom and sell them to retail traders. The second group was the business people who sell mushroom in local markets while the third group comprised of consumers who eat mushrooms by either direct collecting them from nearby forest and fields, or buy them from local markets and street mushroom vendors. The interviews were conducted from year 2004 to late 2011 as a result of long time engagement of the author with mushroom research.
Table 1
Studied ethnic groups settlement and their main economic activities
| Country zone | Settlement region | Dominant tribes | Economic activities |
| --- | --- | --- | --- |
| Western part | Kigoma | Ha | agriculture, livestock keeping, fishing and gathering |
| | Tabora | Nyamwezi, Manyema | agriculture, livestock keeping and gathering |
| Lake zone | Geita | Sukuma, Zinza, Subi | agriculture, livestock keeping, fishing, gathering, mining |
| | Mwanza | Sukuma, Kerewe, Zinza | fishing, agriculture and gathering |
| | Shinyanga | Sukuma, Nyamwezi, Nyantuzu | livestock keeping, fishing, mining agriculture and gathering |
| North eastern | Mara-Serengeti | Kurya, Jita | livestock keeping, fishing, hunting and gathering |
| | Arusha-Ngorongoro | Maasai, Sonjo | livestock keeping, hunting and subsistence agriculture |
| Southern coast part | Lindi | Ngindo | agriculture, fishing and gathering |
| | Mtwara | Makonde, Mwela, Makua, Yao | agriculture and gathering |
| Southern highlands | Iringa | Hehe, Bena, Kinga | agriculture, livestock keeping, hunting and gathering |
| Northern coast part | Coast | Zaramo, Ngindo, Kwele | fishing, subsistence agriculture and gathering |
| | Tanga | Zigua, Bondei | agriculture and gathering |
| | Dar es Salaam | Zaramo, Ngindo | fishing, subsistence agriculture and gathering |
Whole sellers who are mainly pickers were questioned about their general knowledge on mushroom gathering activities, any ethno-mycological information they know, any concerns pertaining to the picking of wild mushrooms as well as related socio-economic characteristics.
Face to face to interviews were preferred to because the preliminary method of questionnaires proved failure as many candidates were not ready to spend their time in filling the form. Some of the interviewees were old people who did not know how to write and read but agreed to respond to oral questions. The demographic information was part of the interview questions as summarized in Table
2
as well as ethno-mycological information including folk taxonomy, market contemplation such as the type of mushrooms they sell? Where do they get them, how much do they collect and earn per day/ per season? How many people sell mushrooms? What time do they spend in gathering mushrooms? Who buys their mushrooms? If they don't sell all they collect in a day, how do they preserve them and for how long?
Table 2
Demographic features of the informants (n= 160)
Frequency

Percentage

Frequency

Percentage

Gender

Level of education

Male

38

23.75%

No formal education

28

17.50%

Female

122

76.25%

Primary education

101

63.13%

Marital status

Adult education

8

5.00%

Married

107

66.87%

Secondary education

18

11.25%

Single

32

20.00%

College education

4

2.50%

Widow

21

13.13%

Age

Employment status

Between 12-17

22

13.75%

Employed

2

1.25%

Between 18-35

35

21.88%

Farmer/pastoralist

151

94.37%

Between 36-50

46

28.75%

Retired

7

4.38%

More than 50

57

35.63%
Data analysis
Specific demographic features and cross-relationships of the participants related to their general participation in WEM business, knowledge on the actual use and folk taxonomy were evaluated descriptively (frequency and percentages) using a Statistical Package for Social Sciences [25] Program Version 15.0.
Conclusion
The discussion in this study represents a significant contribution to the field of ethnomycology and wild mushroom contribution to the marginal rural economy in the country. Wild mushroom harvesting not only provides to the rural dwellers with healthy food, but also it brings economic benefits to unemployed people in these sidelined areas. It also revealed that utilizing this resource posse little effect to conserved land forest, thus allowing the nearby community to exploit it might reduce community conflicts with conservers, as they will have the direct benefits from conserved forests. It is therefore anticipated that, this study will serve to stimulate more study in this fascinating area of research while awakening the responsible authorities to promote utilization of these underexploited valued resources.
Authors' information
This manuscript has been prepared by a single author following 14 years of active engagement in mushroom research in Tanzania.
Abbreviations
WEM:

Wild edible mushroom.
Declarations
Acknowledgements
The data were collected through implimentation of two different projects. The Association of Strengthening Agricultural Research in Eastern and Central Africa (ASARECA) In North Eastern zone and the Swedish International Development Cooperation Agency (Sida-SAREC). The author would also like to thank Dr. Mieke Verbeken, Miss Eske de Crop and Dr. Deo Baribwegure for their company and support during Kigoma surveys.
Authors' Affiliations
(1)
Department of Molecular Biology and Biotechnology (MBB), University of Dar es Salaam, Dar es Salaam, Tanzania
Copyright
© Tibuhwa; licensee BioMed Central Ltd. 2013
This article is published under license to BioMed Central Ltd. This is an Open Access article distributed under the terms of the Creative Commons Attribution License (http://creativecommons.org/licenses/by/2.0), which permits unrestricted use, distribution, and reproduction in any medium, provided the original work is properly cited.