Folk knowledge of wild food plants among the tribal communities of Thakht-e-Sulaiman Hills, North-West Pakistan
Journal of Ethnobiology and Ethnomedicine
2016
12:17
Received: 11 February 2016
Accepted: 3 April 2016
Published: 8 April 2016
Abstract
Background
Indigenous communities of the Thakht-e-Sulamian hills reside in the North-West tribal belt of Pakistan, where disadvantaged socio-economic frames, lack of agricultural land and food insecurity represent crucial problems to their survival. Several studies in diverse areas worldwide have pointed out the importance of wild food plants (WFPs) for assuring food sovereignty and food security, and therefore the current study was aimed at documenting traditional knowledge of WFPs and analyzing how this varies among generations.
Methods
Ethnobotanical data were collected during 2010–2012. In total of seventy-two informants were interviewed in ten villages via in-depth interviews and group discussions with key informants followed by freelisting. Data were analyzed through descriptive and inferential statistics and novelty was checked by comparing the gathered data with the published literature.
Results
A total of fifty-one WFP species belonging to twenty-eight families were documented. Rosaceae was the dominant family with the largest number of species and highest frequency of citation (FC). July was the peak month for availability of WFPs, and fruit was the most commonly consumed part. Among the most cited species, Olea ferrugenia was ranked first with a FC = 1, followed by Amaranthus spinosus (FC = 0.93). Of the documented species about 14 % (7) were marketable and 27 % (14) were reported for the first time to be used as WFP species in Pakistan.
Conclusion
WFPs still play an important role in the food and culture of the study area and the folk knowledge attached to them is remarkable in the region, although declining among the younger generations. The recorded species needs to be re-evaluated in local projects aimed at fostering endogenous strategies of food security, as well as re-evaluating cultural heritage and sustaining small-scale food market circuits.
Keywords
Wild Food PlantsEthnobotanyThakht-e-Sulaiman HillsPakistan
Background
A large variety of wild plants are used as food in diverse communities around the globe. These WFPs vary with the surrounding biodiversity and consequently influence food habits [1]. Wild food flora is a vital element of the diet of rural populations. It suits the community of that particular belief and culture as a food because of its traditionally acquired knowledge-based principles, feelings, and manners. Wild collected food plants have been part of the human diet since time immemorial and it has been argued that past societies made more use of wild flora than is done nowadays [2, 3]. Due to their remarkable nutrient values as well as being an excellent source of minerals, fiber, vitamins, and fatty acids that add flavor and color to the diet, WFPs play a key role in complementing staple foods [4–7].
Despite the marked increase in food production, 33 % of mountain people in developing countries are facing hunger, malnutrition and starvation [8]. By the year 2050 the world's population is expected to reach 9 billion, requiring 70–100 % more food than today. This issue demands substantial attention in order to explore new food assets. The genetic manipulation of crops is considered a potential way to enhance quantity and protect them from diseases and various stresses [9]. WFPs have considerable potential for the development of new crops through domestication and provide a genetic reserve for hybridization and selection [10, 11]. Furthermore, previous ethnobotanical surveys indicate that more than 7000 species are being used by humans as food and for livelihood in poor communities [12, 13].
At present, human populations rely on a small number of cultivated species, domesticated during the past 13,000 years that partly reduced both the beneficial and toxic effects of secondary plant metabolites [14, 15]. In contrast, the human genome cannot fully adjust to the intense changes in diet and lifestyle, which is still adapted to the pre-agriculturalist diet pattern. Modern lifestyle diseases are due to alterations in major functional dietary components which were endowed with prophylactic effects in wild gathered food [3, 15–19]. Some important WFP knowledge is restricted to particular communities but such specific knowledge decreases quite rapidly due to its fragile nature. Therefore, ethnobotanical field research for documentation and evaluation of this traditional knowledge is of great importance [20] in providing insight into food diversification which must be identified.
Pakistan is a developing country with an area of about 10 million hectares (0 – 8611 m altitude), which has different climatic zones–tropical, subtropical and temperate –featuring a unique and vast floral diversity that harbors more than 6000 vascular plant species [21–23]. Despite the various climatic zones and floral diversity, Pakistan is ranked 11thin the Food Security Risk Index [24]. An alarming situation is presented by the National Nutrition Survey of Pakistan [25] which stated that almost 58 % households are food insecure. Furthermore, the WHO reported in 2010 that 50 % of child deaths are directly or indirectly due to malnutrition in Pakistan [26]. The availability of WFPs in different seasons becomes more important when cultivated fruits and vegetables are not available.
In spite of their great importance, WFPs are vanishing from traditional diets, which poses serious concerns due to their role and contribution in the cultural history of a region as well as their nutraceutical value [27]. In the developing world these plants are regularly ignored in governmental policies, agricultural research and extension programs. Over the past decade, the majority of tribal communities on the north-western boarder of Pakistan have been affected by the 'war on terror', which has destabilized their traditional knowledge systems. The present research area is semi-arid and mountainous with deficient agricultural land. The people live in extreme poverty with widespread food insecurity. They are also not considered in government developmental policies.
The present study focused on these remote indigenous communities of the Thakht-e-Sulaiman hills, NW Pakistan, to document their knowledge and practices concerning WFPs, which have not been previously explored. The specific aims of this study were:
to document folk knowledge regarding WFPs in the study area;

to determine how this knowledge is distributed between locations at lower and higher elevations and among generations in the study area;

to compare the collected data with the overall Pakistani ethnobotanical literature, in order to possibly identify novel wild food plant records.
Methods
Study area and ethnic background
The Sulaiman mountain range is a geologically important area which forms a border between the Iranian Plateau and the Asian subcontinent. As the highest Plateau in the west and southwest, this range acts as a natural barrier to humid winds coming from the Indian Ocean thus creating arid conditions across southern Afghanistan. Centrally, the Sulaiman range lies a little east of 70° E longitude, and it is geologically composed of great folds of the Cretaceous series. The top of the mountain range is called Thakht-e-Sulaiman–locally known as Kaesagher. The present study was based on the ethnobotanical analysis of WFPs present on the eastern side of the Thakht-e-sulaiman Hills (Fig.
1
). This area is situated in the north-west (NW) of Pakistan and serves as a border between the Frontier Region of Dera Ismail Khan (F.R, D.I.Khan) and the Zhobe District of Baluchistan Province. In particular, the study area is encompassed by South Waziristan Agency (north), D.I. Khan (east), Dera Ghazi Khan (south) and Zhob (west). The area is a small administrative unit under Federally Administered Tribal Areas (FATA) of Pakistan (Fig.
2
) and two tribes, Sherani and Ustranas, inhabit this frontier region [
28
]. The Sherani area is totally under the eastern shadow of the highest peak of Thakht-e-Sulaiman. These mountains are covered by coniferous forest and exhibit arid to semi-arid lands that receive 200–500 mm of bimodal precipitation annually [
29
]. The region experiences hot summers (June, July and August) in which the temperature reaches 40 °C with a monthly rainfall of 21–33 mm and cold winters (December, January and February) in the range of 5.7–7.6 °C with a monthly rainfall of 13 mm [
30
].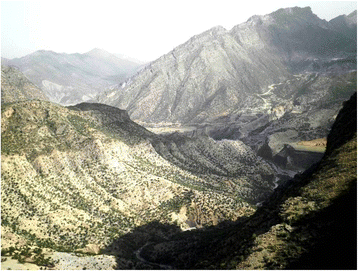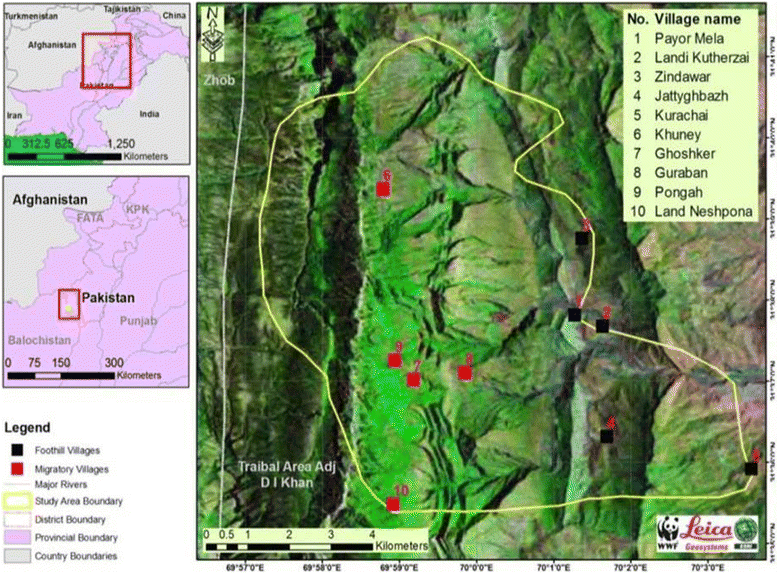 Field methods
Ethnobotanical field work was conducted for a period of two years during 2010–2012. The study area was divided in two portions based on their altitude: we defined as foothill villages those villages located between 750 and 1,800 m.a.s.l., while mountain/migratory villages were those villages located between 1,800 and 3,000 m.a.s.l. A total of seventy-two informants (sixty –two men and ten women) from ten different villages were interviewed on the traditional uses of WFPs (including wild fruits, wild vegetables and wild tea species). The ages of the interviewees ranged from 20 to 90 years with an average of 41.8 ± 14.5 years. Detailed unstructured and semi-structured, formal and informal interviews were performed with key informants and group discussions were conducted during the first phase of the study [31]. The first phase was designed to help understand the general perceptions of the locals about natural phenomena [32], to become familiar with ethnographic terms and their emic definitions, and in particular to learn about their interactions with local flora. In the second phase of data collection, successive 'oral freelisting' sessions were performed to obtain more salient species and to check disparities in individual and village-wise knowledge. Detailed structured interviews were mostly followed by freelisting. We provided supplementary prompting to enlarge the freelisting [33]. Special care was taken to avoid non-genuine information [34, 35] and responses were cross-checked through informal methods for confirmation. Consent was taken from each informant before every interview and the objectives and procedures of the project were clearly explained. The local language (Pashtu) was used to conduct the interviews with informants, which the first author was able to properly understand. We maintained a continuing relationship with the local communities in order to develop a sense of trust and to be allowed to stay within the foothill and migratory villages and to accompany the locals during their daily activities and to participate in their ceremonies. National and international laws, especially the rules of the Convention on Biological Diversity (CBD) and the ethical guidelines of the International Society of Ethnobiology [36] were strictly followed.
Sample
An informant from nearly every 3
rd
house was included in the sample (interview) with minor variations. The population and demographic details of the five foothill villages are shown in Table
1
. The locals of two foothill villages (i.e. Payor Mela and Landi Kutherzai) migrate to the high mountains in summer. So, the mountain/migratory villages were based on the residents from these foothill villages while other inhabitants of those villages were from low altitude areas (not included in the study). The names, altitude, and number of houses of each foothill and mountain/migratory village are given in Table
2
.
Table 1
Social characteristics of the sample and study sites
Village name

PayorMela

LandiKutherzai

Zindawar

JattyGhbaz

Kurachai

Village size (number of families)

36

55

21

42

25

Sample size

(number of informants)

18

22

5

18

9

Dependency on livestock as a source of income

75 %

64 %

87 %

55 %

67 %

Informants average age

48.0 ± 18.6

40.9 ± 13.7

36.0 ± 6.5

41.3 ± 12.6

36.7 ± 12.2

Average number of family members

14.9 ± 5.6

12.4 ± 6.6

15.6 ± 6.3

14.7 ± 6.2

10.0 ± 2.4

aMigration ratio

50 %

(to mountains)

61 %

(to mountains)

50 %

(within foothills)

38 %

(within foothills)

0

Bilingualism

54 %

25 %

1 %

24 %

8 %

Average/month/head expenditure (in PKR)

931 ± 212

1063 ± 370

941 ± 194

1166 ± 537

1420 ± 457
Table 2
Geographic characteristics of the study sites
| Village name | Elevation (m.a.s.l.) | Number of households | Soil, area, population, and vegetation |
| --- | --- | --- | --- |
| PayorMela | 1116 | 36 | The village has stony soil and thin vegetation within the immediate surroundings, but there is a reserved forest and a very fertile valley in the vicinity; population and area of the village are moderate in size. |
| LandiKutherzai | 1052 | 55 | The village contains fertile loamy soil that can support dense and diverse vegetation; it has a large population and a small area that make the surroundings of the village nearly barren; there are no reserve forests nearby. |
| Zindawar | 1146 | 21 | The village contains various types of soil and a diverse flora. It has a small population and a large area; the vegetation is dense and comparatively undisturbed; it also exhibits floral elements of higher altitudes (mountains). |
| JattyGhbaz | 1155 | 45 | The village contains stony soil; the village population is moderately sized but the area is large; the vegetation is relatively dense. |
| Kurachai | 1184 | 25 | The village has mostly stony soil, which cannot support herbaceous flora; it has a restricted area and a modest population; the vegetation is under anthropogenic pressure. |
| Khuney | 2384 | 16 | It exhibits various types of soils and a diverse flora; the village has a large area and a small population; the density and diversity of the surrounding vegetation is moderate. |
| Goraban | 2456 | 26 | The village contains fertile loamy soil; it has a small area and a modest population; the village is located in a type of valley, which shows diverse vegetations. |
| Ghoshker | 2301 | 37 | The village contains mostly stony soil, which cannot support herbaceous flora. It has a moderate area but a large population; the surrounding vegetation is not dense and is under anthropogenic pressure. |
| Pongah | 2562 | 40 | The village possesses various types of soils which supports a diverse flora; it has a modest area but a large population; the surrounding vegetation is moderately dense and diverse. |
| Land Nishpona | 2584 | 22 | The village contains loamy soil and a diverse and dense flora; it has a small population and a large area; the surrounding vegetation is dense and undisturbed. |
Collection and identification of plant specimens
Plant specimens were collected in triplicate according to standard botanical and ethnobotanical protocols [37]. The specimens were identified by taxonomists at Quaid-i-Azam University, Islamabad, Pakistan and confirmed by matching their taxonomic characters with the Flora of Pakistan [38, 39]. Family names were assigned according to the Angiosperm Phylogeny Group [40] while species names were assigned in accordance with 'The Plant List' [41]. Voucher specimens were numbered and deposited in the Herbarium of Pakistan (ISL) for future reference work.
Data analysis
Freelisting data were analyzed through descriptive statistics to determine more salient species and informant consensus, using Excel spreadsheets. To check the effect of variables on diversity and variation in folk plant knowledge of individuals and villages, pivot tables were used. T-tests were performed to examine the significance of differences among different categories, while Mann–Whitney-U-Tests for independent samples were performed to establish the distribution of FC values among different groups. FC was determined by counting the number of informants that cited the use of the species divided by the total number of informants that participated in the study. To compare the present data with the published literature from the country, information was gathered from online sources using Google Scholar and Web of Sciences as search engines.
Conclusions
The present study indicates that WFPs still represent an important part of the local food culture in the Thakht-e-Sulaiman Hills of NW Pakistan. The knowledge of such species, although persistent, is declining. Exposure to wider ecological zones, the surrounding vegetation and age of the inhabitant were all factors influencing the extent of traditional knowledge of WFPs. In addition to food value, the supplementary qualities of WFPs such as medicinal potential, cultural uses, marketing and storage make them more important in the local culture but also predispose them to extensive exploitation. There is a large potential for the harvesting, domestication and marketing of WFPs in the area, and if done properly, they could be a source of cash income for locals. The wild relatives of the domesticated food species could help increase genetic diversity for crop improvement and yield, thus addressing the present demand of human food security. The ongoing process of domestication of wild species in the area is of the utmost importance not only for the interests of local communities but also for global food diversification.
Declarations
Acknowledgments
The authors are thankful to the local informants for sharing their traditional knowledge on the food uses of wild plants.
Open AccessThis article is distributed under the terms of the Creative Commons Attribution 4.0 International License (http://creativecommons.org/licenses/by/4.0/), which permits unrestricted use, distribution, and reproduction in any medium, provided you give appropriate credit to the original author(s) and the source, provide a link to the Creative Commons license, and indicate if changes were made. The Creative Commons Public Domain Dedication waiver (http://creativecommons.org/publicdomain/zero/1.0/) applies to the data made available in this article, unless otherwise stated.
Authors' Affiliations
(1)
Department of Environmental Sciences, COMSATS Institute of Information Technology, Abbottabad, Pakistan
(2)
University of Gastronomic Sciences, Pollenzo, Italy
Copyright
© Ahmad and Pieroni. 2016