Ethnomedicinal plants used by local inhabitants of Jakholi block, Rudraprayag district, western Himalaya, India
Journal of Ethnobiology and Ethnomedicine
2017
13:49
Received: 16 February 2017
Accepted: 10 August 2017
Published: 24 August 2017
Abstract
Background
Ethnomedicinal knowledge of the Indian Himalayas is very interesting because of the wide range of medicinal plants used in traditional medical practice. However, there is a danger of knowledge being lost because the knowledge sharing is very limited and passed on orally. The present study is the first ethnomedicinal study in Jakholi area of Rudraprayag district of Northwestern India. The aim of present study was to identify traditional medicinal plants used by the inhabitants to treat different ailments and document the associated knowledge of these medicinal plants.
Methods
An ethnomedicinal survey was carried out in 72 of 133 villages and alpine pastures of Jakholi block (800–4000 m asl). Door to door surveys and group discussions, applying semi-structured questionnaires were conducted with traditional healers and villagers in local language (Garhwali). Informant Consensus Factor (ICF) was computed to analyse collected ethnomedicinal data.
Results
A total of 78 species (Gymnosperms 3 species, Monocotyledons 12 and 63 Dicotyledons) belonging to 73 genera in 46 families were identified to treat 14 different ailments categories. Most dominant family is Asteraceae (5 species). In disease treated categories, Diseases of the skin (DE) have the highest proportion (29.55%) followed by Gastro- intestinal disorder (GA) (25.89%). The most life form of plants used was herb (56%) followed by tree (23%) while root was the most frequently used part of the plants and the traditional preparation was mainly applied in the form of paste (37%). The highest ICF value (0.99) was found for hair ailments (HA) followed ophthalmologic complaints (OP) and mental afflictions (MA) (0.98).
Conclusions
The present study provides valuable information about traditional knowledge of medicinal plants of Jakholi Block in the Northwestern Himalaya, India. Local communities still possess large traditional knowledge of plants and their therapeutic uses and that the link of that traditional knowledge to modern research could be of importance for the isolation of new phytotherapeutic compounds leading to the development of novel therapeutic active agents. Some of the ethnomedicinal plants are facing high threats and are becoming rare, and conservation initiatives are needed to conserve them for sustainable management in the region.
Keywords
ConservationInformant consensus factorMedicinal plantsSustainable useTraditional knowledgeWestern Himalaya
Background
The Himalaya is a dynamic area, covering over 18% of the Indian subcontinent and harbouring about 8000 species of angiosperms, 1748 of which are used for their therapeutic properties [1]. The region has been well known for its rich ethnomedicinal flora since ancient times [2].
Plants are used since long time to cure intense chronic diseases, and also as a source of food, shelter and clothing. Due to very low expense and good results these medicinal practices are transmitted through generation to generation and still practiced in different communities. These valuable medicinal plants contain rich bioactive compounds which serve various pharmacological activity. Ethnic people depend on the plants around them to gain economic values and primary health care benefits which is based on need, observation, experience of older ethnic people, and trial and error [3]. About 65% of the Indian population depend on traditional medicine [4]. The study area is interesting due to wide geographic and climatic condition and medicinal plants diversity of Jakholi Block makes this region an especially valuable treasure home of a wide range of wild medicinal and aromatic plants. Ethnic people, shepherd and traditional medicinal practitioner (Vaidyas and Daai) inhabit within a range of 700–3800 m asl and have high knowledge of medicinal plants uses. Local wooden and stone tools are commonly used to prepare medicinal remedies. Most diseases cured by local herbalist are common problems such as respiratory diseases, aches and pains, wounds and musculoskeletal ailments. Inhabitants often use local medicinal plants without prior advice of local traditional healers because they are using these plants since generations. In these connections, the present study was carried out to provide an overview of the knowledge of medicinal plants of the local and traditional healers of Jakholi area and to evaluate the status of these useful medicinal flora for identification of new drugs for health needs and suitable source of income for livelihood of inhabitants. We hypothesize that plant use at Jakholi would show similar response to other Himalayan regions, and that the local medicinal flora would have been overharvested.
The first step of diagnosis by local healers is checking the pulse rate and heartbeat, then examining the forehead, eyes, tongue and in some cases also the urine. The body temperature and colour are major key factors to identify health problems. Medicinal plants play a vital role in the local economy and health care, and demand is increasing. Many populations of medicinal plants seem to drastically decline due to overexploitation and unsustainable harvesting. Most of the important alpine medicinal plants are becoming rare and endangered.
Methods
Study area and sites
The Jakholi Block is located between the coordinates 30° 37′ 08.88″ to 30° 15′13.47″N and 79° 03′43.79″ to 78° 50′07.97″E (Google Earth Pro Us dept. of State Geographer 2017) in district Rudraprayag western Himalayas India. Medicinal plants sampling was done from alpine meadows of
Panwali Kantha
(3500 – 4000 m) to lower altitudes (800 m) (Fig.
1
). Annual average rain fall is around 1850–2000 mm with temperature ranging from − 5 to 15 °C in winter and 20 to 35 °C in summer (High land to lower hills).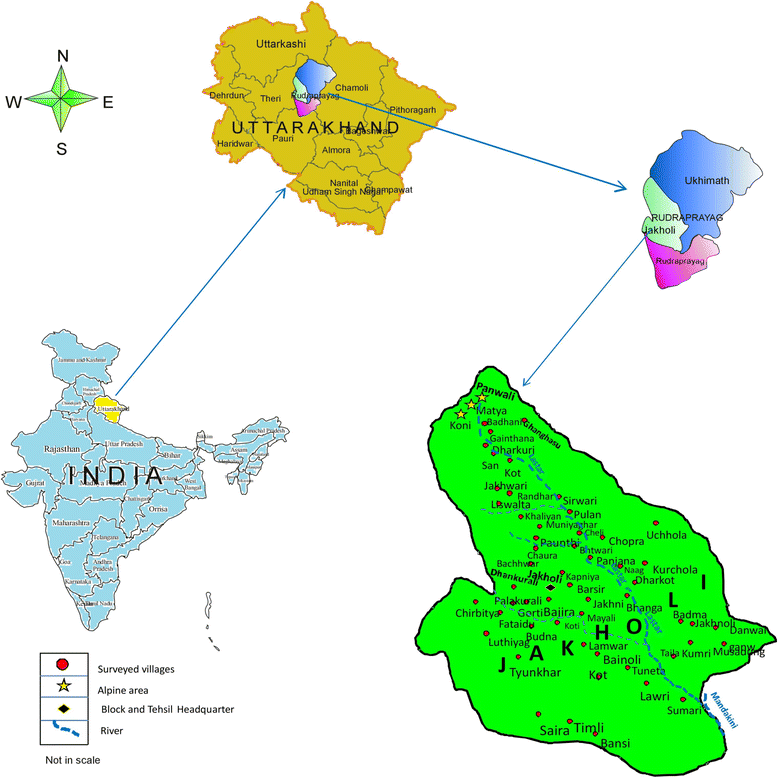 This study was conducted in Jakholi Block of Rudraprayag district, located in north west Uttarakhand. The total area is about 500 km
2
including 133 villages [
5
], with a total estimated population of 74,759 (34,126 male and 40,633 female) [
6
]. Most of the inhabitants live in small villages, and few families are shepherds and stay mostly in alpine areas (Bugyal and Kharka) for 7 – 10 months a year. Most of the inhabitants are farmers. Medical facilities are rare in Jakholi block, and most of the health problems are cured traditionally by local medicine. For chronic diseases people have to travel more than 100 – 200 km from their village to get attention at health facilities. Most of the younger generation, especially men, migrate to cities in order to find employment. Women and elder people live in the villages. Inhabitants are generally belonging to three major cast group,
Jajman, Brahman
and
Oji
(about 65%, 15%, 20% respectively)
,
and Hinduism is the major religion of the inhabitants. Most people speak Garhwali, and Hindi is the secondary major language of the region. Mountain terrace farming is abundant in region, (Fig.
2a
), with three crops a year:
Rabi
(October–April/May e.g. Wheat, Barley, Mustard),
Kharif
(April–October e.g. Rice, Corn), and
Jayad
(May–October e.g. Cucumber, Pumpkin, Beans).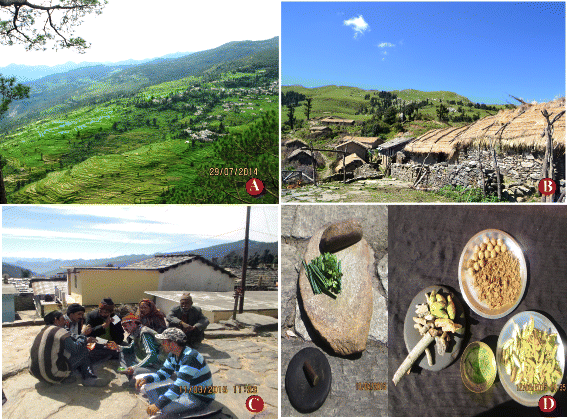 Data collection
A total of 220 individuals were surveyed during the study. Among them some key participants which were experienced and rich knowledge of the medicinal flora were selected for collection and identification of local medicinal plants. All interviews were conducted after obtaining oral and verbal prior informed consents from all individual participants.
The study was conducted during October 2014 to September 2015 in randomly selected villages of Jakholi and information about local medicinal plants was also gathered from shepherds (Bakrwal) and ranchers (Maur) in the alpine regions, and their homesteads (commonly called Kharka and Maira/Chani viz. Panwali Kantha, Jadi, Koni and Matya, Fig. 2b).
Household survey was conducted using individual personal meetings and group discussions as well as field surveys [7–9]. (Fig. 2c). Questionnaires were prepared in English, but interviews were conducted in local language (Garhwali) (Appendix 1) for more convenience and accuracy. As the first author is local person of region so easy understanding and conversations with local people, together more information.
List of local medicinal plants with common name were prepared and photographs were also supplemented for more information about uses and identification. For more reliable information, diseases base questionnaires were used. Information about medicinal plants include local name, plant parts used, drug preparation, mode of administration and doses were recorded. For verification and agreement about the medicinal uses, information given by a respondent was discussed in households as group discussion.
Twenty-five key participants including 11 traditional healers, two shepherds, and 12 other local inhabitants were interviewed and their experience, knowledge of medicinal plants, methods of drug preparation, and practicing with traditional tools (Fig. 2d), etc. were recorded. Monthly schedules were made for data and plant collection including two alpine/pasture surveys were made in July and September. So the participants were interviewed at their homes or at pastures. Medicinal plants were catalogued, and their voucher specimens were collected [10]. Dried specimens were poisoned using 0.1% HgCl2 and ethyl-alcohol, and then mounted on herbarium sheets. Collected samples were identified with the help of a local flora [11, 12] and further verified through comparison with prior collections from the botanical survey of India (BSI, Northern circle Herbarium, Dehradun). Plant names were also checked in "Tropicos" http://www.tropicos.org as well as "The Plant List" (http://www.theplantlist.org), and all preserved specimens deposited at the Herbarium of HNB Garhwal University, Srinagar (HAPPRC).
Data analysis
Data were simply evaluated through informant consensus factor (ICF) described by Trotter and Logan [13, 14] and ethnomedicinal data were checked and compared with previous literature for new use reports. The ICF measures the consensus in using plants in a group about treating an illness in the study area. The ICF was calculated following:
ICF = Nur - Ntaxa / (Nur-1)
Where Nur refers to the number of use-reports for a particular ailment category and N taxa refers to the number of taxa used for a particular ailment category by all participants. ICF value ranges from 0 to 1. It should be stressed that high ICF value (close to 1.0) indicates that relatively few taxa are used by a large proportion of participants. On the contrary low ICF value (close to 0) indicates a randomly use of plants by participants in treating illness.
Jaccard index (JI) is calculated by comparison of previously published studies from Himalaya and analyzed the percentages of quoted species and their medicinal uses by using the following formula:
JI = c × 100/a + b - c
where "a" is the number of species of the area A, "b" is the number of species of the area B, and "c" is the number of species common to A and B [15].
A comparison with previously published data collected from different regions was performed by evaluating percentages of the quoted species and their medicinal uses by applying Sorensen's similarity index formula [16].
QS = 2c/a + b × 100
where, "a" is number of species in an area A, "b" is number of species in area B and "c" is number of species common to area A and B.
Conclusions
Present paper is the first attempt of survey in Jakholi Block, Uttarakhand, India. Asteraceae, Polygonaceae, Ranunculaceae and Rosaceae were the most used families and root were the most commonly used plant parts in the area. Aconitum heterophyllum, Megacarpaea polyandra, Picrorhiza kurroa and Rheum emodii are well known medicinal plant species, contributing important role in the local health care system of Jakholi area. Documentation of local medicinal knowledge is also essential due to outmigration of the younger. Study of ethnomedicinal knowledge helps identify the important species of the region for pharmacological importance and ecological sustainability and it also aids conservation of traditional knowledge. Cataloguing useful plant species supports registration of indigenous knowledge, aiding national impetus of obeying implementation of convention of biological diversity and Nagoya protocol. Traditional knowledge is based on experience passed on from generation to generation and limited only to elderly (Bujurg) people and traditional healers. We came to the following considerations to be taken while doing ethnomedicinal studies in the Himalaya: (a) local people are quite conservative in sharing traditional knowledge about the Medicinal plants; (b) the young generation is not interested and knowledgeable about the ethnomedicinal plants and their uses; and (c) outmigration is a menace to the conservation of traditional ethnomedicinal knowledge. The present study showed that the medicinal plants are still very important for livelihood of local inhabitants of Jakholi and the Himalaya. Some medicinal plants are at the brisk of threatened due to their ecology, biology and human induced exploitations. To sum, documentation of useful plants and the knowledge of their utilization is immediate before being lost.
Declarations
Acknowledgements
The authors are thankful to the local inhabitants, Shepherd, and local traditional healers (Vaidyas and Daai) of Jakholi Block for sharing their incredible knowledge with us. The first author is thankful to the Director, High Altitude Plant Physiology Research Centre, H.N.B. Garhwal University, Uttarakhand, India for facilities.
Availability of data and materials
The raw data contain the names of all participants, and cannot be shared in this form.
Author's contributions
AS carried out a field survey and collected ethnomedicinal data, voucher samples and identified the plant material, analysed data and drafted the paper. MCN, RMK and RB revised the manuscript and give critical inputs. All authors have read the final manuscript and agreed to its submission.
Ethics approval and consent to participate
Before conducting interviews, prior informed consent was obtained from all participants. No further ethics approval was required.
Consent for publication
This manuscript does not contain any individual person's data and further consent for publication is not required.
Competing interests
The authors declare that they have no competing interests.
Publisher's Note
Springer Nature remains neutral with regard to jurisdictional claims in published maps and institutional affiliations.
Open AccessThis article is distributed under the terms of the Creative Commons Attribution 4.0 International License (http://creativecommons.org/licenses/by/4.0/), which permits unrestricted use, distribution, and reproduction in any medium, provided you give appropriate credit to the original author(s) and the source, provide a link to the Creative Commons license, and indicate if changes were made. The Creative Commons Public Domain Dedication waiver (http://creativecommons.org/publicdomain/zero/1.0/) applies to the data made available in this article, unless otherwise stated.
Authors' Affiliations
(1)
High Altitude Plant Physiology Research Centre, H.N.B. Garhwal University, Srinagar Garhwal, India
(2)
Practical Solutions, Kathmandu, Nepal
(3)
William L. Brown Center, Missouri Botanical Garden, Missouri, USA