Resilience at the border: traditional botanical knowledge among Macedonians and Albanians living in Gollobordo, Eastern Albania
Journal of Ethnobiology and Ethnomedicine
2014
10:31
Received: 18 January 2014
Accepted: 18 February 2014
Published: 31 March 2014
Abstract
Background
Ethnobotany in South-Eastern Europe is gaining the interest of several scholars and stakeholders, since it is increasingly considered a key point for the re-evaluation of local bio-cultural heritage. The region of Gollobordo, located in Eastern Albania and bordering the Republic of Macedonia, is of particular interest for conducting ethnobiological studies, since it remained relatively isolated for the larger part of the 20th Century and is traditionally inhabited by a majority of ethnic Macedonians and a minority of Albanians (nowadays both sharing the Muslim faith).
Methods
An ethnobotanical survey focused on local food, medicinal, and veterinary plant uses was conducted with 58 participants using open and semi-structured interviews and via participant observation.
Results
We recorded and identified 115 taxa of vascular plants, which are locally used for food, medicinal, and veterinary purposes (representing 268 total plant reports). The Macedonian Traditional Ecological Knowledge (TEK) was greater than the Albanian TEK, especially in the herbal and ritual domains. This phenomenon may be linked to the long socio-cultural and linguistic isolation of this group during the time when the borders between Albania and the former Yugoslavia were completely closed. Moreover, the unusual current food utilisation of cooked potatoes leaves, still in use nowadays among Macedonians, could represent the side effect of an extreme adaptation that locals underwent over the past century when the introduction of the potato crop made new strategies available for establishing stable settlements around the highest pastures. Additionally, the difference in use of Helichrysum plicatum, which is popular in the local Macedonian folk medicine but absent among Albanians, confirms the particular significance of this taxon as it relates to the yellow colour of its flowers in South Slavic folklore.
Conclusion
Botanical studies with an ethnographic approach are crucial for understanding patterns of use of plants within given cultures. Importantly, such studies can also allow for analysis of the dynamics of change in these TEK patterns over the time. The results of this study may be important as baseline data set to be used in rural development programs in Gollobordo, aimed at fostering community-based strategies of management of natural resources.
Keywords
EthnobotanyAlbaniaGollobordoMacedoniansPotato leaves
Background
Ethnobiological studies conducted in recent years in Eastern Europe have highlighted complex, dynamic systems of folk botanical, mycological, and ecological knowledge [1–28].
This heritage is known in the ethnobiological literature as Traditional Ecological Knowledge (TEK), which has been defined as a "cumulative body of knowledge, practice and belief evolving by adaptive processes and handed down through generations by cultural transmission, about the relationship of living beings (including humans) with one another and with their environment" [29].
In particular, the portion of TEK concerning plants is nowadays increasingly considered crucial in South and South-Eastern Europe for fostering community-based strategies of management of natural resources. It may also represent the starting point for initiatives aimed at the reevaluation of local plants devoted to both small scale food and herbal markets and eco-touristic initiatives [30–37]. Additionally, studies focused on plant uses that have been conducted in Eastern Europe with an in-depth historical or ethno-historical approach [38, 39] or via archival research and/or contemporary surveys conducted among botanists remembering their childhood [40–44] have demonstrated how plant perceptions change over time, in response to a complex interplay of socio-cultural, environmental, and economic dynamics.
In the past few years, we have concentrated our research on the botanical knowledge overlaps and exchanges between South Slavs and Albanians in multi-cultural or bordering areas in South-Eastern Europe [26, 39] and on the resilience of TEK [45] among diasporas in the same area [46]. In these studies, we observed phenomena of hybridization of botanical knowledge, as well as a more "herbophilic" [47] attitude of the Slavs in comparison to the Albanians. In the current study, we wanted to further analyze the local botanical knowledge systems among Macedonians and Albanians living in the Gollobordo region, in Eastern Albania.
We could postulate that ethnic Macedonians in this area in Albania preserved much of their original folk botanical heritage because of their isolation in the past decades. This isolation was especially evident during the Communist period (1945–1991), both from the Albanian neighbors and also from those Macedonians, who remained after the creation of the Albanian state (1912) on the other side of the border (at the time within the territory of the Kingdom of Serbia, later Kingdom of Serbs, Croats and Slovenes and then Yugoslavia, nowadays Republic of Macedonia). Nevertheless, the fact that both the Albanian and Macedonian communities of Gollobordo share the same faith (Islam) for the most part, with some intermarriage in the past decades, there may have been some exchange of botanical knowledge. In order to assess all of this, we designed the objectives of this study to: 1) record traditional uses of local botanicals (both cultivated and wild) for food, medicine, and veterinary purposes among Macedonians and Albanians; 2) verify the occurrence of an expected richer, "more conservative" Macedonian ethnobotany; and 3) analyze differences and commonalities in the traditional plant knowledge between the two communities and to propose some explanatory models.
Methods
Study area
The current study was conducted in eight villages of the mountain of the Gollobordo area, in Eastern Albania, bordering the Republic of Macedonia (Figure
1
); the focus was on three villages inhabited by ethnic Macedonians: Klenje (1,203 m.a.s.l), Gjinovec (1,252 m.a.s.l.), and Steblevë (1,200 m.a.s.l.) – this last village included within the newly established Shebenik–Jabllanice National Park, with an overall permanent population of approx. 300 inhabitants (while Gjinovec is only inhabited nowadays during the late spring and summer months); and three villages inhabited by Albanians: Sebisht (915 m.a.s.l.), Borovë (940 m.a.s.l.), and Zabzun (1,028 m.a.s.l.), with an overall permanent population of approx. 300 inhabitants as well. Additionally, in order to have a sample more adherent to the ethnic proportion of Gollobordo (for which more than two-thirds is inhabited by Macedonians), a few additional interviews were also conducted in the larger Macedonian villages of Ostren i madh (948 m.a.s.l., approx. 1000 inhabitants) and Trebisht (782 m.a.s.l., approx. 1,000 inhabitants).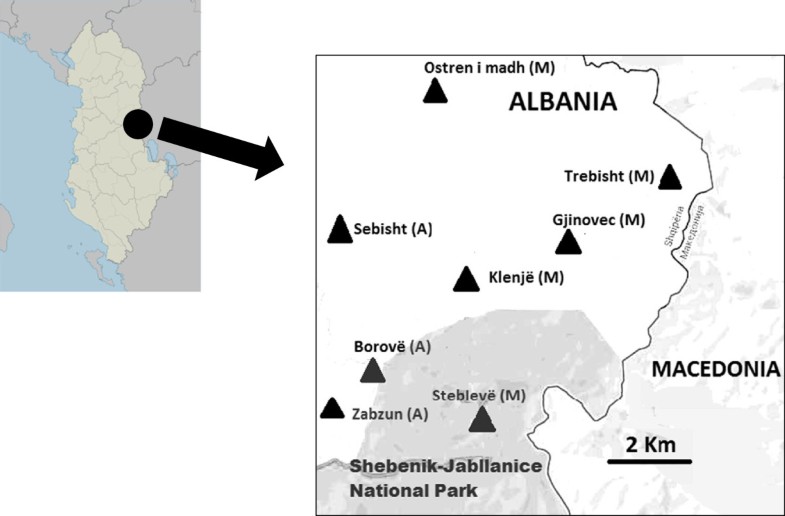 The local economy is based on small-scale farming and pastoralist activities, with a significant portion of the population that migrates to Tirana and/or other city centers and sometimes back for a few months in their villages only during the late spring and summer months (Figure
2
). According to the Albanian Institute of Statistics data, Gollobordo and the entire Eastern and North-Eastern region of Albania (covering Peshkopia and Kukës counties) are among the economically poorest areas of not only the country, but also all of Europe [
48
]. All of the villages in the Gollobordo are nowadays permanently inhabited only by families of Islamic faith, while until the 1990s, most of the Macedonian villages also had an important Christian Orthodox component. The local dialect of the Macedonian minority, now spoken by less than 3,000 inhabitants, has been the focus of a number of studies conducted by Slavic linguists in the past Century. Two remarkable field ethnolinguistic and ethnographic studies have also been conducted in Gollobordo in recent years [
49
,
50
].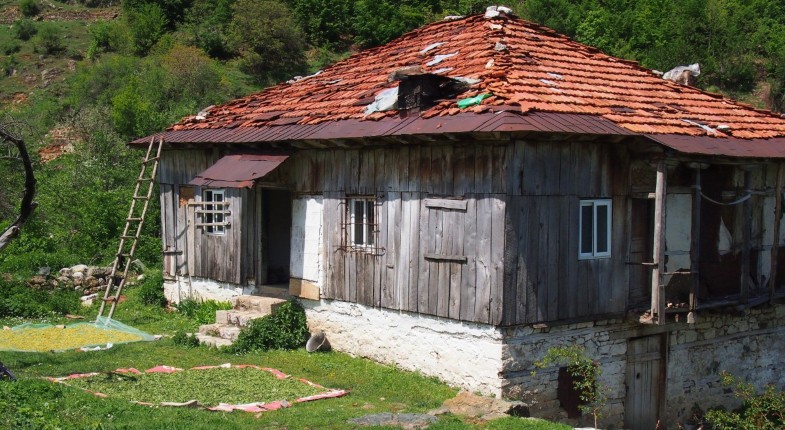 The climate of this area is continental, with very harsh temperatures and snowfall during the winter season. The landscape around these villages is dominated by low mountains covered by the Quercus frainetto woodland belt, and by the Fagus sylvatica woodland belt at higher elevations. Sometimes it is possible to find some woodland fragments of Quercus cerris (in soil containing more clay) and Castanea sativa (in more acidic soil); in addition, there is some reforestation by Pinus nigra, probably carried out during the Communist period (1945–1991). The landscape is also covered by large extensions of secondary patches of semi-natural dry and humid grassland. A riparian marshy vegetation is found along the valleys, which is frequently fragmented and residual, dominated by some species of Salix, such as S. alba, S. eleagnos (sometimes really large) and, less frequently, S. purpurea. In the secondary succession, it is easy to find some different shrub species such as Corylus avellana, Cornus mas, Juniperus communis, Crataegus monogyna, Crataegus sericea and Juniperus oxycedrus. Up to the village of Klenje, within a high plateau, we could observe a large population of Prunus cocomilia.
The main herbal vegetation in the villages is anthropogenic, with ruderal/nitrophylic species and cultivars like Vitis labrusca, some fruit trees (esp. Prunus species) and some vegetables; Vitis labrusca is traditionally cultivated climbing on trees with light pruning.
The main trees are situated in a gradient between wild and domesticated conditions: Fraxinus excelsior, Quercus cerris, Q. frainetto (mostly as totem trees), Prunus avium, P. domestica, P. cerasus, P. cerasifera, Juglans nigra, Cydonia oblonga, Malus domestica, Pyrus communis, Robinia pseudoacacia, Populus nigra, Ailanthus altissima, Syringa vulgaris, Acer campestre, while the most common shrubs are Rosa canina s.l. and Rubus hirtus, R. caesius, R. ulmifolius, and Clematis vitalba.
Field study
In May 2013, in-depth open and semi-structured interviews were conducted with community members (n = 58, 43 Macedonians and 15 Albanians; age between 9 and 87 years old), which were selected using snowball sampling techniques. Study participants were asked about traditional uses of food, medicinal, veterinary, and ritual plants (in use until a few decades ago or still in use nowadays) via semi-structured and open interviews, walks in the natural environment in the proximity of the villages together with informants, and participant observation within the households. Specifically, local name(s) of each quoted taxon, the plant part(s) used, in-depth details about its/their manipulation/preparation and actual medicinal or food use(s) were recorded. Interviews were conducted in Albanian or Macedonian languages with the help a bilingual simultaneous translator. Prior informed consent was always verbally obtained prior to conducting interviews and researchers adhered to the ethical guidelines of the American Anthropological Association [51]. During the interviews, informants were always asked to show the quoted plants. Voucher specimens were taken for the wild taxa, when available, and are deposited at the herbarium of the School of Biosciences and Veterinary Medicine of the University of Camerino, Italy (Herbarium Universitatis Camerinensis; acronym: CAME).
Taxonomic identification was conducted according to the official Flora of Albania [52–55] and the previous Albanian Excursion Flora [56]. For Crataegus spp. we referred to the Rosaceae's taxonomy in Euro + Med PlantBase [57]. Family assignations follow the Angiosperm Phylogeny Group III system [58]. Local plant names were transcribed following the rules of the standard Ghegh Albanian and Macedonian languages.
Results and discussion
Overall, we recorded the local uses of 116 taxa of vascular plants; we documented 268 plant reports, 105 for food, 87 for human medicine, and 76 for veterinary applications.
Given the variety of means through which data were elicited in the field, detailed cultural importance, frequency and consensus indexes, which do always require consistently performed interviews, were not considered in the data analysis.
However, in the tables and in the data used for the comparison we included only plant uses reported by at least two informants, as well as those uses, which were quoted by the majority of the interviewees.
Conclusions
Local environmental resources derived from plants continue to play an important role in the provision of dietary and medical care for both humans and their livestock in Gollobordo's communities. We could confirm a more herbophilic attitude of the Macedonians, especially with regards to medicinal and veterinary plants, while the overlaps between the Albanian and the Macedonian ethnobotanies are still relatively limited (restricted to a quarter of the overall recorded plant reports). This confirms that in Gollobordo, despite the two communities having shared the same religion and the same environmental space for many decades, the "original" TEK systems still persist, perhaps due to the geographical and cultural isolation of the area, especially with regards to the Macedonian community. Initiatives aimed at generating an endogenous rural development and especially at fostering sustainable gathering activities of local plants – as well as their small-scale trade and eco-tourism – should seriously consider these cultural divergences. This could in turn promote a tighter collaboration between the two communities and help to sustain the threatened linguistic and cultural heritage of the Macedonian minority.
Declarations
Acknowledgments
Special thanks are due to all informants, who generously shared their knowledge regarding local plants and especially to Hajredin Ferataj, Prishtinë, Republic of Kosovo, for the simultaneous translations; to Tanya Gervasi, Giaveno/Milan/New York and to Domenico Lucarini, Herbarium of the University of Camerino (CAME) for the assistance.
The fieldwork has been conducted with the financial support of the University of Gastronomic Sciences.
Authors' Affiliations
(1)
University of Gastronomic Sciences, Pollenzo, Italy
(2)
School of Biosciences and Veterinary Medicine, University of Camerino, Camerino, Italy
(3)
Department of Botany, University of Sofia, Sofia, Bulgaria
(4)
Department of Biology, University of Prishtina "Hasan Prishtina", Prishtinë, Republic of Kosovo
(5)
Center for the Study of Human Health, Emory University, Atlanta, USA
(6)
Department of Dermatology, Emory University School of Medicine, Atlanta, USA
Copyright
© Pieroni et al.; licensee BioMed Central Ltd. 2014
This article is published under license to BioMed Central Ltd. This is an Open Access article distributed under the terms of the Creative Commons Attribution License (http://creativecommons.org/licenses/by/2.0), which permits unrestricted use, distribution, and reproduction in any medium, provided the original work is properly credited. The Creative Commons Public Domain Dedication waiver (http://creativecommons.org/publicdomain/zero/1.0/) applies to the data made available in this article, unless otherwise stated.