Ethnoveterinary of Sahrawi pastoralists of Western Sahara: camel diseases and remedies
Gabriele Volpato

1,

Saleh Mohamed Lamin Saleh

2 and

Antonello Di Nardo

3, 4

Email author
Journal of Ethnobiology and Ethnomedicine
2015
11:54
Received: 5 May 2015
Accepted: 5 June 2015
Published: 20 June 2015
Abstract
Background
Pastoral populations around the world hold complex and detailed ethnoveterinary knowledge, essential for the survival of their herds and securing their livelihood. In recent decades, several studies have given attention to local veterinary remedies and practices and their validation, and to the local conceptualization of livestock diseases. Despite this, relatively little has been reported on indigenous knowledge of camel diseases (e.g., aetiological factors, epidemiological patterns, symptoms, prevention and treatments). This paper focuses on the traditional knowledge of camel diseases and their treatments among Sahrawi nomads, detailing how this knowledge is powerfully reflected on pastoral adaptation strategies to the ecological system of Western Sahara.
Methods
Between 2005 and 2010, freelisting exercise on camel diseases with 46 Sahrawi nomads and refugees, semi-structured interviews with 36 knowledgeable informants about camel diseases and associated treatments, and a voucher specimen collection of the plants and products cited were conducted in the territories administered by the Saharawi Arab Democratic Republic, Western Sahara. Analytical methods included standard ethnobiological, ethnobotanical and cultural consensus analyses.
Results
In total, 42 camel diseases were freelisted by informants, with four (i.e., mange, dermatomycosis, respiratory infections, and mastitis) found to be culturally highly salient. These four represent the most common veterinary conditions experienced by Sahrawi pastoralists. In addition, 42 plant species belonging to 22 botanical families (Hammada scoparia, Acacia tortilis, Zygophyllum gaetulum, Nucularia perrinii, and Panicum turgidum among the species most used) were listed as used in the treatment of these diseases, as well as about 30 remedies of animal (e.g., from camels, donkeys, and/or spiny-tailed lizards) and mineral origin, and of cauterizations.
Conclusions
This study provides an overall picture of the most important camel diseases and remedies as reported by Sahrawi informants, detailing how the vast knowledge that the Sahrawi hold on the health and disease of their camels is constructed through contrasts between their customary nomadic land (and associated climate, soils, grazing and therapeutic resources) and the surrounding areas (and associated diseases), which are traditionally used only in cases of drought.
Keywords
Sahrawi refugeesCamelsWestern SaharaPastoralismEthnoveterinaryCamel diseasesTraditional remedies
Background
Ethnoveterinary medicine is the holistic and interdisciplinary study of the knowledge and practices of indigenous populations in relation to the management of animals used with different purposes, along with the social structure in which these are embedded [1, 2]. During the last decades the study and application of ethnoveterinary medicine have been increasing [3], contributing to several aspects of the scientific research and its application on animal health (e.g., health and nutrition, conservation and management of livestock, natural resources, and ecosystems) [4–6]. Recently, several studies have given attention to local veterinary remedies and practices and their validation [7–9], and to the local conceptualization of livestock illnesses [10, 11]. However, a gap in the knowledge about camels still exists, especially on patterns, causes and effects of diseases impacting on nomadic management systems [12]. Although camels are usually depicted as extremely resistant animals, they are nevertheless often subjected to severe stress conditions which make them susceptible to a range of veterinary conditions. Mange, mastitis, diseases of the respiratory tract, mineral deficits, digestive problems, and parasites are among the most common [13, 14]. New and little known diseases of camels have been reported in recent years [6, 12, 15, 16], and this has been achieved on the basis of the knowledge and observations of local communities. Indeed, herders' observations on camel illnesses are often a necessary step for veterinary scholars who are investigating aetiology, symptoms, and treatment of camel diseases [12, 15].
The study and application of this knowledge, and its integration in mixed veterinary systems, are important in all those contexts where pastoral populations have developed complex forms of observation, interpretation, and treatment of diseases affecting livestock [17]. In addition, veterinary remedies based on local knowledge are often more readily available, less expensive, and culturally more accepted than conventional treatments, especially in the case of nomadic populations living in arid and remote areas [1, 18]. With the 'knowledge of local knowledge' [1], scholars and international organizations pursuing development and cooperation projects can achieve a better understanding of existing ethnoveterinary practices (also by means of a shared vocabulary and definitions of diseases and their treatments), identifying headline priorities in terms of animal health from a local/emic perspective [1, 19].
In this paper, Sahrawi conceptualization of camel diseases and their treatment and remedies based on minerals, animals, and plants characteristic of desert habitats are explored and discussed.
The Sahrawi, literally 'people from the desert,' are pastoralists who traditionally inhabited the coastal areas of Northwest Africa, including Western Sahara, northern Mauritania, and part of Southwest Algeria. The Sahrawi were a nomadic population, raising camels, goats, and sheep in the low-lying plains of Western Sahara and relying for food on livestock products as well as dates, sugar, cereals, and legumes bartered for livestock in markets surrounding their catchment areas [
20
]. In 1975, as a consequence of the Moroccan occupation of Western Sahara, about 70,000 Sahrawi were forced to flee and settle in refugee camps established in neighbouring Algeria [
21
], which led to a 16-year war ensued between Morocco and the Sahrawi's armed political organization, the Polisario Front (1975–1991). About 165,000 Sahrawi live nowadays in four refugee camps located on the
Hamada
desert plateau within the Tindouf region of Algeria (Fig.
1
). Food, shelter, and other basic commodities are provided by the European Union through bilateral development programmes, UN agencies, the Algerian government, and several solidarity groups [
21
]. Nevertheless, livestock husbandry is one of the refugees' few endogenous activities developed and recovered without any consistent attention or funding from donors and international organisations. Over the years, Sahrawi refugees have attempted to improve the quality of life in the camps, developing an informal economy, marketing a variety of basic commodities as well as food, and creating overland trade routes to the south (Mali and Mauritania) and the north (Algeria and Spain) [
22
,
23
]. Economic activities have greatly increased since a UN-sponsored ceasefire agreement was signed with Morocco in 1991, which resulted in the demobilisation of the Polisario troops back into the camps and their re-engagement in livestock husbandry, seasonal nomadism, and trade [
24
].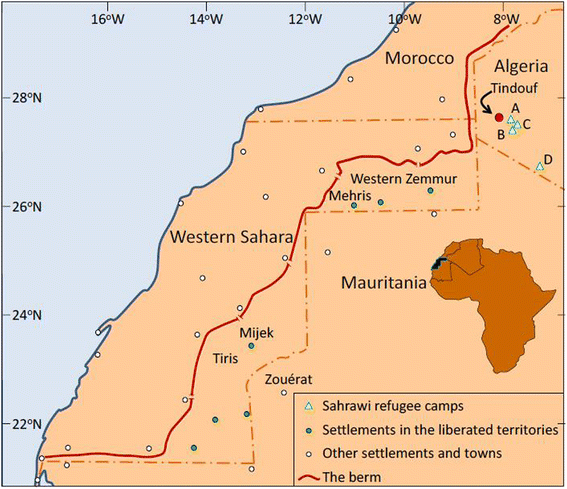 With the ceasefire agreement, the Polisario Front also assumed political control over the Eastern inland areas of the Western Sahara [
25
], the so-called 'liberated territories' (~20 % of the whole Western Sahara), while the remaining part is under the Moroccan Government's administrative authority. Pastoral areas within the 'liberated territories' are important to the Sahrawi refugees' struggle to maintain or recover traditional cultural and social practices, from livestock husbandry to medicinal plant use [
26
], as well as to generate income (e.g., through the sale of desert truffles) [
27
]. Some 20–30,000 Sahrawi who remained nomadic throughout the war by moving with their herds to safe areas in neighbouring Mauritania and Mali, also reoccupied these territories after 1991, herding back their livestock and using the refugee camps and Zouérat (Mauritania) as their main commercial hubs (Fig.
2
). The revitalization of camel husbandry among Sahrawi refugees has been supported by the renewed interactions between refugees and nomads, which have led to a degree of fluidity between these categories. Both groups are using the 'liberated territories' (especially the northern areas) for grazing, and a dense solidarity and reciprocity driven network defines the structure of their social interactions [
28
]. Today, about 2000 camels are raised in the camps, whereas 40,000 head are present in the 'liberated territories' [
29
]. In the refugee camps, camel owners supplement natural forage with fodder purchased in Tindouf, whilst in the 'liberated territories' extensive nomadism (full-time and seasonal) is the most efficient strategy practiced for exploiting resources for herd production and reproduction.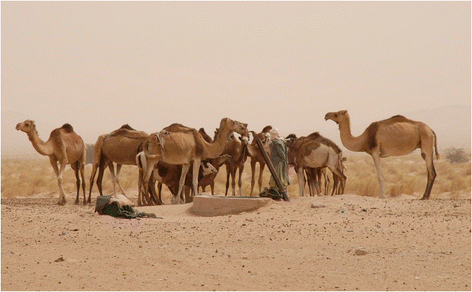 The recovery of camel husbandry is ongoing in the refugee camps of the Hamada and in the 'liberated territories' where refugees travel and nomads live. The Hamada is a barren desert plateau known historically as the 'Devil's Garden' because rainfall is scarce and edaphic conditions are poor, which explains why it has very poor forage resources, few trees, no halophytic plants, and few annuals. The climate of the 'liberated territories' is arid and continental with summer daytime temperatures above 50 °C, while during winter temperatures drop to zero at night. Rains generally occur from the end of the summer through autumn with an average annual rainfall of 30–50 mm; however, rains are highly irregular both within and between years, and droughts are recurrent. Despite this, the 'liberated territories' and especially the northern area (Zemmur) are richer in biodiversity and forage plants, displaying a savannah-like environment dominated by Acacia trees with flowering prairies found in flat gravel areas following rains [30]. The 'liberated territories' of Western Sahara are also those that provide Sahrawi refugees and nomads with mineral, animal, and vegetal materials at the basis of their ethnoveterinary practices.
Historically, camels were central to the production and reproduction of Sahrawi nomadic society, providing staple food, means of transport and warfare, commodity trading, and the social basis of power and prestige. Studies on Sahawi ethnoveterinary knowledge and their management of camels have been conducted by the first explorers and colonial scholars [31, 32]. Camels are still nowadays an important livelihood (e.g., provision of milk and meat, income) and cultural resource (e.g., for cultural identity) for Sahrawi nomads and refugees [24]. In order to manage their camel herds in arid lands, the Sahrawi have developed a deep ethnobotanical, ethnomycologycal, and ethnoecological knowledge [26]. Therefore, the Sahrawi have acquired a deep understanding and a complex conceptualization of the health status of their camels and, on the basis of this understanding (generated from trial and error, knowledge production, and transmission), they have elaborated practices and treatments to improve and restore camels' health and productivity.
This study firstly presents the research methods applied during the investigation, followed by the results and discussion of Sahrawi knowledge of camel diseases and treatments, which are presented in three parts: 1) the cultural domain of camel diseases and their conceptualization; 2) treatments and remedies for camel diseases; 3) changes in knowledge and practices by contemporary Sahrawi. By addressing the little-known ethnoveterinary knowledge of the Sahrawi people, this study highlights the importance and level of details of the vast ethnoveterinary knowledge held by pastoralist populations.
Methodology
The data analyzed in this study were collected in the Sahrawi refugee camps and in the Polisario-controlled 'liberated territories' of Western Sahara between 2005 and 2010. Fieldwork was carried out in accordance with standard guidelines for ethnobotany and ethnoveterinary investigation [33, 34], also including ethnobiological and anthropological methods such as freelisting, participant observation, and interviews [35, 36]. Freelisting exercises, used to describe the Sahrawi cultural domain of 'amradh al jemal' (i.e., camel disease) [37, 38], were conducted with 46 Sahrawi, both nomads and refugees, who were approached directly in their tents in either the refugee camps or in the 'liberated territories'. Freelisting-generated data were used to stimulate qualitative discussion about the importance of specific illness and to study agreement among informants in cultural consensus analysis (CCA) [39, 40]. Details on the application of freelisting in cultural domain analysis using the very same sample of informants can be found in [28]. Follow-up semi-structured interviews were conducted with 36 informants (25 sampled from the group of the more knowledgeable informants extracted from the freelisting task and selected on the basis of their freelist lengths and experience with extensive camel nomadism; 11 further knowledgeable informants who did not participated to the freelisting task) to check unclear items in the lists, to investigate in greater detail the conceptualization of diseases (i.e., aetiology, epidemiology, symptoms, treatment, and prevention), and to collect data about treatment practices and remedies used. Interviews were conducted in Hassaniya (the Arabic language with a Berber substrate spoken by the Sahrawi), recorded and translated into Spanish by local research assistants. Informed consent was obtained verbally before interviews were conducted, providing an explanation of the aims, methodology, and outcomes of the study to participants. The ethical guidelines followed were those adopted by the American Anthropological Association [41] and by the International Society of Ethnobiology [42].
Regarding botanical methods, voucher specimens were collected with informants in the Hamada of Tindouf and across the 'liberated territories' through a 'walk in the woods' approach [43]. Plant nomenclature follows the Sahara and Western Sahara botanical standard treatises [44–47] and the International Plant Name Index (www.ipni.org). Voucher specimens were deposited in the National Herbarium of The Netherlands (Wageningen Branch–Herbarium Vadense).
Results and discussion
Camel diseases and disorders
The Sahrawi people hold vast camel-related knowledge, which includes knowledge about the environment, camel ethology and foraging behaviour, and camel health among others. The Sahrawi widely recognize strict and complex relationships between their camel herds and the ecosystem in terms of health and status. The factors regarded as the most important in maintaining a good health in camel herds are: 1) the potential for camels to move and wander and, consequently; 2) grazing and browsing freely from a variety of plants, including halophyte plants; 3) using the patched and seasonal resources of the desert environment. Thus according to Sahrawi pastoralists, camels mainly develop diseases as consequence of drought (i.e., when the patterns of movement and grazing are disrupted by lack of rains and grazing resources), sudden dietary changes and lack of movement (seen in camels raised in settled conditions and fed with hay, staw and leftovers), movement to areas where diseases or their vectors are present, and mineral ('
salt
') deficiencies. Table
1
presents the results obtained from the freelists on camel diseases of Sahrawi informants' data using the CCA. Informants provided a cumulative list of 42 camel diseases, with individual freelists ranging from 0 to 25, and an average lenght per freelist of about 9.5 diseases. Among the diseases reported, some correspond to diseases recognized by Western veterinary medicine, whereas others show a correspondence with symptoms rather than with specific conditions and for others no references have been found in the Western veterinary medicine so far.
Table 1
The diseases cited are reported with their Hassaniya name in order of their frequency of mention, along with their western veterinary counterpart (when identified) or a short description of the disease, and the Smith's index of salience
| Disease | Diagnostic hypothesis | Frequency (%) | Smith's salience index |
| --- | --- | --- | --- |
| Jrab a | Sarcoptic mange | 38 (82.6) | 0.836 |
| Legrad a | Dermatomycosis | 34 (73.9) | 0.595 |
| Mhaz a | Respiratory infections | 30 (65.2) | 0.482 |
| Liren a | Mastitis | 26 (56.5) | 0.366 |
| Buguashish | 'Kraff' disease | 23 (50) | 0.399 |
| Rmah | Crazyness (rabies, intoxications) | 21 (45.6) | 0.241 |
| Jidril | Camelpox, contagious ecthyma | 21 (45.6) | 0.232 |
| Tukma | Indigestion, alimentary diarrhoea | 19 (41.3) | 0.205 |
| Gargar | Anthrax, clostridiosis | 16 (34.8) | 0.212 |
| Mindi | Nutritional deficits, goitre | 15 (32.6) | 0.216 |
| Aulisis | Salmonellosis | 14 (30.4) | 0.203 |
| Ghtaan | Overwork syndrome | 12 (26) | 0.089 |
| Ghesh, homzi | Internal parasites, colics | 11 (23.9) | 0.111 |
| Gushneda | Abscesses, purulent lymphadenitis | 9 (19.5) | 0.075 |
| Sahrba | Colostrum diarrhoea | 9 (19.5) | 0.053 |
| Zoran | Salt deficits | 9 (19.5) | 0.119 |
| Bougueghir | Edematous tumefaction, lymphadenitis | 8 (17.4) | 0.05 |
| Shedad | Granuloma, organized abscess | 8 (17.4) | 0.06 |
| El Haibe | Intestinal abscesses with pus infection | 7 (15.2) | 0.064 |
| Duda | Caterpillar-borne abortion syndrome | 7 (15.2) | 0.053 |
| Larvar | Cherato conjuntivitis, cornea opacity | 6 (13) | 0.068 |
| Tfadal | Uterine prolapse | 5 (10.8) | 0.034 |
| Shdan | Diffuse dermatomycosis | 5 (10.8) | 0.09 |
| Gushbeida | Hypersalivation from 'acid' plants | 4 (8.7) | 0.041 |
| Dhbeb | Trypanosomiasis | 4 (8.7) | 0.025 |
| El Helme | Tick infestation | 4 (8.7) | 0.055 |
| Dhegbil | Calves arthritis | 4 (8.7) | 0.025 |
| Sherghe | 'Chocking' syndrome | 3 (6.5) | 0.029 |
| Dharra | Abscess under the toe | 3 (6.5) | 0.035 |
| Tinket | Limp from trauma | 3 (6.5) | 0.027 |
| Maarguba | Muscolar contraction, tendinitis | 3 (6.5) | 0.013 |
| Borues | Head oedema/inflammation | 3 (6.5) | 0.02 |
| Tetrah | Infected mastitis | 3 (6.5) | 0.035 |
| Tergan | Indigestion from argan seeds | 2 (4.3) | 0.012 |
| Kirkle | Chest-pad infections | 2 (4.3) | 0.01 |
| Burgheiba | Wry neck syndrome | 1 (2.2) | 0.018 |
| Meshmusa | Sunstroke | 1 (2.2) | 0.002 |
| Tabal | Dystocia | 1 (2.2) | 0.004 |
| Telhad | Tumoral degeneration of the hump | 1 (2.2) | 0.006 |
| Nthep | Dislocation of rear legs' articulations | 1 (2.2) | 0.001 |
| Legma | Flea infestation | 1 (2.2) | 0.007 |
| Trakbin | Knee inflammation | 1 (2.2) | 0.013 |
Sarcoptic mange and dermatomycosis were reported respectively by 83 and 74 % of the informants, with mange having the highest overall salience index. Respiratory infections (e.g., pneumonia and common infections of the cold season) were the third most salient disease mentioned by 65 % of the informants, while mastitis (57 %) ranked fourth. These four were cited by more than half of the informants, forming the cultural consensus model of shared knowledge of the domain, as calculated by ANTHROPAC. This model represents domain items most likely to be mentioned by a typical member of the sampled population, due to the frequency and ranking of the reports provided by the informants. Ten diseases were mentioned by more than a third of the informants (e.g., buguashish or kraff disease, camelpox, digestive problems and clostridiosis), a pattern that both confirms the existence of the domain and demonstrates a core of shared knowledge about its contents.
Table
2
presents the results obtained from ANTHROPAC's consensus analysis of the disease freelists. The first factor explained 77.7 % of the variation in informants' performances (λ = 22.73), the second factor 18.1 % (λ = 5.29), whilst the third factor 4 % of the variation (λ = 1.23). Since the ratio of the first factor to the second is >3, this indicates high overall agreement among informants and, therefore, that they belong to a single culture (i.e., shared knowledge of camel diseases). The second factor suggests enough residual agreement to indicate subgroups, or clusters of agreement, within the study population [
39
]. It also indicates that knowledge on this cultural domain is undergoing change, likely due to the reduced importance of camels among the Sahrawi seen in the last 50 years, the relatively small number of refugees' households who are engaged in camel husbandry at present, and the ongoing shift from strictly nomadic to intensive camel management.
Table 2
Consensus analysis results for Sahrawi freelists on camel disease expressed as eigenvalues decomposition
| Factor | Value (%) | Ratio |
| --- | --- | --- |
| 1 | 22.731 (77.7) | 4.292 |
| 2 | 5.296 (18.1) | 4.283 |
| 3 | 1.237 (4.2) | |
| TOT | 29.264 (100.0) | |
Here below are discussed the camel diseases included in the cultural consensus model and few others of interest. A particular focus is given to buguashish and associated treatment/recovery practices for being a relatively unknown condition of complex conceptualization.
Ethnoveterinary remedies
In accordance to how each disease is understood and culturally constructed, the Sahrawi, in their long-term engagement with camel husbandry and the desert environment, have developed an array of veterinary practices with treatments largely based on desert plants, animals, and minerals.
Changes in knowledge and remedies used
Historically, Sahrawi ethnoveterinary was based on the vegetal, animal, and mineral resources of the customary desert ecosystem of Sahrawi tribes: nomads would harvest or collect the products, process them and apply the remedies and experiment new/different products in accordance to their availability and efficacy. The conceptualization of livestock illnesses was built on nomads' knowledge of the desert environment and its changes, thus influencing the livestock health and nutritional status. Although analysing and discussing the changes that occurred to Sahrawi ethnoveterinary knowledge around camels is out of the scope of this paper (refer to [24] and [28], respectively, for discussion about the changes that occurred in Sahrawi camel husbandry and knowledge of camel forages with exile, dispossession, and sedentarisation in refugee camps), the Sahrawi knowledge of camel diseases and of their treatments appear to have gone through similar changes in the last decades. There are four main directions of change relating to this study: 1) changes in camels' pathological states with sedentarisation and the shift from a fully nomadic to a settled and/or semi-nomadic camel husbandry (e.g., changes in nutritional and digestive disorders); 2) changes in the conceptualization of diseases toward a merging of traditional/local conceptualizations and Western explanations, following the exposure of Sahrawi refugees to Western veterinary medicine (e.g., through NGOs cooperation programmes); 3) changes in the remedies used with the incorporation of commercial veterinary drugs (e.g., Ivermectin and Sebacil to treat mange) and other products made available by markets and used in substitution of traditional remedies (e.g., the adoption of the use of bitumen–obtained in Tindouf from road construction enterprises–and exhaust engine oil rather than self-processed vegetal tars in the treatment of mange); and 4) change in the traditional ethnoveterinary knowledge with the disengagement of many Sahrawi from camels and camel husbandry. These processes relate to more general mechanisms of loss and recovery of subsistence practices, including camel husbandry, and of traditional ethnobiological knowledge that are taking place among contemporary Sahrawi [26], and which are relevant also to studies of cultural change and knowledge dynamics of pastoral transitions [91].
Conclusions
Pastoralists throughout the world have a deep and detailed knowledge of their animals and of local ecosystems, and of the relations intercurring between them. Through centuries of engagement with camels and the desert resources, Sahrawi nomads have developed a system of preventive and applied medicine to maintain or restore the health of their livestock, camels in primis. This study provides an account of Sahrawi ethnoveterinary knowledge of camel diseases and their treatments in Western Sahara. The results show how the Sahrawi have historically developed a rich and detailed knowledge of camel illnesses, elaborating strategies to prevent and treat these health conditions. These strategies include movement (e.g., from areas where a disease is present to one where it is not), management (e.g., not letting camels graze early in the morning in presence of dew), and food supplementing (e.g., of salts and bones in absence of halophyte plants in grazing areas). The treatments used are of vegetal, animal, and mineral origin, and largely sourced from the local desert ecosystem. Common administration routes are topical (i.e., applications of plasters or ointments), oral (i.e., feeding and drenching) and by inhalation (i.e., fumigations). Mixtures of several products and cauterization form also part of the therapeutic knowledge of the Sahrawi.
As a whole, these results suggest that 1) knowledge about camel diseases and their prevention and treatment is critical to pastoralists' success in arid environments, as the survival and reproduction of their herds rely on this knowledge; 2) this knowledge is shaped by and contextualized within the characteristics and constraints of the ecosystem where pastoralists live (i.e., diseases are conceptualized in terms of their environmental relationship, whilst treatments are based on plants and other products from the desert ecosystem); and 3) camel health and diseases are understood as the result of the contraposition of several environmental factors (e.g., dry/wet climate, rocky/sandy soils, presence/absence of certain forage plants, presence/absence of certain disease vectors, etc.). On the basis of these factors, the Sahrawi eventually differentiate between the wet or sandy and halophyte-poor areas at the border of their nomadic territory where some diseases are present (e.g., homzi in the north, trypanosomiasis in the south, and buguashish in the east), and their customary grazing areas in the riverbeds and rocky plains of Western Sahara and northern Mauritania, where there is dry climate, abundance of N. perrinii and other halophyte plants, and absence of trypanosomiasis. These findings enhance our understanding of the critical role of ethnoveterinary knowledge among pastoral populations, which provides a high degree of detail and complexity and is rooted in pastoralists' understanding of environmental and ecological relationships. In light of the results provided by this study and of the knowledge gap that currently exists on camel diseases, further studies are warranted to source relevant data on the ethnoveterinary practices of camels pastoralists, in order to improve camel management strategies. We suggest that scholars should investigate in more detail the environmental aspects related to camel health and diseases focusing, for example, on the relationships between camels' nutritional deficits and nomads' herding strategies.
Declarations
Acknowledgements
We are very thankful to many Sahrawi for their patience, kindness, and hospitality during the interviews. We also thank the Italian NGO Africa '70 and the Sahrawi Veterinary Services of the SADR (Sahrawi Arab Democratic Republic) for logistical support and cooperation. We thank much Davide Rossi, Yanik Ceschia, Sara Di Lello, and Sidahmed Fadel for helping during fieldwork and Mariateresa Bortoluzzi for proofreading. This study is part of a wider research project on traditional Sahrawi medicine and veterinary medicine that has been undertaken within a cooperation project funded by the European Union ('Salud animal en la tendopoli Sahrawi–Algeria', ONG-PVD/2002/020-151) and carried out within the mandate of two Italian NGOs (Africa '70 and SIVtro–Veterinari Senza Frontiere Italia). Funds were also granted to Gabriele Volpato by Ceres Research School of the Wageningen University, The Netherlands, as part of his PhD research on historical and contemporary Sahrawi nomadism and ethnobiological knowledge.
Authors' Affiliations
(1)
Center for Integrative Conservation Research (CICR), University of Georgia, Athens, USA
(2)
Sahrawi Veterinary Services, Ministry of Public Health, Sahrawi Arab Democratic Republic, Rabouni, Algeria
(3)
Institute of Biodiversity, Animal Health and Comparative Medicine, College of Medical, Veterinary and Life Sciences, University of Glasgow, Glasgow, UK
(4)
The Pirbright Institute, Woking, UK
Copyright
© Volpato et al. 2015
This is an Open Access article distributed under the terms of the Creative Commons Attribution License (http://creativecommons.org/licenses/by/4.0), which permits unrestricted use, distribution, and reproduction in any medium, provided the original work is properly credited. The Creative Commons Public Domain Dedication waiver (http://creativecommons.org/publicdomain/zero/1.0/) applies to the data made available in this article, unless otherwise stated.