Landscape ethnoecological knowledge base and management of ecosystem services in a Székely-Hungarian pre-capitalistic village system (Transylvania, Romania)
Journal of Ethnobiology and Ethnomedicine
2015
11:3
Received: 10 April 2014
Accepted: 12 December 2014
Published: 7 January 2015
Abstract
Background
Previous studies showed an in-depth ecological understanding by traditional people of managing natural resources. We studied the landscape ethnoecological knowledge (LEEK) of Székelys on the basis of 16-19th century village laws. We analyzed the habitat types, ecosystem services and sustainable management types on which village laws had focused.
Methods
Székelys had self-governed communities formed mostly of "noble peasants". Land-use was dominated by commons and regulated by village laws framed by the whole community. Seventy-two archival laws from 52 villages, resulting in 898 regulations, were analyzed using the DPSIR framework. Explicit and implicit information about the contemporary ecological knowledge of Székelys was extracted. We distinguished between responses that limited use and supported regeneration and those that protected produced/available ecosystem services and ensured their fair distribution.
Results
Most regulations referred to forests (674), arable lands (562), meadows (448) and pastures (134). Székelys regulated the proportion of arable land, pasture and forest areas consciously in order to maximize long-term exploitation of ecosystem services. The inner territory was protected against overuse by relocating certain uses to the outer territory. Competition for ecosystem services was demonstrated by conflicts of pressure-related (mostly personal) and response-related (mostly communal) driving forces. Felling of trees (oaks), grazing of forests, meadows and fallows, masting, use of wild apple/pear trees and fishing were strictly regulated. Cutting of leaf-fodder, grazing of green crops, burning of forest litter and the polluting of streams were prohibited. Marketing by villagers and inviting outsiders to use the ecosystem services were strictly regulated, and mostly prohibited. Székelys recognized at least 71 folk habitat types, understood ecological regeneration and degradation processes, the history of their landscape and the management possibilities of ecosystem services. Some aspects of LEEK were so well known within Székely communities that they were not made explicit in village laws, others remained implicit because they were not related to regulations.
Conclusions
Based on explicit and implicit information, we argue that Székelys possessed detailed knowledge of the local ecological system. Moreover the world's first known explicit mention of ecosystem services ("Benefits that are provided by Nature for free") originated from this region from 1786.
Keywords
Central EuropeDPSIR frameworkEcosystem functionsEcosystem regenerationHabitatsResource managementTraditional ecological knowledgeVillage laws16-19th centuriesSustainability
Background
A large number of in-depth studies show that traditional/indigenous/local ecological knowledge can effectively help conserve biocultural diversity and heritage (e.g. [1–3]). Many authors, together with the Intergovernmental Panel for Biodiversity and Ecosystem Services [4], call for greater efforts and new ways to use traditional/indigenous/local ecological knowledge in order to safeguard biodiversity and ecosystem services at different levels.
It is also well established, that besides an in-depth knowledge of the local environment, self-governance by local communities is a powerful way of maintaining a sustainable, resilient social-ecological system (e.g. [1, 5–8]. Ostrom [7] lists, among others (such as collective-choice rules, leadership, norms and social capital), knowledge of the local social-ecological system as vital for a sustainable self-governed system. Researchers argue that resource users should share common knowledge of the local ecological system, and have an in-depth understanding of the local carrying capacity of the resources/ecosystem services [1, 7].
Together with the study of the way that recent self-governed systems functioned, historical studies also enrich our understanding of the value of local ecological knowledge in resource management. An important institution for the management of local resources and ecosystem services in medieval and modern Europe was the village law or village by-laws (e.g. England[9], Denmark[10], Austria[11], Germany[12], Holland[13]). Village laws regulated forest and grassland management, especially pasturing and haymaking, the order of cultivation on arable fields, the use of common fields, the use of water resources, communal self-government, the rights of craftsmen, clothing and punishments for stealing and other improper behaviour [5, 9, 10, 13–15]. In Transylvania, as a result of the privileged status of the Székely community, village laws were framed by the whole Székely village community (free Székely peasants, nobles and serfs). As Székely village laws were written by locals to manage the local landscapes, they allow us to reconstruct the contemporary local ecological knowledge, in particular how people understood landscapes, ecological patterns and processes, and how they managed their ecosystem services.
In our paper, we use the term landscape ethnoecological knowledge (LEEK), which is a subset of traditional ecological knowledge (TEK, [2]). As defined by Johnson and Hunn [3], landscape ethnoecological knowledge focuses on the ecological features of a landscape (e.g. ecotopes, habitats and other landscape elements), and shows how the living landscape is perceived, named, imagined, classified and managed by the people who inhabit it. Of the numerous definitions of ecosystem services, the following was used in our paper: ecosystem services are the benefits people obtain from ecosystems [16]. In subsistent-oriented economies, communities depend directly on local ecosystems for food, timber, water and other products needed for their livelihood [2, 17]. We agree with Kumar [18] that we should realize (especially in historical investigations) that the properties of ecological systems that people regard as "useful" may change over time, even if the ecological system itself remains relatively constant. Thus, study of ecosystem services demands parallel analysis of the environment and the socio-economic system.
Village laws have usually been published and analysed from historical, legal and agricultural viewpoints (e.g. [9–12, 14]) but there is a scarcity of analyses from an ecological point of view [13, 15, 19]. Dirkx statistically analysed regulations by focusing on forest grazing by different livestock and other uses of woodlands and used the Marke Boeken to reconstruct the deforestation history of the Dutch landscape [13]. Vera, Buissink and Weidema [15] used village laws to document medieval woodland structure and regeneration, forest grazing and masting. Imreh [19] argues that village laws resulted in many cases in the protection of the natural environment. Besides these publications, there are a large number of studies on the late medieval and modern environmental history of Europe. Studies focused on, among others, modelling agro-environmental systems [20–22] and analysis of long-term landcover/landuse-changes and their driving forces [23–26]. Historical overviews of pre-industrial resource management systems are also frequent [27–34]. These and some other results suggest that villagers in medieval and modern time Europe had a profound understanding of the ecology of the surrounding landscape [9, 10, 14, 32, 35]. However, to date, no explicit analysis of their landscape ethnoecological knowledge has been undertaken.
The main aim of our study was to document how Székely village laws regulated the management of the landscape and its ecosystem services during the 16-19th centuries. Both region and the chosen time period are also rich in quantifiable, comparable and relevant historical data. Our specific goal was to reconstruct the landscape ethnoecological knowledge of Székely people based on published village laws [5, 14]. Our hypothesis was that an in-depth ecological understanding of species, habitats, ecological processes and carrying capacity of resources was needed in order to sustain a management system that lasted for at least 300 years.
Study area
The study area is located in the Székelyföld region of Transylvania, Romania (12 800 km
2
, coordinates: 45°32'- 47°09' N; 24°24'- 26°26' E, Figure
1
). From the legal historical viewpoint, Székelyföld is the sum of those areas where Székely (pronounced as Se: kei) law was determinative. Like some other mountainous regions of Europe (cf. [
36
]), the region formed a relatively stable social-ecological system from late medieval times until the Second World War [
37
]. Small-scale, traditional agriculture was retained in many places, even during socialism (1945–1989).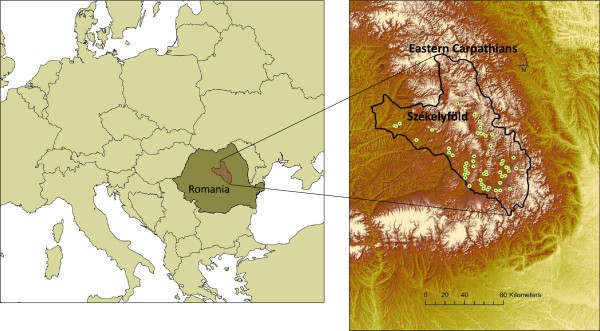 The western part of the study area belongs to the Erdélyi-Mezőség (a highland region, 300–500 metres above sea level, covered by Pannonian and Sarmata deposits), the eastern part belongs to the Eastern Carpathians (a mountainous area, 700–2300 metres above sea level with crystalline bedrocks, flysch and neogene volcanic surfaces). The two main rivers of the region are the Maros (Mureş) and Olt (Olt). Climate is moderately continental with short summers and long winters. The annual mean temperature ranges from 4 to 7°C, the annual precipitation is 500–700 mm in the highland areas and basins and 1000–1200 mm in the mountains. Forests still cover ca. 35–40% of the area. By the 20
th
century, most oak forests, many beech and some spruce forests had been replaced by arable fields, pastures and meadows. The highland areas are dominated by
Fagus sylvatica
,
Quercus petraea
and
Carpinus betulus
forests, whereas mountainous areas are covered by
Picea abies
and
Fagus sylvatica. Tilia cordata, Fraxinus excelsior
and
Acer
spp. are also widespread (Figure
2
). Above ca. 1500–1700 metres, subalpine grasslands and shrubs are typical. Many grassland types and patches in Transylvania are species-rich. Some of the most species-rich dry grasslands in the world [
38
] and mountainous hay meadows in Europe (80–85 vascular species per 16 m
2
; [
39
]) are to be found in the region. The main crops of the region are potato and maize. After the building of the railway network in the late 19
th
century, spruce timber became an important export good. The 52 villages examined, and for which information on village laws was available, are scattered throughout the Székelyföld region.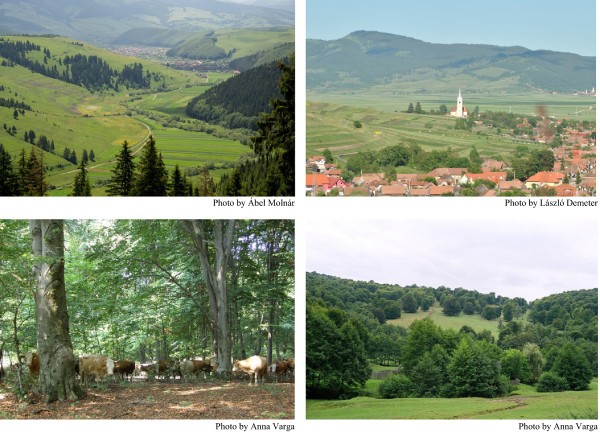 The Székely people
Székelys form a Hungarian ethnic group that has lived in this area for at least a millenium. The time period examined in this study (1581–1847) covers the last two and a half centuries of feudalism, namely, the pre-capitalistic period. During this period, most Székelys lived in self-governed village communities. Villages were composed of three main social classes: the upper class with the highest social position comprised the highest nobles (called primor), having moderately-sized estates and owning land in several different villages. They constituted ca. 3 % of Székely society. The second group comprised the lower nobles: constituting ca. 50-60% of the population. These had "noble peasant" status (not paying tax, having rights to elect local village leaders etc.) and served the king as soldiers, providing also services (e.g. food and accommodation) for the army during periods of both war and peace. They are also called the free Székelys. The third major social class was formed of outlawed, farming serfs who had to pay taxes.
At the turn of the 15-16th centuries, human population of the Székelyföld region was ca. 70 000 [40], i.e. ca. 5 people/km2, which increased to 15/km2 by 1786 and to 24/km2 by 1850/1851 [41]. In 1651, on average, 51 families lived in a Székely village [42]. In contrast to Western Europe, the latifundium mainly consisted of scattered lands in Székelyföld. In most cases, the three main social classes shared different proportions of the Székely village-territory. A significant part of the territory was owned by free Székelys. The structure of the society was relatively stable during the 270 years examined [42]. In 1614, 53% of the population was free Székely, 25% was serf, while in 1844/1847, 52% of the population was free Székely and 22% was serf [37].
In the Székely self-government system, the village itself elected its own leader, who was himself controlled by the village community. The task of the elected leader was the organization of the village and its commons (e.g. forest use, grazing, arable farming). The leader was required to make the village community undertake public work and to keep order and discipline. In a Székely village, there was usually constant competition for public benefits, legitimacy, material welfare and positions of power in society. The village community could possess common estate and obtain income, punish collectively, take action or organize village meetings.
In Székelyföld, personal freedom was generally considered of little importance. However collective freedom (freedom of the whole village community) was relatively high. The state had little direct power over individuals compared with neighbouring countries. Village communities were able to buffer against the local impacts of regional/national driving forces [5].
Székely agriculture and forest management
During the 17-18
th
centuries, the agricultural techniques of the Székelys were similar to those found in many other European countries. Data show that the 18
th
century agricultural revolution of Western Europe had not reached the region until the mid 19
th
century [
5
]. Since there were just a few large seigniorial domains, small-scale farming played a significant role in agriculture (Table
1
). The nobleman's domain neither became a model nor played a significant role in the changing of traditional practices [
5
]. Since Székelys were averse to change, development of cultivation techniques was very slow. This is also evidenced by the long (often unchanged for over 100 years) survival of individual village laws [
5
].
Table 1
Some important data about Székely farming between 1650 and 1750 (Kászonszék region, [42] )
| Data calculated per household | Note |
| --- | --- |
| 2.5 -3 hectares arable fields | |
| 1.2-2.1 horse and ox | 35% of the population lack these |
| 0.8-1.8 cow | ca. 1.5 cart of hay per livestock unit |
| 8-10 sheep | |
| 4.8-6.4 cart of hay | =6-10 days using a hand-held scythe |
| 0-2 male children | |
The household was the working unit, while the village community was the institution that oversaw the entire cultivation system.
In the 16th century, hereditary estates began to spread, but even at the end of the 18th century, community land ownership of arable fields, hay meadows, pastures and forests was common in Székelyföld [5]. Owners with higher social position and major personal estate could possess a larger proportion of common arable field, meadow and acorn yield, but had no greater timber rights than others in the prohibited forests [5]. Lack of timber and firewood occurred in many villages, but the distribution of shortage was unequal. According to data from 1808 for a subregion of Székelyföld (Udvarhelyszék), community members were allowed to clear forests in 32 villages, clearing was prohibited in 70 villages (where forests/wood were in sufficient supply), and there was a shortage of satisfactory trees in 26 villages [5].
During the 19th century, forests and pastures were not separated from each other. The border of adjacent villages was also often not strictly defined, especially in the more mountainous areas. Until the 19th century, Székelys owned common regions (called "havas", meaning alps, mostly subalpine forest-grassland mosaics) on which every settlement could have a claim. Production for the markets started mainly in these common forests at the end of the 18th century [5].
Until the late 18th century, the two-field system was dominant in Székelyföld. In this system, arable and fallow fields were rotated annually. Fields of a village were arranged into an arable and a fallow block. Fallows were grazed. Owing to the extensive hinterland, this form of agriculture was more favourable for animal husbandry (mainly cattle, sheep, horse and pig) [5]. Fodder production on arable land was almost absent.
In 1870, the proportions of land-use types in Kászon (a subregion of Székelyföld) was as follows: 41% forest, 31% hay meadow, 18% arable land, 8% pasture, 2.5% non-used land [42]. Forest cover of Székelyföld, as estimated by Szabó on the basis of the First Military Survey, was approx. 47–48 % at the end of the 18th century [43].
Near the villages, sessile oak forests with hornbeam and beech forests dominated. Pastures, fallow land, forests and hay meadows were used for grazing. Fences prevented free movement and grazing by livestock. Székelys left stubble about a span tall so that weeds could regenerate rapidly, resulting in high quality pastures. As a result of grazing, fallow lands became manured and after 2–3 ploughings, weed density had decreased.
Wheat, barley and oats were the main arable crops. Maize and potato appeared only at the end of the 18th century [5]. There were fruit trees in the gardens and forests, and sometimes grape vines were cultivated on warm hillsides. The intensity of manuring was much less than it was in Western Europe. On average, the Székely household owned ca. 5 livestock units. These animals were kept in the stable or barn from December until February, and produced only ca. 12–13 carts of manure. This amount of manure was not sufficient even for 0.5 hectare of arable land [5]. Rather than cart out manure from the stable, manure production by the corralling of sheep overnight predominated. In the second half of the 18thcentury, the frequency of manuring a single parcel of land was generally once every 6–8 years. During the intervening period, the land was left fallow 3–4 times. Stable manure was only rarely applied to hay meadows [44].
Methods
Village laws
The first written village laws were produced in Zalán and Gyergyóújfalu (Zǎlan and Suseni) in 1581. The last village law was written in 1847. At the time of framing these laws, Székelys thought that they had already been in force for much longer [5]. This means that oral forms (perhaps even written forms) of these laws were already common before this time. Some of the centuries-old Székely laws survived until present and are still used in pasture and forest commons, as in other European countries (e.g. Italy, Portugal, Sweden, Scotland, France, Spain, the Netherlands) where commons have also survived until present [33, 45–47].
Village laws laid down the will and intention of local community members from generation to generation. Village laws were written down by local or appointed clerks, but the regulations were framed and approved by the whole community. Székelys believed that an adequate village law must be both old enough and sufficiently projected into the future [5]. There was no unified Székely village law; all of them were unique, but because of similarities in terms of landscapes, societies and economics, they have much in common. Village laws were announced from time to time, mainly for the sake of new community members [5]. In Western Europe, community rule-making and jurisdiction had already been suppressed by the 16th century. However Székelys started to commit their ancient laws to writing at that time. Székelys often emphasized in their laws that the judge could only make decisions "with the support of the community".
A typical Székely village law consisted of 2–5 pages comprising 5–20 short or long regulations. In the first introductory part, the Székely people stated the intention of the law. Here, they usually referred to respect for ancestors and inherited responsibility. This part was followed by the regulations which referred not only to the use of forests, grasslands, arable fields etc. studied in this paper, but to other spheres of village life, such as the punishment of criminals, obligation of the judge, the order of fire-fighting and postal service etc. In the last part, some community members would testify about the accuracy of the law and the consensus of the villagers.
It is important to emphasize that the laws of each village were based entirely on local, inside knowledge of the communities: they were based on former written and oral laws, customs and common laws and the perception of changing conditions. There is no evidence that the laws were copies or that they were adapted from those of other villages. Terms used in village laws testify to their independence [5].
During the Enlightenment, the Habsburg Monarchy deliberately reduced village self-government. However, by the second half of the 18th century, the Monarchy had still not been able to dominate local village life. Although state forest law already existed (1781), it was only partly effective in this region. By the 19th century, the system of village community had become obsolete and a hindrance to the process of modernization. Nevertheless, open-field systems could be seen in many places until the commencement of World War II.
Data collection
When collecting data, we used printed publications as sources of village laws. These included: "The self-regulating Transylvanian village" [5] and "Order in the Transylvanian village" [14]. We examined every village law published in these volumes (52 Székely villages, 72 village laws). Laws were written during the 16-19th century in a form of the Hungarian language that is still comprehensible today. We grouped and interpreted regulations according to the categories of the DPSIR framework, sorted them into a table, and then encoded and aggregated the data.
We used the DPSIR framework to understand, analyse and quantify the Székely social-ecological system in its complexity. The DPSIR framework was developed by the European Environmental Agency (EEA) in 1999 in order to be used as a general platform for environmental data collection, categorization and dissemination [48]. According to Bürgi et al. [49], the DPSIR framework is particularly useful for the evaluation of planning processes.
We paid particular attention to any ecological information that emerged either explicitly or implicitly from village laws and to the tacit traditional ecological knowledge. We collected the local folk names of every animal and plant species, the categories of folk habitats, habitat mosaics, types of forest and grassland uses and we analyzed the ecological context of the regulations. The latter was supported by our botanical and ethnoecological studies that have been conducted in this region since 2000 [39, 50].
Since it was the contemporary landscape ethnoecological knowledge that formed the focus of our attention, we did not reconstruct the actual monetary value of the punishments that were meted out (e.g. Florints, Florenis, Flor., Denars). The value of the currency might have also changed throughout the 17-18th centuries [5].
Data analysis
The DPSIR concept has been widely used for documenting and understanding environmental problems and developing preservation strategies [51, 52], and rarely for analyzing historical landscape management systems [53]. Driving forces in the DPSIR framework are forces that elicit and define those human activities that relate to the use of landscapes and ecosystem services. The main driving forces can be socio-economic, political, technological, natural and cultural [49], and can be global, regional or local in scale. In our study, we paid particular attention to the local social demands (see also [26, 29, 54]). Driving forces result in different pressures. Our study focuses on pressures relating to human activities, such as clearing and management of forests, use of pastures and hay meadows, arable lands and water, in general the use of ecosystem services. The state of the natural environment may change in response to pressures. Species composition, dominant species, tree age and density, nutritional value of the grass cover and soil fertility all reflect the quality of ecosystems. Impact is usually perceived as a reduction or a shortage of ecosystem services (e.g. less timber) caused by changes to the environment. This encourages the community to respond. These responses are intended to solve reductions and shortages caused by pressure-induced changes.
For the appropriate use of the DPSIR framework, it was essential to understand the meaning behind certain passages thoroughly. Hence for the analysis, we used the footnotes and writings of Imreh and other contemporary source publications (eg. statistics, litigious cases, village community decrees, decisions and resolutions; [5, 14, 37, 40–42, 44]).
We quantified not only driving forces relating to pressures, but also driving forces relating to responses. While the former is defined as the demand of the active executor of a certain pressure action (e.g. cutting of a tree for personal use), the latter is defined as the demand of the community (e.g. preserving large enough tracts of forests for future use by the community). This is not about driving forces on a personal and community scale (cf. [54]), rather the judgement of a certain action can differ for each of the two social scales. As the statements were often partly implicit owing to the concise framing of village laws, we reconstructed both implicit and explicit driving forces.
We divided the responses into two main groups: (1) responses limiting the use and supporting the regeneration of ecosystem services; and (2) responses that protect produced/available ecosystem services from theft and destruction, thus ensuring their fair distribution among community members.
As well as presenting a quantitative analysis of our database, we show the style and ecological content of village laws, together with original quotations.
Finally, we reconstructed all types of landscape ethnoecological knowledge that appeared either explicitly or implicitly in Székely village laws according to DPSIR categories. Knowledge related to obtaining and managing ecosystem services was considered to be Pressure-related knowledge. Knowledge related to the perceived usefulness of ecosystems was considered to be Impact-related knowledge, that is, knowledge resulting from State-related knowledge and monitoring, which helps in recognizing actual or potential changes in the condition of resources. Indeed, for appropriate interpretation of impacts, it was necessary for villagers to recognize what the exploitable ecosystem services actually were and which ecosystem services or functions had diminished or were about to diminish.
Response-related ecological knowledge was considered to be the knowledge related to the maintenance, regeneration, and the prevention of deterioration of ecosystem functions and services used by the community. Finally, we considered as Driving force-related the knowledge that informed decisions on what expectations and demands for ecosystem services could be met by the landscape.
Results
A total of 898 ecologically relevant individual regulations were found. Owing to their nature, village laws referred mainly to pressures and responses (856 and 890 records, respectively, e.g. in connection with the felling of trees, mowing and grazing, Figure
3
). Székelys rarely accounted explicitly for the necessity of their laws in terms of state and impact (only 2 and 40 records, respectively). The large number of explicit references to driving forces was surprising (199 records).The greatest number of records (sum of all DPSIR categories) related to forests (674), followed by arable land (562), hay meadows (448) and pastures (134). Village area (62), water bodies (57) orchards/vineyards (50) and fallows (7) were referred to only rarely (Figure
3
).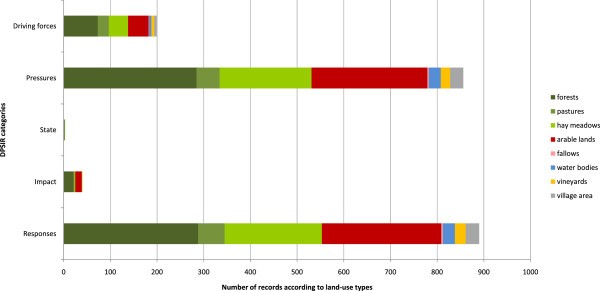 Székelys used and managed several ecosystem services, many of which were explicitly referred to in village laws (Table
2
).
Table 2
Ecosystem services managed by Székely village communities in the 16-19 th centuries based on explicit information in village laws
| Ecosystem services* | Records in laws |
| --- | --- |
| Cultivated crops (cereals, vegetables, domestic fruit) | 192 |
| Wild plants and their produce (wild fruit for food) | 16 |
| Wild animals and their produce (freshwater fish, crayfish, birds, game) | 15 |
| Fibres and other materials from plants for direct use or processing (wood, timber and all other sorts of timber uses) | 110 |
| Materials from plants for agricultural use (grass for forage and fodder, acorn) | 217 |
| Surface water for non-drinking purposes (domestic use, washing, cleaning, soaking hemp) | 19 |
| Plant-based energy resources (wood fuel) | 22 |
| Animal-based energy (physical labour provided by horses and oxen) | 39 |
| Total | 630 |
Conclusions
The Székely village law is a good example of the sustainable way of thinking and of the conscious maintenance of ecosystem services. Our analysis showed that laws were based on ecological principles and were adapted to the local landscape. Village laws were written for the benefit and survival of the community, for the protection of public benefits, and for the maintenance of ecosystem services [5, 19].
Moreover, we suggest that the world's first explicit mention of ecosystem services was worded in this region (cited in [
19
]). In 1786, a local Székely official in Sepsiszentgyörgy (Sfântu Gheorghe) wrote the following about firewood, timber and wood for tools (see the original Hungarian text in Table
10
). "The usefulness, both specific and general, of the Regulation of Forest, was intended to provide necessary benefits for the Human Community, and this is evidenced by the everyday uses of wood; namely for the daily fire, for necessary protection and shelter, and for the tools which are necessary for general living. Some members of the community abuse these
Benefits that are provided by Nature for free
(emphasis added by the authors), by the inappropriate, premature felling of acorn-bearing trees and trees suitable for timber, and this causes obvious harm to our descendants" (cited in [
19
]). Similarly, in another Latin language document dating from 1787 the expression
"inaestimabili naturae beneficio"
was used [
63
]. These data predate the findings of Mooney and Ehrlich by nearly 80 years (published in 1864 by G.P. Marsh, cited in [
64
] see also [
65
]). The early data demonstrates the conscious management of the natural environment by the Székelys.
Table 10
Probably the world's first documented explicit reference to ecosystem services (cited in [19] )
| Original text in Hungarian | Translation of the original text into English |
| --- | --- |
| "Micsoda szükséges jókat akarván az Emberi Társaságban, és micsoda hasznos légyen – mind különösen mind pedig közönségesen – az Erdőnek Conservatioja, azt megbizonyítják a mindennapi fával való élések; nevezetesen a mindennapi tűz, minket elfedező hajlékunk szükséges volta és járás-kelésre nézve elkerülhetetlenül megkévántató szükséges eszközök. Ezen, Természet ingyen való Jovaival pedig mely igen visszaéljenek a lakosok – a makktermő és épületnek való fáknak helytelenül, ideje előtt való leerdőlésekkel – a következő posteritásnak igen nagy praejudiciumára, nyilván vagyon." [19] | "The usefulness, both specific and general, of the Regulation of Forest, was intended to provide necessary benefits for the Human Community, and this is evidenced by the everyday uses of wood; namely for the daily fire, for necessary protection and shelter, and for the tools which are necessary for transportation. Some members of the community abuse these Benefits that are provided by Nature for free, by the inappropriate, premature felling of acorn-bearing trees and trees suitable for timber, and this causes obvious harm to our descendants." [19] |
We conclude that Székely village laws served the long-term interest of the local community over shorter-term personal interests and also against the Habsburg Monarchy, and helped the conscious and sustainable management and protection of ecosystem services for at least 300 years.
We documented that the Székely community had great adaptive capacity to deal with changes in the ecosystem services provided by the local landscape, as well as with the increasing pressure of external driving forces. This locally regulated resource management seems to be crucial in the long-term conservation of landscape and biological diversity, and it has likely been a key factor in the unique state of preservation of Transylvanian biodiversity (cf. [29, 38, 66]).
The cultural and biodiversity-preserving role of the long-term application of stable, subsistent-orientated systems is widely acknowledged [2, 39, 66]. Research and, if possible, resilient maintenance of these systems is extremely important, especially in a time when biodiversity loss and global change are having a profound impact on Europe, as well as other continents [46, 66–68]. We agree with Scotti and Cadoni [47] and Fischer et al. [66] that direct links between local communities and local landscapes are vital to the maintenance of functioning landscapes, local biodiversity and cultural heritage. Székely village laws are able to provide us with a rich source of ideas for sustainable landscape and resource management.
Declarations
Acknowledgements
Firstly, we would like to gratefully acknowledge the work of István Imreh. We thank Judit Vásárhelyi for drawing our attention to his works, as well as Bálint Czúcz and the three anonymous reviewers for their helpful comments on an earlier version of the manuscript, and Kevin L. Davies and Kata Bagi for language revision. This research was financed by the European Union and the State of Hungary, co-financed by the European Social Fund in the framework of TÁMOP-4.2.4.A/ 2-11/1-2012-0001 'National Excellence Program' and by the project "Sustainable Conservation on Hungarian Natura 2000 Sites (SH/4/8)" within the framework of the Swiss Contribution Program.
Authors' Affiliations
(1)
Institute of Ecology and Botany, MTA Centre for Ecological Research, Hungarian Academy of Sciences, Vácrátót, Hungary
(2)
University of Szeged Department of Ecology, Szeged, Hungary
Copyright
© Molnár et al.; licensee BioMed Central. 2015
This article is published under license to BioMed Central Ltd. This is an Open Access article distributed under the terms of the Creative Commons Attribution License (http://creativecommons.org/licenses/by/4.0), which permits unrestricted use, distribution, and reproduction in any medium, provided the original work is properly credited. The Creative Commons Public Domain Dedication waiver (http://creativecommons.org/publicdomain/zero/1.0/) applies to the data made available in this article, unless otherwise stated.