Multidimensionality and scale in a landscape ethnoecological partitioning of a mountainous landscape (Gyimes, Eastern Carpathians, Romania)
Journal of Ethnobiology and Ethnomedicine
2013
9:11
Received: 28 June 2012
Accepted: 29 January 2013
Published: 6 February 2013
Abstract
Background
Traditional habitat knowledge is an understudied part of traditional knowledge. Though the number of studies increased world-wide in the last decade, this knowledge is still rarely studied in Europe. We document the habitat vocabulary used by Csángó people, and determine features they used to name and describe these categories.
Study area and methods
Csángó people live in Gyimes (Carpathians, Romania). The area is dominated by coniferous forests, hay meadows and pastures. Animal husbandry is the main source of living. Data on the knowledge of habitat preference of 135 salient wild plant species were collected (2908 records, 44 interviewees). Data collected indoors were counterchecked during outdoor interviews and participatory field work.
Results
Csángós used a rich and sophisticated vocabulary to name and describe habitat categories. They distinguished altogether at least 142–148 habitat types, and named them by 242 habitat terms. We argue that the method applied and the questions asked ('what kind of place does species X like?') helped the often implicit knowledge of habitats to be verbalized more efficiently than usual in an interview. Habitat names were highly lexicalized and most of them were widely shared. The main features were biotic or abiotic, like land-use, dominant plant species, vegetation structure, successional stage, disturbance, soil characteristics, hydrological, and geomorphological features. Csángós often used indicator species (28, mainly herbaceous taxa) in describing habitats of species. To prevent reduction in the quantity and/or quality of hay, unnecessary disturbance of grasslands was avoided by the Csángós. This could explain the high number of habitats (35) distinguished dominantly by the type and severity of disturbance. Based on the spatial scale and topological inclusiveness of habitat categories we distinguished macro-, meso-, and microhabitats.
Conclusions
Csángó habitat categories were not organized into a single hierarchy, and the partitioning was multidimensional. Multidimensional description of habitats, made the nuanced characterization of plant species' habitats possible by providing innumerable possibilities to combine the most salient habitat features. We conclude that multidimensionality of landscape partitioning and the number of dimensions applied in a landscape seem to depend on the number of key habitat gradients in the given landscape.
Keywords
Ecological anthropologyFolk habitatTraditional ecological knowledgeNature conservationPhytosociologyMountain hay meadows
Background
Vegetation- and habitat-related knowledge of human societies has been accummulating for millennia. Vegetation and landscape knowledge that developed independently (or mostly independently in European landscapes) of science is studied by ethnobiology. Ethnobiologists seek to understand how different peoples perceive, classify, and mentally process the living world, and how they then apply that knowledge [1]. In the last decades, habitat and vegetation-related knowledge of many peoples was studied. However, it was only Johnson and Hunn [2] who introduced the term landscape ethnoecology. Landscape ethnoecology focuses on the ecological features of a landscape (e.g. ecotopes, habitats, vegetation types, and other landscape elements), and aims to understand how the living landscape is perceived, named, imagined, classified, and managed by people who live in it.
Traditional habitat knowledge has been documented in detail in only a few cases in Europe: in the French Alps [3, 4], in the Hortobágy salt steppe in Hungary [5], and based on toponyms in two areas in Transylvania, Romania [6, 7]. There are probably a number of reasons for this. First, this sort of traditional knowledge may have been lost by now or is at the verge of extinction in Western Europe [8]. Second, Western European ethnobiologists tend to work outside of Europe almost without exception. Meanwhile, in the countries of Eastern and Southeastern Europe, which are still rich in this sort of traditional knowledge, this type of research is missing. It is surprising that studies specifically focusing on traditional folk knowledge of vegetation have appeared in the international literature only in recent years [9–26].
In Europe, traditional land-use and the connected traditional ecological knowledge have survived mostly in agriculturally marginal areas. Our research was carried out in a mountainous environment, in the zone of spruce forests of the Carpathians. In this environment, hay meadows and highland pastures alternate with spruce forests. The species-rich grasslands of this zone are all anthropogenic in origin [27]. As they were formed after deforestation, they tend to be re-occupied by forests when regular management ceases [27, 28]. Thus, their survival depends on the continuity of human intervention. The maintenance of grasslands (hay meadows, pastures) requires precise knowledge of the habitats from both traditional farmers and nature conservationists. However, traditional knowledge related to these habitats has not yet been well documented.
Traditional ecological knowledge is transferred from generation to generation, while in a traditional community each generation adds its own observations [6, 29, 30]. Farming based on traditional knowledge often created landscape utilization patterns that survived on the long-run [31–33]. Meilleur [3] argues that in the French Alps (Les Allues Valley), landscape pattern is regarded as essentially unaltered, and farming practices remained similar from the (14th) 16th to the beginning of the 20th century. However, Meilleur [3] had to rely on living memory in his ethnobiological study, as traditional farming had been abandoned by the 1970s-1980s. Even so, he was able to document nuanced knowledge of habitats (20 main habitat types [3, 4]). These were used by the local people in a well developed farming system of fullfield agriculture, arboriculture, and forestry along with mowing, grazing, animal-husbandry, and confection of milk products. It is worth noting that farming practices in the Les Allues region in the first half of the 20th century seem to be surprisingly similar to those that are still practiced in our study area in the Eastern Carpathians.
Traditional land-use in the Carpathians is also based on detailed local knowledge of vegetation and habitat. This has already been documented in two landscapes: in Kalotaszeg, west of Kolozsvár (Cluj) and in the Gyergyó Basin, in the Eastern Carpathians [6, 7]. These authors elicited the living knowledge of plant species, but did not study the living knowledge of habitats. Instead, they reconstructed folk habitat categories found in the landscape by linguistic methods based on historical and contemporary toponyms. Even with this methodology they were able to reveal a very detailed habitat vocabulary.
While folk plant (and also animal) classifications are usually hierarchical see e.g. [1], Hunn and Meilleur [22] found that habitat categories tend to be ordered into a single, but less hierarchical (shallow) landscape ethnoecological partition. Phytosociological units used by botanists are also classified into a single, though highly structured hierarchy see e.g. [34]. Hunn and Meilleur [22], Fleck and Harder [35], and Shepard et al. [11] argue that folk habitat classifications are usually multidimensional. Our preliminary study [36] also showed signs of shallow hierarchy and multidimensionality. We consider landscape partitioning to be multidimensional if several distinct sets of salient environmental features are used – consciously or unconsciously – to define habitats, and thus habitats cannot be arranged along a single dimension.
In this paper, the traditional habitat knowledge of Csángó people living in Gyimes (Eastern Carpathians, Romania) is introduced. We identify the habitats into which Csángós partition their mountainous landscape and the features they use to distinguish these habitats. We also document the role of species composition in differentiating habitats, and determine whether it is possible to arrange folk habitat categories into a single landscape ethnoecological partitioning.
Materials and methods
The landscape
The study area (Gyimes), is located among the mountain ridges of the Eastern Carpathians (coordinates: N 46°37'22.45", E 25°57'24.06") (Figures
1
,
2
,
3
,
4
). This part of the Carpathians is made up of sandstone ridges, although limestone also reaches the surface in the study area. The Eastern Carpathians are not a compact mountain range, as it is dissected by several valleys and basins; it is formed by crystalline rocks, and flysch [
37
]. The elevation varies between 900 and 1500 m. The highest peak is the Naskalat (1553 m). The climate is montane (boreal). The yearly mean temperature ranges from 4 to 6°C, and the annual precipitation varies from 700–800 mm in the valleys to 1000–1200 mm on the mountains [
38
]. The most significant river is the Tatros with several tributaries of which the largest is the Hidegség. Our study area was restricted to the extensive valley system of the latter.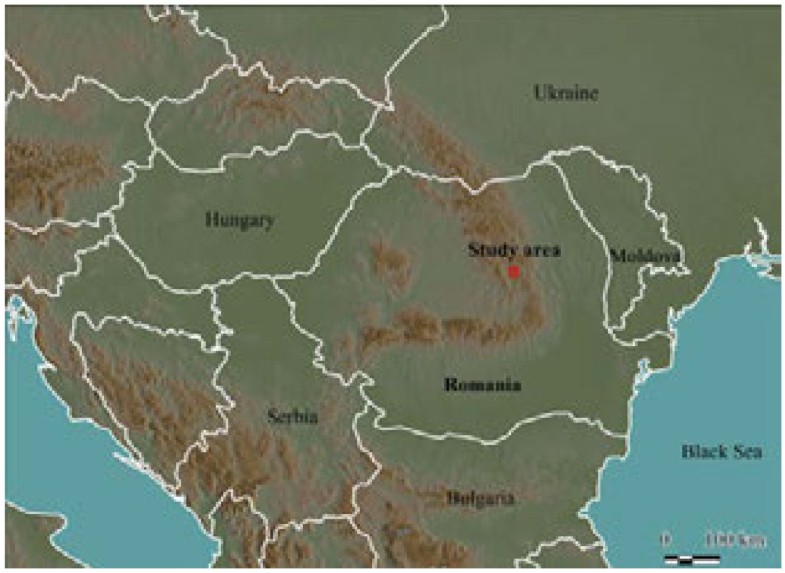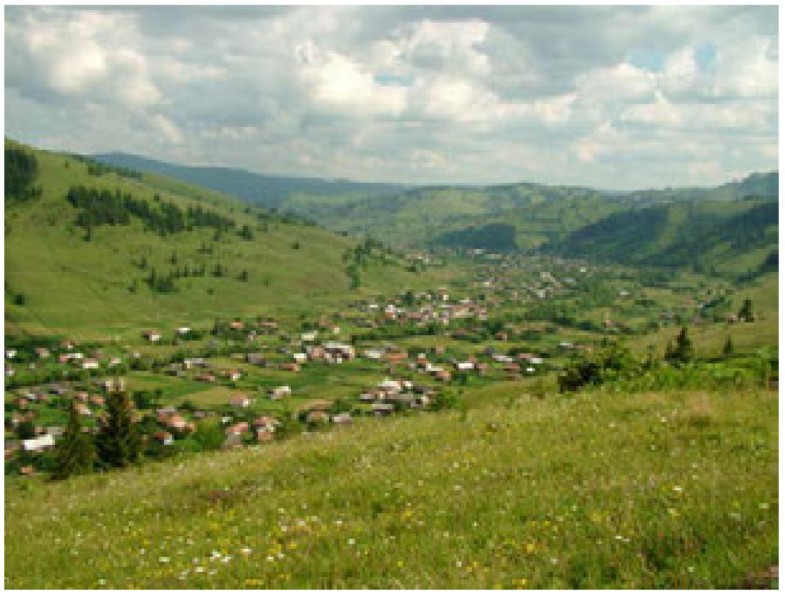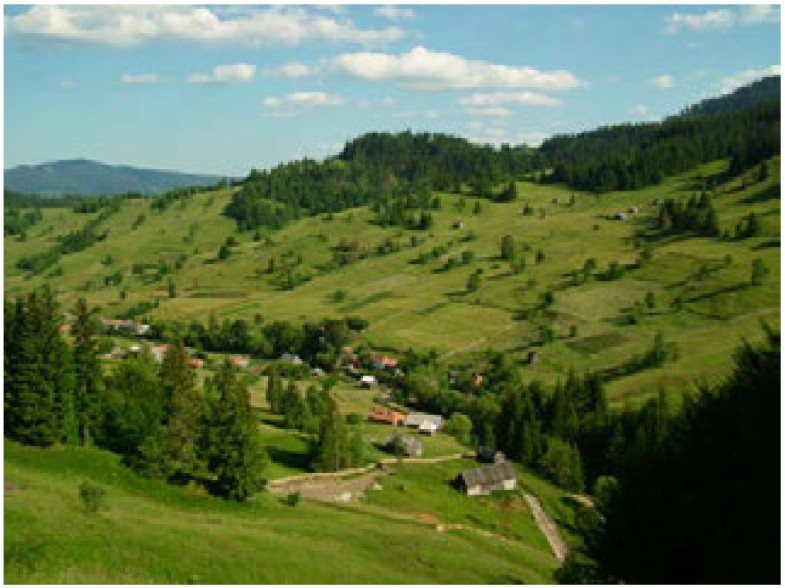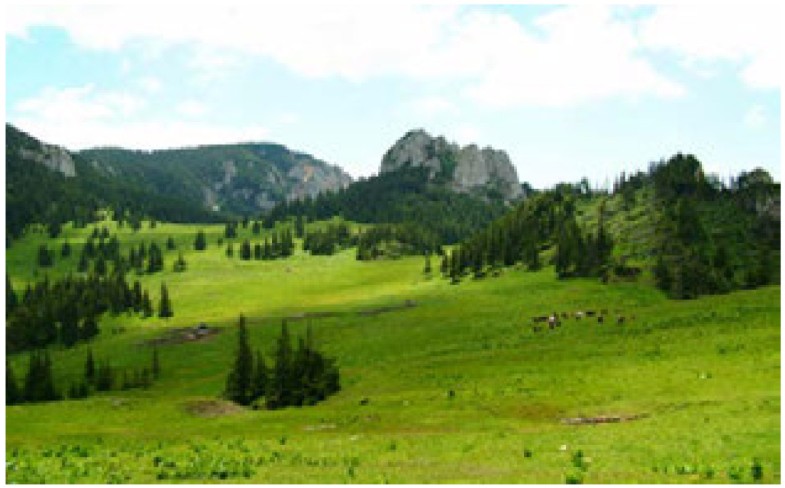 This area falls within the Carpathian district of the Central European Floristic Region. Its vegetation is very diverse with many habitats (see Figures
5
,
6
,
7
). The most common forest tree is spruce (
Picea abies
). The majority of the 614 vascular plant species we documented have Eurasian (29%), European (13%) and circumpolar (12%) distributions. The number of relicts of the Quaternary Period is high [
39
]. Typical endemic species are e.g.
Viola declinata
,
Campanula carpathica
, and
Hepatica transylvanica
.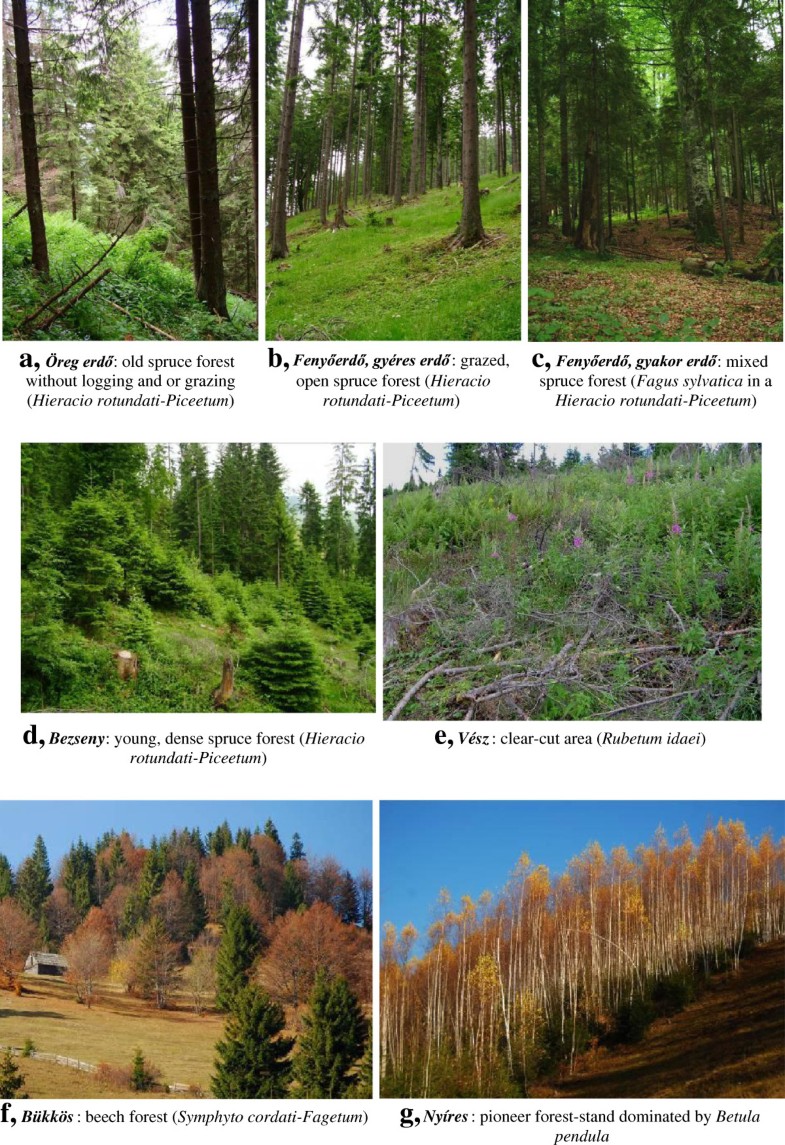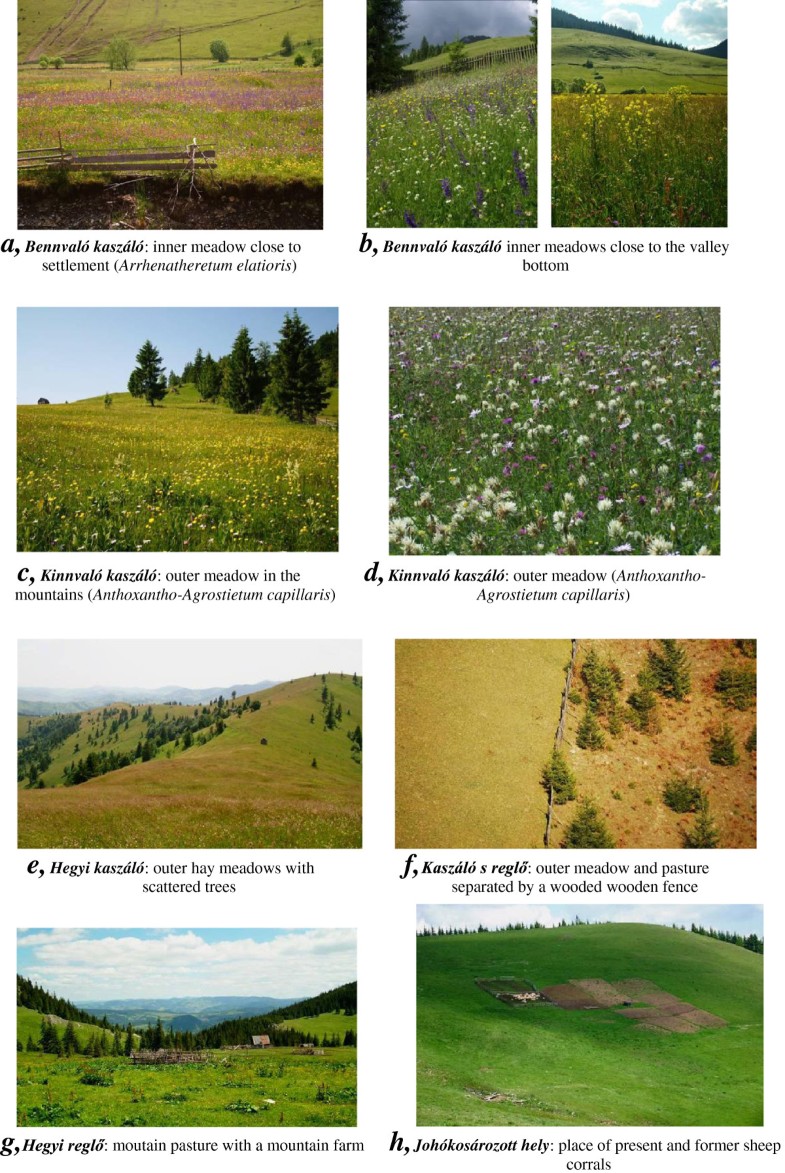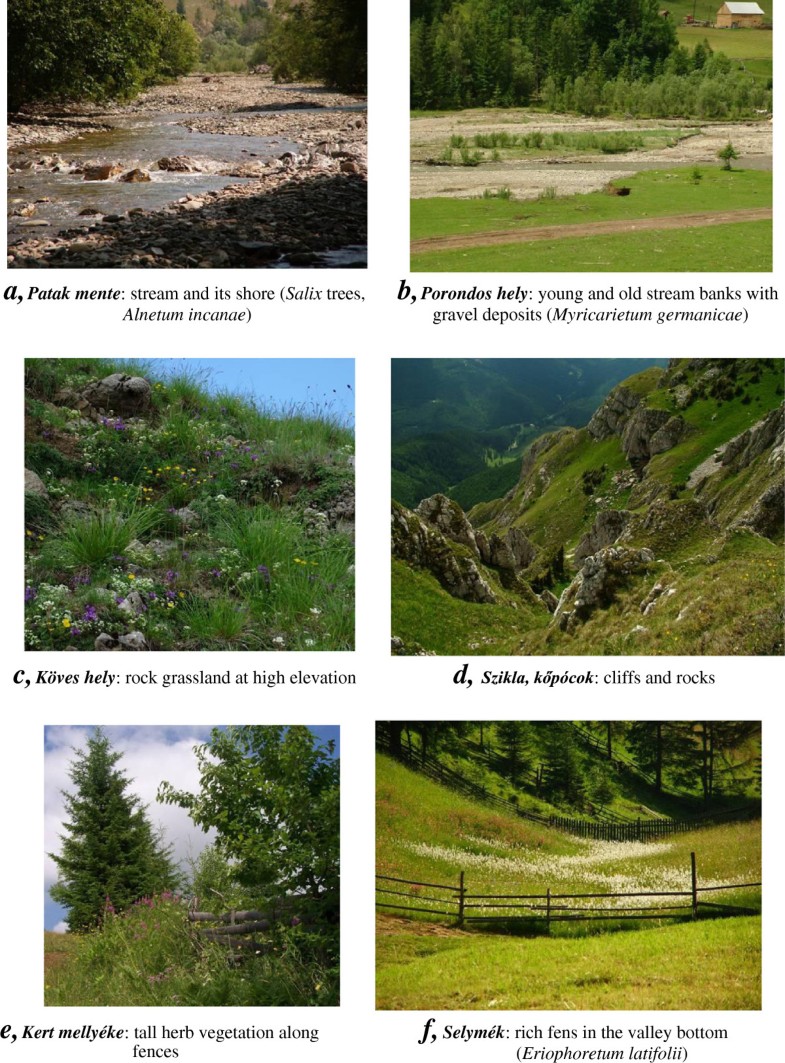 Almost the entire area was formerly forested, and lies within the belt of spruce forests between (600) 1200 – 1600 m. Beech forests also occur, but are very limited in extent (for additional plant associations described by phytosociologists based on dominant, characteristic, and differential plant species typical of the study area, see Table
1
.
a
.
Table 1
Plant associations in the Gyimes region (Eastern Carpathians)
| | |
| --- | --- |
| Hieracio rotundati-Piceetum Pawl. Et Br.-Bl. 1939 | (Figure 5a,b,c,d) |
| Symphyto cordati-Fagetum Vida 1959 | (Figure 5f) |
| Rubetum idaei Pfeiff. 1936 em. Oberdorfer 1973 | (Figure 5e) |
| Calamagrostio arundinaceae-Digitalietum grandiflorae (Sill. 1933) Oberdorfer 1957 (Syn.: Calamagrostio-Spireetum ulmifoliae Resm. et Csűrös 1966) | (Figure 7e) |
| Senecioni sylvatici-Epilobietum angustifolii R. Tüxen 1937 | (Figure 5e) |
| Fragario-Rubetum (Pfeiffer 1936) Sissingh 1946 | |
| Scorzonero roseae – Festucetum nigricantis (Puscaru et al. 1956) Coldea 1987 | |
| Arrhenatheretum elatioris Br.-Bl. 1919 – festucetosum rubrae Tüxen 1951 | (Figure 6a) |
| Festuco rubrae-Agrostetum capillaris Horv. 1905 | (Figure 6c,d) |
| Anthoxantho-Agrostietum capillaris Sillinger 1933 | |
| Violo declinatae – Nardetum Simon 1966 | (Figure 6e,h) |
| Salici purpureae-Myricarietum Moor. 1958 | (Figure 7b) |
| Salicetum triandrae Malcuit 1929 | (Figure 7b) |
| Aegopodio-Alnetum V. Kárpáti, I. Kárpáti & Jurko 1961 | (Figure 7b) |
| Telekio speciosae-Alnetum incanae Coldea (1986) 1990 | (Figure 7a) |
| Telekio-Petasitetum hybridi (Morariu 1967) Resm. et Ratiu 1974 | |
| Carici flavae-Eriophoretum latifolii Soó 1944 | (Figure 7f) |
| Caricetum rostratae Rübel 1921 | |
| Equisetetum fluviatilis Soó 1947 | |
| Glycerietum plicatae (Kulcz 1928) Oberdorfer 1954 | |
| Scirpetum sylvatici Maloch. 1935 em. Schwich 1944 | |
| Typhetum shuttleworthii Soó 1927 | |
| Chenopodio vulvariae-Urticetum urentis (Slavnic 1951) Soó 1971 | |
| Matricarietum discoideae-recutitae Jarolímek et al. 1997 | |
| Poo compressae-Tussilaginetum R. Tüxen 1931 | |
| Arctietum lappae Felföldy 1942 | |
| Cirsio lanceolati-arvensis Morariu 1943 | |
| Carduetum acanthoidis Felföldy 1942 | |
| Sambucetum ebuli Felföldy 1942 | |
| Aegopodio-Petasitetum hybridi R. Tüxen 1947 | |
| Trifolio medii-Melampyretum nemorosi Dierschke 1974 etc. | (Figure 7e) |
Local people in Gyimes: the Csángós
The Gyimes area was a political border zone of the Hungarian Kingdom with no record to its intensive use before the 18th century [40, 41]. The area was owned by the villages 14–20 km to the west on the other side of a high mountain range. Early 17th century archive sources document the construction of a border protection system, to which food and other resource was provided by the above villages [40]. The souces do not mention any permanent human populations in the Gyimes area. Sources reporting on the Tatarian raids in 1694 do not refer to any settlements or inhabitants in the Gyimes either [40]. The first church was built only in 1782 close to the border [40]. The Gyimes area was covered with 75% forest in 1792. There were narrow stripes of grasslands and roads in the main valleys (Tatros). Exploitation of the timber resources in the area became possible only after the building of the railway in 1897. These data suggest that the area was settled comparatively late. Immigration from the west (Transylvania) and east (Moldva), and deforestation began only in the 18th century. The forested area was rapidly reduced in order to create pastures and hay meadows [40]. About 45% of the original forests were cut in the first half of the 19th century [42]. The pattern of the landscape was stabilized afterwards, and the resulting grassland-forest mosaic characterizes the landscape structure even today [40].
The Gyimes Csángó is an ethnic group with about 14,000 members living in the valleys of the Tatros and its tributaries. Their native tongue is Hungarian. The Hungarian language is an agglutinative language that belongs to the Uralic language family. The Csángós in Gyimes speak a specific dialect (a transition between the Moldavian Csángó and the Transylvanian dialects). Their culture, particularly their dance and folk song culture, folklore, religious life, dress, characteristic life-style and customs, which were all in use until recently, have preserved a number of archaic elements see e.g. [40, 43–45]. The local culture has been under transformation since the change in the political system in 1989, and increasingly depends on market conditions, while emigration has started. The delayed onset of cultural transformation was due to the minority status of the Csángó community. Preservation of the spoken language and the characteristic cultural traditions was an act strengthening local identity and expressing national identity of the community.
In the second half of the 20th century during communism, socialist cooperatives did not exist or only partially functioned in the Csángó territory. Csángós own their land (arable fields, pastures, meadows, and partly also the forests).
The smallest economic unit in Gyimes is the family. An average family owns 3,8 ha of land [46]. Csángós are famous for their inter-familial cooperations called kaláka. During periods of intensive work (e.g. hay making, construction of a house), families help each other on a reciprocal basis.
The Gyimes people still live in a comparatively semi-subsistence farming system. Animal husbandry and small-scale dairy production are the key sources of income- in their local economy [46, 47]. In other alpine farming systems like the one in Gyimes, the contribution of animal husbandry to the total food output of farming was more than 80 % [48]. At present, 61% of the income in an average family comes from non-agricultural activity, 17 % from subsidies, and 22 % directly from marketing agricultural products [46].
The period suitable for grazing is limited to May-October. For this reason, a large amount of hay has to be collected and stacked. Csángós greatly depend on the quantity and quality of the biomass produced in their landscape. Until recently, a substantial proportion of the hay was mown by hand, but then the scythe was replaced by small motorized mowers. Owing to agri-environmental subsidies, mowing with scythe is again slightly spreading. Arable agriculture has lower importance. The only crop Csángós produce in large quantities is potato, the surplus of which is sold at the market or exchanged for grapes, or vegetables. The role of gathering to supplement their diet is considerable (mushrooms, Rubus idaeus, Vaccinium spp., Fragaria spp.). According to our own estimates, Csángós spend approximately 210 days yearly outdoors [49]. Csángós possess significant ecological knowledge that is utilized in their traditional farming activities [36, 42, 49]. They know many of the plant (and also animal) species in their environment. They recognize at least 294 plant species, which they classify into 207 folk taxa [42].
Data collection and analysis
We conducted our study in the community of Gyimesközéplok (Lunca de Jos), in Hidegségpataka (Valea Rece) during 202 field days between 2005 and 2011. Data on the knowledge of plants and habitats, and the knowledge related to vegetation dynamics were collected from 44 people, of which 4 were younger than 20 years, 11 were between 20 and 60 years, and 29 were older than 60 years. All live in Gyimesközéplok-Hidegségpataka, and most of them were also born there. A small fraction was born in Háromkút (Trei Fântâni) founded by Csángós from Gyimesközéplok. Data were collected during indoor and partly outdoor semi-structured and structured interviews, and participatory observations [50].
First, local names of wild plants were collected. Most plant species have only a single local name, and the number of synonyms is low [49]. This suggests that the knowledge of plant species is still actively used, and is shared widely in the community. We asked questions about the habitat preferences of 135 of the identified plant folk taxa. To avoid confusion, we identified uncertain species with the help of colored paintings [51]. After testing different questions, we collected data by asking the question of 'what kind of place does species X like?'. The question of 'where does species X grow' brought answers on the specific locality the species occurred in. With additional questions (e.g. 'what should we know of this species/habitat?') we gained detailed ecological characterization of the habitats. The reliability of our data was checked during participatory observations in the field. We asked people to define and describe the ambiguous habitat terms. In the field, we listened to their conversations, and also asked the name of certain spots to gain insights how Csángós structured their local environment. We collected data on the habitat requirements of 129 species / informant on average. We asked 3620 questions altogether, of which 80.3% were sufficiently detailed for further analysis (2908 records). 35 h of sound recording were transcribed. All habitat names and expressions describing a habitat were sorted out. As supplementary data collection, we collected all the geographical names from the studies of Ilyés (unpubl.) and Rab [7] that were related to habitats. With the help of three knowledgeable Csángó respondents, we selected from these the names that are still in use in Gyimes as a habitat name.
There is diverse terminology for landscape elements in ethnobiology: e.g. ecotope, habitat, kind of place, biotope [23]. We chose to use the term habitat, since in Europe this is the most widespread term that includes all living creatures on a piece of land with its soil, bedrock, and hydrology. A habitat is mostly defined by its vegetation, and is more or less a synonym of ecotope (the suggested term by [2, 22]).
Clustering of habitat terms into sets in tables (see below) resulted more from an etic assessment on our part than from any concerted effort we undertook to explore whether they were kinds of natural sets for Csángós. We regarded all terms in the habitat sets as a habitat term irrespective of their other meanings in the local language (e.g. a type of bedrock (clay), or a type of property (garden) cf. [2]), because all originated from answers to our key question (or participatory field work or from counterchecked toponyms).
Results
These habitats (20 habitats, e.g. meadow, pasture, arable field, woodland, settlement, Figures 5, 6) cover the largest geographical area, and formed the basis of Csángó landscape ethnoecological partitioning. For defining habitats of plant species, Csángó people used these land-use habitat terms, completing them with additional, more refined categories.
The spatial scale of landscape partitioning was highly variable. We distinguish three groups of habitats depending on their spatial scale. Habitat categories that refer to larger areas comprising a mosaic of habitats represent macrohabitats (e.g. up in the mountains, inhabited place). Others (called mesohabitats) refer to an area with a more or less homogenous vegetation (often corresponding to scientific plant associations) (e.g. spruce forest, area dominated by Juniperus, clear-cut). The third group of habitats (microhabitats) indicate small areas which stand out from their surroundings or provide a special small scale environmental niche (e.g. ant hill, next to a tree trunk, at the wall of a barn). The scale of habitats is indicated in Tables 2, 3, 4, 5, 6, 7, 8, 9, 10 by upper indices.
End notes
a Vegetation can be classified in many ways. Methodologies are based on species composition, vegetation physiognomy, vegetation structure, or environmental factors. For fine-scale surveys, floristic approaches are the best suited. In the so-called Braun-Blanquet floristic-sociological approach, plant community types are conceived as units recognized by their total floristic composition. For a so-called phytosociological survey, relevees are taken, usually several by several meters quadrats. Beside the list, the dominance (cover) of all plant species is given in percent or in an ordinary scale, 1–5. Relevees are subsequently arranged according to floristic similarity. Plant associations are delimited based on characteristic species (species specific to that association), differential and dominant species. With the plant associations described in a region, actual and potential vegetation of the area can be mapped. Plant associations are usually named by using a characteristic and a dominant species. Author(s) of the associations are also given.
Declarations
Acknowledgements
We gratefully acknowledge all the Csángó people of Gyimes who patiently and generously shared their knowledge with us [Antal (Bucsi) Béla and his wife, Valéria; Berszán Erzsébet; Bükki András; Ferenc Fülöpné (Piroska); Györgyica (Matri) János and his wife, Erzsébet; Jánó András; Jánó Béla and his wife, Anna; Jánó Erika, Jánó (Tódi) György; Jánó György; Jánó Péter; Jánó Tímea, Kis (Cokán) Béla; Kulcsár Péter; Ladó Géza; Prezsmer Károly and his wife, Virág; Tankó (Csukuj) Anna and her husband, János; Tankó (Fintu) Dezsőné (Ilonka); Tankó Imre Emil; Tankó Fülöp; Tankó (Vándor) Károly; Tankó Margit; Tankó Péter Donát; Tankó Tímár Attila; Tankó Katalin and her husband, István; Tankó Tódor, and his wife, Valéria; Tímár Edit; Tímár Dezső, and his wife, Piroska; Tímár Dóra; Tímár Fülöp; Tímár Lukács; Tímár Sándor]. We also thank Anna Varga for helping in data collection, and Lendvai Gábor and Barbara Knowles for language revision.
Authors' Affiliations
(1)
Institute of Ethnology, Centre for the Humanities, Hungarian Academy of Sciences, Budapest, Hungary
(2)
Institute of Ecology and Botany, Centre for Ecological Research, Hungarian Academy of Sciences, Vácrátót, Hungary
Copyright
© Babai and Molnár; licensee BioMed Central Ltd. 2013
This article is published under license to BioMed Central Ltd. This is an Open Access article distributed under the terms of the Creative Commons Attribution License (http://creativecommons.org/licenses/by/2.0), which permits unrestricted use, distribution, and reproduction in any medium, provided the original work is properly cited.